Discover more from Documentally
A human authored journal in search of novelty, exploring what we share, how we share, and where we're going.
Over 2,000 subscribers
Always on the brink [215]
Greetings from my shed...
Hi,
It's the tail end of Sunday. The light has gone. Let us set the mood with a little heard but lovely song…
Day fifty something.
Thanks to Josh for mentioning four words in a phone conversation this week that became the title of this email. I had a few great phone chats recently.
Phone is where the heart is. Not in the screen. When you dial a number and put it to your head to talk and listen. Remember when we used to listen?
I also gave a little money to Lowcostbeer.com in exchange for some internationally sourced liquids so I can continue my mission to drink 1000 unique beers before I die. It might seem like a pretty lame goal but The trick is to do it before my death but not have it be the cause of my death.

Think of it as collecting liquid postcards. I started logging beers in 2014. About 27 years after I had my first beer. In the last six years I have logged 892 unique beers.
Three of those beers happened with socially distant Adrian (see podcast) this week.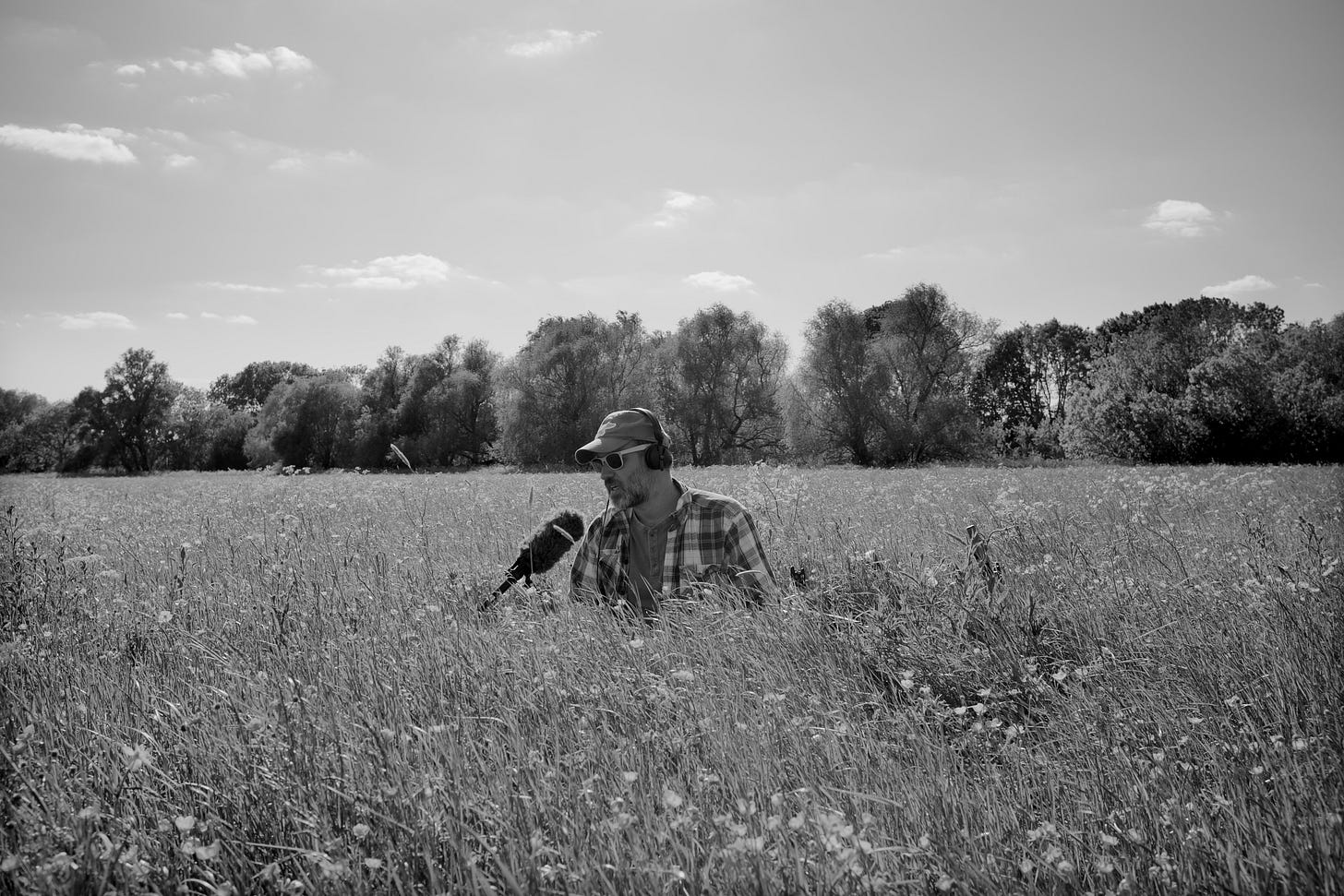 ---
This podcast from the Boring Talks caught my ear and might make you abandon your favourite cereal in favour of simpler less oppressive foodstuffs.
---
It's over a month old but this podcast from Crimethink's The Ex-Worker takes a fascinating look into the minds of some anarchist nurses and their thoughts on how resistance is survival. Also how right now we have to collectively check in and find the best information out there.
---
I had heard their podcast but not seen their website. Thanks to Alan for sharing this in the Wire backchannel. Escape with some field recordings.
If you would like to chat in the backchannel add me on Wire (Documentally)
---
This amazing Video from Tim Minchin and Tee Ken Ng really caught my eye.
If you wanted to know how they did all this then there is a great 'making of' video.
---
It's time to see what's next for game graphics…
---
I have watched a few videos this week, screen time is up slightly. Maybe you have as well. So I'll spare you anymore. Just this last video from the series I shared last week.
Back To The Future was one of those films I watched again and again and again. I got into Van Halen because Marty had them in an Aiwa walkman …and then I was playing them on my Aiwa walkman while skateboarding and holding onto the car bumpers in Rugby Town. I'm thinking I was not alone in my obsession with this film.
I also finished watching series 4 of Money Heist. I'm hoping there will be a season 5 but I'm happy to take a break from the screen for a while.
---
The featured objects in my week have been: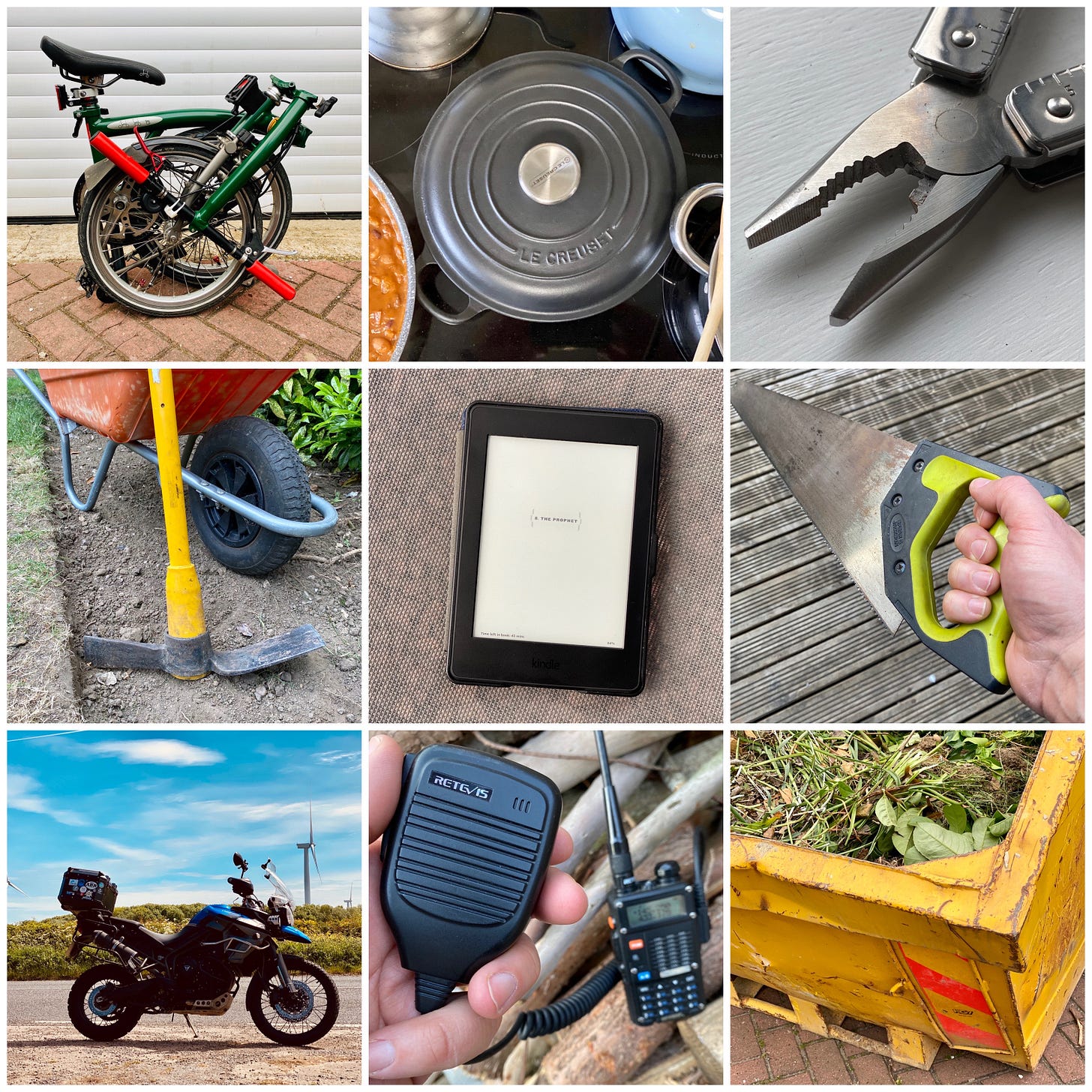 A bike that assisted me in my escape to the country and a beer with a friend.

A cast iron pan that offered meditation while conjuring up sauces and sustinance.

A multi tool that lives on my hip unless it's involved in countless tiny tasks.

A pickaxe that gave me exercise and pain.

An e-reader. My portal to other places.

A wood saw, now blunt from building the four walls of a bar that my wife said "Looks like a bustop."

A motorbike for a shot of adrenalin and a sense of freedom.

A radio that offered connection, exploration and news.

A skip. The goal for the week successfully filled and ready for collection.
---
On the food front I loved the look of this recipe from Richard Mackney. Not made it yet but it's on the list.
I've mostly been eating gnocchi, crumpets, fruit and veg packed omelettes and sarnies.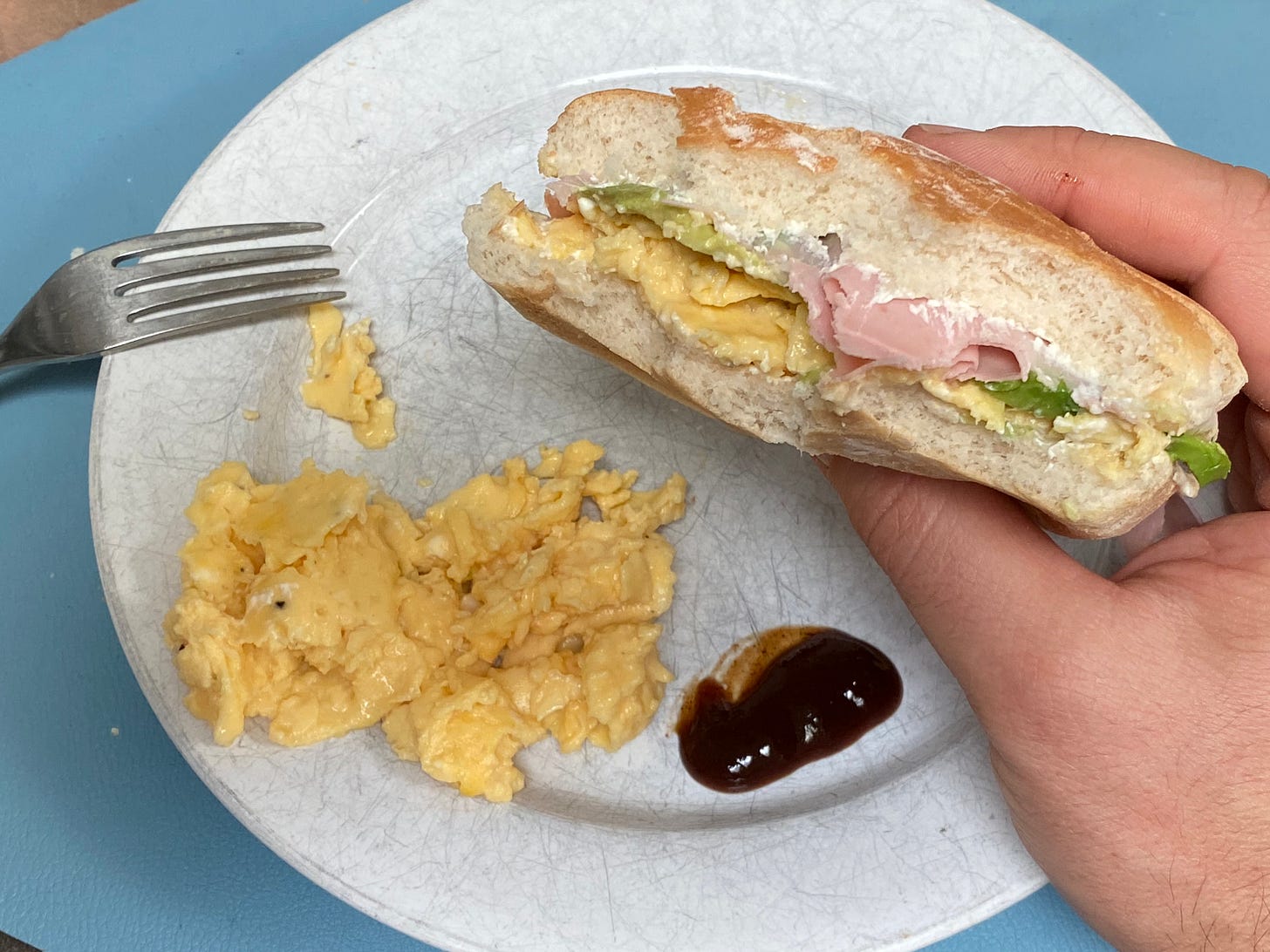 Today I had an amazing sandwich consisting of scrambled egg, cream cheese, mortadella, and avocado. Don't judge. If they are foods you might eat check it out. I had mine in a toasted burger bun.
---
I read that the food supply chain might be breaking in the US which means they have a chance to change their food system. Less meat perhaps?
---
I bought my first pair of dungarees since I was three years old.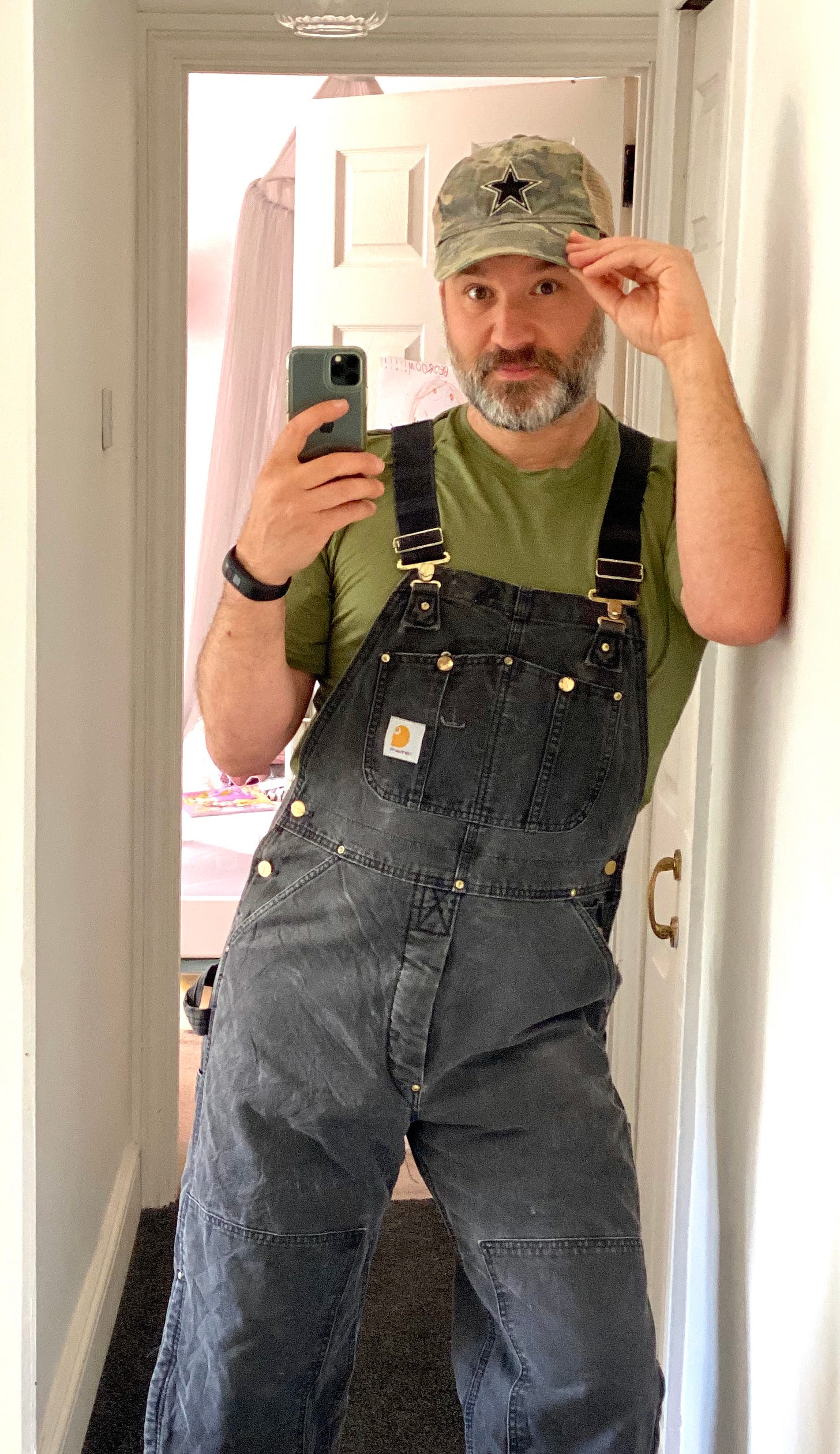 These were secondhand on eBay and to be honest I love them but if you are not used to wearing something with a bib you are likely to get joggers nipple. I will persevere though. They have ten pockets and a hammer loop. I believe nipples can be conditioned.
The week was a blur with garden work, increasingly congested dog walks and two much needed trips out. Today's motorbike ride saw me rapidly cover over 130 miles to deliver a present to a family member.
The world looked normal. Yes lots of shops were closed but lots seemed to be open too. People and traffic were doing their thing. The only time I spotted social distancing was when passing a group of motorcyclists sitting a few meters apart on a grass verge supping coffee from flasks.
Despite wondering what the stats will look like in a couple of weeks I was so glad to break free. I managed to ride safe, maintain safe distance at my destination and still feel some adrenaline. On the return I used a fuel pump for the first time in over two months. A full tank cost £11.
---
I found some good news…
As Sweden closes its last coal fired power station, the UK has gone an entire month without coal powered electricity. An eleven year old shatters a skating record and there has been a win for women's rights in Sudan.
And the obligatory links…
---
"If you havent found something strange during the day it hasn't been much of a day." ~ John A. Wheeler
---
This week I managed to post a photo guide and a podcast as well as write this email. (Can I have a week off please?) Surely it's time you paid for a full subscription. It's only the price of one beer a month and if you were to drink one less beer a month next month you will be a better person for it.
So there.
Supporting my writing and curation will make you a better person. ;-)
Next week will look pretty much like this one and the previous eight before it. But you will be a little older and hopefully wiser.
I have one virtual meeting in the diary that is for love not money. But I will endeavour to reach out into the ether and collect some inspiration and/or education that I can share with you.
Thanks for reading.
We are all on this journey. Do what feels right.
And take care of yourself.
Over…