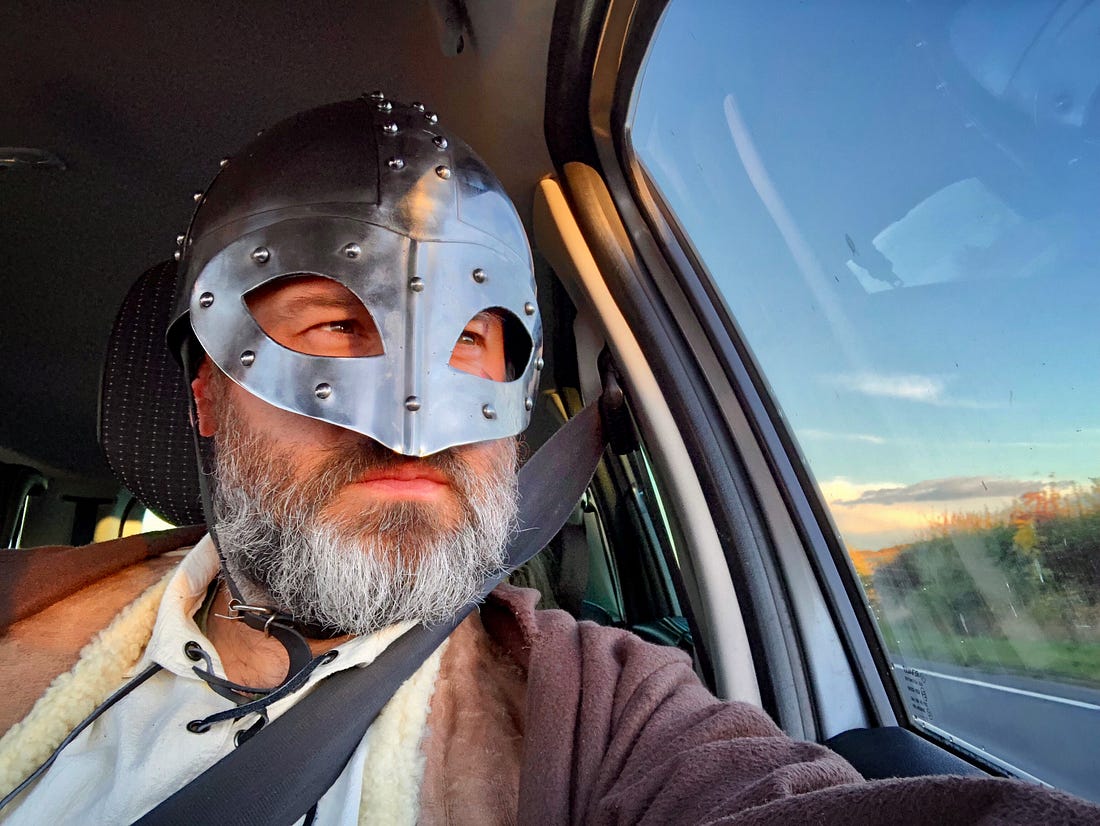 About to head to my sisters new old house. It's in the middle of nowhere and tonight she and her partner are hosting a 'haunted cottage halloween party'. There's a ghost walk in the wood planned for all the kids. She asked me if I could record a quick intro video so I made this. It's a bit of a rush job shot on the iPhone and edited in iMovie. (An ad-libbed single take.) But she likes it.
Dressed as I am i'll be treating Haloween as The Dísablót and ward off any evil spirits with feasting & drinking. Unless I'm asked to drive home. Then all souls are lost.
---
#TheAction
Last week's email was for the lovely folk who pay the small fee that make these written updates even more fun to do. Thank you.
The newest supporter was @EvilGordon who isn't the slightest bit evil. He even joined me on the boat and helped me move it from dry dock back to base after I had some work done.
So the boat is blacked, my tiller has been straightened and my new prop has made Story Maker feel like a different boat. More responsive, smoother, ready for any river, any adventure.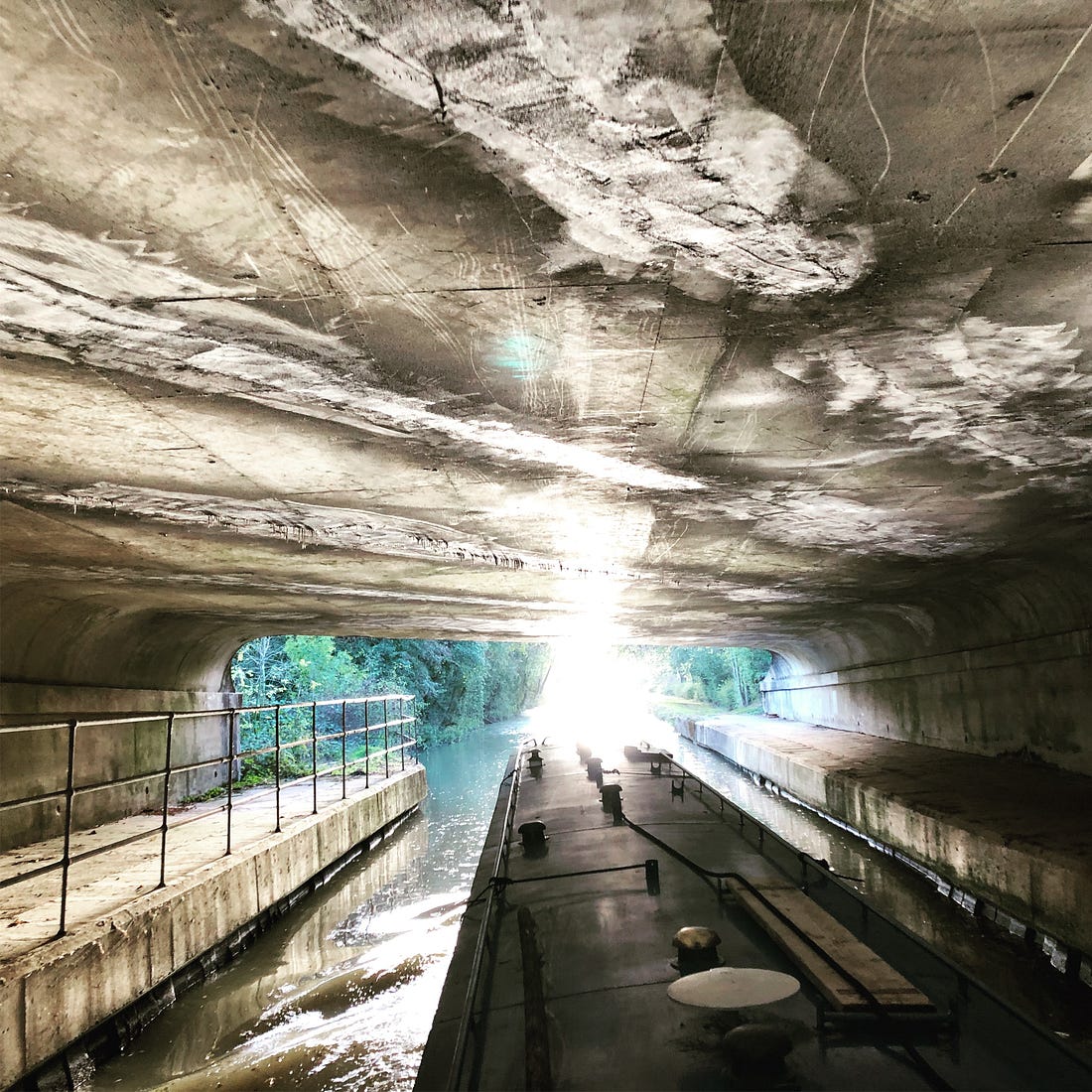 It's been beautiful out there. We had a chunk of canal to travel in a limited time. So under a large moon we motored into the night. Lighting the bank with the tunnel light, the reflected moon leading the way.
Mooring between locks, we found ourselves close to a well respected pub. But Gordon had bought beers far rarer and finer than they'd have to offer. So we filled our belies with tortellini, supped ale and told stories into the early hours.
These mini waterborne adventures feel so far away from the usual distractions. The excessive screen time, the endless scroll, the notifications alerting you to something and nothing.
I'd like another watery wandering before I winter the boat. I'll be sure to drop the dates into the supporter email. Just in case you care to join me.
I'll be looking for new moorings in the new year. Something closer to home. If you know anywhere on the Nene or in the Fens please let me know. It will be a trip of over 100 miles. A week on the cut. Something I'm very much looking forward to.
The rest of this week has been dog walking and training…

Daughter: "What's the dog doing?" Me: "Reading smells." Daughter: "So it's peemail?" [smiles] Me thinking: Genius.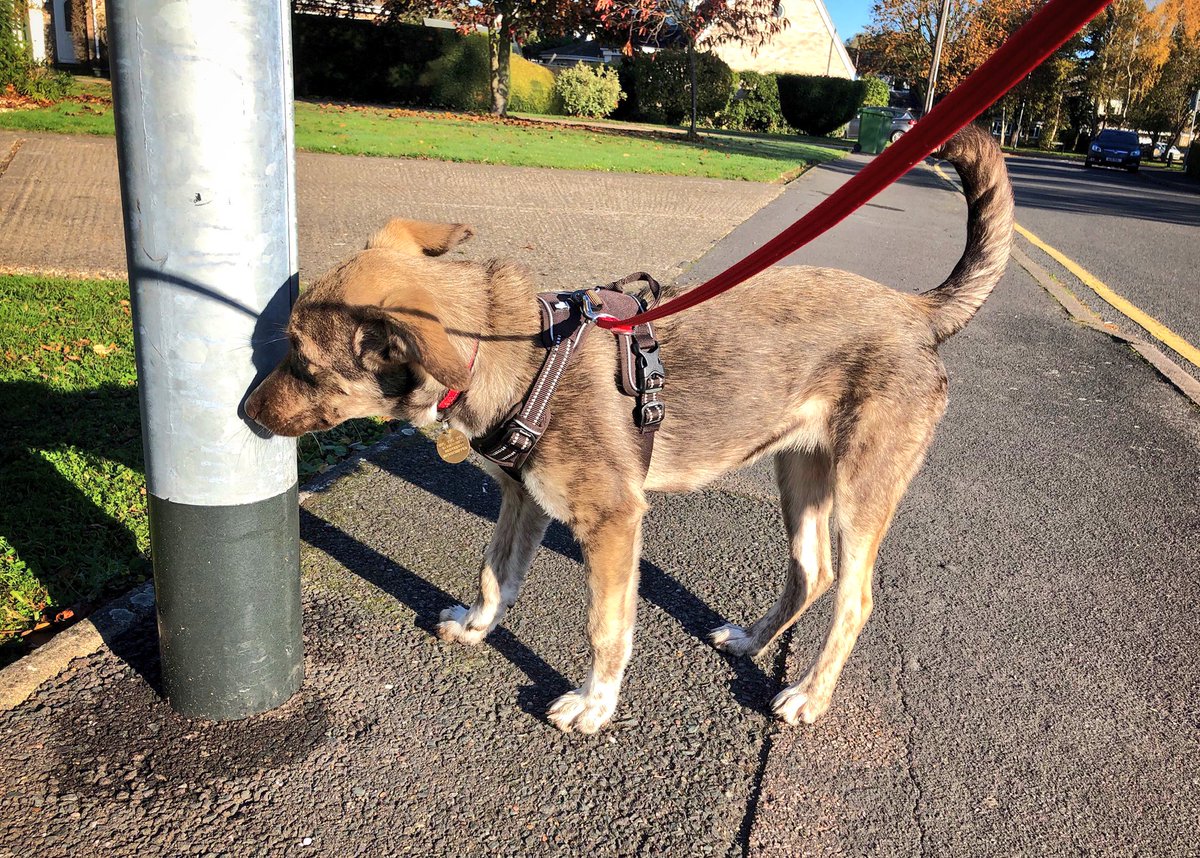 …and modifying web content for a new site I hope to launch soon. Something that will make it easier for me to offer my services to those who want them. Coming soon.
---
#ThePictures
Clothes have powers over your mind.
I probably have too many clothes. If you have been reading this newsletter since the beginning you have probably seen most of my wardrobe in the establishing portrait. In amongst the sentimental band t-shirts and stuff I've had for 20+ years, there are a few items I'd certainly reach for If I could only pack one bag before my escape. My Huit Jeans are one item. My Craghoppers Nosilife Elgin Hood Jacket is another item.
As is probably obvious, I dress more for function over fashion and I have no idea how these specific items affect my unclothed cognition.
---
#TheWords
The sad tale of Jeffrey Corbis and how he sat undiscovered in his car in New York City for a week after his death.
---
And the happier, amazing tale of the harmonica playing texan who just won a Nobel prize for his cancer breakthrough.
---
And this weeks must read from Wired. Seriously… click the link.
---
Been reading a lot about the assassination of Jamal Khashoggi. The Committee to Protect Journalists list 45 killed this year so far.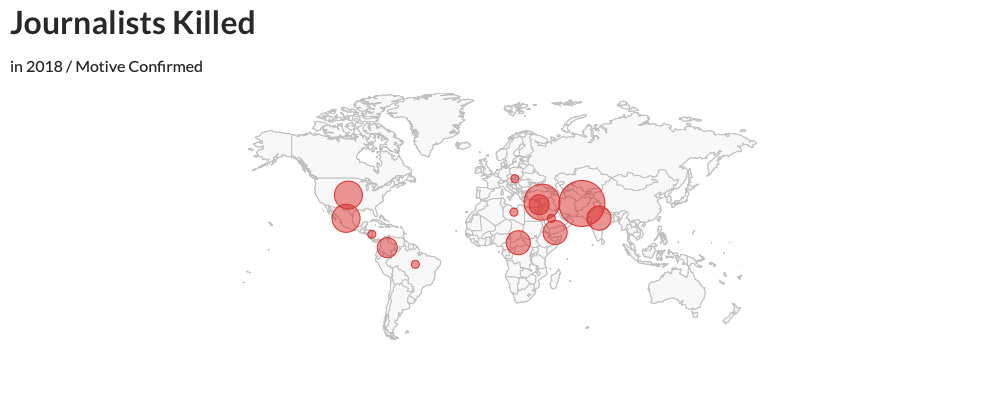 ---
#TheSound
Really liking Malcome Gladwell's 'Revisionist History' podcast. Listen to 'The Lady Vanishes' for starters.
---
Get ready for a long and possibly confusing sentence… BBC R&D developed an immersive sound system to accompany an audio drama by networking your existing mobile devices and turning them into speakers. Cool huh? If you're not sure you understood what I just said, click the link to see more about what they call 'device orchestration'.
---
Been listening to First Aid Kit. Love their work. They can even do covers better than the originals. (In my opinion.)
---
#TheConsumed
When you sleep all your worries slip away. It is by far the best meditation and while in that blissful dream state, our bodies repair themselves. Our futures depend on our dreams and how long we sleep dictates how much of the future we get to see.
Yes. Sleep more and live longer.
I struggle with more than seven hours a night and although I won't drink coffee in the afternoon I do occasionally enjoy a tipple in the evening. A whisky is my favourite occasional nightcap.
The problem is though that drinking disrupts the sleep cycle by anaesthetising the parts of the brain where R.E.M gets to work. You are much better with a Horlicks or Ovaltine. I'll let you decide on which you prefer.
Anyway last night I supped on delicious coffee stout thinking its 7.2% of alcohol would offset any caffeine it may contain.
It didn't.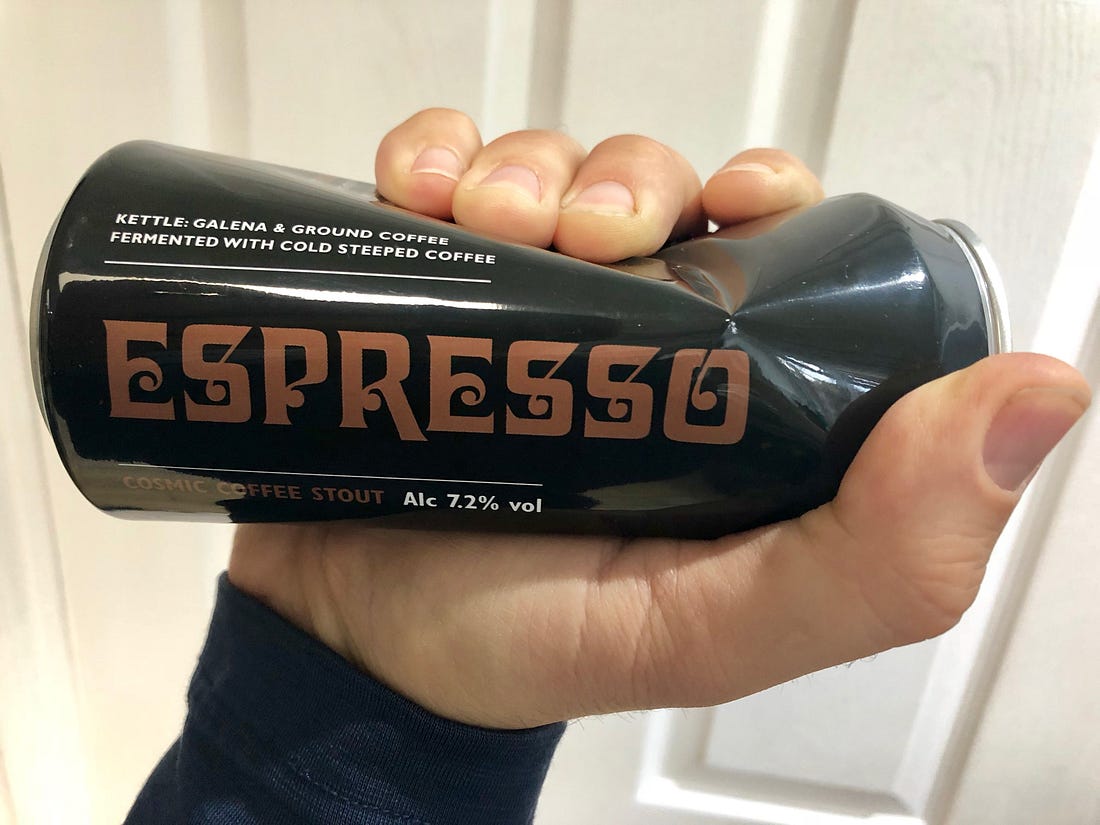 When I finally got to sleep at 2am I woke at 8 feeling like i'd not rested at all. The beer was bloody delicious though. I'll drink it earlier next time.
The stout was one of a few amazing beers that passed my lips because Gordon who joined me on the boat is one of the beer lovers at BeerBods.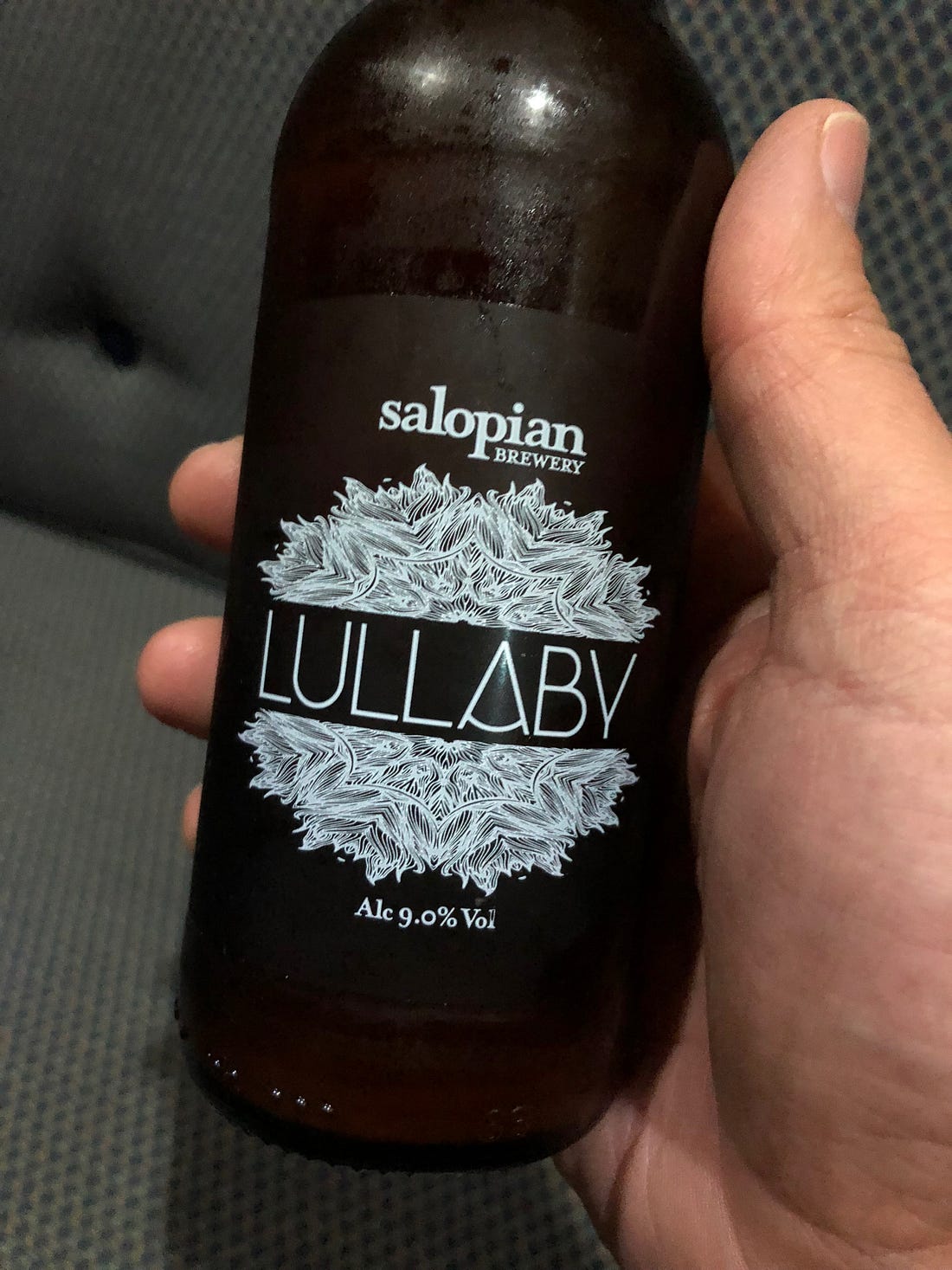 That night on the boat, under a searchlight moon I discover another absolute treasure. Gordon tentatively handed me a bottle of Lullaby from Salopian. A silky citrusy double IPA that felt like a dream I'd always wanted to have. And like those kinds of dreams it ended too soon. As the name would suggest it certainly helped me get to sleep. No comment on the quality of that sleep.
It was worth it.
These beers were a gift from Gordon and not a sweetener for a mention of BeerBods. (Although I'm wide open for some beer shaped bribery. Especially as the shared experience that happens when BeerBods subscribers all drink their delivered beer happens on a Thursday night. Just in time for my newsletter. ;-)
---
I'm really tempted to get stuck into the the Horlicks Cookbook. (Horlicks was always my favourite.)
---
#TheThings
I have a new tripod! I never normally bother with them but recently I've had to do more pieces to camera on unstable ground. I have a small modular system of a Manfrotto PIXI Mini, a threaded selfie stick and a phone clamp and this does for most things. It certainly has its limitations though.
So after extensive research I have bought a MeFoto Backpacker Air Tripod. It seems to be the lightest, compact and most stable for the money. Around £80-£90.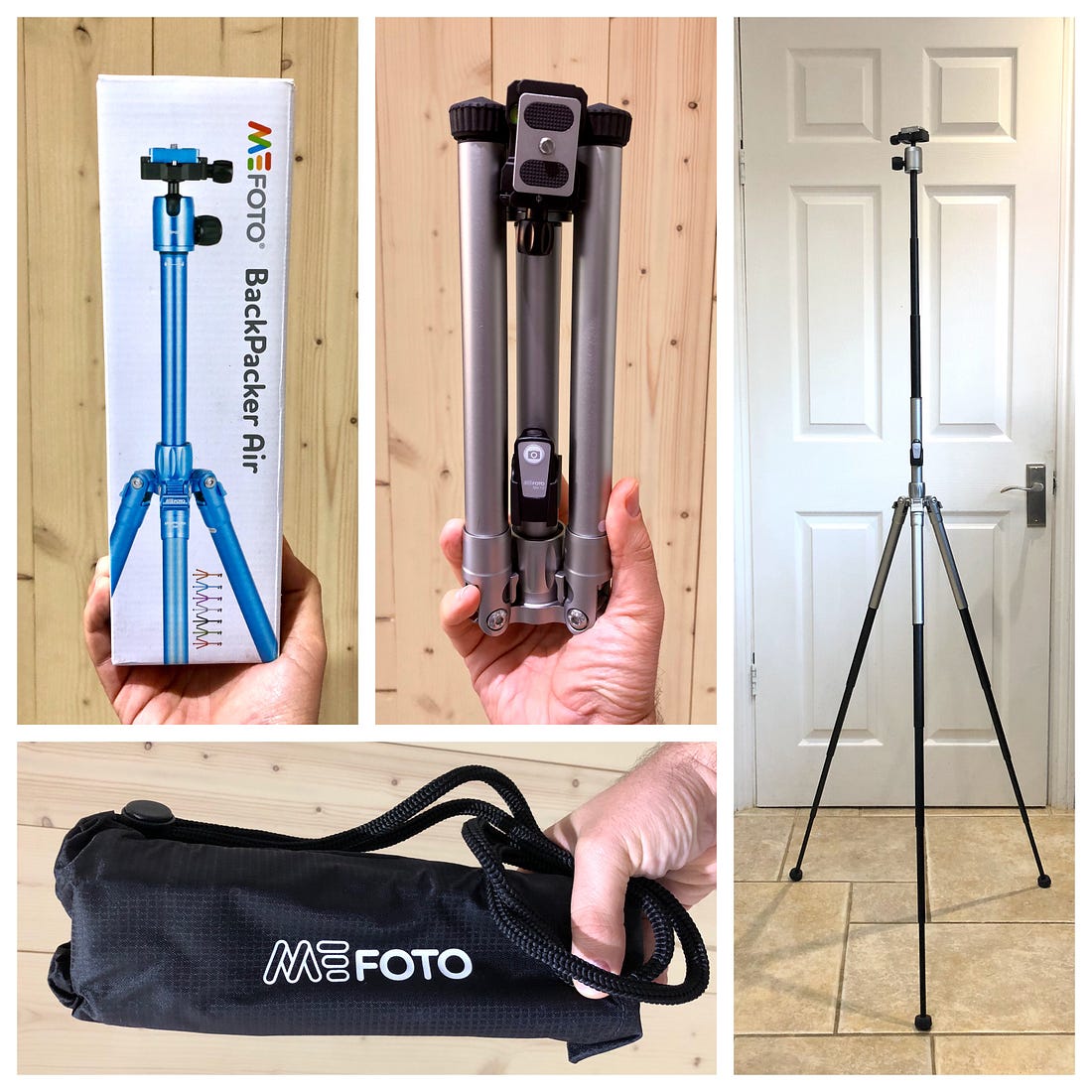 I bought this primarily for phone use although it will easily hold a small digital or mirrorless camera. I'd also risk a small SLR but nothing with a weighty lens.
Ignore the negative comments on Amazon unless you are the kind of person who doesn't like twist grip tripod legs. I figure some folk just can't figure them out.
First impressions are that it's great value for money. Any cheaper and you will struggle to get anything of quality. It's super compact and easy to put up. For extra stability you can hang a bag off the hook between the legs. I'm not sure I'll ever use the included bluetooth shutter remote but it's a nice to have. Same as the detachable selfie stick. The added bonus for me was that inside it's little carry bag in a pocket was a pretty decent phone mount.
Small enough for hand luggage but tall enough to do an eye level piece to camera, I feel this tripod is all that the discerning vlogger, mobile story maker, or mobile journalist will ever need.
---
The Gotenna Mesh has popped up on Amazon. These devices allow you to share text and GPS updates without cellular coverage. I've only used mine a few times as I don't know anyone else who has them. As a result they sit in my bug-out bag as I wait expectantly for some kind of emergency situation.
---

I've been fantasising about buying a Ural for the last few years. Then loading it up and heading off on some kind of epic journey with a camera operator and camping gear in the sidecar. Any Ural will do but this one seems to have been made for the job.
---
My spoon carving is coming on. I'm still working my way through The Little Book Of Whittling.
---
#TheWeb
Having never smoked I'm amazed at the cost of cigarettes around the world.

There's only one drinks cabinet for the discerning whisky collector and it may be this one from the company Whisky Vault. Although it's on wheels so I hope it has some kind of motion detector or tracker built in.

Thanks for adding yourself to the Documentally Newsletter map

Bored in the office? Have you experimented with your paper plane design?

My heart skips a beat when I read articles like this. The oldest 'intact' shipwreck has been found in the Black Sea.

At time of writing I have 1029 subscribers and 56 who pay $5/month. (Thanks again.) If I had 800 paying subs I would do this full-time and consult and run workshops for free. I'd also stop using Amazon affiliate links. We can but dream.

Did you get in on the initial rush to join InitiativeQ. I quickly went from… "What's all this blockchain PayPal pyramid selling malarky?" to "Actually if all they want is my email address I'll give it them just incase this takes off." I didn't want to regret not getting involved early. Like I did with Bitcoin.

At the moment nothing it is promising exists. It is nothing and it might remain nothing. If anything, those behind the project are building a killer list of potential suckers that could be sold on to others. But the reputation of those involved seems better than that and their policy says that they will not do this. If they do make what they are planning it will most likely happen after you have long forgotten all about it.

They have certainly cracked their marketing strategy though. It's not quite a pyramid scheme as money of those late in is not going to the early adopters. There is no money to speak of at all. Just a lot of nagging to get your friends involved.

So all said and done if you want an invite I have 12 left. Then you have to invite others. Yup. Sorry. If you want more details, be sure to read this article plus the first comment in the thread below it. It's a response from the founders. I signed up with a spare email address just in case. If it ever does amount to something writing these words was more effort than signing up and sharing the link.

We don't need halloween to deliver us our dose of horror thrills. Nature has it all. My wife is more scared of moths than she is of spiders. And she's terrified of spiders. She could never go to sleep knowing there was a moth in the room. Perhaps subconsciously she knew what they get up to in the night. These moths drink the tears of sleeping birds.
---
#TheEnd
Next week I'm in London on Monday. A innovation meeting with the other Longplayer trustees. My favourite kind of meeting.
Then the week is all mine. Or yours. I'm available for work.
---
"Get-rich-quick schemes are for the lazy & unambitious. Respect your dreams enough to pay the full price for them." ~ Steve Maraboli
---
[If you enjoyed this please pass it on]
Fear is the path to the dark side.
See you out there.
Over…