Greetings from my shed...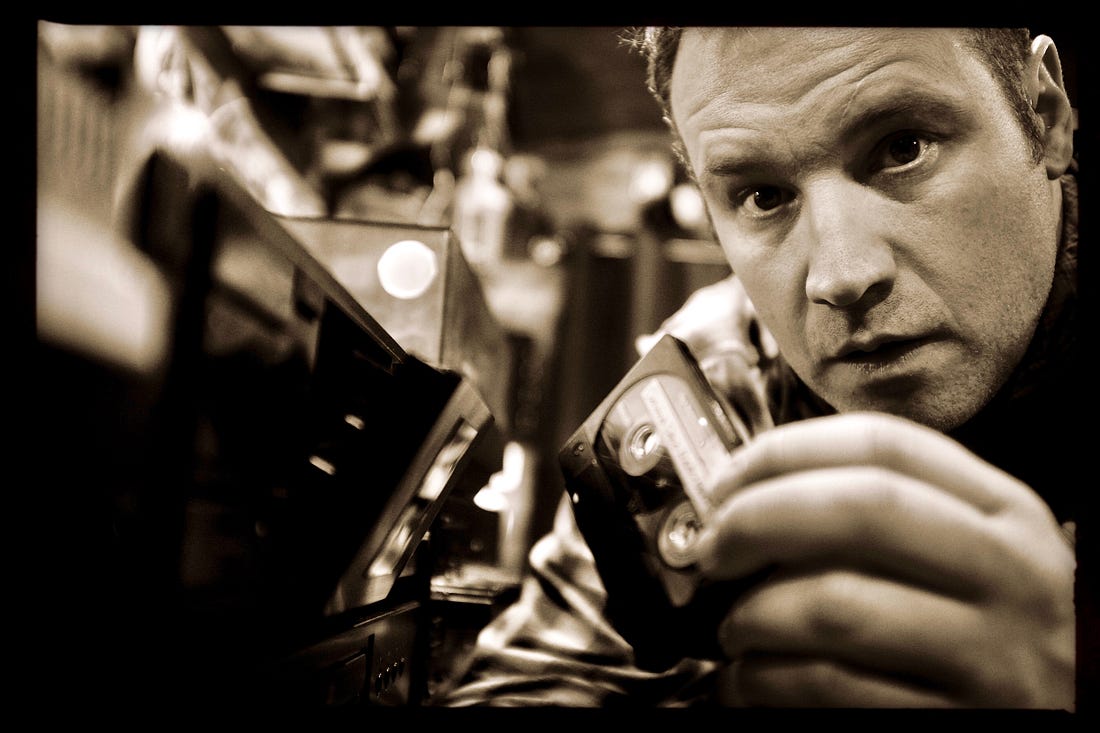 This is my moment. My moment with you. Although sometimes I write for the sake of writing I can't escape that it feels different when someone is out there reading.
I have no idea if any of my words resonate with you. Not unless I'm told. So I've got use to writing for the sake of it and any byproduct of this therapeutic act is a bonus.
It might be that you have come here hoping to learn something specific. No doubt the curious will click links and be taken places.
Just remember everything is a learning process. And that learning is beautiful.
---
#TheAction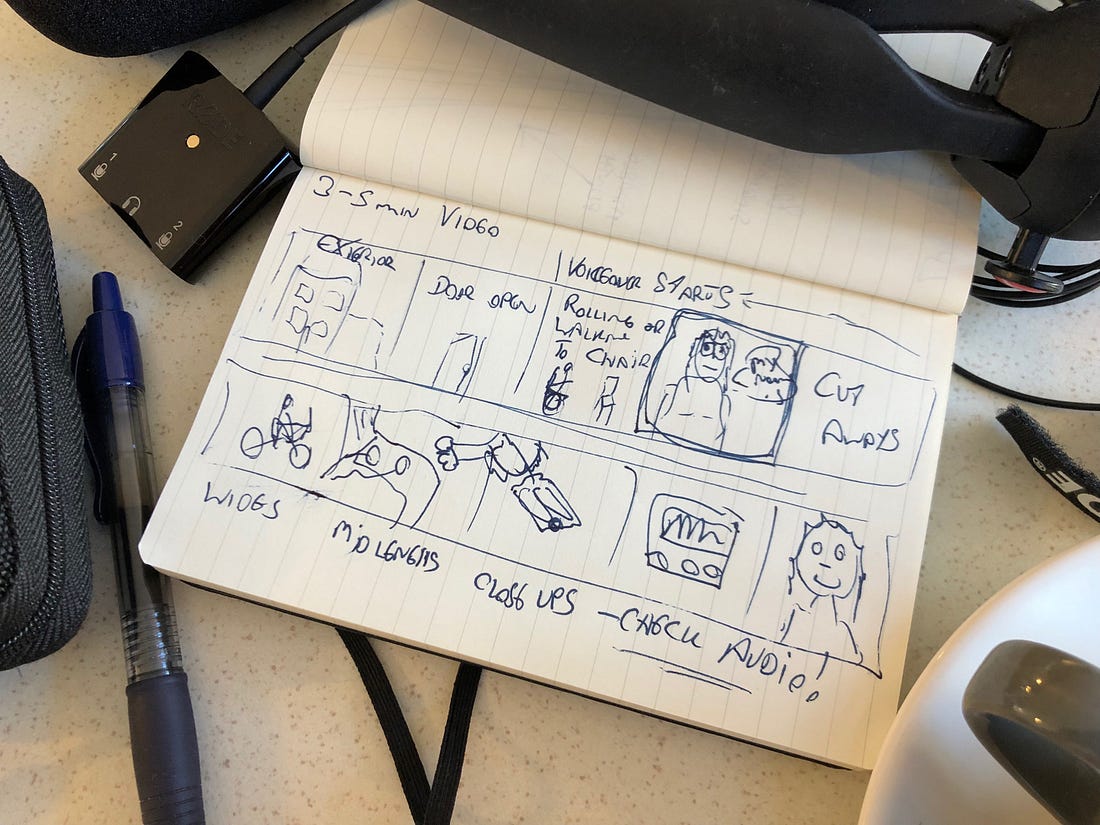 I started the week with a coffee shop consult based on video production and finished my working week with a workshop I delivered in Newcastle.
The week slid by quicker than I expected.
I arrived at my hotel in an icy Gateshead armed with a flask of whisky, a large bar of dark chocolate and some unsalted peanuts.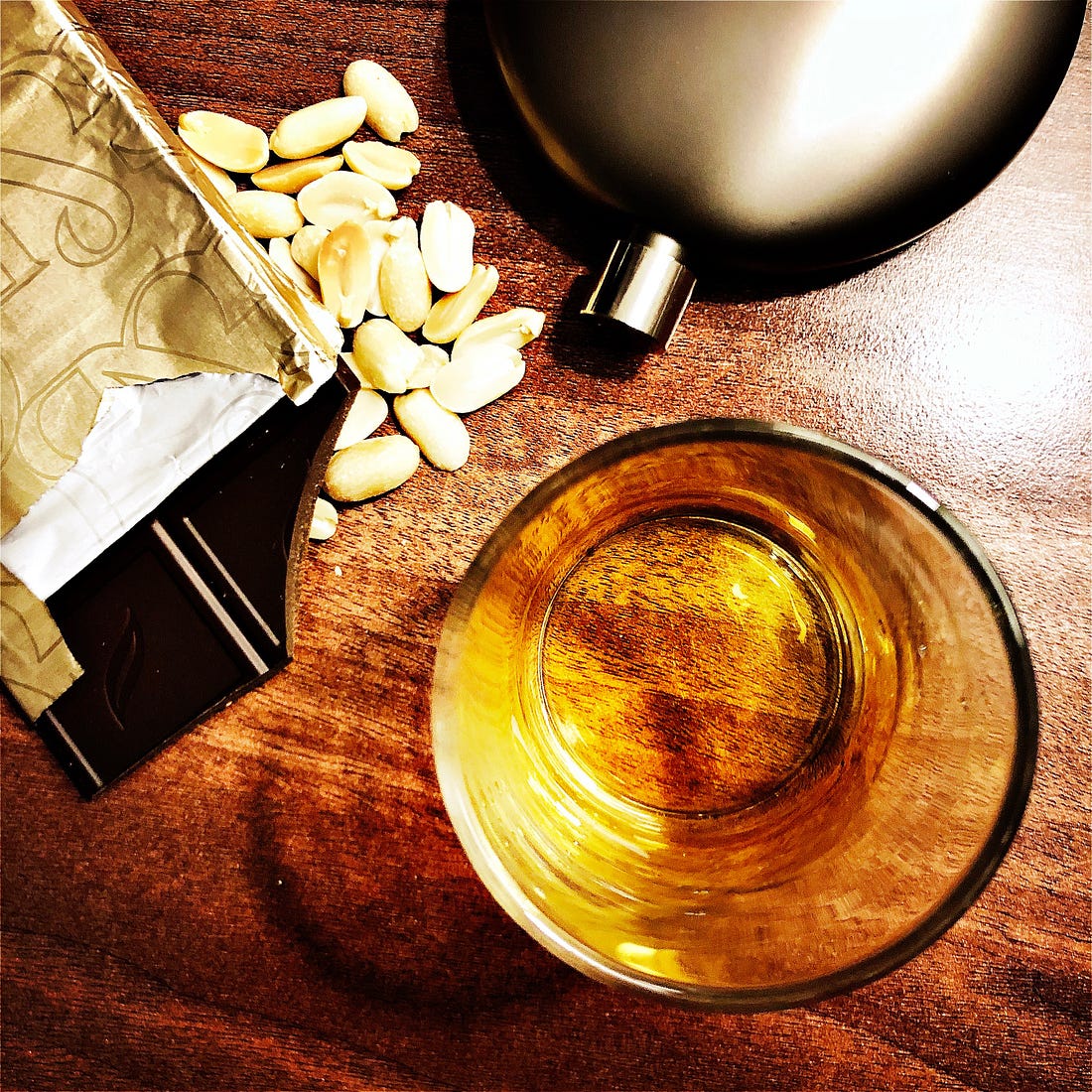 Despite that, the workshop went well. I even got to highlight the importance of a cheese suit.
One of the attendees Jason snapped this.
It's been a while since I've been to the Tyneside cinema. It might be 10 years.
I had interesting snail mail this week. Especially when a box of beer from Beerbods arrived complete with a magazine I was featured in. Yup. Get me. But you will have to be a Beerbods subscriber to read it. Or maybe I will get to share share the article in my supporter/subscriber issue.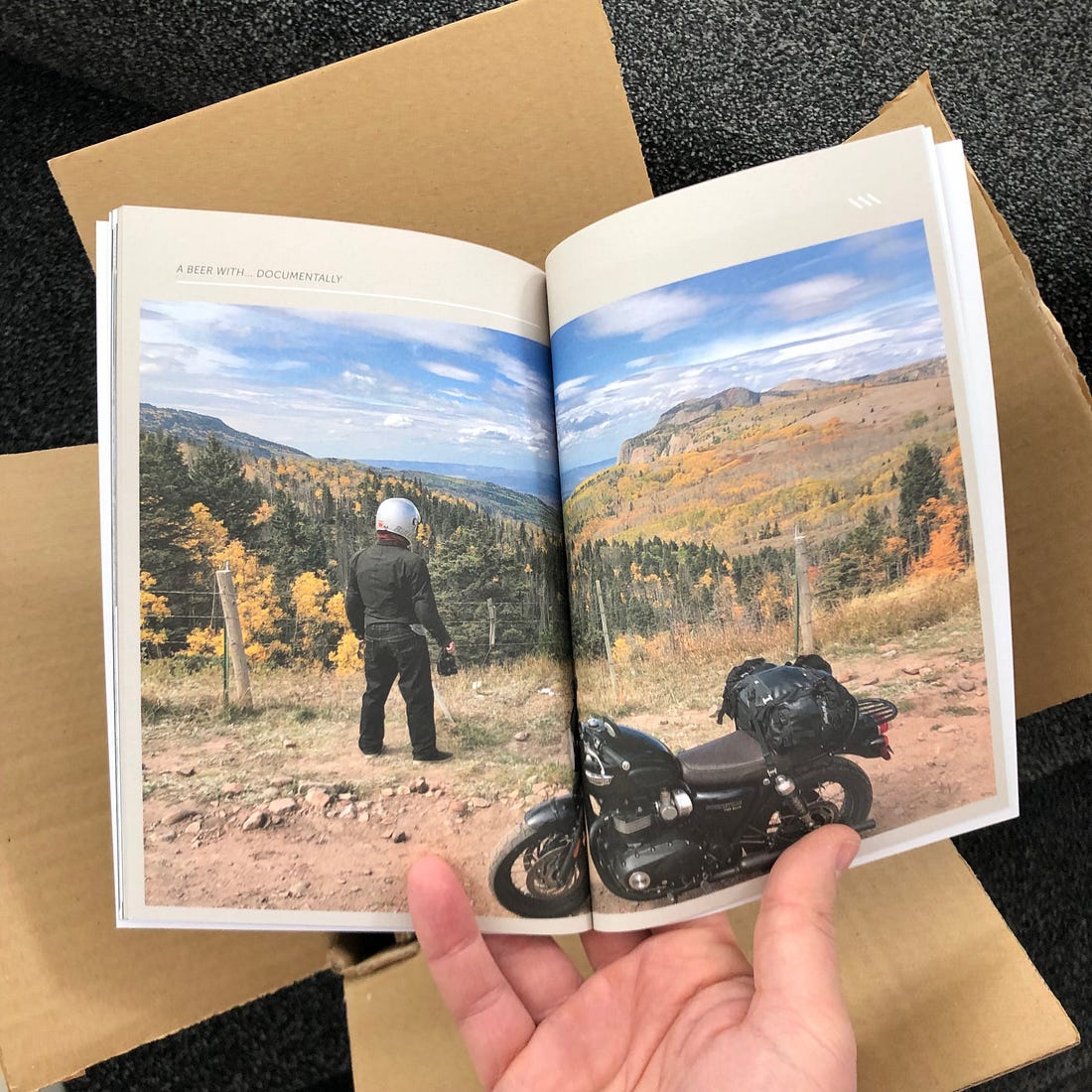 Also in the mail were the results of a DNA test for our dog. We got the test as a Christmas present and the results are fascinating. We knew our Romanian rescue dog was a mix of a few breeds and successfully guessed that one might be a Belgian Malinois.
But we were quite surprised when the data sheet arrived.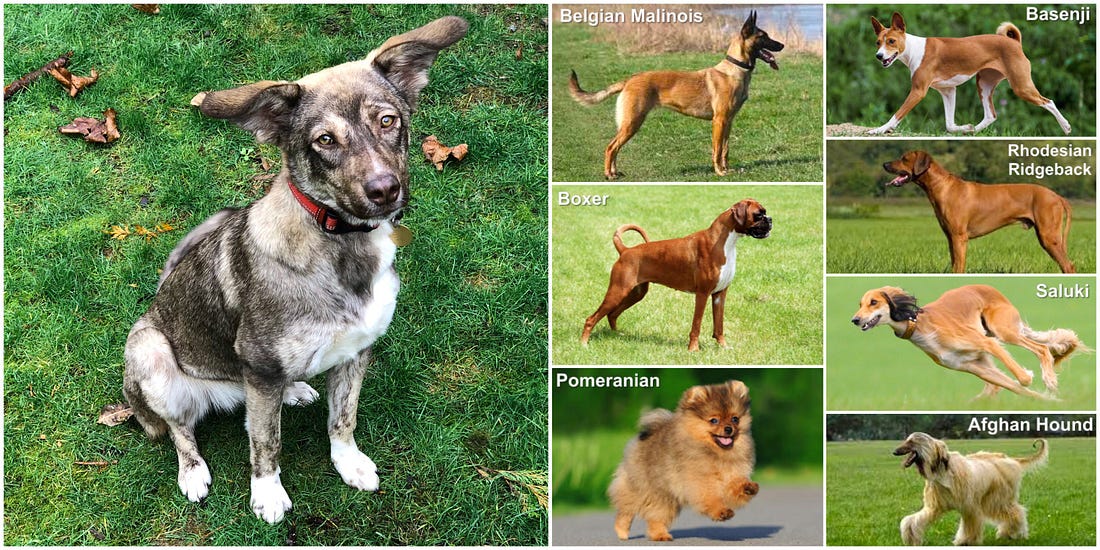 That's our dog on the left and all the dogs that made her on the right.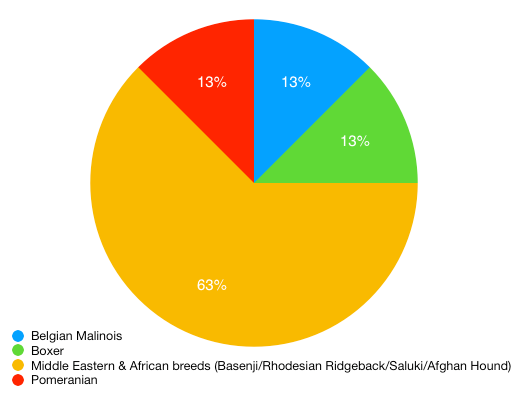 Certainly a one off. Love the heritage and looking forward to see how she develops as she gets older.
I'm also a mongrel but am a little uncertain at giving my DNA to strangers.
---
#ThePictures
If you scroll Twitter you might still see amazement when someone claims "I shot this just using my phone!" Even though it's far from new it's become a novelty for those eager to find eyes for their projects. They buy the top spec iPhone, drop it in a frame and bolt lights, mics and stabilisers to it. Once you have done all this you may have well spent your money on dedicated film kit. It might be you don't need to shoot edit and upload within the same minute. If that's the case then what you shoot on might not matter. Whatever floats your boat I suppose.
If you really want to get excited about films shot on a phone, find the ones that are not using the phone as an aesthetic choice but are using it because they had no choice. This film entitled Midnight Traveler by Hassan Fazili is creating quite a stir at the film festivals. Not because it is shot on a phone but because of Hassan's unfiltered first hand account of the trip he was forced to take with his family as they fled the Taliban.
---
Check out the art of Oriana Ingber. Yes. It's an oil painting.
---
Black Sheep is a mini documentary by the Guardian. (#NSFW)
Cornelius Walker aged 10 lived five minutes away from Damilola Taylor also 10. When Damilola was killed Cornelius's mother moved the family out of London and Cornelius found himself living on a white estate run by racists. He couldn't fight them. So he became like them.
---
Remember. You don't have to run away from a virtual grenade.
---
Not having a normal TV in the house means it's never turned on 'just to see what's on'. We've a dumb screen plugged into a Raspberry Pi running archived cartoons and films via Kody for the kids. A projector we can drop inline should we all want to watch a movie on the wall and when we choose to watch something in the evening, we stick a large iPad Pro on a footstool.
This means that for me at least, watching a TV show is a conscious decision.
This article entitled The twenty best TV dramas since the Sopranos lists a chunk of TV I have feasted on over the years. Highlights for me were The Wire, Breaking Bad, Deadwood, The Shield, Justified, Adventure Time and not on the list, The Detectorists.
---
On Exactitude in Science is a fascinating project by Alan Butler. A two screen video installation, featuring a synchronised presentation of Godfrey Reggio's KOYAANISQATSI (1982) & Alan Butler's KOYAANISGTAV made with footage from Grand Theft Auto. (2017)
---
Fancy shooting a sci-fi with some 80's style special effects?
---
#TheWords
Heroin for middle class nerds - How Warhammer took over gaming.
---
I started blogging (with RSS) on Feb 1st 2002. 17 years ago today. As you can imagine it was not the most creative of starts. At least it was short.
"So this Is Blogging...
I have rarely read them and THIS is only the seventh word i have ever written in a blog. Yup, this is my first blogged paragraph.
Never-the-less i know they are everywhere and everyone seems to think they have something interesting to say.
Me... Well i haven't anything at all to say... Not this minute anyway."
How things change.
---
#TheSound
Mike Pearce has started to serialise in audio some early writings from my friend Dave Goodchild. It's not safe for work or possibly even your sanity.
---

My car still has a key to start it but only needs a key fob to unlock it. The tech required to intercept and resend that signal is getting cheaper. In this episode of Hackable they show you how easy this is to do.
---
Still on the subject of hacking I really enjoyed this episode of Reply All. It's all about what happens when your Snapchat account is stolen and you confront the guy who did it.
---
An audio moment from Story Corps.
---
#TheFound
I'm considering new sections for the email that goes to paying subscribers (next week). 'The Found' would document objects I find in my archives and the stories connected to them. I'm not very good at throwing stuff away and have boxes of tech, tat and objet d'art all over the place. Take these for instance…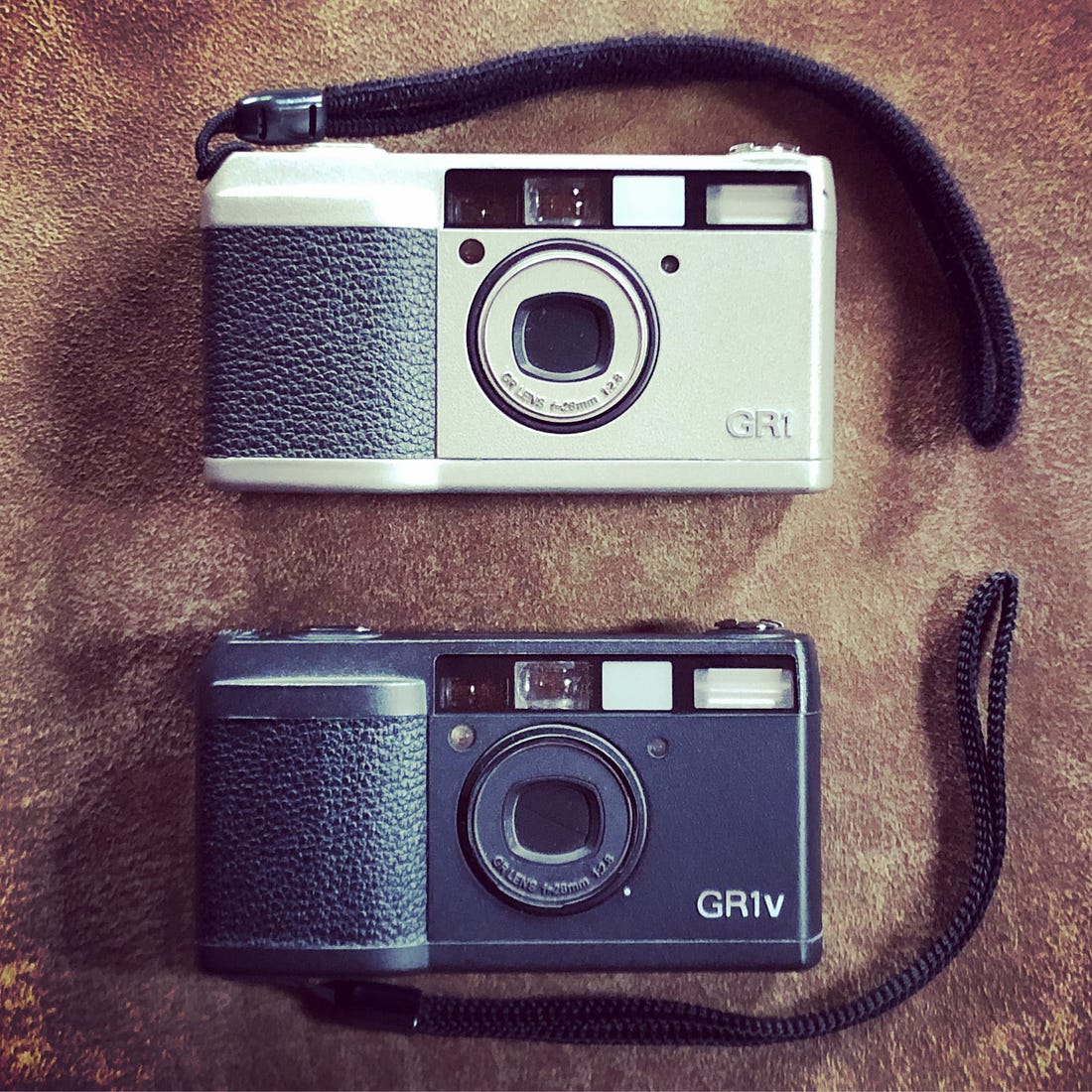 The best compact film cameras I ever used. As a result I struggle to let them go. One of them still has half a roll of Kodachrome in it! Can you even develop that now?
The standard GR1 (the silver one in the photo) was my every day carry. It came out in 1996 and was the discreet point and shoot compact chosen by street photographers. The professionals most likely took notice of it when photographers like Daido Moriyama would use it exclusively. I would not have been aware of him back in the late 90's and probably read about the camera in Amateur Photographer.
One night in Rugby town I rounded a corner on a BMX I was too big for and saw one guy beating the living daylights out of another. I shouted at him to stop but both were drunk. Taking out my camera I thought the flash might get their attention. It did.
Maybe it was because I also shouted police! but they stopped fighting and looked at me. It was obviously not a police issue BMX but I had their attention.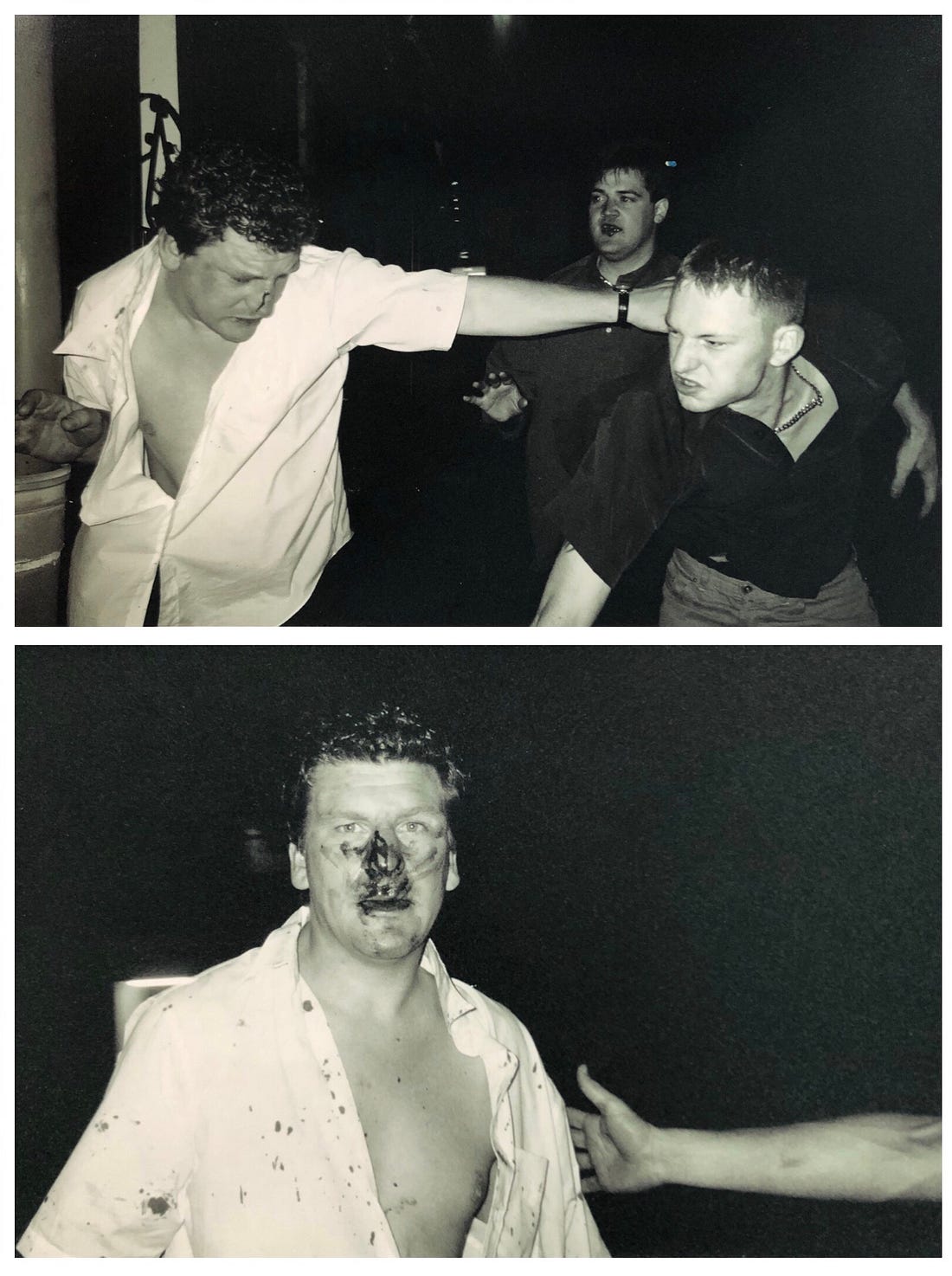 I snapped another shot to document the injuries and told them the police were on their way. The bleeding man mouthed a thank you as his drunken attacker turned and walked off. I told him that I'd drop the pictures into the police station if he wanted to press charges.
I remember cycling home wondering what the hell I was thinking. Rugby town was not a nice place to be on a Saturday night and stepping into a fight was the last thing you should do. A part of me was glad I'd managed to intervene… and happier still I'd got some interesting street pics.
These cameras can still fetch up to £500 on eBay.
---
#TheConsumed
While speculating what food stuffs may survive in post-brexit stockpiles my experiments with 30-75p per can out-of-date beer continue.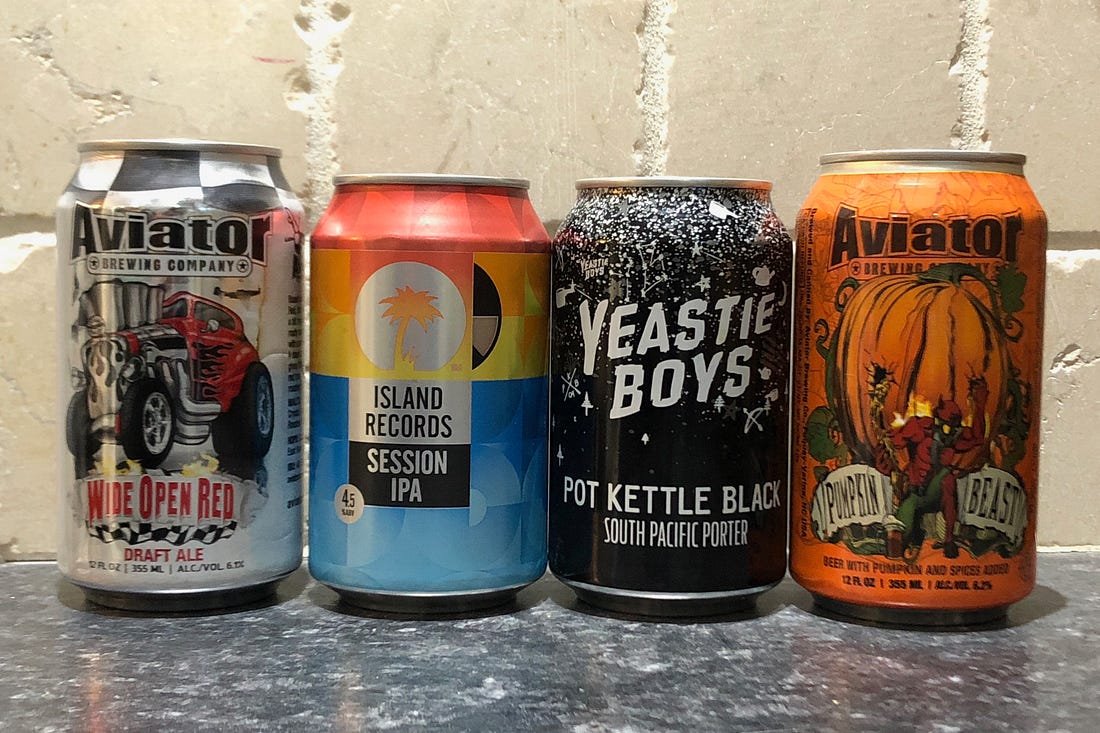 The pumpkin beer is 3 years out of date and I've suffered not adverse effects. That may be because no harmful pathogens can grow once a beer is fully fermented. The lower alcohol beers may taste a little different but my tip if you want to drink very old canned or bottled beer is go for the ones with the highest alcohol content.
---
#TheThings
After my workshop in newcastle Emma Cragg kindly tracked me down and gifted me what is now my favourite ale drinking glass. I have been testing it throughly.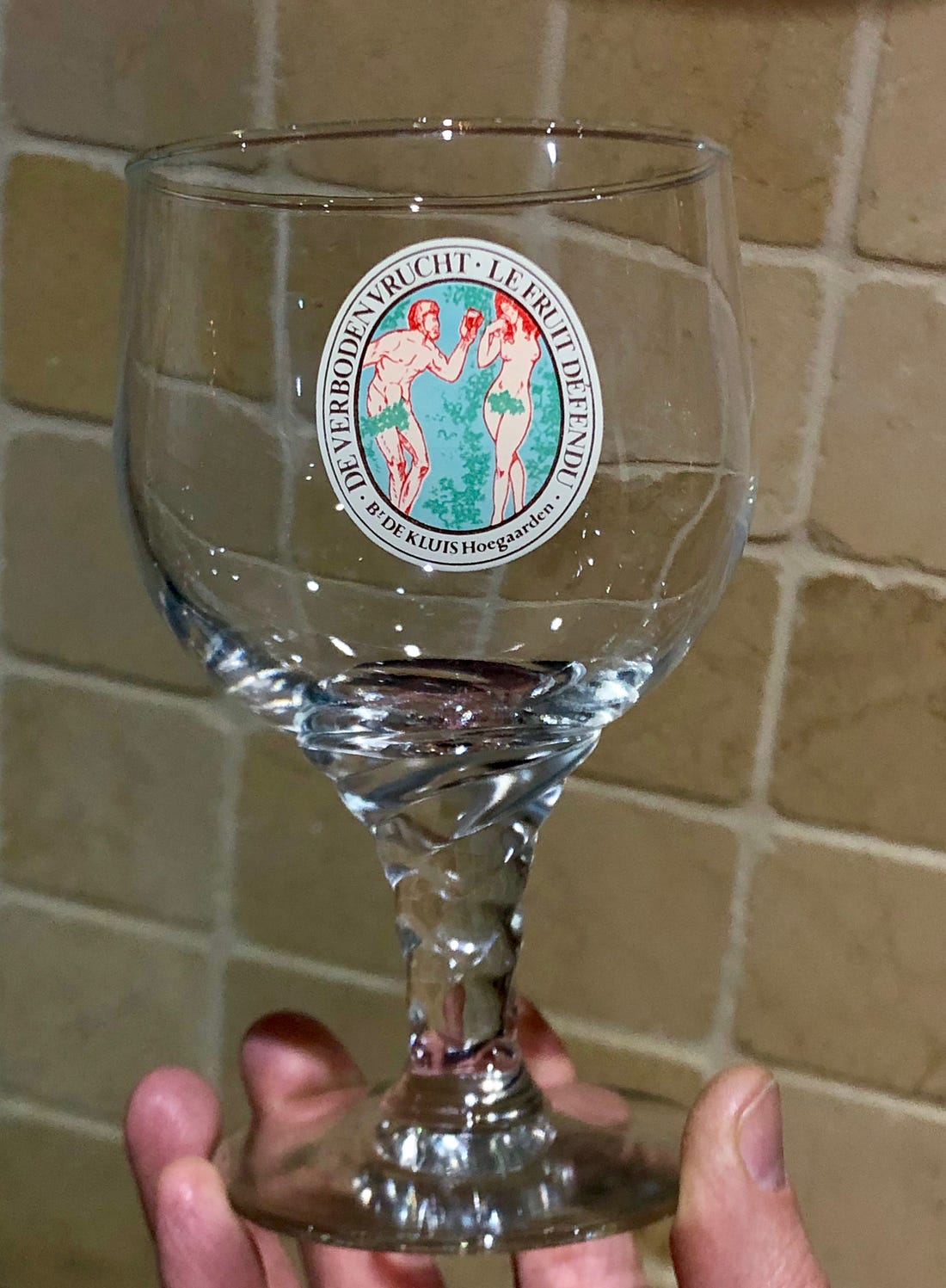 I was also delivered a Pocket Operator PO-33 micro sampler that I picked up on Ebay.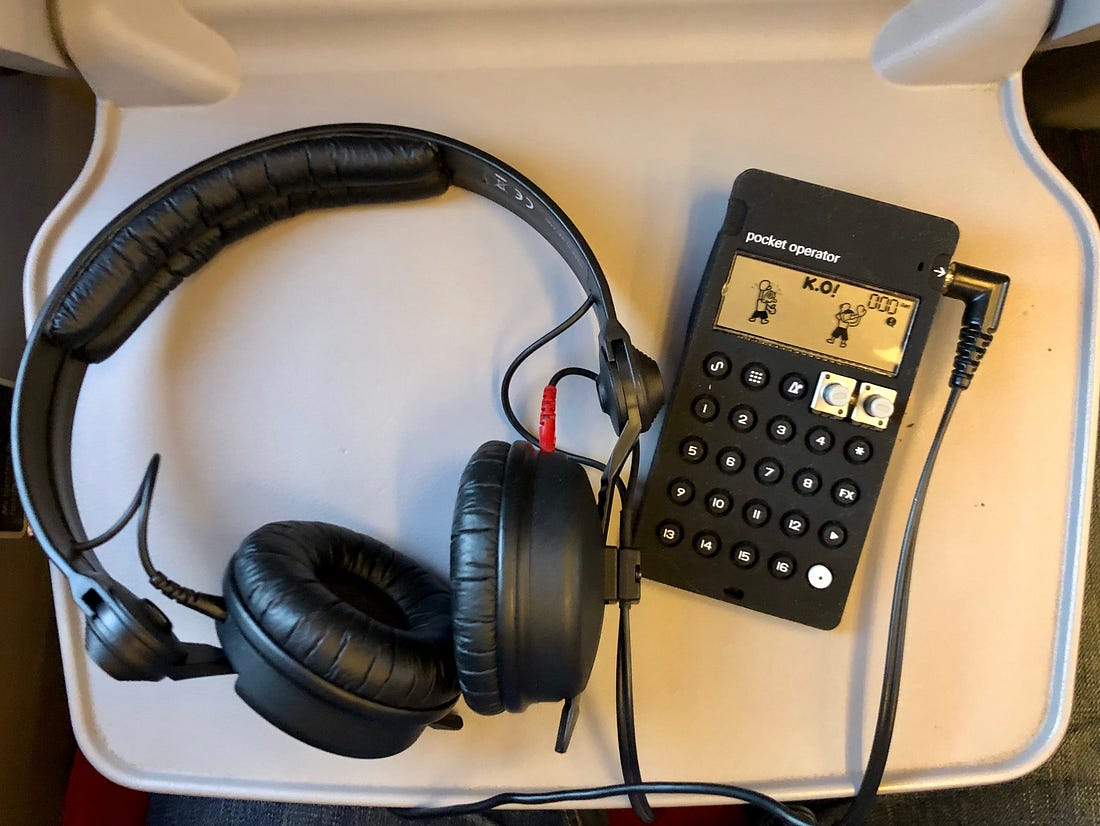 I had fun on the train looking like I knew what I was doing while fumbling my way through the controls.
Some people make it look easy.
If you are an expert and this stuff let me know. Maybe we can skill share.
---
#TheWeb
---
#TheEnd
Thanks for reading. Let me know how you are. Via Twitter, the Wire.com channel or email. It's all good.
It's my birthday this Sunday *wink* but if you were thinking of getting me something I'd much rather you invested $5/month and hit the red button below. If you do choose to support this email let me know and i'll give you a shout out. I do have a wishlist on amazon but I'm not a fan of shopping there.
All be told I'm just glad you're here.
I plan to drag next week out so it feels like a month.
---
"Good thing I'm ageing, otherwise I'd be dead."
~ Ana Monnar
---
[If you enjoyed this please pass it on]
Don't rush.
See you out there.
Over…