Discover more from Documentally
A human authored journal in search of novelty, exploring what we share, how we share, and where we're going.
Over 2,000 subscribers
The Illusion of Normality [240]
Greetings from the shed...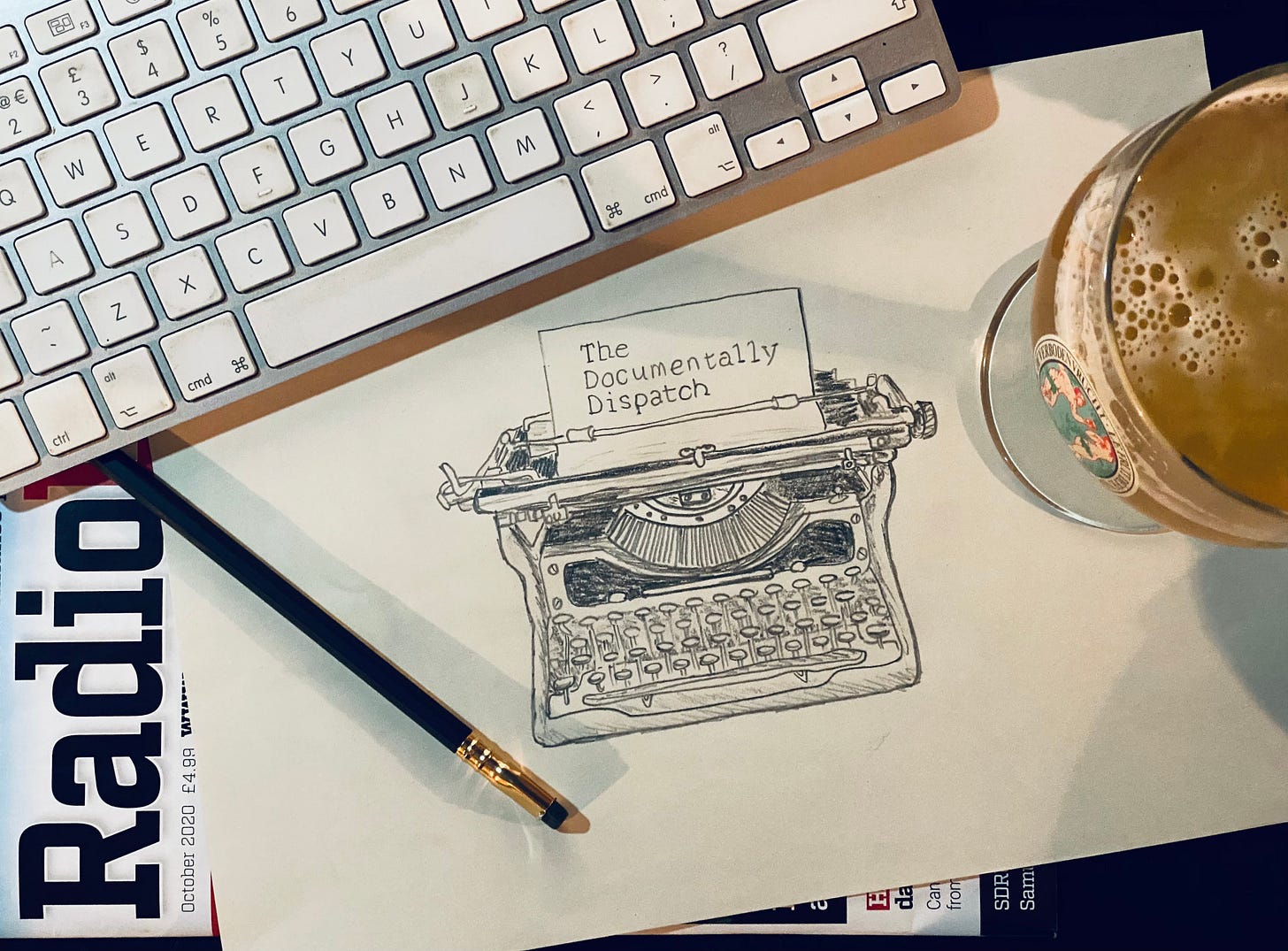 How are you?
I'm pretty good. This is a little later than I'd like though. I had an impromptu party of four at the garden bar. Just poured my 999th unique beer that sits on a list started in 2014. I shall raise this and and the next one to you and your health.
---
#TheAction
This week almost felt normal. Whatever that is. Or was.
In fact it was the most 'normal' feeling week I've had since March. Yes there was still the mask wearing, the social distancing and the incessant hand washing. But although these things punctuated the flow, I'm glad they still feel strange. I'm not ready to accept these deviations as my 'new normal'. That would have me let go of how things were. And I love how things were. With less anxiety in the air, times were more carefree. Smiles could be found if you looked for them. Things have never really been normal though. More relaxed perhaps.
But this week, with two meals out, a wander around Cambridge and a couple of relaxing evenings, it felt like a decent week.
The sun even blazed for a day and me and Adrian Storey made the most of it and shot this video while out testing the new Micro Explorer E-Scooter.
So what if there wasn't any work. I'm still holding out for some of you to assist in the curation of this wholesome content by chipping in £4 a month. No one has signed up for a while and yet you've no doubt recently spent more than that on something less enjoyable.
Supporting this email costs the price of a beer a month with this link. If you can afford more please use this link. Or this button…
If you would like to get the supporter emails and other content but can't afford it, please email me.
---
#ThePictures
Classic motor racing like you've never seen it.
I can't get enough of this kind of restoration work. Imagine how real history lessons might be in the future. If quirky old footage suddenly appears as documentary then perhaps we will finally learn from our past.
---
This makes me want to grab my own gear and head to a local bridge. Atlas explorer have discovered magnet fishing.
You can buy kits on Amazon now. Expect either cleaner rivers everywhere, or slower boating as narrowboat hulls drag along above the weight of lost magnets.
---
I got one of those emails you get from Youtube telling me that a copyright infringement has been found on a video. This one.
It helps that I don't monetise my channel. I was pretty sure that this was copyright free music 12 years ago but I can't remember.
Anyway. SXSW. Good times.
---
This is totally on my watch list.
---
#TheWords
Not reading much at the moment. So many books to read yet i'm mostly trying to catch up on issues of Radio World magazine.
Here are a couple of books not on my already massive reading list. The Epic of Gilgamesh. At over 4000 years old it's probably out of copyright. (Modern copyright didn't come about till 1710) You can download it here and read some reviews here.
Also the Codex of Leicester. Another book I've not read. Bill Gates owns it. Apparently the worlds most expensive book.
---
#TheSound
I remember hearing the first whisper videos when they landed on YouTube thinking WTF. I went from thinking "why?" to putting on some headphones and suddenly getting it. There was no braingasm or heightened sense of pleasure for me but I certainly was transfixed. Relaxed even. If you are not sure what I am talking about then this oral history of ASMR will bring you up to speed. Wear headphones though.
---
A short but interesting podcast called 'An obituary for the land'.
---
I found this ReplyAll report on QAnon fascinating.
---
#TheConsumed
I dropped this bonus epicurean issue this week. For those of you that eat, drink and support my work ;-).
Right now though… Let's start with this bottle of Kombucha I had with some noodles.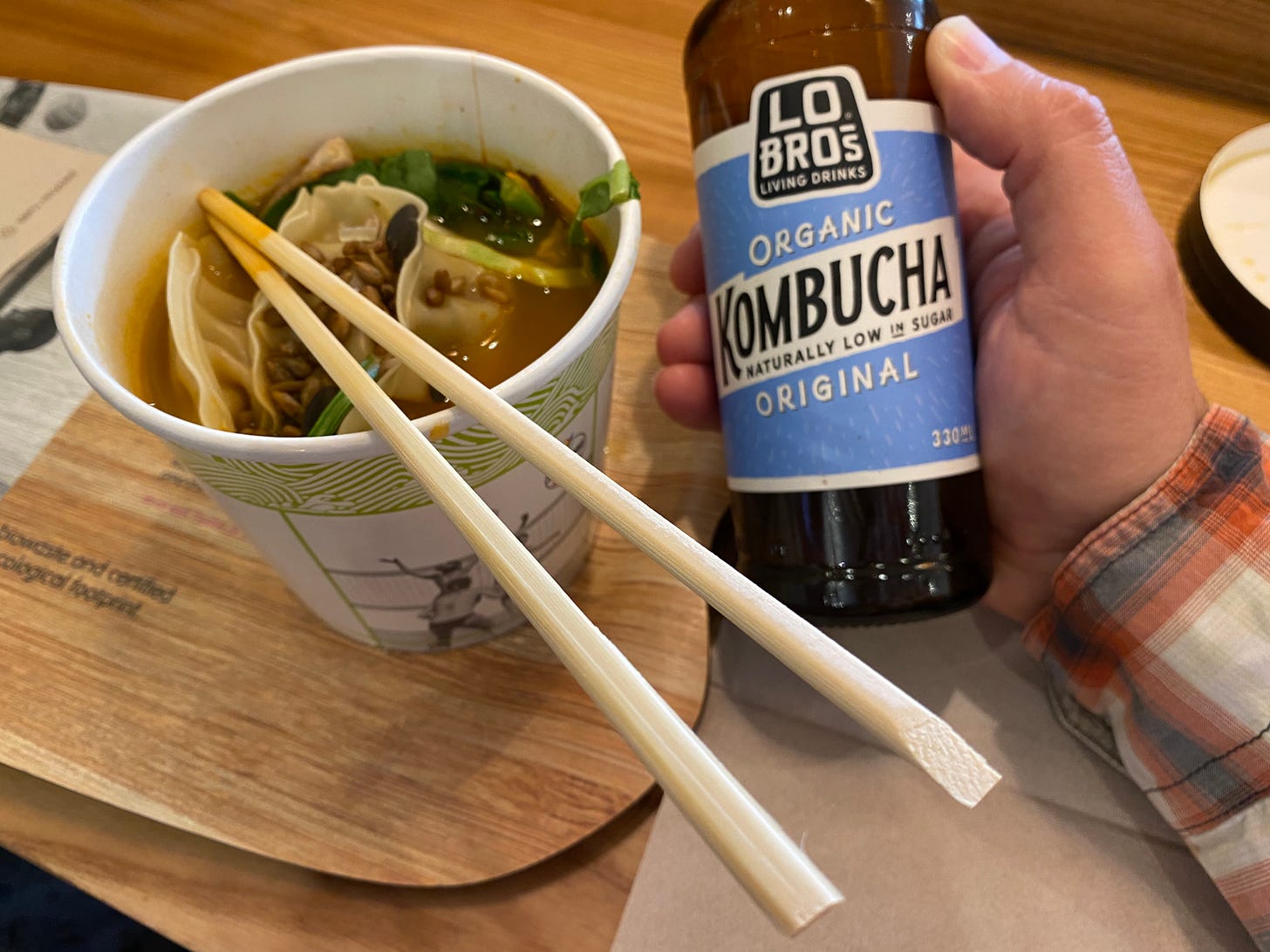 Kombucha is a fermented tea drink that when not home made is often seen flavoured. Probably because in it's natural form it's an acquired taste. Slightly yeasty with a dose of vinegar. I have to think of all the alleged benefits for me to enjoy it. Like when I first tasted beer.
As a drink it's been around for over 2,000 years and now i'm seeing it on shop shelves I can only guess it's having somewhat of a resurgence. It can also go by the name of Russian or Manchurian tea.
Chinese in origin though, it is made by adding tea and sugar to a symbiotic colony of bacteria and yeast, it is then left to ferment.
The result is... Interesting. I feel like i'm having medicine with dinner but have never felt any healthier. Unless burping more is a sign of better health.
Despite all the wild claims that it has magical health benefits these guys did extensive research reviewing over 300 articles and state that there is not enough tests on humans for the claims to be conclusive.
My gut feeling (after a gurgle and a burp) is that anything that tastes like medicine and has improved the health of animals, might also improve the health of humans. After all, we are the most animal of animals.
---
And let's finish with the optimal peanut butter and banana sandwich.
---
#TheThings
The Mikme Pocket is out in the wild!
---
My Wife mentioned that she really loved this pen. So I bought it as a surprise (a small just finished her MA gift). The following day she showed it off to me. She'd already bought it [sigh]. Oh well, she now has two of them. different colours at least. Anyway, when I bought it I got this voucher . If you need a pen it's a great store. And who doesn't need a pen?
---
I'm looking for a TV. With socialising through the dark months we are going to get one one for the winter. It will replace the projector that's on its way out. So it needs to be BIG.
But how do I find one with a 60-75" screen, at least HDMI 2.1, a decent energy rating that doesn't come with machine listening as standard?
If you have any ideas ping me.
This Twitter thread has been helpful…
---
New tool!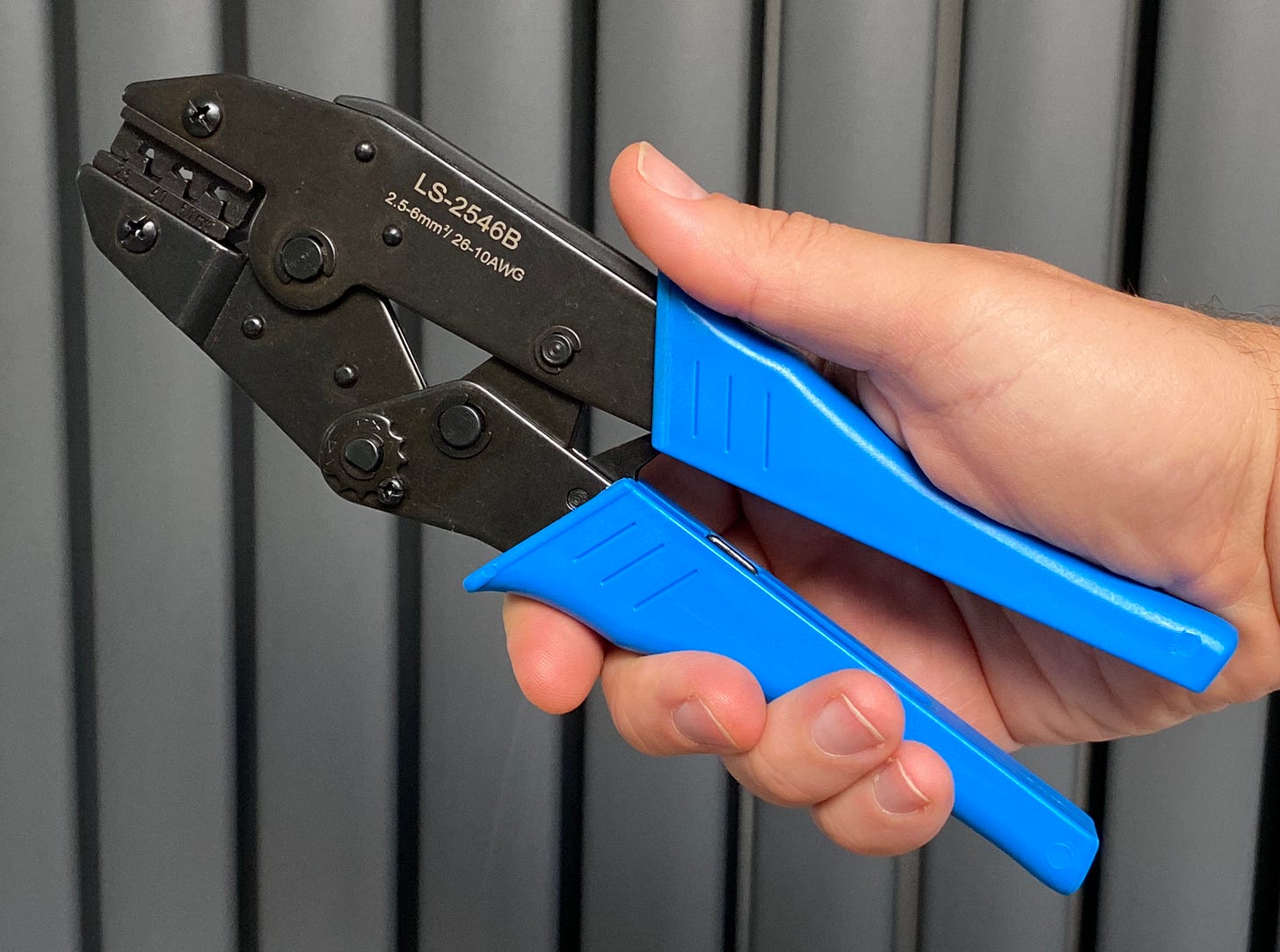 This cost £10! Back in 1989 when I was learning how to build Nd:YAG laser systems one of these could cost over £100! Oh, wait a min. They still can.
---
#TheWeb
WATCH THIS TOMORROW. ALL OF IT!

Artangel presents The Longplayer Assembly, in association with the London Review of Books, brings together 24 distinct voices from around the world in an exchange of ideas about our times; past, present and future.

The 12-hour long conversation will be streamed live online and introduced by Ansuman Biswas. You will need more than one wee break.
The speakers are John Akomfrah, Naomi Alderman, Laurie Anderson, Rupert Beale, Holly Jean Buck, Meehan Crist, Brian Eno, Saul Griffith, Janna Levin, Precious Lunga, Vibeke Mascini, Mariana Mazzucato, Mulindwa Moses, Catalina Ortiz, Will Prentice, Alexander Rose, Sukhdev Sandhu, Jacqueline Springer, Amia Srinivasan, Helen Thompson, Eyal Weizman, Farhana Yamin and Theodore Zeldin. More information can be found here. 

I'll tell you more about Sonic Ray closer the time… Put Friday 30 October & Sunday 6 December in the diary.

Have you added yourself to the Documentally community map?A few of you have.

The CIA's move for more patents and more profits. What could possibly go wrong?

Tiger King is an ethical train wreck

The Track and Trace app from the perspective of the ORG.

Mammalian physiology continues to astound us. These whales can dive for over three hours and scientists don't know how they do it.
---
#TheEnd
Thanks for reading. I owe a few of you emails. They are on the way. Next week is wide open. But first… the weekend. :-)
---
"Normality wasn't in the days I'd left behind me: it was only to be found in whatever fortune placed in my path each morning." ~ Maria Duenas
---
The stars know normality.
See you out there.
Over…