Greetings From My Shed...
You're back.
And some of you are new!
Welcome. It's not always like this.

It was a week of nothing much in my world. Of course the outside world continues to go to shit.

So while I attempt to squeeze some meaning from the last seven days, some of you may want to skip my diarising and get to the links.
#TheAction
There was a lot of form filling. It should have been less but whoever redesigned the US Governments website is a master of formophobic torture mechanics.

Close to two days of online data wrestling just because 4 years ago I popped over the border from Turkey into Syria. During a war. Luckily my time in Iraq was over 12 years ago.

I could probably find some kind of GIF to illustrate the frustration felt when attempting to apply for a US visa, but I'd rather just put it all behind me. At least until the face-to-face interview next week.

I do have this GIF. I call it 'Tourist or Terrorist'. I had a haircut and a shave thinking it might help me get a visa.
Some of the more arduous questions went:
"Have you travelled to any other regions or countries in the last 5 years?"
"Yes" I'd write.
"Please list all visits with entry date and duration of stay for the last five years."

Sixteen countries later and I'm only a short way through the form. Good job I keep a diary.

Apparently things might have worked quicker and crashed less if I'd used the US governments preferred browser. Internet Explorer 8.

I've done little to no travel this week. My much needed systematic desensitisation came from cycling, walking and exploring a possible new hobby... Treasure hunting.
It's been a decent antidote to my cold bath in bureaucracy.
#ThePictures
Really enjoying the BBC comedy the Detectorists. Great writing. It's just finished it's second series. It started a few years ago. I only stumbled upon it while looking for videos on metal detecting.
Click image to view the trailer
This lead me down a long rabbit hole of metal detecting videos. Some where two old blokes in a windy field find a hoard of silver coins 2000 years old and others where they are finding their first ever gold coin. Apparently you are meant to do a dance when you find a first.

Detectorists are a strange bunch. A mash up of fisher, 4x4 enthusiast and coin collector. It appears to be a very male past time although not as male as train-spotting.
If you never saw Stranger Things series one I'd skip this next video.
Is Stranger Things Series 1 just a mash-up of the 80's?
Link via Sean DeVitt.
#TheWords
It's probably no surprise that I've been reading a lot about the US and guns. I expect many of you have. This piece in the New Yorker follows the money.
I've also been reading up treasure hunting and metal detecting. Yes in papery things. It's easier than the super nerdy forums. It's still a whole new language though.
#TheSound
I'm glad to hear the podcast Heavyweight is coming back. This pre-episode entitled 'Milt' references a previous one and hints towards what's to come in the new series.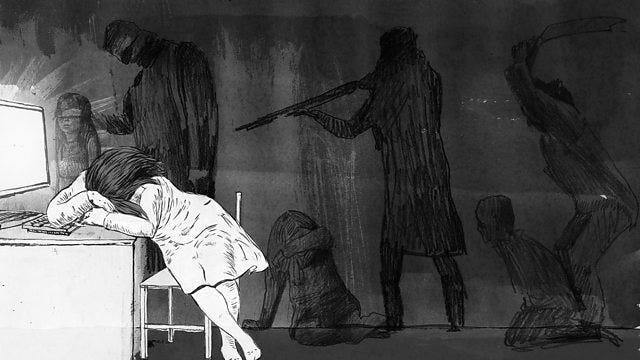 Digital Human is back! This episode contains some very dark themes so be warned. Do not listen with kids around.
Guns before country. The Intercepted Podcast.
I tried to listen to some podcasts on metal detecting but nerds like to talk. One was 3 hours long and I made it through 45 seconds of monotone monotony before I bailed out.
#TheConsumed
No booze review here. I've only had a glass of mediocre wine all week and the less said about that the better.

Porridge is what i'm excited about right now. Hot, cold, traditional or cluttered with berries. Porridge is international and timeless. I've had it made from wheat, rice, maize, millet and of course oats. I'm a quarter lots of things but also Scottish so it would be amiss of me not to scoff a hot bowl on an October morning. Here is one way in a thousand that you can make it and how I sometimes do.

It should really be eaten from a wooden bowl but I don't have one.
That said... There are no rules. Humans have tucked into porridge for tens of thousands of years if not more. It would be foolish of me to tell you how to eat it.
#TheThings
Thanks to you guys occasionally clicking on links in this email, I was able to use a voucher and get a chunk of cash off this.

Nicknamed the 'Garret carrot' it's not a dildo for bush-crafters. It's a hand held waterproof metal detector for pin-pointing metal after you've dug a hole. It does have a vibrate setting though.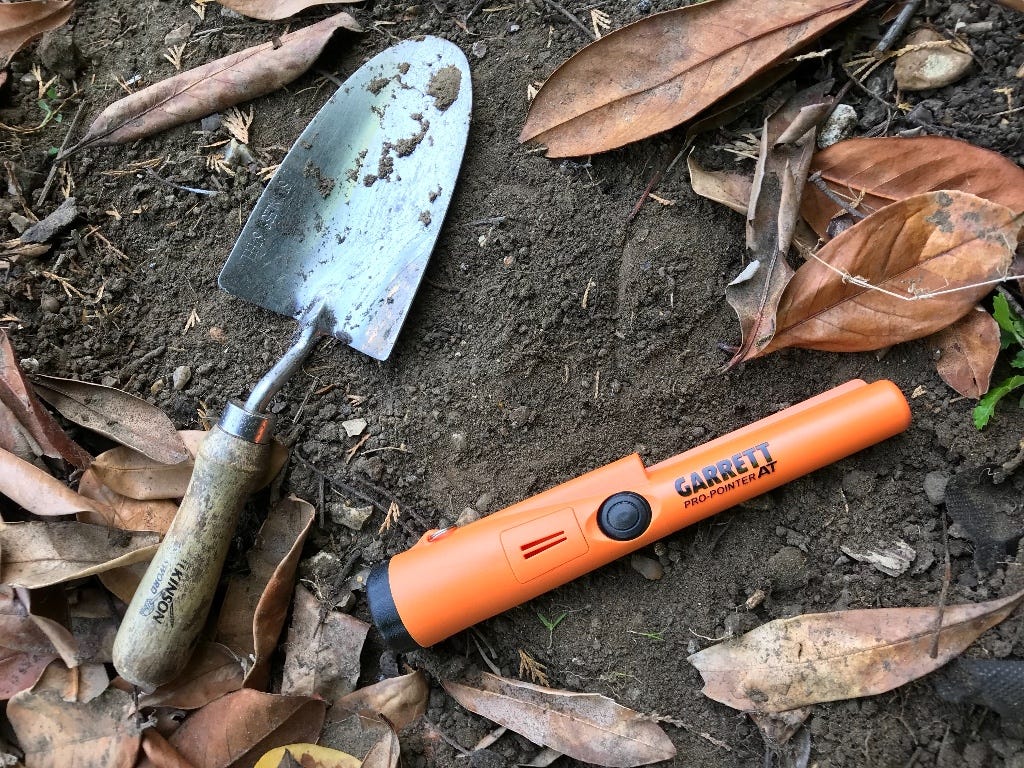 I've seen a few videos of people out and about with this and a trowel, hunting for surface finds or objects a few inches deep. I thought it would be sensible gateway tool for me to see if I like scratching around in the dirt. If so i'll invest in something serious.

I bought a metal detector from Maplins many years ago. It was total crap. Then I went on a 10 week archaeology course in Rugby and for some reason bought a mine detector from army surplus. Still got it somewhere. Never been able to power it.

This time I'm only going to buy stuff that works. I want to do it properly. To learn about the past. If I'm lucky I might even be able to contribute to our knowledge of it. That means logging and reporting all finds and following the rules around permissions.

If you have an estate, a farm, some land, or just a big garden you wouldn't mind me exploring... let me know. I get first pick on a 50/50 treasure split. These detectors are not cheap. If you want to invest or sponsor me a detector I can pay you back in treasure or rare 1972 Tizer ring pulls. When I find them;-)

If you never hear from me again I've either found an Anglo-Saxon hoard or some unexploded ordinance.
I picked this 3/4 size silver stringed acoustic in a charity shop today. The Fender MA-1.
My Daughter really likes Marceline the Vampire Queen and although Marceline plays bass I figured she can migrate to bass if she likes playing guitar.

It was £20 but but needed strings which they just so happened to have for £1.50. Not bad for a guitar that can retail for £150.
#TheMind
Coins were probably the first thing I ever collected as a kid. Then Lego, then marbles, then stamps, then key rings, then keys, then badges, then erasers, then comics, then knives, then vinyl, then stickers, then whisky, then hats.

You get the idea.

My lego went, as did the keyrings and most of the whisky. I still have the other stuff. I like to think I have a hold on this. I never collected huge amounts of anything. One small book of stamps does not a serious collection make. I hope my brain is more than just a collecting organ. Apparently there are four criteria you have to watch out for when diagnosing 'hoarding disorder'. I certainly find it difficult discarding sentimental objects and items from my past. No matter how silly. With so many of my family dead I once managed the sentimental detritus by digitising it so that it could be binned or given to charity.
There is a fine line between passion and obsession. Thankfully curiosity has made me a collector of collections and not quite an obsessed collector.
Click the video to view.
#TheWeb
This is a great read. The four types of futurist.
Google released a creepy camera this week. I much prefer the GoPro Fusionthough.
A.I. equipped child monitors are also creepy and if I had any networked CCTV i wouldn't tell you.
Have you added yourself to the OMI Newsletter map? Let me know where you are and i'll pop round with my metal detector.
I don't do much Geocaching now-a-days but some of my travel bugs have done tens of thousands of miles. Some were set loose in 2005 and are still hopping around the world from cache to cache. This is the travel map from one named Hunter S Thompson. I released it the day after he died in 2005 and 22,000 miles later it's still on the move.
Heather Gold is coming to the UK!. Check out her site.
Honda's prototype disaster relief robots are pretty impressive.
Tinder as a tool for journalism.
Nearly there. Pour yourself a drink. Leave your phone in another room and grab a book or restring a guitar. Remember that Plato would have wanted you to unplug.
#TheEnd
OK, it's late. I've opened the wine and snapped the picture for the top of this email.

Tomorrow i'm going to see DJ Shadow in London. I have 2 spare tickets i'll sell to the touts unless you want them. Then on Sunday I head north. Way up into Scotland and almost off the end. There will be whisky and art. Maybe together. Then, later in the week I have a date with an official in the US Embassy.

Wish me luck.
"Learning is a treasure that will follow its owner everywhere." ~ Chinese Proverb
If you enjoyed this please pass it on. No one listens to me....
---
Next week won't be perfect, but it's all ours.
See you out there.
Over...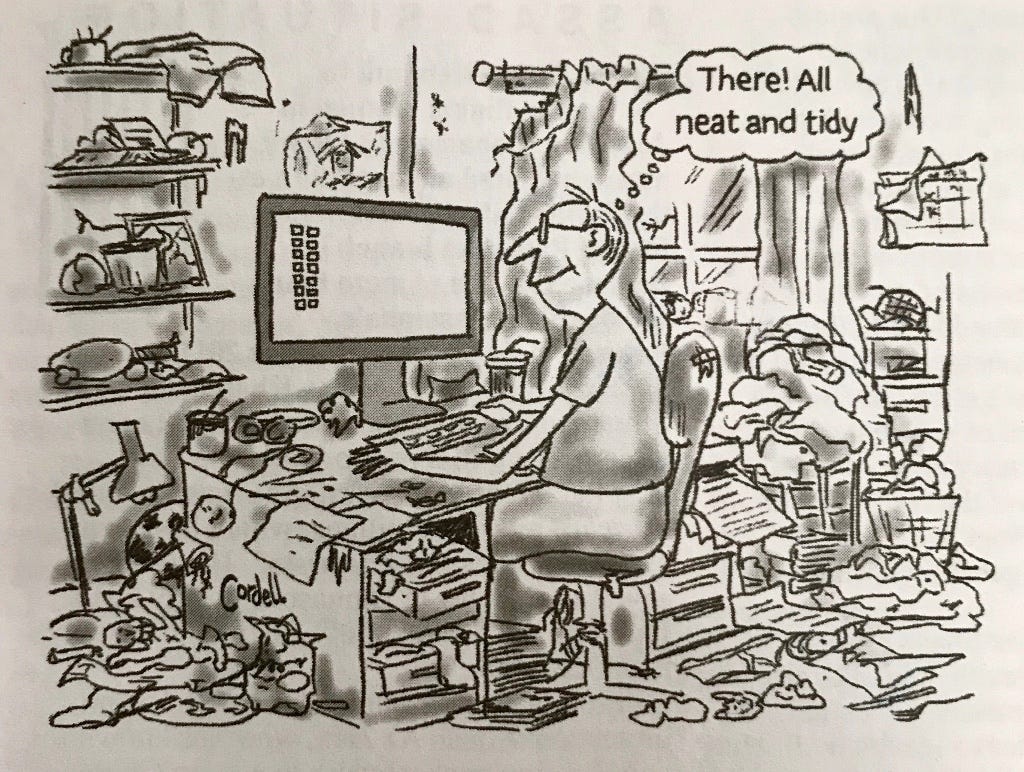 If you would like to hire me I talk, train & document. if not buy me something nice & I might remember you in my will.
Clicking this red thing is another way of saying thank you.
This email is free but I sometimes use affiliate links.
That means should you buy anything I may get credit to spend on shiny things. Thank you :)

If you've been forwarded this newsletter please don't unsubscribe the sender.