Discover more from Documentally
A human authored journal in search of novelty, exploring what we share, how we share, and where we're going.
Over 2,000 subscribers
Nothing is trivial [224]
Greetings from my shed...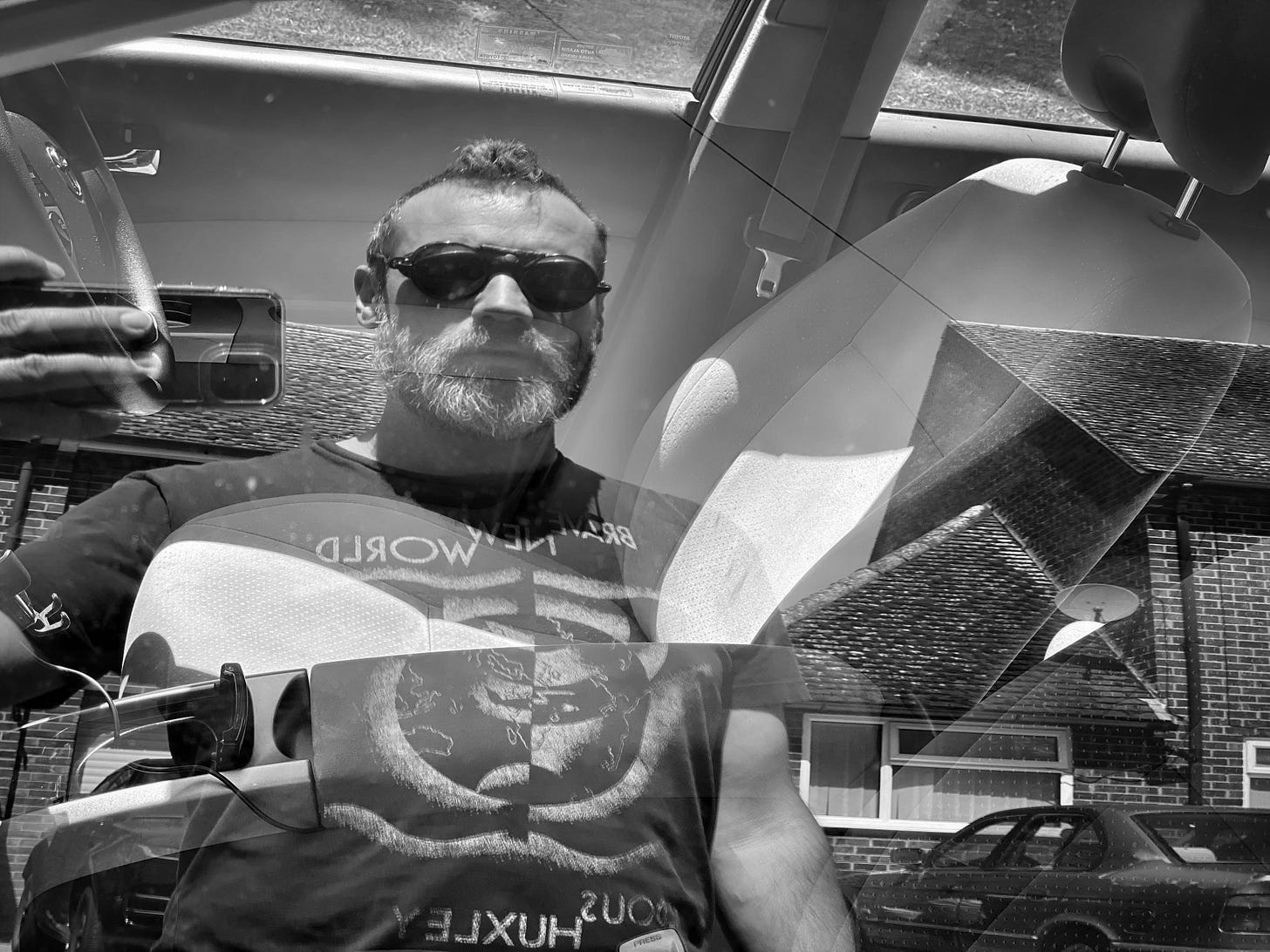 Nothing is trivial. Everything has meaning. It's not hard to see the world full of wonder. It's an ability we are born with. The trick is to continue to see the magical in the miniscule. The wondrous in the moment. And to remember that is all we have.
This episode of the 'Boring Talks' reminds me why i'm drawn to what some perceive to be the 'trivial details'.
---
This morning I dropped @Minimentally off for his last day at primary school. End of an era and the beginning of a new one. His younger sister's year hasn't been allowed back at school and they broke up a while back.
I don't remember my last day at first school, but I'm pretty sure he will. He stood under a blazing sun in a two meter spaced queue. His bag full of sweets that he wasn't allowed to share.
After washing his hands in an outdoor decontamination sink, he proceeded to a designated circle on the playground. Waiting to be called in with his 'pod' he glanced over.
A little way away — under the shade of a tree, his little sister stood crying.
Later in the day he was the first to leave school. Not because he was in a rush. But because I was the first in the queue to collect. He shuffled out of the gate. Fully aware of the gravity of the moment. A little teary even.
Unpacking his school bag we found his final report. It could not have been better. He really has levelled up and up until I wrote these words I'd managed to keep dry eyes.
So proud.
As we walked home he asked me to play 'Schools out' by Alice Cooper.
School doesn't teach you everything. It delivers the lessons for the tests I care little about. This frees us up to deliver the life tests that teach them a lesson. And it seems to have worked out so far.
---
"As you can see, I have memorized this utterly useless piece of information long enough to pass a test question. I now intend to forget it forever. You've taught me nothing except how to cynically manipulate the system. Congratulations." 
~ Bill Watterson
---
How has your week been?
It's ok to head out to meet people but holy shit. While all the sensible people I know have been avoiding crowds. Some less sensible have been heading right into the thick of it.
I have ventured out to meet friends twice this week. Once locally for a few beers in a field and once at the #1984Symposium.
Having kept this years get-together at Orwell's low key I was pleased to not be alone.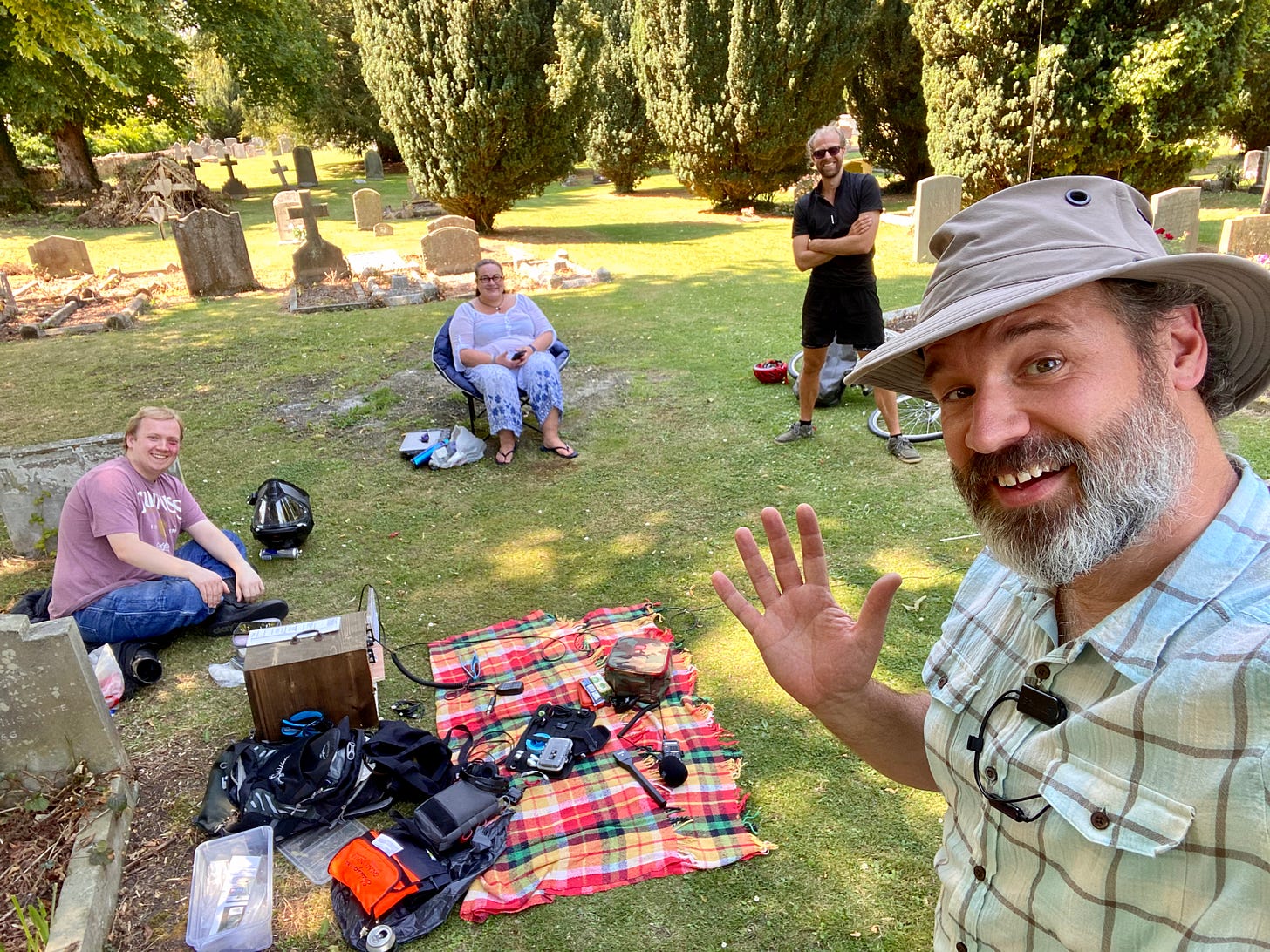 I was joined by Amanda, Adam and David. You can hear their voices here.
Adam took this photo of me tinkering with my mobile HF radio…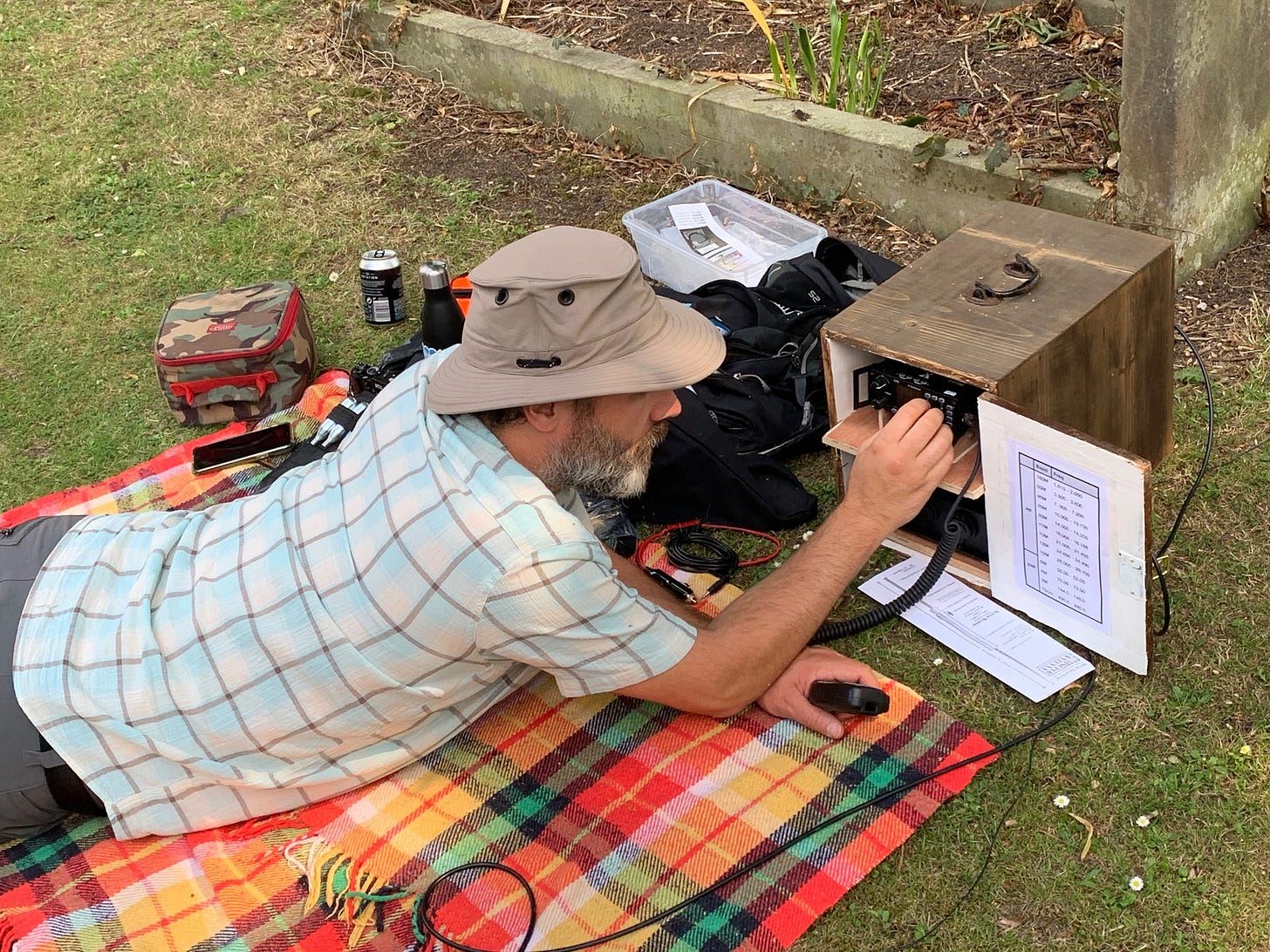 …And Amanda took this one.
Next year his birthday will still be on the 25th of June so get it in the diary now and bring a picnic and a passage of Orwell's writing to read out.
---
Yesterday I also managed a virtual meet up with whisky loving chums Ross and CJ.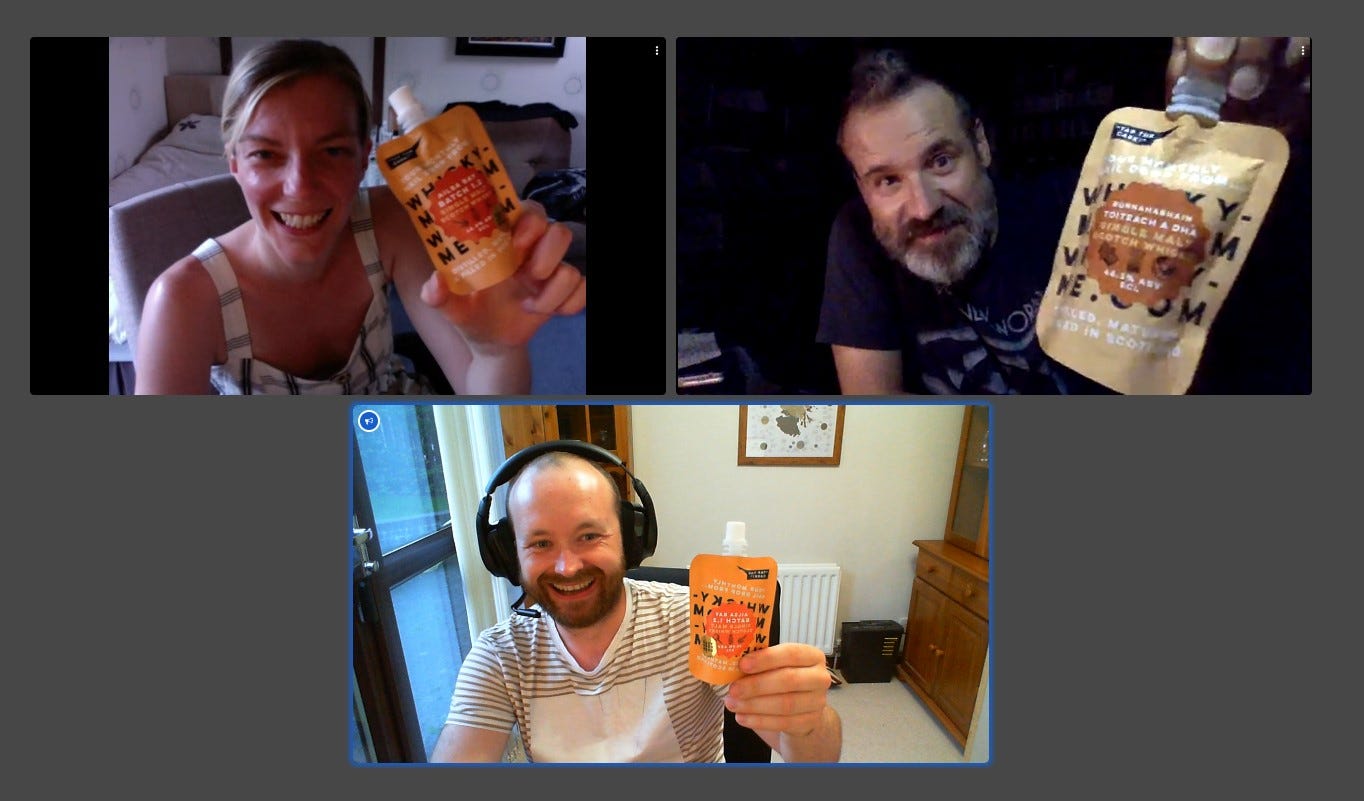 We all opened our Whisky-Me deliveries. If you've ever considered having a regular large whisky delivered to your door now is the time as I have this referral code and if used we both get a free drink we can share on line.
Obviously i'd rather have you spend your £4/month subscribing to this newsletter. (I get about £3.20 of that. And we can video chat with any drink.)
---
Have you been sharing audio into Twitter for AudioMo? There are lots of ways to do it. I've mostly been using Backpack Studio and Wizibel to create little videos. That way you have the audio file and a video file on your phone and also the video post on Twitter. Yes you could use Twitter's new audio feature but how long might they keep hold of the file?
I still don't have the audio posting feature in my Twitter app and imagine people will be well over it by the time I get to experimenting.
---
I watched the film 'The Vast of Night'. Low budget sci-fi at it's best. It had style. As well as radio, strange sounds and tape recorders.
Go watch it without spoilers or if you can't help yourself here is the trailer.
And here's a short, weird and #NSFW film.
---
I needed to separate my electronics-focused tools from my other tools an so picked up this new toolbox.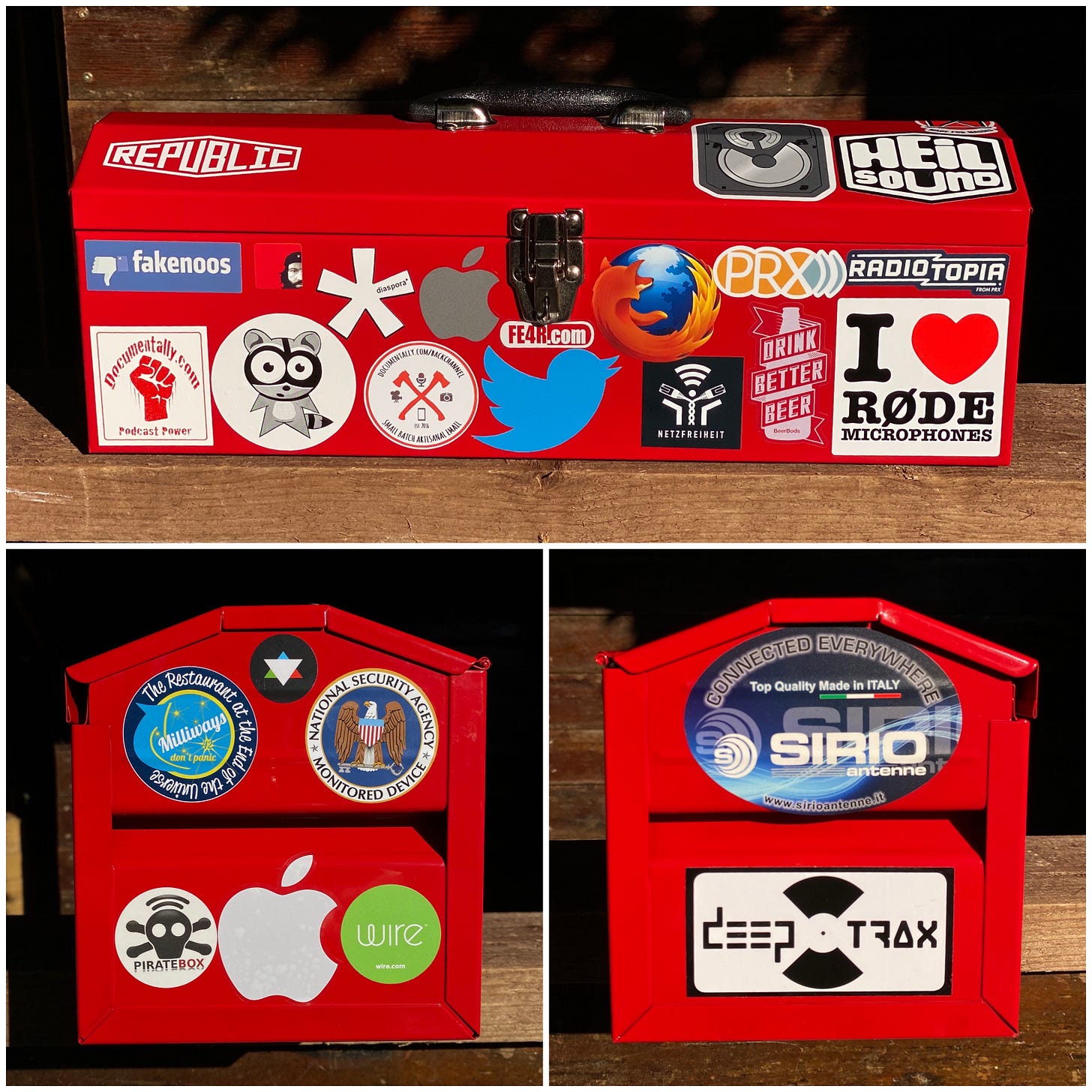 Of course it came without the stickers I just couldn't help myself.
I had this fancy toolbox on my wishlist for a while but it's smaller and double the price. So i'm more than happy with the red one thanks.
(The amazon affiliate links in this email are only for those that don't pay to subscribe. Supporting subscribers are obviously too smart to be lured by cheap tat sold by a company that doesn't pay their taxes. They might want to buy it from here. ;-)
---
Been testing a new Ham Radio 2m/70cm antenna called the Shakespeare Galaxy Infl8.
It's compact and pocketable but it's early days with the testing. Love the concept.
---
[As I write this it's 33 degrees C in the shed. I've just added an evaporative cooler to my wishlist. Do they work?]
---
Some links…
The bus from 'Into the wild' has been removed.

The Alaska Army National Guard deemed it to be too dangerous to keep around. Hikers were dying.

This book is pretty special…

Tomorrow marks six years since AM and SSB have been legal in the UK. I'll be popping on to see if anyone is around.

We may need to grow crops in sea water to survive.

More than 30% of civilian pilots in Pakistan have fake licenses.

This is brilliant...

Learn story structure from the Batman animated series.

The lost world of the LP. [audio]
---
"School has become the world religion of a modernized proletariat, and makes futile promises of salvation to the poor of the technological age." 
~ Ivan Illich
---
Thank you for reading and many thanks to the paying subscribers that keep this newsletter going. I will be raising a class in your honour tonight.
Two people chose to support my email this week so I opened it to everyone. Supporters can leave a comment on the Substack page so for an experiment, please feel free to drop a link to a project you would like to share/amplify.
Next week I would have been at some festivals but I guess I'll now be hanging out in my shed.
We can still have adventures though.
Stay cool,
Over.
---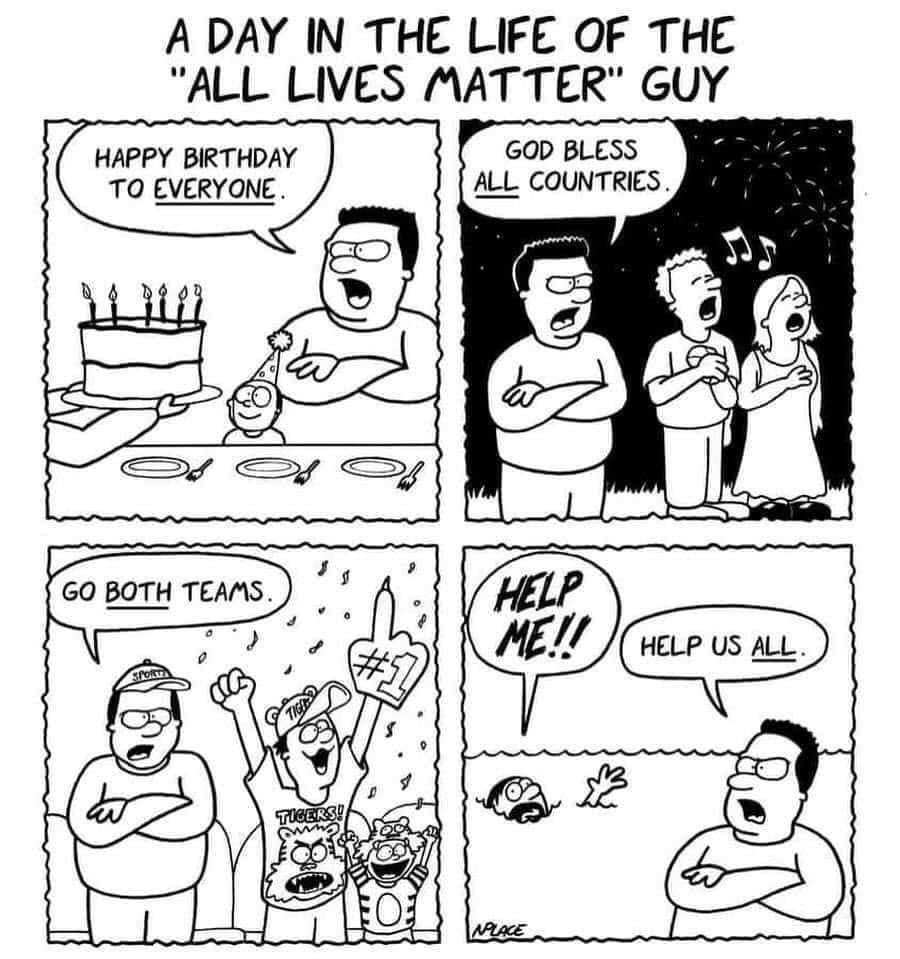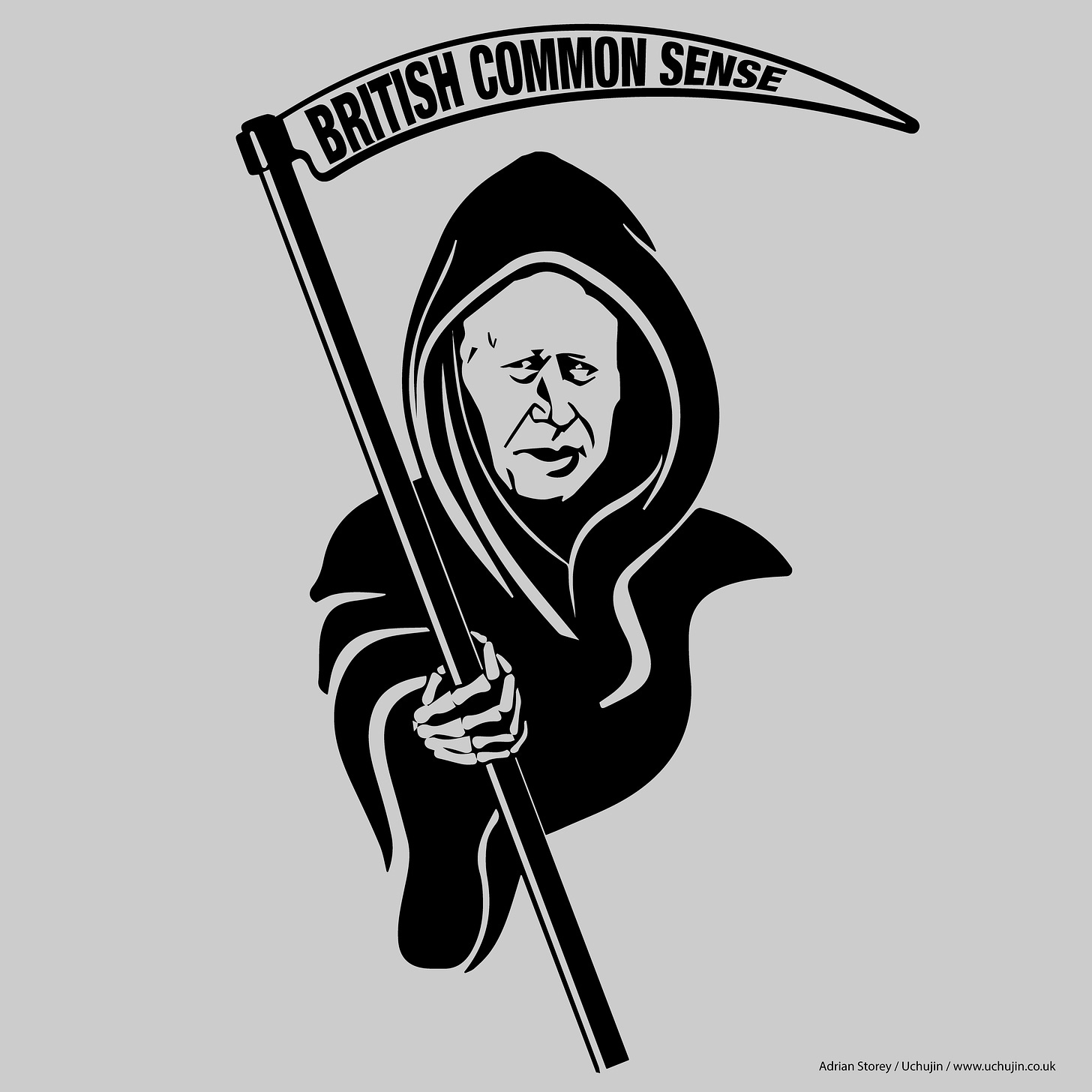 …did you hit the like button and save a kitten?