Discover more from Documentally
A human authored journal in search of novelty, exploring what we share, how we share, and where we're going.
Over 2,000 subscribers
Neverending Story [176]
Greetings From My Shed...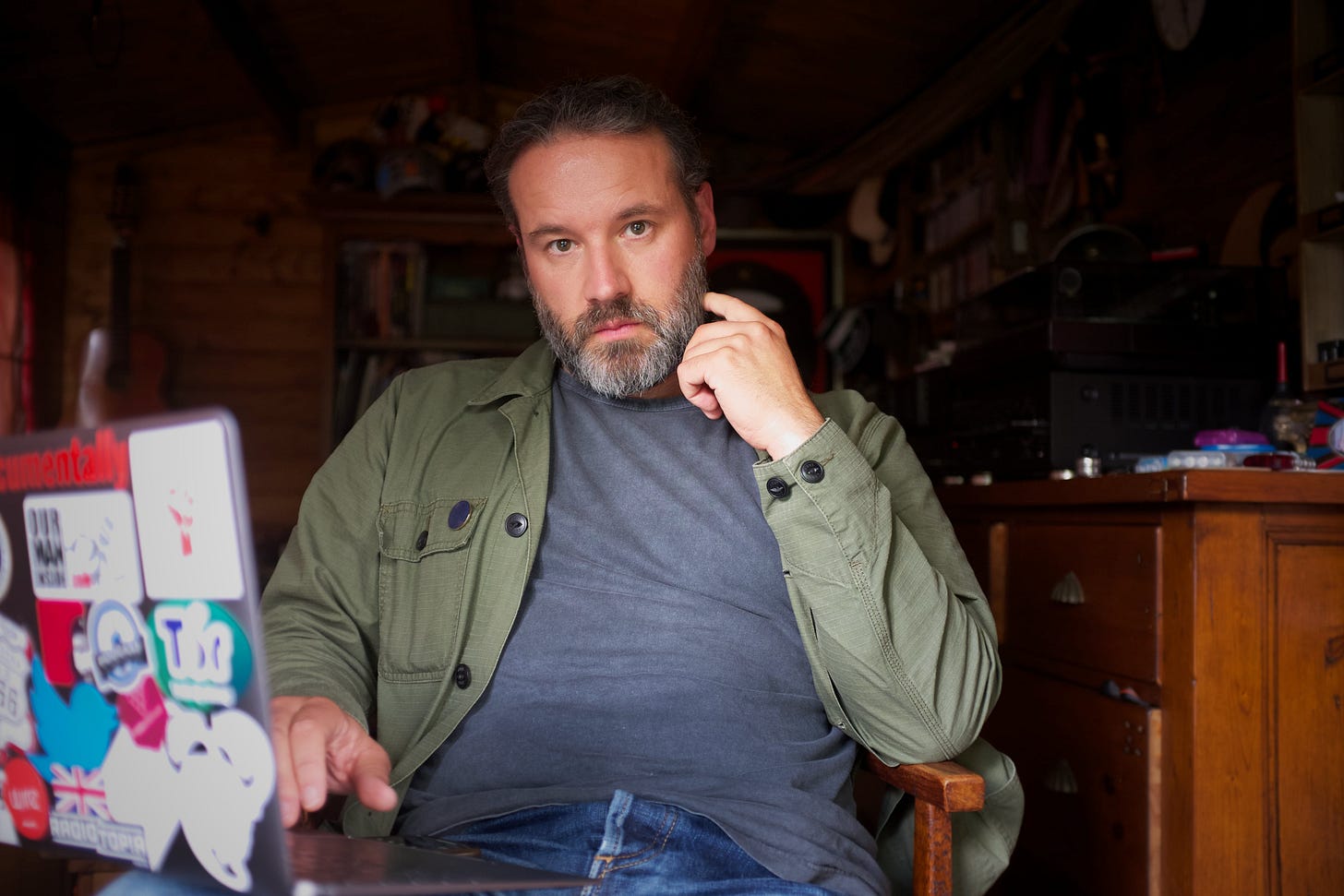 Grab a drink and turn everything off apart from this screen.
You have over 2000 words, 7 videos and 3 podcasts to digest.
Of course none of this is compulsory.
---
#TheAction
I needed that holiday.
Turning my back on the news feeds delivered me to a blissful place. Somewhere I could finally relax. Where tight wired brain matter turned to goo and rediscovered an appreciation for all the wild things.
The world was on fire when I left and it was still burning when I returned. I'd managed to step away from the voyeurs circle and stared at the sea. Touched ancient standing stones. Explored crumbled ruins.
The birds of prey circling in the mountains seemed much more wholesome than the ones hovering over political carcasses in Westminster.
So it's back with a bump from the amazing Isle of Arran.
I'd took some serious audio recording gear away with me but was so immersed in physically being there it never left the bottom of my bag. Subscribers will know I did manage a quick binaural podcast on the ferry back, but that was mostly triggered by an unjustified guilt that I hadn't partaken in one of my main passions.
I now need to re-find my pace. School is happening again and being torn from sleep to deal with the logistics of that is taking some getting used to. Yesterday I discovered two litres of Malbec the night before does not act as a lubricant for sliding back into an early morning routine.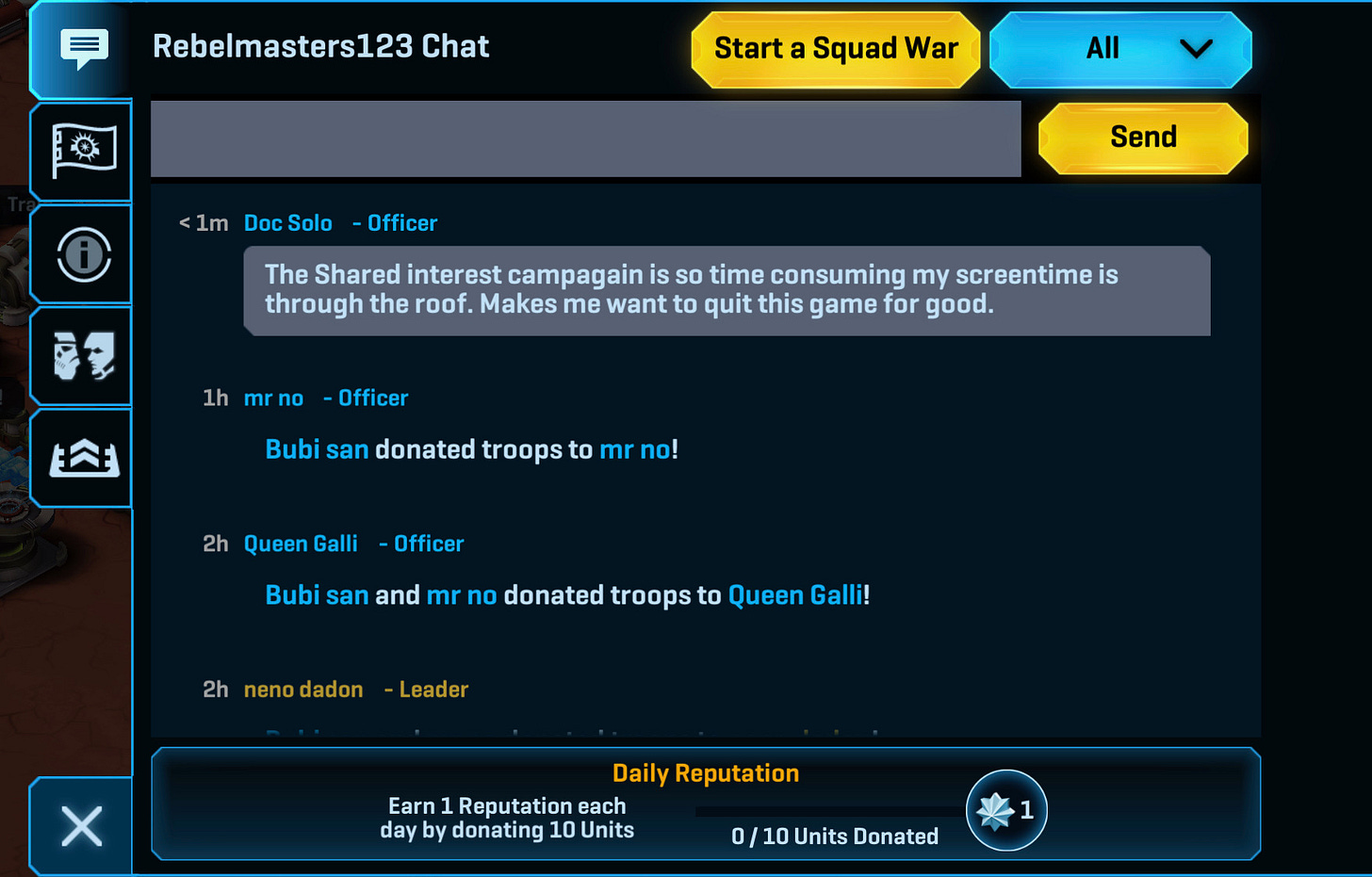 I'm also playing too many video games.
---
As of 30 minutes ago my boat is back on sale. It was under offer but the potential buyer had no idea what they were doing and has bottled it. I have put hours into answering their questions. As has my (actually genetically related to a pirate) friend Glen LeSanto. He has been amazing.
If you want to do something like experience boat life you have to take leap of faith at some point. I did and it was one of the best things I have ever done. And I will do it again. But I can't get a smaller boat till I sell Story Maker. I was going to sell privately but it looks like I'll need a broker now.
There is good news though. I finally have my motorbike back. It's been with Webbs Motorbikes in Peterborough for three weeks. My friend Adrian kindly gave me a lift over so I could collect it and pay the £300 it cost to sort it out. The issue was that the throttle bodies were not attached. No idea how it happened and it's possible that the person I bought the bike off had been tinkering in there. Needless to say I'm pleased that I didn't kill the bike but I'm surprised that it made it all the way home. Glad I took it to Webbs. Nice people.
The advice I got in France to not drop below 55mph may have been the reason I got back as that would apparently create the suction needed to keep the engine together.
It sounds good and ran like new. I rode the bike home with a big grin on my face. But dropped it trying to pull a slow tight turn.
2500+ miles without an issue only to drop the bike on my driveway. Luckily it landed on the scratches the previous owner made after they dropped it.
It's an 'adventure' bike. These battle scars must make it look better.
There's still some way till it reaches its full potential.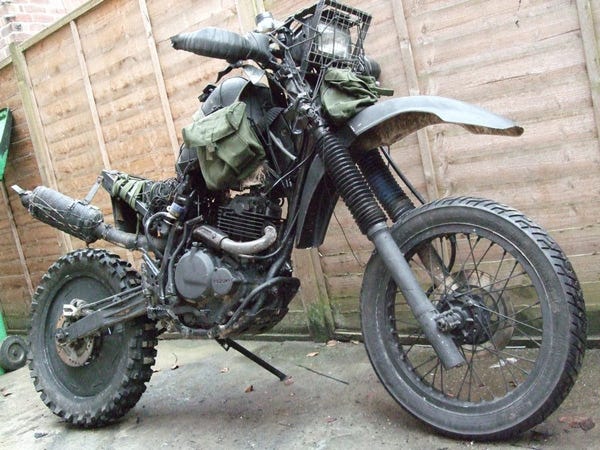 (*not my bike)
---
#ThePictures
---
Three minutes of magic.
---
Just finished series three of Stranger Things. I loved it. As a kid who grew up in the 80's it resonates on so many levels. Don't watch the trailer if you are still working through series 1 or 2.
This linked video also contains a massive spoiler so do not watch it unless you have made it through the third series.
---
Did Trump Break the Law by Altering Hurricane Dorian Map?
---
Back in the day. What… 34 years ago..? I was lucky to keep my Raleigh Burner on two wheels. This guy is insane.
---
#TheWords
Been getting into some cryptozoological pseudoscientific subculture with the book 'How to survive a Sharknado'.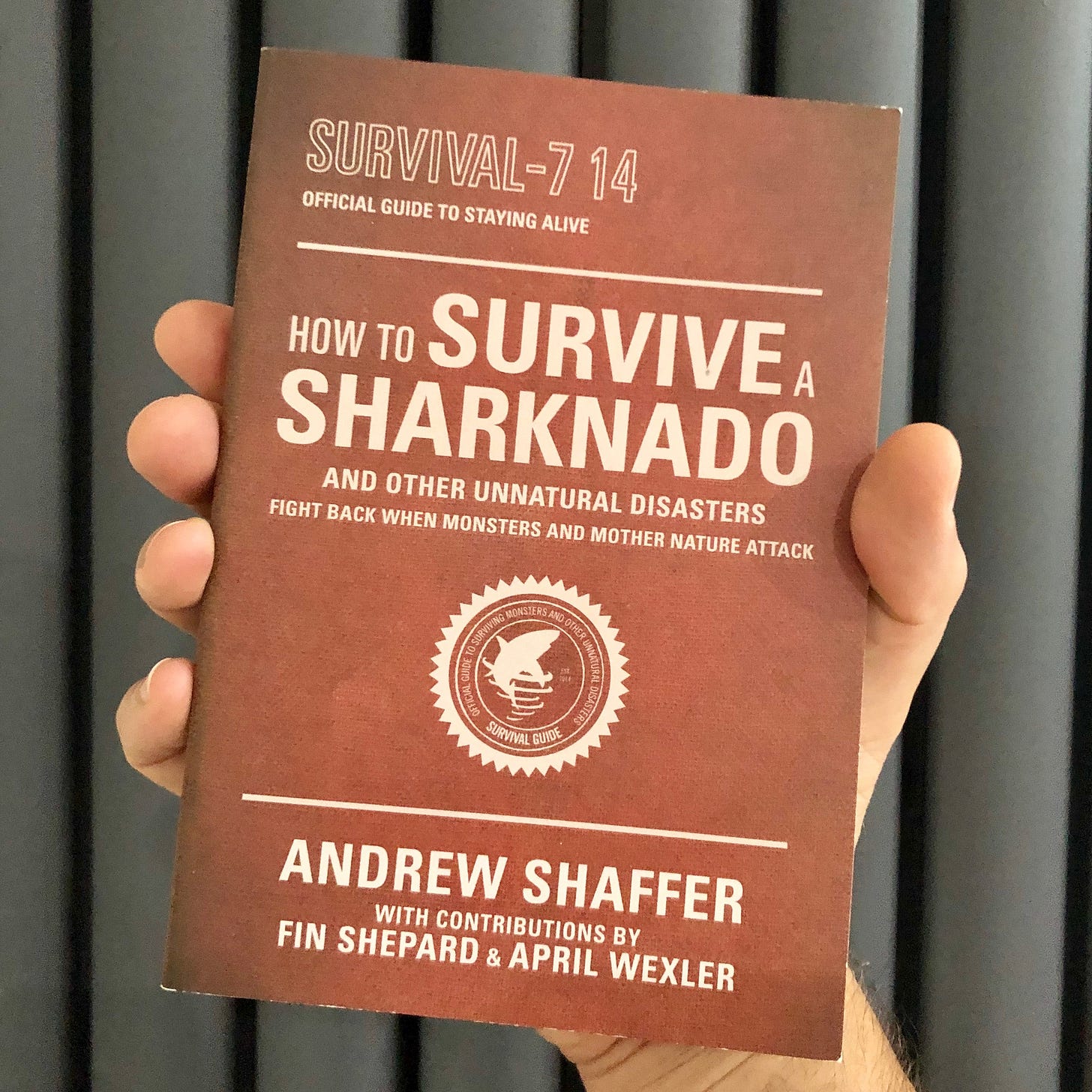 It's an entertaining read building on conspiracy and myth. My son bought the book in a charity shop for £1.50.
---
A California type foundry is keeping vintage printing alive.
---
#TheSound
Two podcasts from The Digital Human. The first explores personal space. A great listen.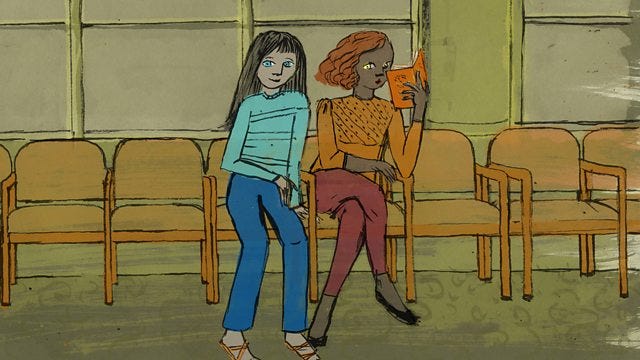 And the second 'Cameo' covered a heap of things around online narratives and questioned how we might be steeling other people's stories when we document our own. It also addressed the surge in 'Sharenting'. Well worth a listen.
---
Thanks to @Artpod for pointing me to this other great podcast about auditory illusions.
---
I listened to this as audio only and it really moved me. Maybe it will do the same to you as an animated video but I found the pictures unnecessarily distracting. Either way it is a must listen.
---
#TheConsumed
There is a glut of tasty blackberries in my neck of the woods. I can't remember them ever being this sweet. They have one of the highest antioxidant levels of all fruits and no matter how many I eat they don't send me running to the loo. (Like some other foraged fruit).
This might be because of the high tannin content. This is not only meant to help tighten tissue and make you look younger but it can also relieve intestinal inflammation and diarrhoea.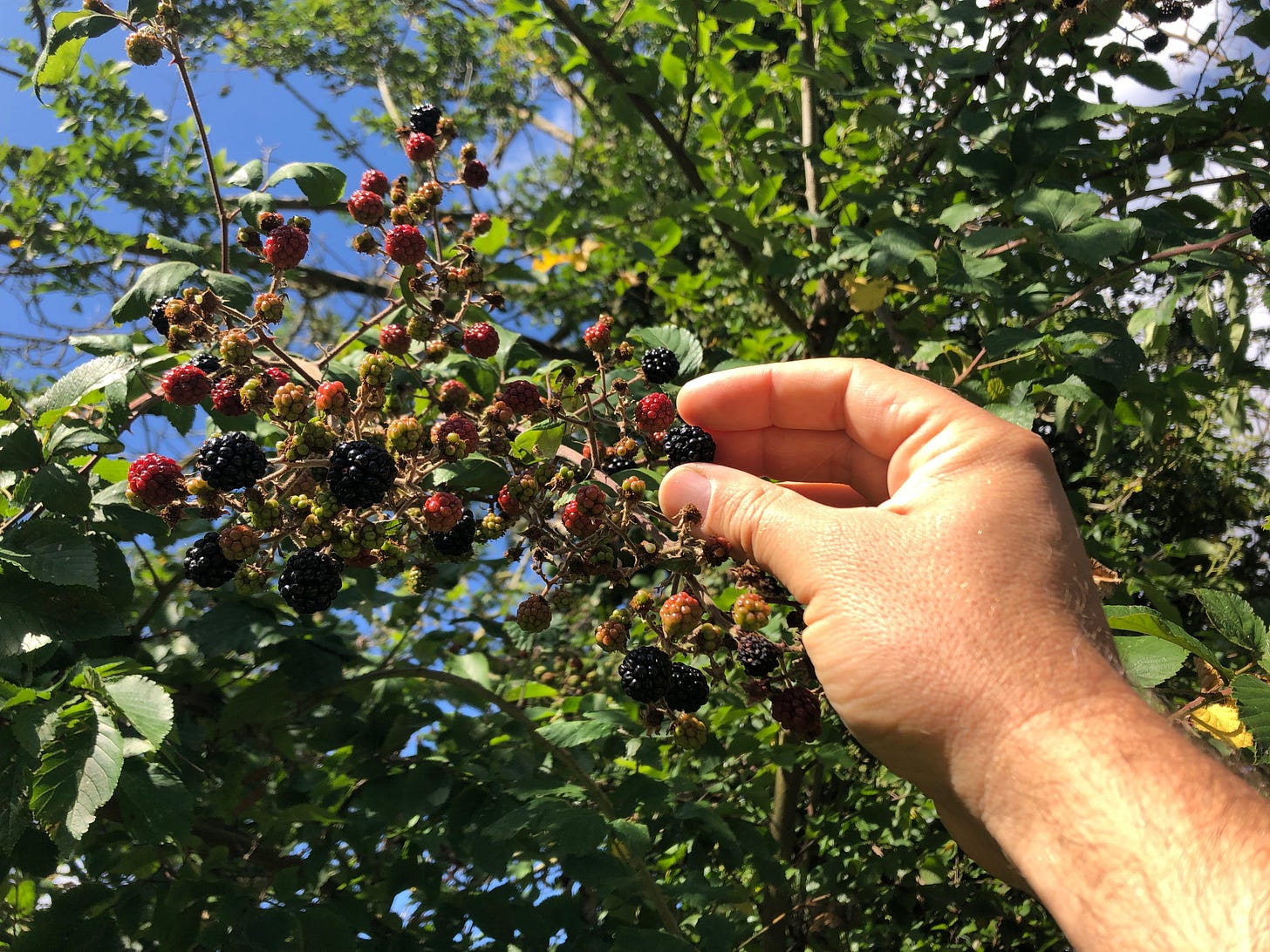 Did you know the word 'bramble' can mean any impenetrable thicket?
---
I lunch alone most days so it's nice to have company once in a while.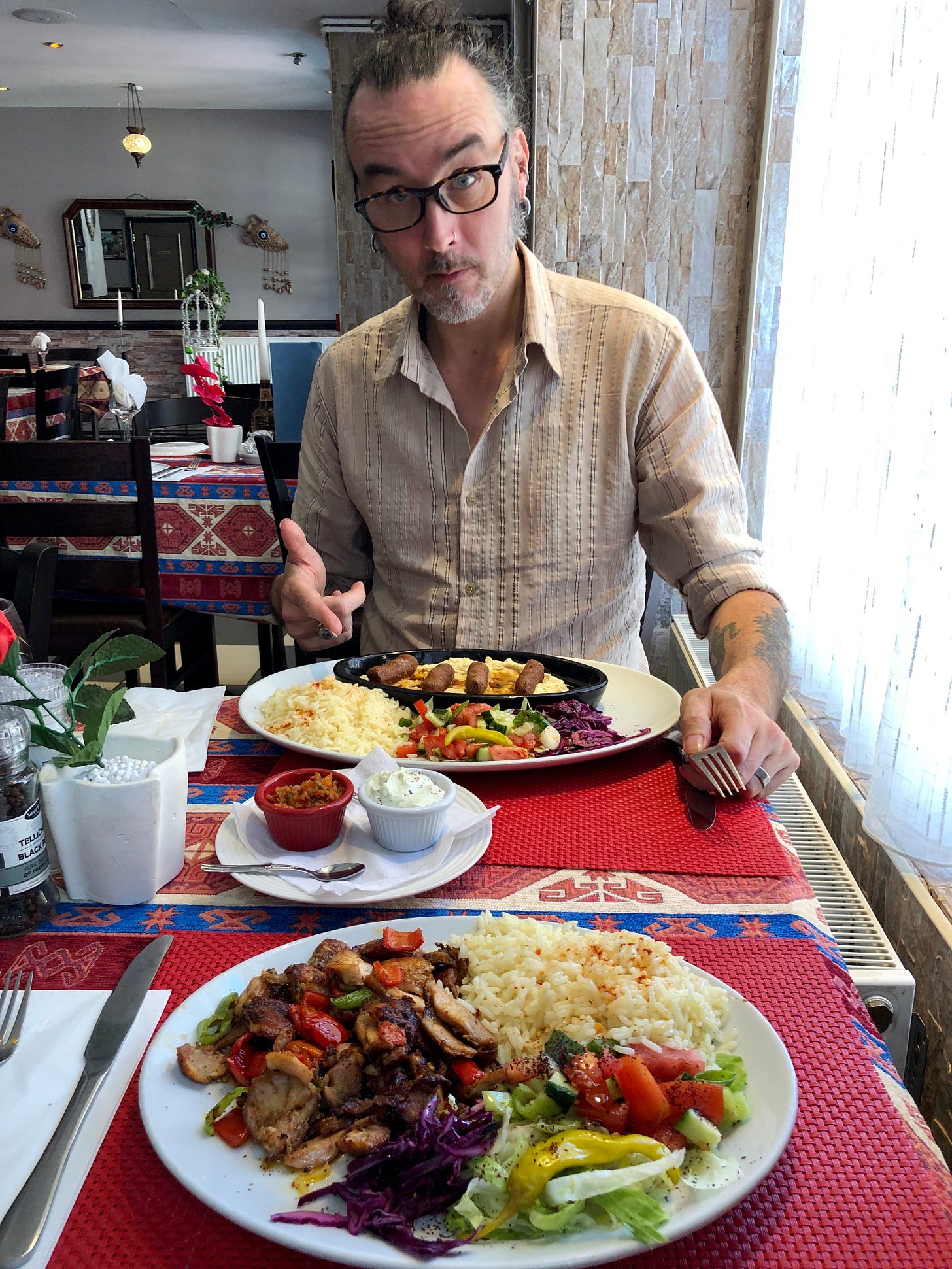 The best lunch of the week was enjoyed with a friend (Adrian) and was a £6.95 meal deal in a local greek restaurant in Huntingdon called Ephesus.
---
#TheThings
Guess what…?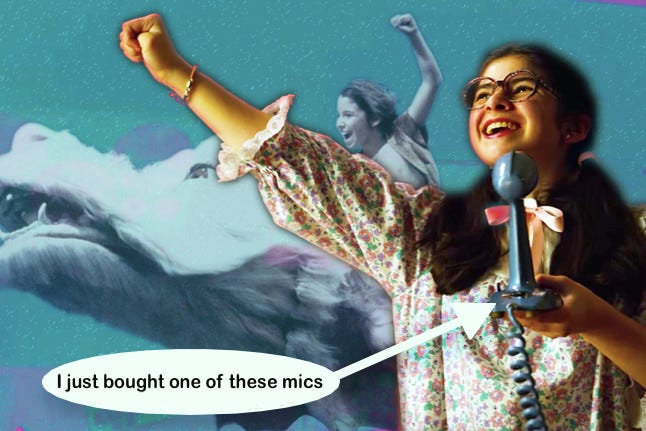 One of the stranger things I have purchased this week. (See what I did there?) Took me a while to track down but I think it's a vintage Turner SSB +2 microphone. Bought it for a bargain price considering it will soon be sought after for cosplay and fancy dress. All I need to do now is finish my Dustin outfit.
I'm also thinking of getting a home base CB set up again. Ideally using vintage gear.
---
You probably already know the difference between antiperspirant and deodorant. Antiperspirant blocks the sweat glands, while deodorant deals with the odour.
I've been using natural deodorant since the 90's. Initially because I found it was easier to travel light with a chunk of salt crystal instead of a can of spray. Then of course there was no going back when the world realised the harm CFC sprays were doing.
Even though Chlorofluorocarbons were banned in 1996 I've never felt comfortable using sprays. Especially when a small rock in a cotton bag seemed to be a much simpler option.
I prefer the word simple over natural. The word natural means little to me than marketing hype. There are plenty of 'natural' things I would not like to rub on my armpits. Jelly fish and stinging nettles are natural but I fear there may be an adverse reaction with my sensitive under arm skin. The most natural thing would be to not succumb to any advertising and go 'au natural'.
As long as it does the job I'll always favour the simpler product with fewer ingredients. Especially when less stuff means that substances like aluminium drop off the label.
I don't know the science. But with mumblings of Alzheimer's and cancer floating around the use of aluminium based anti-perspirants… I'd rather avoid them.
I'm also not a fan of smelly additives (unless they have antibacterial properties.) There's a chunk of science suggesting that we are messing with our chemosensory signals and blocking ancient communication channels.
Probably not much of a defence for body odour in the workplace or classroom. Especially where kids are finding their place in the world and insecurity breeds bullying.
After ten blissful years deodorant free, this week we noticed the joys of growing up have adjusted my lad's body chemistry. Although I wasn't sure if he'd be happy with me writing about his armpits, that's exactly what's prompted this recent study. I wanted to find the best deodorant that suits him. It's all good though he has ok'd this review :-)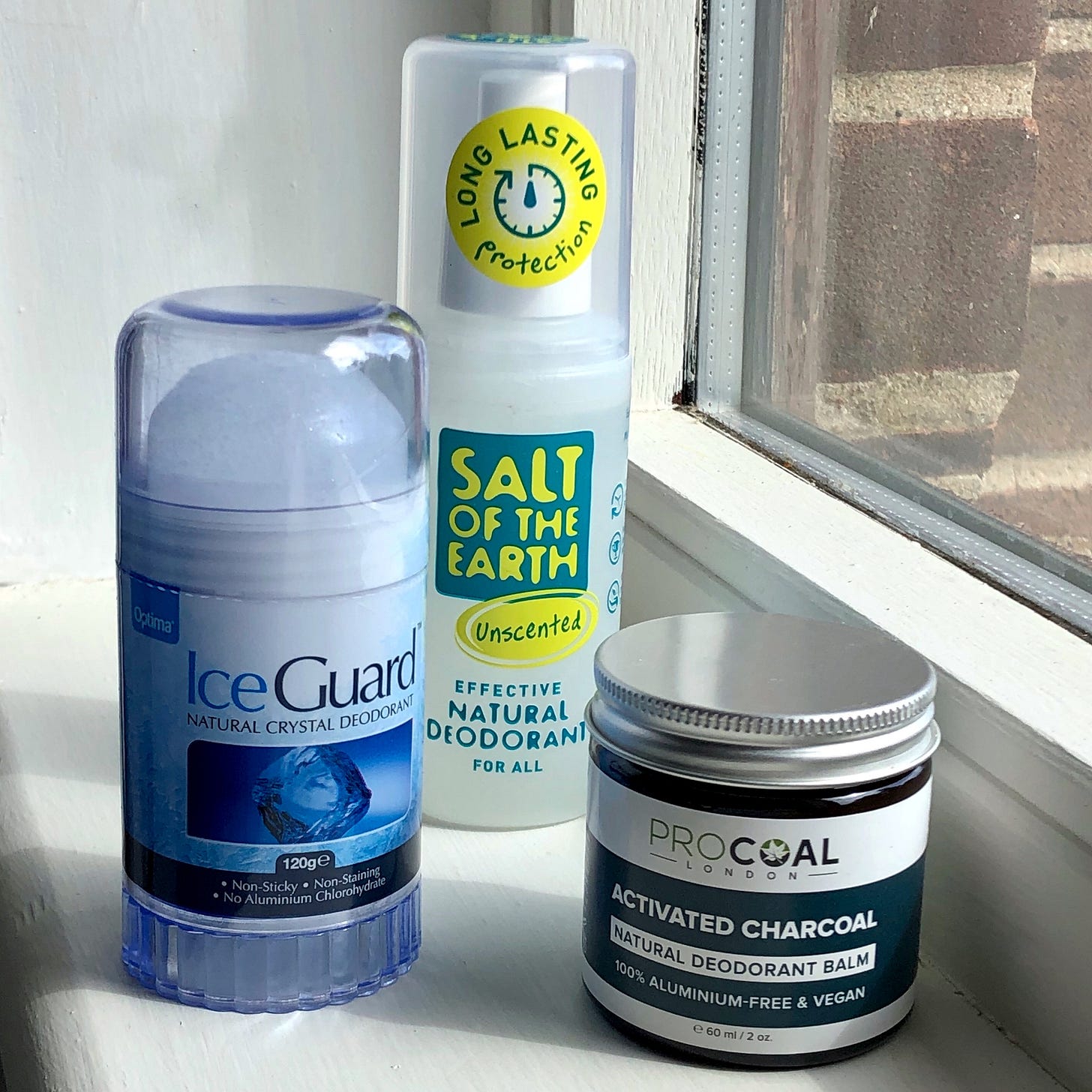 It's hard to find the simple rock in a bag any more. But there are plenty of crystal deodorants held in plastic dispensers. Animal friendly IceGuard is £4.43, contains only one ingredient and is said to inhibit the bacteria that causes odour. Works for me. It can last many months of use so the plastic kind of makes sense. A wet crystal in the fingers is slippy and i've dropped a few on hard bathroom floors only to watch them shatter into thousands of fragments. The plastic case does make it last much longer and says it's recyclable. Another added bonus is that the single ingredient (mineral salt Potassium Alum) is meant to be kinder to your microbiome.
Also in a recyclable plastic container at £3.99 is the 'Salt Of The Earth' unscented natural deodorant which at first I thought was just a liquified version of their rock crystal offering. But it has a bunch more ingredients.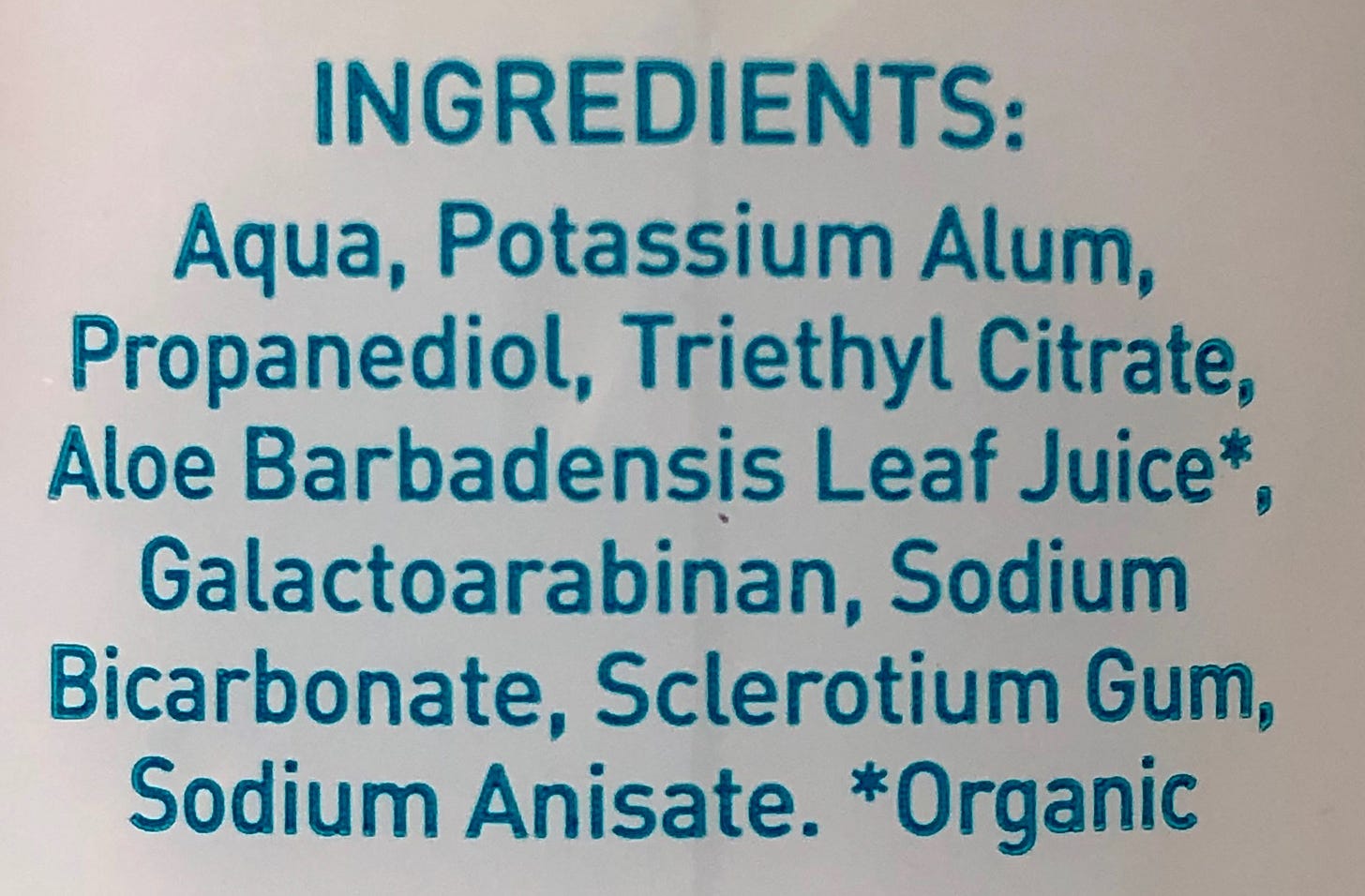 Rather than look them all up I messaged the label to this email's resident chemical scientist Dr James Bruce asking if they were ok to spray on a kids armpits.
He said… "Nothing to worry about there 👍"
Finally there's the plastic free, cruelty free and vegan friendly Activated Charcoal by Procoal £7.99. It calls itself a 'non irritating natural deodorant balm'. It's applied like the original deodorants of the 20's. You get some on your finger and rub it under your armpits.
After a week of testing, neither of us were that impressed with the liquid spray. My lad prefers the Activated Charcoal over the mineral stick both which seem to work great for him.
I wasn't keen on the balm as with hairy armpits it was harder to spread evenly and didn't seem to work after vigorous exercise.
The winner for me is still the mineral salt stick. It's worked great for the last 20+ years and continues to do so.
---
I've been putting a fair few miles on my Microscooter Condor X3 this summer. It's still going strong. I was wondering what else they had in the pipes but didn't see this coming.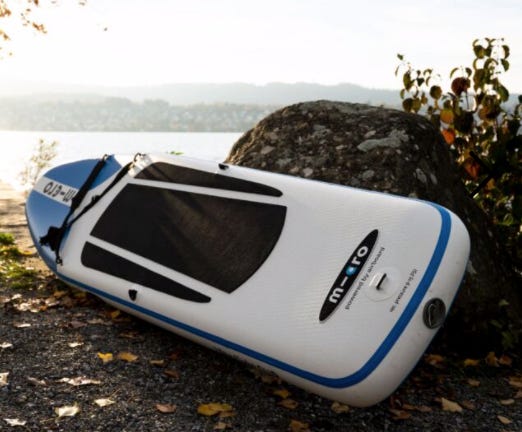 Yup, Micro Scooters are now doing stand up paddle boards.
A very interesting move indeed. I've not been on a paddle board since 2016. If you are a subscriber you can read about my first go on a SUP in issue [039].
---
I've waited so long to buy a drone that I can't see the point now. The rules are changing so fast that it's easy to break the law without knowing and most devices come with hardwired no-fly zones. Probably in the hope it will keep you out of trouble. Looks like the bubble has just burst as well.
---
#TheWeb
---
#TheEnd
Thanks for reading. Some folk have asked for shorter emails. I will consider this. Perhaps just reduce the size of the free one. Although this one is quite wordy.
At a time when Facebook and others are considering doing away with the like button I'm going to ask you to use it. I think that hitting it on this page can potentially get me noticed by new readers. Care to test it?
Even better would be to hit the subscribe button below but I know that's a big ask for many. If you would like access to the archives but don't have the means to afford it email me.
Let me know what's happening in your life and feel free to forward this to anyone who wants to read a really long deodorant review.
Monday is the global climate strike and Wednesday i'm in Leicestershire.
In the spirit of all things vintage, I'm now off to open a bottle of something. My first toast is to you.
---
"Time is a created thing. To say "I don't have time", is like saying, "I don't want to"."

~ Lao Tzu
---
Let go,
See you out there.
Over…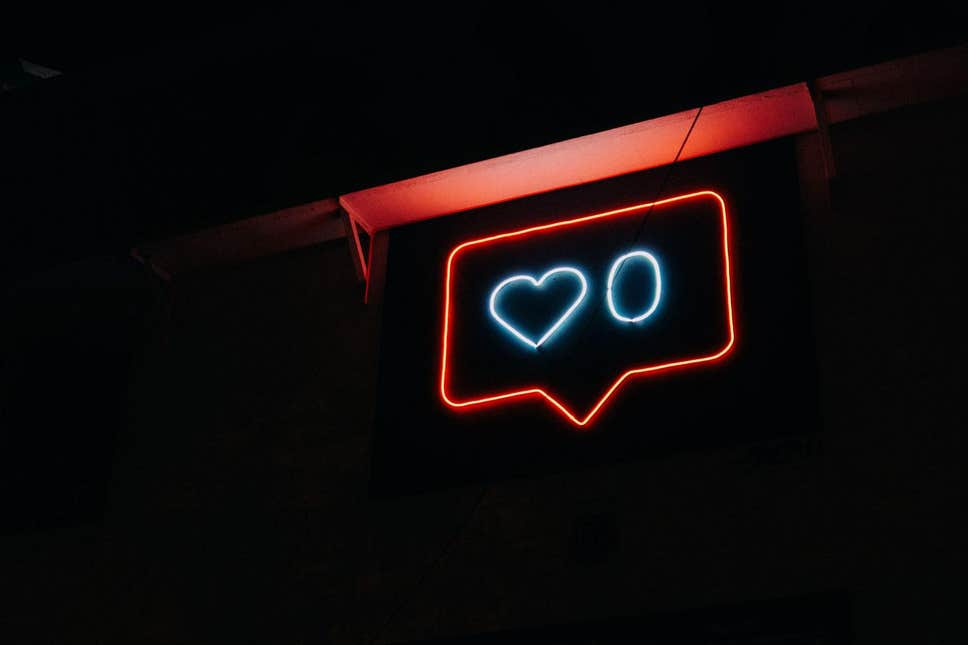 …and relax