Greetings from my shed...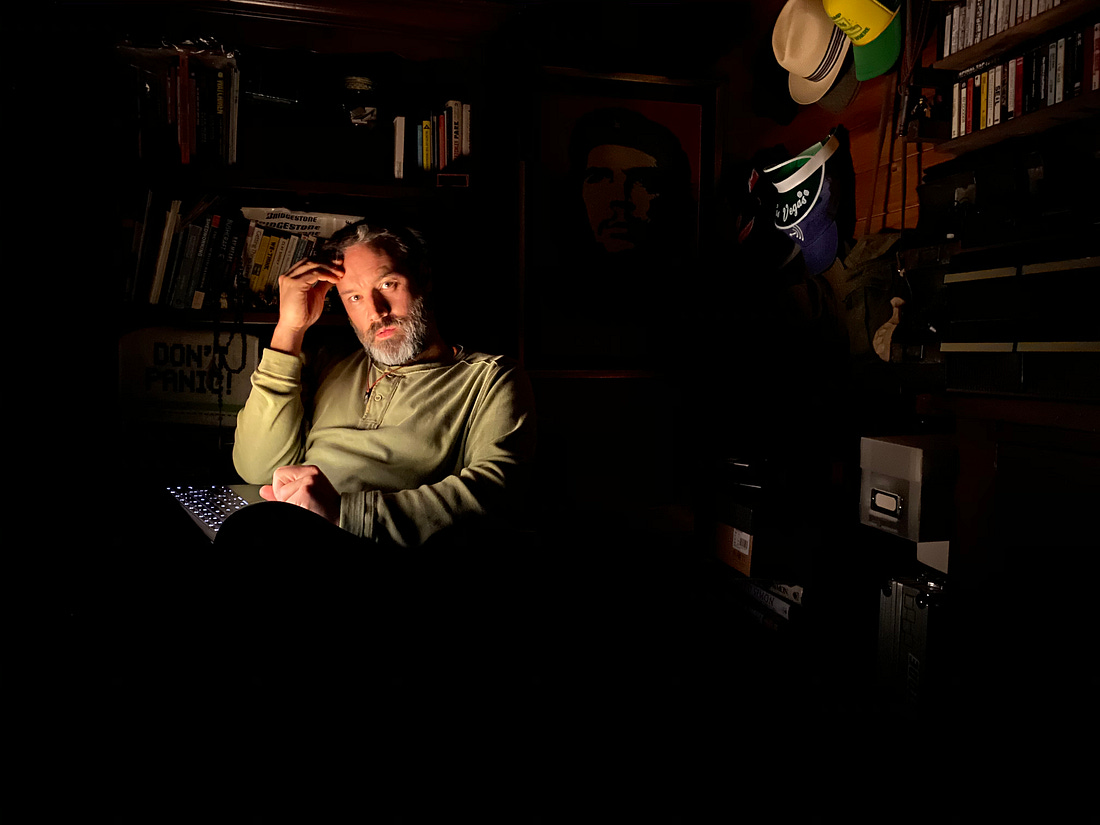 How was your week?
I'm feeling pretty good about mine. There has been a healthy dose of mindful meandering.
The only downside was whenever I stopped to look at the news. Which was far too often. I'm trying not to regurgitate any of the circus chaos in here as I feel you may have seen and heard enough. So lets escape with cake, radio, deep time and small talk.
---
#TheAction
I caught up with old friend Ivan Pope. Artist, writer, publisher, web pioneer and creator of the first Cybercafe at the ICA in London in March 1994.
Eleven years ago we would converse in asynchronous spaces like Phreadz and 12seconds.tv. This week we were face to face. Unrestrained and coffied up. The high energy chat stretched time. Putting our surroundings on pause, we bounced stories and ideas off each other in fast forward.
Ivan told me he owed a lot to his attention deficit disorder and has learned to use it as a tool. I got quite involved in relating to many of the traits. The lack of focus unless on a deadline, interrupting others when excited, the mountains of unfinished projects and my hatred of anything that resembles a paper form.
As our conversation forked more times than the Yangtze I joked that we needed a chess clock to aid the flow of discussion. We managed fine though. We were both exhausted at the end of our meeting but very much enriched by it.
I headed to soho and Maison Bertaux. But more about that below.
Then last night I had the pleasure of attending the Longplayer Conversation 2019 with Jem Finer and Gavin Starks.
It's hard to summarise such an intensely educational 90mins but if ever you do make it to a Longplayer conversation I guarantee you will be enriched and enlightened by it.
I shared some tweets here.
---
#ThePictures
In mobile journalism the reporter has to adapt to the environment. In traditional broadcast it's the camera that adapts. There is nothing stopping you shooting TV content on a £1000 phone. (Check out 'Canal Boat Diaries') But you will obviously have to adapt to overcome the limitations and adopt a certain style. There are many pros and cons to going more mobile, but there is still a long way to go before our hand held devices can deliver the same functionality as a £200,000 broadcast camera.
But it will happen.
---
I heard about eyeball cards back in the 80's but never made or received one. People used notebooks to write down handles. So inspired by the book of eyeball cards I posted in the last issue I made my own.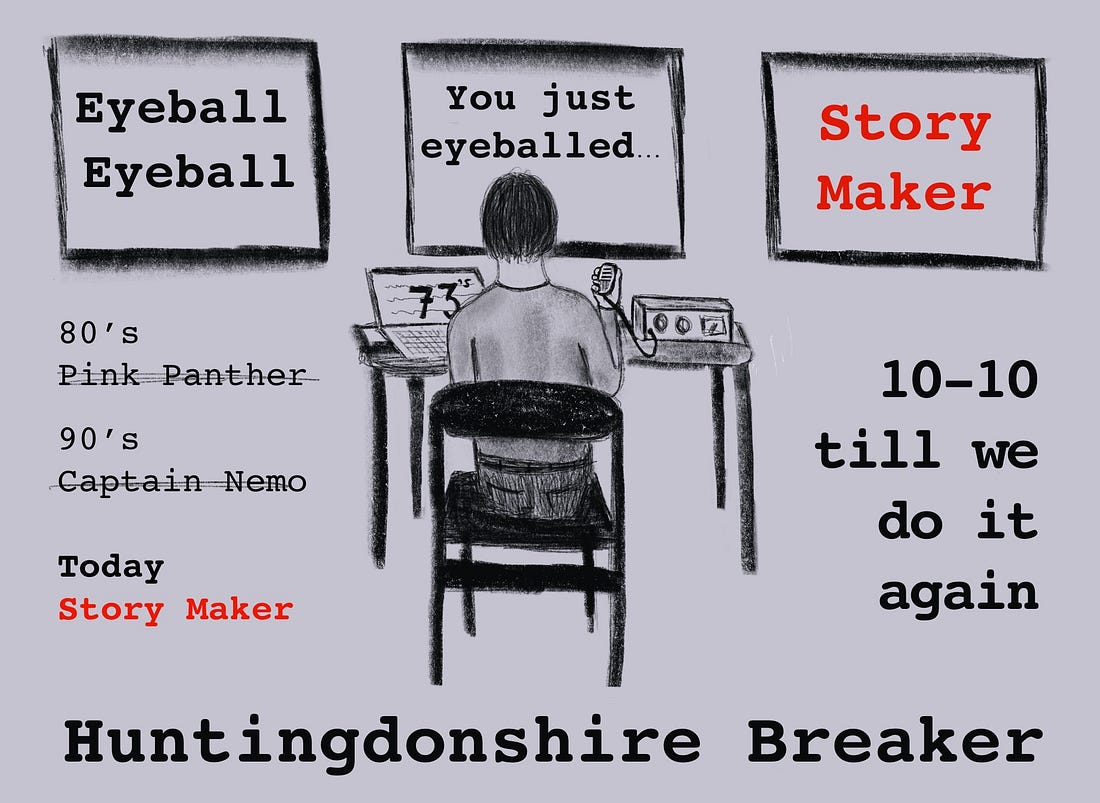 In the original 80's handmade style and better late than never I've already distributed a couple of these to CB'ers I 'copied' and recently met.
---
Also been playing with some long range walkie talkies and keep thinking of this sketch.
---
#TheWords
And while this fascination with all things radio is still fresh here's another book for my subculture library.
I tried to track the author Peter Chippindale down but sadly he died five years ago. He sounded like an interesting guy.
---
We can be sure to expect a lot of books like this Trump poetry parody rushed out for Christmas.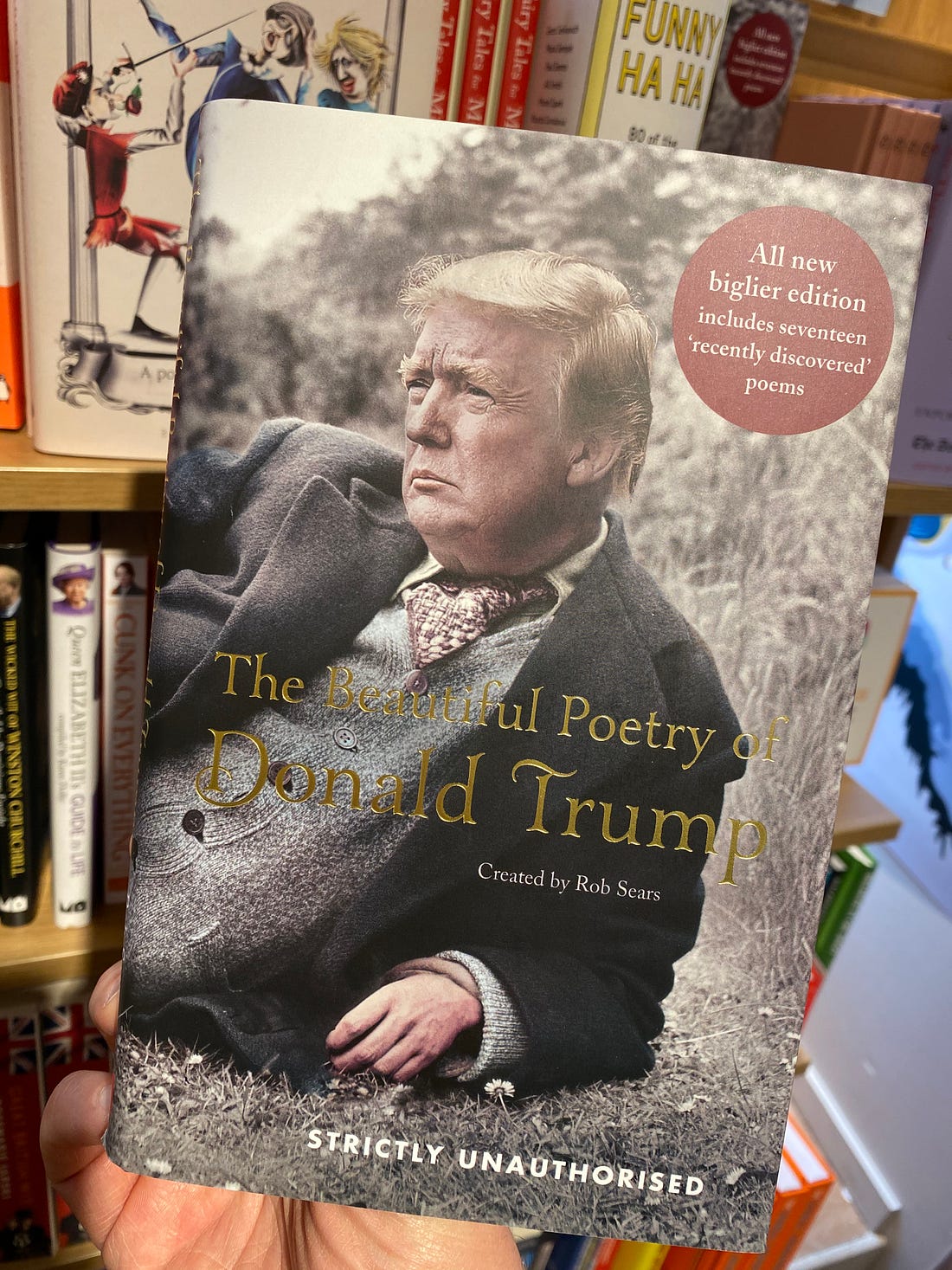 I found the tiny hand of the cover a little freaky but it did compel me to have a flick through. There is little substance though and I feel they could have been a more creative with Trumps words.
---
#TheSound
You may have heard that i'm doing a podcast mini series on you guessed it… Podcasting. It's bonus content for supporting subscribers but for a short time you can hear the first episode here.
I have two uploaded with loads more in the pipes. If it's not something you are interested in perhaps you know someone keen to start a podcast who might benefit from it.
---
This is an amazing audio portrait of Soho patisserie, Maison Bertaux. I often frequent the Coach & Horses next door so must have walked past this a hundred times. Glad I finally got the chance to pop in for cake. Here is a screen grab off street view.
And this is what it looked like when I popped in.
---
#TheConsumed
Just been gifted a bunch of wine. Here is a selection
I can highly recommend the 'Cabalie' and 'The Back Stamp'. Although it's all more than drinkable and shall be drunk. As will I.
Are we getting together for a 'Documentally Dispatch' holiday drink?
---
One bottle of hot sauce ends as another begins.
I think the bottle on the left came from those shelves by the tills in TK Maxx. The one on the right was a gift brought over from Texas and was a great addition to a tuna chili I made this week.
---
#TheThings
I have a new aerial on my shed.
It's the Hamking X-200n for both VHF & UHF. It's an Omnidirectiona antenna operating between 144 and 430 Mhz with 6.0 dBi gain at 144 MHz and 8.0 dBi at 430 MHz. Not that any of that makes sense to me. All I know is that it will be ready for me to use when I have my amateur licence and in the meantime it will work with my PMR walkie talkies.
---
In the masses of emails offering deals today I spotted that Mikme also has a sale on.
---
I forgot to tell you about the repairs to my Hiut Jeans.
It will take me a very long time to get a pair of jeans to feel as comfortable as these do. But frayed and holey from years of wearing almost continuously, I thought little could be done to fix the inevitable signs of wear.
Still, I took Hiut Denim up on their offer of free repairs for life and sent them off. [Issue 174]
They were returned after a little over a week and I was really impressed with how they had been reincarnated. It's now been a good few months of constant wear and they are still holding strong.
---
Last week you may have seen me accidentally break an embargo on the Shoulderpod G2. It was delivered later than expected and I wrongly assumed it was already out there. I tweeted my first impressions but ended up pulling the tweet. It's all over the internet no so I think it's safe to share it here.
I was sent the unit free of charge but am not being paid for my opinion. As ever you will have brutal honesty which I hope outweighs the general excitement I have for any tech that enables me to tell better stories with my phone.
So does it help me tell better stories?
Physically
It's as well made as you'd expect from Shoulderpod. Solid construction with a tactile feel and just enough weight to feel stable in the hands. So much weight in fact I think they missed a trick not adding some kind of rechargeable battery inside. Or at least the space for one.
Ergonomically
Although the creator Enrique is left handed, the Shoulderpod G2 feels like it was designed for a right handed world. And why not? They will need to shift a lot of units to recoup the money spent on research, development, prototyping etc. It would be hard to cater for left and right handers. Especially as their other products do this so well.
After years of using professional cameras I like to stabilise with my left hand and operate the controls with my right. But for me this feels a little awkward with the G2. I have to half clamp the phone upside down and grab the fat side of the grip.
If I could have their Pocket Rig with an additional cold shoe on top of the phone mount I'd have a better made version of my current hacked together system.
Practically
It certainly offers the flexibility to bolt all kinds of peripherals to your phone. Especially if you wish to attach a larger light and microphone set up. There are six cold shoe mounts, a quick release phone lock and two tripod mounts so you can switch between landscape and vertical shooting. If this is something you do a lot of then the G2 from Shoulderpod is the best option in their range, well priced at 60 Euros and will serve you well.
---
#TheThanks
I made this spot to thank paying subscribers. Those folk that drop the $5/month to get all the content I share into this feed.
You also get to meet someone new.
Ten years ago me and Will Francis were getting kicked out of a hotel lobby in LA. It was late and we were playing the blues. Will on the piano while I played harmonica and sang. We were there to cover the E3 conference. But also to have fun.
Will's words on this email:
"Christian has been exploring tech for decades, and from a uniquely curious perspective. His fascination with the deeper workings of technology are contagious. In a world of algorithmic feeds serving the hottest takes, what I really value is an email like this one, full of brain candy. I look forward to reading it, to knowing what he's thinking about and being sent down all those rabbit holes to stuff that inspires, surprises and regularly blows my mind." ~ @WillFrancis
Thanks go to Will for subscribing. You can and must go see Will's website here.
---
And a quick Thank You just before I hit send on this email must go to Ralph Wyld who subscribed just moments ago. Cheers! Check out Ralph's site and music here.
---
#TheWeb
---
#TheEnd
Thanks for reading.
Next week, outside of the usual stuff, I'll be delivering a podcasting workshop in Durham.
Cheers to you. [Raises glass]
---
"Do you believe then that the sciences would have arisen and grown up if the sorcerers, alchemists, astrologers and witches had not been their fore-runners?" ~ Nietzsche
---
Check your levels,
See you out there.
Over…