Discover more from Documentally
A human authored journal in search of novelty, exploring what we share, how we share, and where we're going.
Over 2,000 subscribers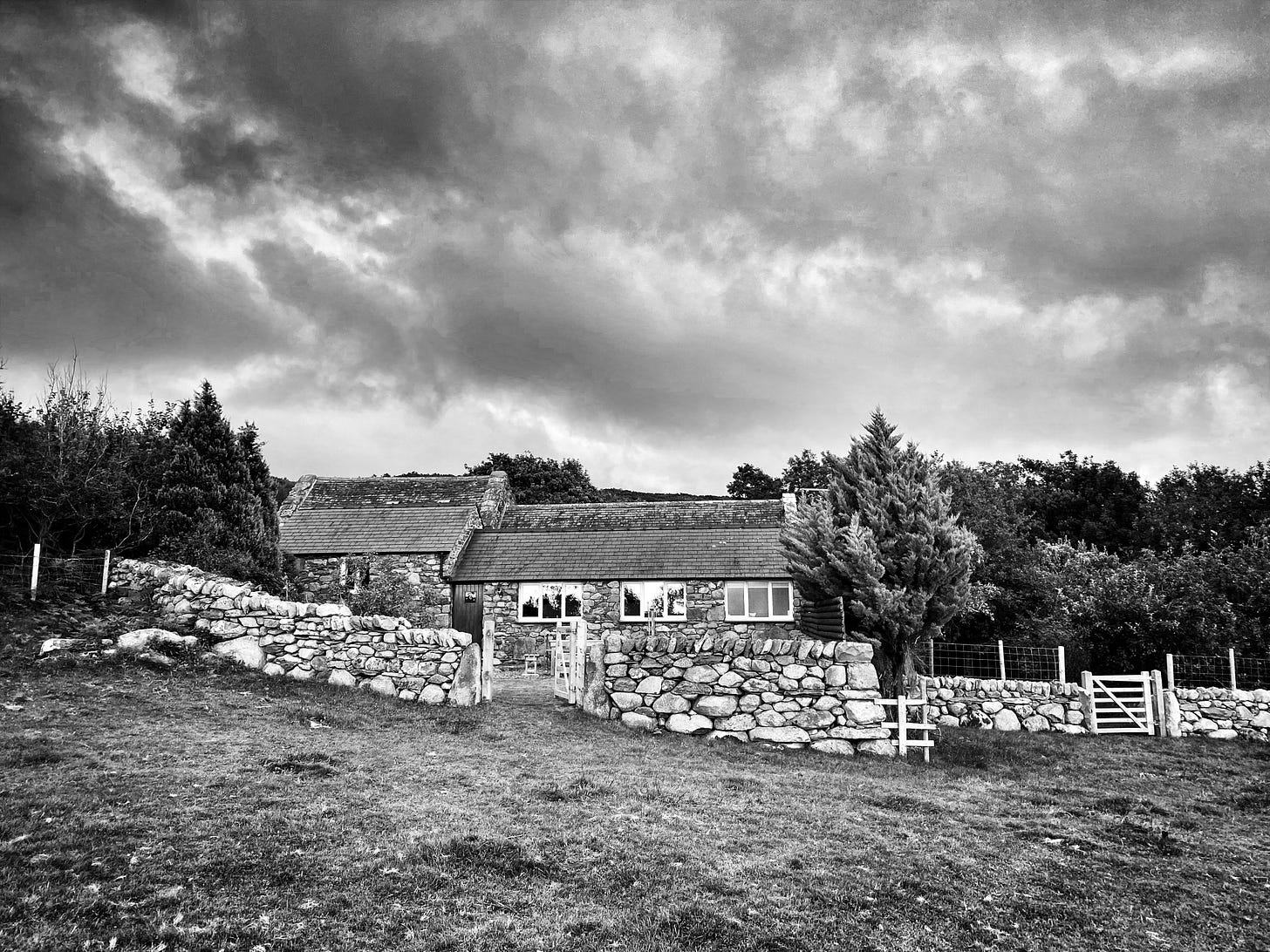 It's blowing a tymestl outside. Horizontal rain across trees so accustomed to leaning they're always like that. As if viewed from a speeding train.
Despite sheltering from today's heavenly offerings, we have been lucky this week. All the extreme weather happened while we slept.
Wild Wales as ever has been good to us. As have my family here.
The internet? Well that's another story. Wales would rather me be offline. At one point I erected a seven meter fibreglass mast and tied my mifi on top. That worked. Till the wind killed it.
So right now my Mifi is swinging like a forbidden fruit from an apple tree. For the moment I have just enough bandwidth to hammer this email out.
---
I was excited to be heading to the mountains. I threw the kids in the car with their bags of essentials and their bonus bag of tech, punched the village into the sat nav and headed off.
I'd planned a memory making exercise for the tail end of the kids summer holiday. And for me a few days to reconnect with a reclusive dad I hardly ever see.
I was also excited to be packing some radios.
Last week was a heavy one as shall be reflected in this brief email. Of course, there was the death of a loved one but we have already recomposed and re-immersed ourselves. As you do after a spell of mourning.
I also booked myself into a radio exam I'd had little hope of passing. The intermediate amateur radio exam has famously got harder in the last year. You were advised to buy a a decent non-programable scientific calculator to crunch the formulae needed to get through it. This is my kryptonite.
Pure maths at uni broke the bit of my brain responsible for patience with numbers. No matter what incredible feats I think I can rise to, maths is not one of them. So five days before my exam date, having not so much as opened a book, I became a man possessed. I probably should have read the official exam work book, but words are no more my strong point as numbers. So instead I watched youtube videos of HAM geeks talking radio nurdery over crappy PowerPoints. I owe a lot to the Harrow and Cornish amateur radio clubs for their YouTube channels.
I managed to learn enough from those videos to get me through and now I have levelled up. Keen to try out my new callsign and power allowance on the side of a mountain I packed more radios than pants.
Three and a half bags. The clothing and stuff, the radios and laptop, the metal detecting gear and a fishing rod. I don't even fish. It's a full fishing kit I bought my lad when he was shorter than the rod. Yet it's never seen the water. Maybe this time I thought.
I had one of my radios on the car dashboard and the main 'do everything' radio packed away to set up in the converted barn we were staying in.
I love Wales and having lived there in my younger years I occasionally pine for its massive skies and psychedelic greens.
But Wales seemed further away than I remembered and it was three hours into the trip when I realised that the satnav 'diversion' south was taking me on an unfeasibly large loop. The village name I'd plugged in was not unique, there was another Llanbedr in the south.
The kids were not happy with my error. My 8 year old daughter who was challenging herself to do the whole trip without looking at a screen now felt she was eligible for the Guinness record. "You really will have to make it up to me for this" she said.
Ten minutes later she saw the mountains and melted.
"This. Is. Amazing." she gawped.
It only took an hour extra on the road and it was a nice drive.
So far it's been castles, ice cream, underground bunkers, wilderness walks, more ice cream, and the world's second steepest road by day, and boardgames and found DVD's at night.
And for me, after they are in bed… Radio.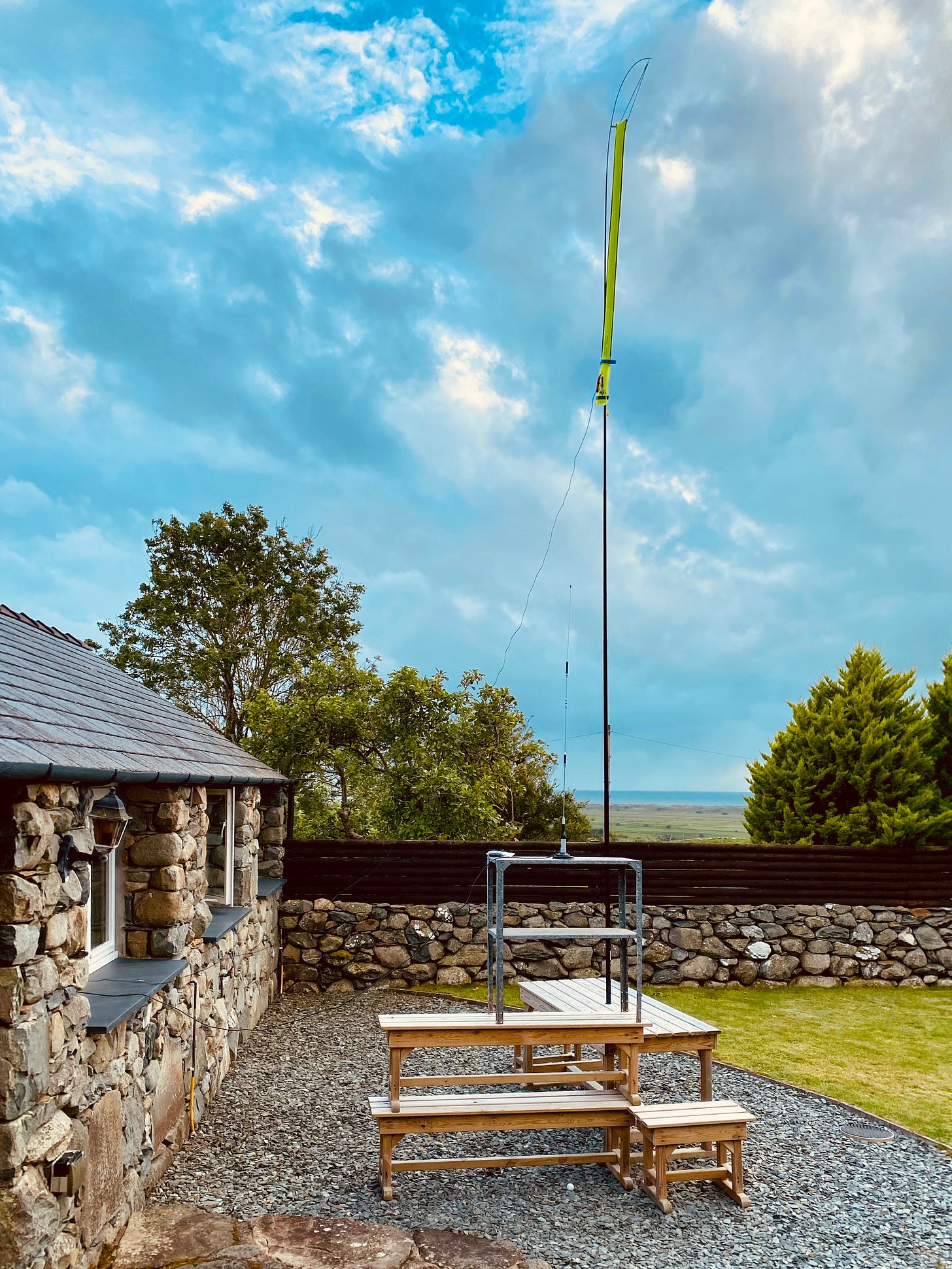 As broadcast radio listening plummets in some parts of the world, mostly due to fewer commuters, my radio listening has rocketed. Of the amateur variety of course. So has my transmitting.
While I was in Wales my call sign M7XTN became MW7XTN. The additional 'W' to show I was in Wales and not at my home location. It was a struggle to repeat over the air as muscle memory fought against it. I had just got used to it when I was informed that my new callsign had arrived. The middle licence to three, this new 2E0 callsign allows me access to more bands and more power. It would have to be 2W0 while here in Wales but 2W0 what? I still had to choose the three letter suffix.
2W0 - everything I wanted was gone. 2E0XTN, 2E0DOC were my first choice but they were taken. This is more than just picking a personalised numberplate. This becomes your on air station name. Which makes it your name. You will also have to say is thousands of times. You want something memorable to others, easy to say and in some cases easy to tap out in morse code. Although some of the time people get their radio to do that for them.
I tried others I though might be ok. 2E0WWW, 2E0MEH, , 2E0ZEN, 2E0RAD, 2E0OTT, 2E0NSA, 2E0ADD, 2E0GBR, 2E0MSG, 2E0XXX.
All taken.
The four that came up as available were, 2E0UFO, 2E0AFK, 2E0AKA and 2E0HAM. AKA and HAM felt easier to say in the phonetic alphabet. Alpha, Kilo, Alpha and Hotel, Alpha, Mike. But as amazed I was that HAM was available AKA is not only easier to hear correctly when spoken as a-k-a, it's also a nice play on words. 2E0AKA Christian. So that is now me.
[If you are not the slightest bit interested in all this then you have done well to get to here. But your only reward is to learn some tiny nugget you may never need to recall. ;-)]
"The secret of being a bore is to tell everything." ~ Voltaire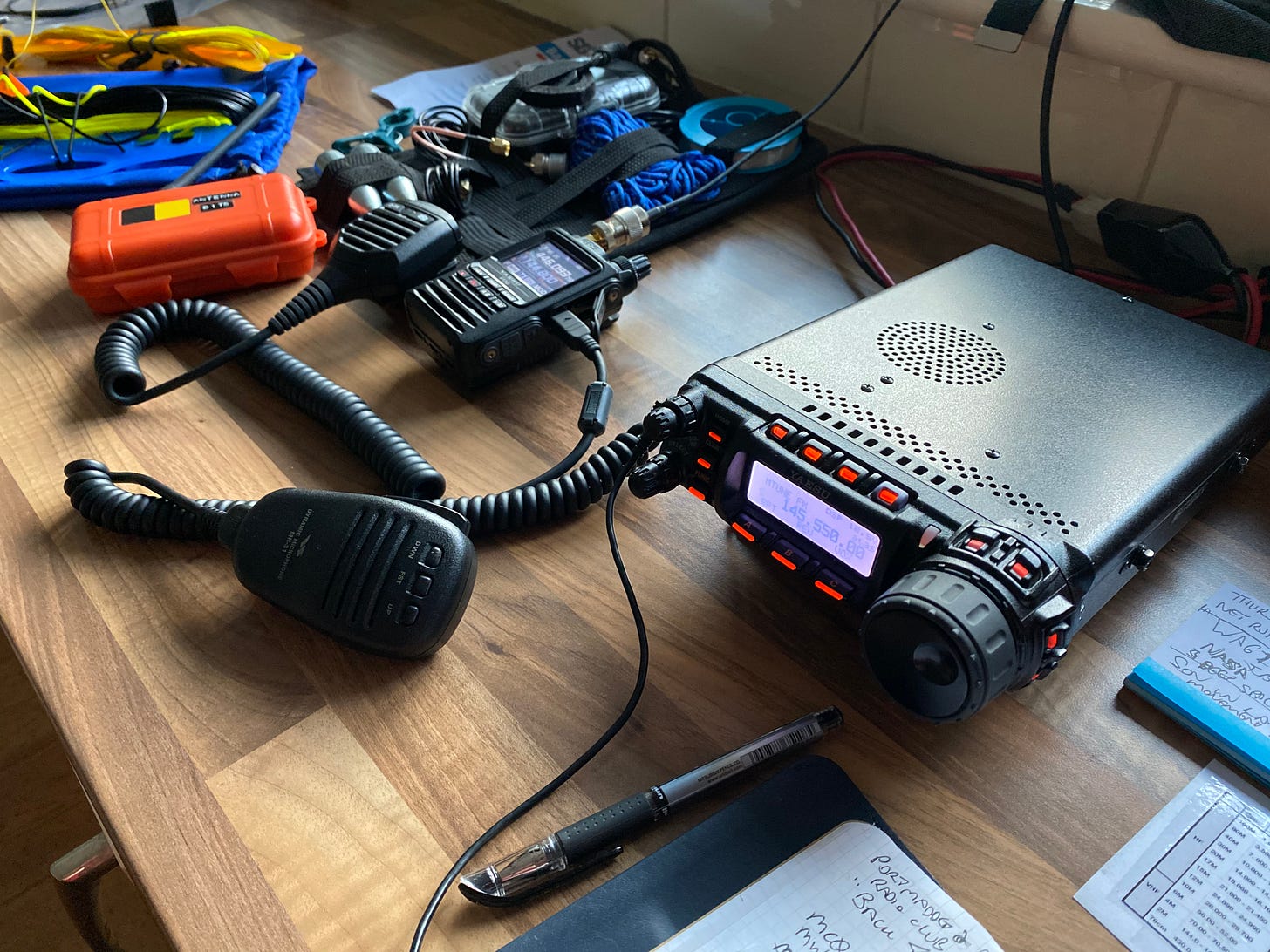 At first I struggled in my stone walled coastal retreat as with a mountain behind me and a temperamental antenna, there was only one direction the radio could explore.
But it didn't matter. You can still find so many golden moments. One night after a few glasses of wine I was a little dejected that my main aerial wasn't working properly so I took the antenna off the car and put it on a metal shelf, on top of a bench which I then balanced on a another bench.
Almost immediately the radio came alive and I tuned into two guys. WA6TBH and M7CEN. The first, an American who worked with NASA for 50 years on the deep space network and the second, a Brit who had also just retired and had worked as an armed response police officer in the UK.
It was a wonderful moment. It felt like i'd been drinking alone when suddenly two of the two most unlikely fellows walked into the pub. At one point after sharing stories of how NASA prank other space agencies the American, Bob, told the story of how his son-in-law, a martial arts expert, advised on the film 'Karate Kid'. When asked for a cool move to work into a scene he made up the crane stance.
I mean WTF. I don't know how better to break this down other than I felt like at that moment, in a barn on the side of a mountain, in the middle of nowhere, that the internet, radio waves, and popular culture had come together for the sole reason to remind me that the universe is also listening. That it was also made of stories.
Just like us.
---
This week's subscriber mention goes to Gordon. @gordon_t_photo
He blogs about his learning journey as he tries to slow down and make life simpler. 
[You can still get 20% off forever if you subscribe with this link.]
---
Need a networked note taking tool?
---
A short twitter thread…
And here are my purchases…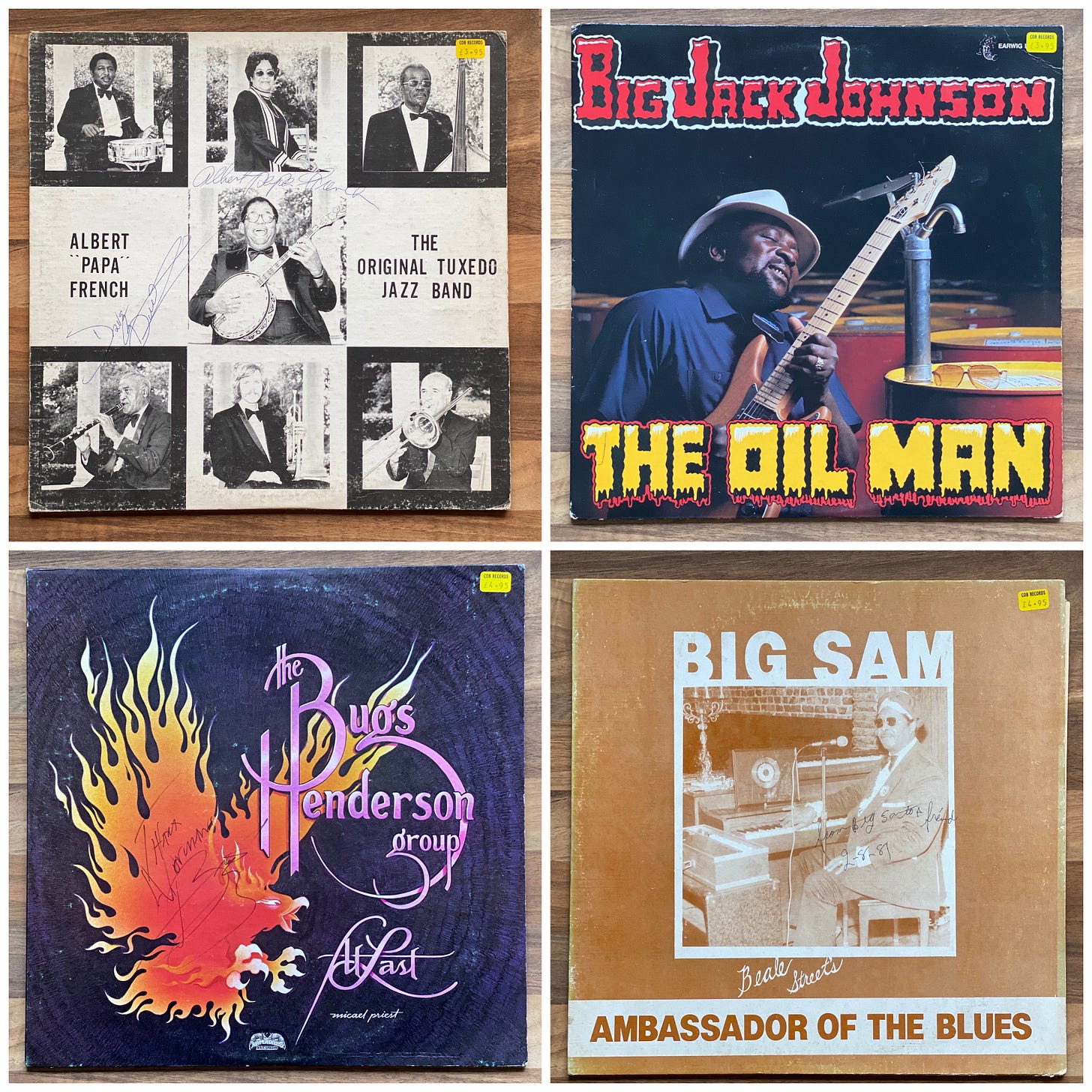 All LP's are signed by the artists. Either inside or on the cover. I don't have a record player with me so I will had to check them out online first..
The Original Tuxedo Jazz Band
Big Jack Johnson
Bugs Henderson
I couldn't find anything on the Big Sam album.
---
If you need a little inspiration watch this. I used to wish i'd stuck at guitar. This video has me wanting to pick it up again.
---
---
Some links…
---
"The first time I went to Wales I thought I'd landed in a land of hobbits. Everybody was really small and the houses were small and the writing was backwards." ~ David Hasselhoff
---
Thanks for reading. It's still raining here. If we wait long enough perhaps we can open the window and finally use that fishing rod we bought.
Oh. Perhaps not. Here comes the sun. That's what I love about this part of Wales.
Anything can happen.
I'll be back in Cambridgeshire next week. The only thing I have in the diary is a reminder to put the green bin out.
---
Get a bunker.
Over.