Greetings from the fireside...
The wine is open and the fire is lit.
How is your weekend looking?
---
#TheAction
Paris was a blast.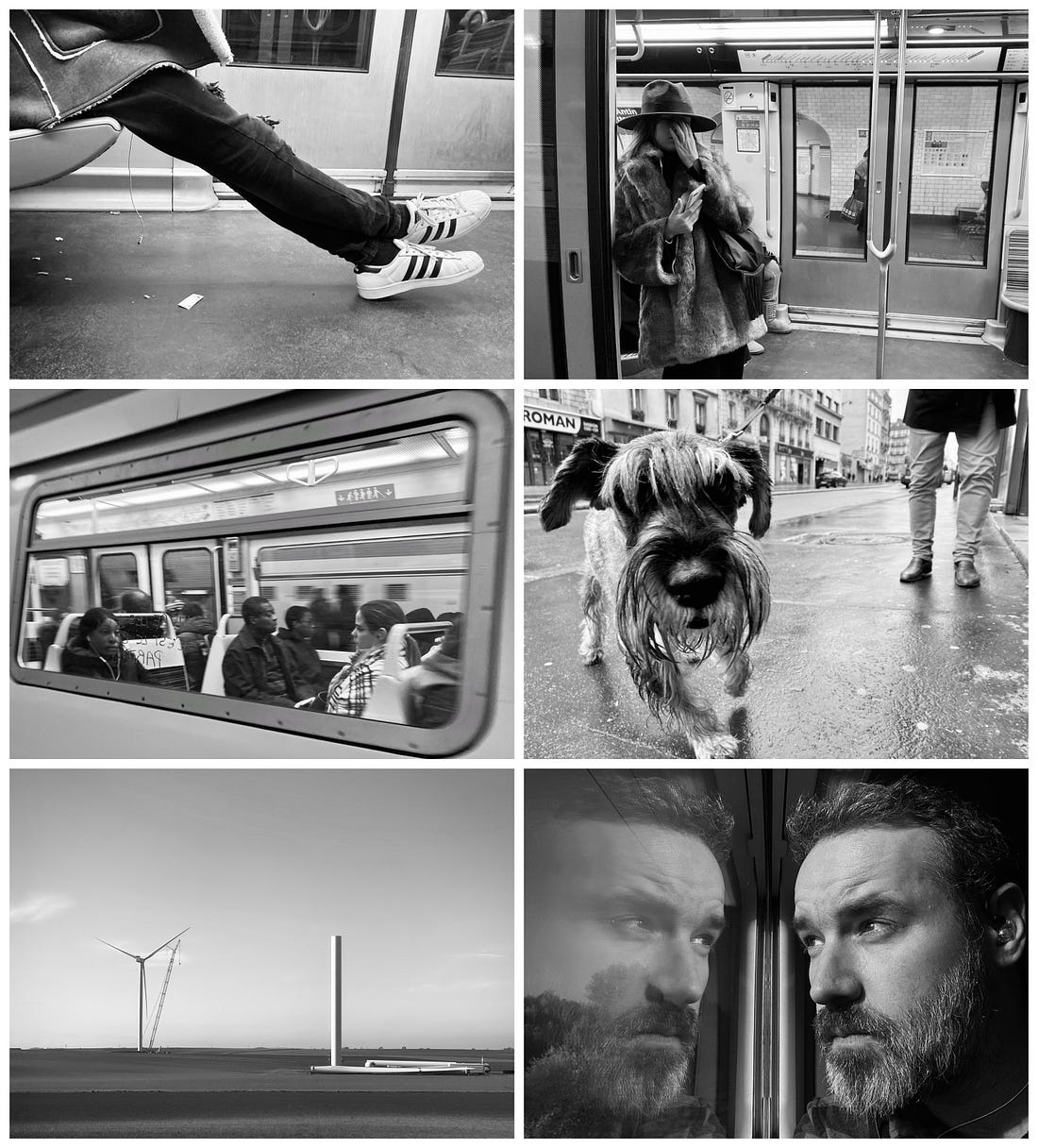 Supporting subscribers read and heard about my time at Grenoble Ecole de Management in Paris last week. But I still had two full days of lecturing and fun after that email hit. A few of you commented on the nudity in my opening image but I've no idea who she is.
I love Paris and the international contingency in the class made this visit all the more interesting. I enjoyed the Eurostar trip both ways and hope any changes in our borders maintain some kind of fluidity. But who am I kidding?
As soon as I was home I was back to London for a meeting with fellow Longplayer trustees. Got some exciting projects in the pipes (more below) including some audio based stuff.
---
A family member is about to qualify as a Humanist Celebrant. She asked me If I would like to help her practice arranging a funeral. My Funeral.
We sat down for a good few hours and I was interviewed as to what I might want. Weirdly I had completely forgotten that I wrote this blog post 10 years ago.
The post ties in pretty well with what I gave her as an option B.
Option A was that I'd quite like to be compressed into a diamond, have all the content I have ever created embedded within the diamond and then somehow dropped into a high Earth orbit.
It might sound infeasible but after mentioning the last point to a guy at my son's school who works for the ESA building spacecraft he said… "I'll have an ask around."
---
On Thursday I popped into St Neots Museum to see the art of sk172. He paints on his kitchen floor with mostly found and recycled materials.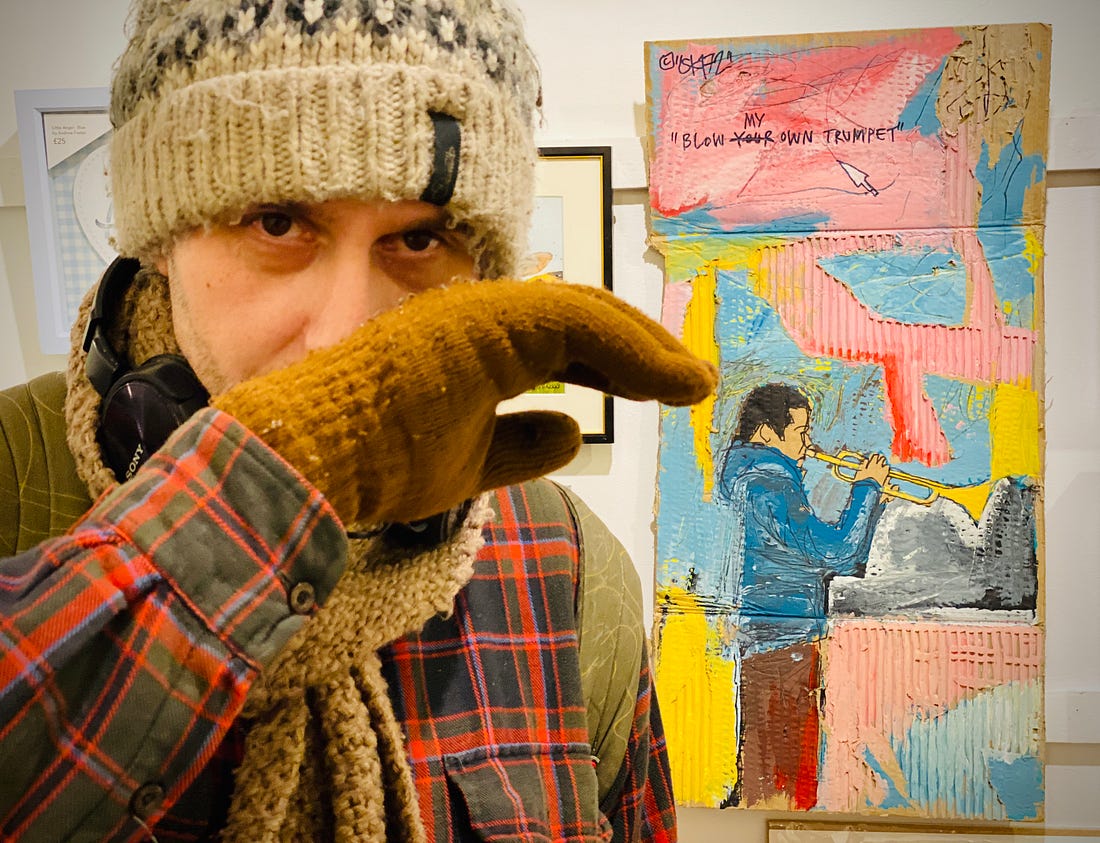 He names his inspirations as Jean-Michel Basquiat and Jean Dubuffet but mainly draws on his continued struggle with mental health and the voices he sometimes hears. Occasionally the metadata hidden in his work hints towards the medications he was taking at the time of creating.
Stuck in a strange limbo he would like more people to know his work, to buy his work, or for it to appear on an LP cover. But due to an underlying paranoia he'd also like to be anonymous.
On other inspirations he told me…
"I like Hip-Hop and Jazz and the obscurity and experimentation that comes from those genres. I let the music come through me. Paintings featuring Jazz players with saxophones or trumpets appear quite regularly in my work. I paint like I'm listening to Jazz and the abstract sounds I hear traverse to the cardboard or canvas.

Also, my favourite author is Philip K. Dick so there's always an underlying Sci-Fi element going on. Sometimes I draw grids in the head to convey the mind and how it is heading in the direction of augmentation and manipulation as Sci-Fi now becomes reality."
sk172 occasionally takes commissions and is always looking for places to exhibit. You can find some of his work on his Instagram.
---
Last night I popped into a meeting of the local amateur radio club.
They played a youtube video of a larger more formal meeting for those in the room that didn't use or have the internet. The rest of the time I managed to find a pocket of passionate CB'ers who defied the snobbery some HAMS express and semi-openly talked about the 'good old days' when CB was illegal.
I doubt I will ever be as nerdy and knowledgable as these guys but I hope one day I might be as old.
One guy was trying to explain radio propagation to me and how I had picked the worst time to get back into radio. He explained that although we were at lowest point in a 10 year cycle it could only get better from here. He told me he was really looking forward to 2023 when things will start to pick up again. I did wonder if he might make it to 2023 and asked him how many cycles he had already experienced.
"As a radio operator?" He asked.. "Oh at least six."
I'll defiantly head back to the club. I learned so much in the short time I was there. And some of the attendees have more stories to tell than have days left.
On November the 15th in 1971 Intel released the World's first single chip microprocessor, the 4004. And yet here I am experimenting with technology from the 1800's.
In a world where I can drop multimedia into a template and send it around the globe in the click of a button, I quite like the complicated simplicity of radio. I also like contemplating the long term solar effects on radio propagation. And that something, anything can only get better from here.
---
#ThePictures
Diana smith paints with code.
---
I really want some of these fictional title movie scenes to grow into actual movies.
In the not too distant future we might be able to commission an AI to make these movies.
Although we still have a little way to go.
---
#TheWords
Tim Schwartz sent me pre-release download of his book 'A Public Service - Whistleblowing, Disclosure and Anonymity'.
What an incredibly well researched and well timed book. I'd not be surprised if it sells out on day of release in Washington.
But it's not just guidance for political disclosures. It shows any potential whistleblower how to safely gather information and communicate with journalists and lawyers. All the while protecting their identity and physical selves from any potential retaliation.
Here's an illustration from the book.
It's worth reading for lots of reasons. Even just to be reminded of how much of the tech that surrounds us is spying on our every move. Right down to the technology embedded into your home printer so each page can be tracked backed to that exact machine.
You can pre-order the book here.
---
Do you read Gia's Apophenic Haze? It's one of the few newsletters I read as soon as it hits my inbox. Metamodernism FTW.
---
I'm interested in the curation of a Longplayer library. A selection of books concerned with longterm thinking and deep time.
I was sent these titles from Michael Morris Co Director of Artangel.
What are your thoughts? Could you add to this list?
---
#TheSound
The Field Noise podcast is fresh out. Only one episode and a promo. Worth a listen.
---
The City of Refuge podcast tells the story of a French community that openly rejected the Nazis and saved 5,000 refugees. Check out the 10 part podcast here.
---
Thanks to Geo for sharing this exhibition at the MoMA.
---
#TheConsumed
As reported in the subscriber email, last week's experiment in Veganism was a resounding success. Even if Paris made it harder than it should be.
I felt so good in myself during a plant based diet that gorging myself on cheese at the end of the week immediately showed me the other side of things. So bloated, tired and sluggish I decided to dial down the animal products and up the other stuff.
In amongst the things I was worried that I might miss was my occasional flat white. I have now tried one with oat milk and one almond milk and the oat not only wins hands down, I prefer it to standard milk. Especially in places that serve questionable coffee.
On more than one occasion, lunchtime this week has looked a little like this…
A slapdash assembly of avocado, chilli, tomato, vegan cheese, roasted red pepper on either a bagel or rye bread. The spreadable vegan cheese was a pleasant surprise. It's the first vegan cheese I've tasted. I'd defiantly have it again.
---
#TheThings
Could there be a more featured podcasting app than Backpack Studio for iOS? Probably not. And this week a new version of the beta app arrived. This one enables video creation so you can share your audio in an animated video slideshow with text.
The beta app was pretty buggy to start with but that's why the beta testers have been sent it. To iron out all the bugs. It's constantly evolving into what will be an amazing update when it finally hits the App Store.
The app currently in the store allows you to record, mix, and master audio in real time. But these new features will certainly put it even further ahead of the competition. Hypothetically you could also use the slideshow and text function to add subtitles but this would be manual and fiddly. MixCaptions is still the best bet for that. Although it's expensive.
---
#TheWeb
---
#TheEnd
If you like what I do here please consider the $5/month or £55/year subscription to get all the content. If you do support you get a shout out as a bonus.
Next week is wide open. So i'll be reading more books and getting more exercise.
I also hope to record a fat subscribers podcast on the basics of podcasting. I hope that is meta enough for you.
Have a great week and thanks for reading.
---
"Good friends, good books, and a sleepy conscience: this is the ideal life." ~ Mark Twain
---
Hope for the sake of it.
See you out there.
Over…