Greetings From Albuquerque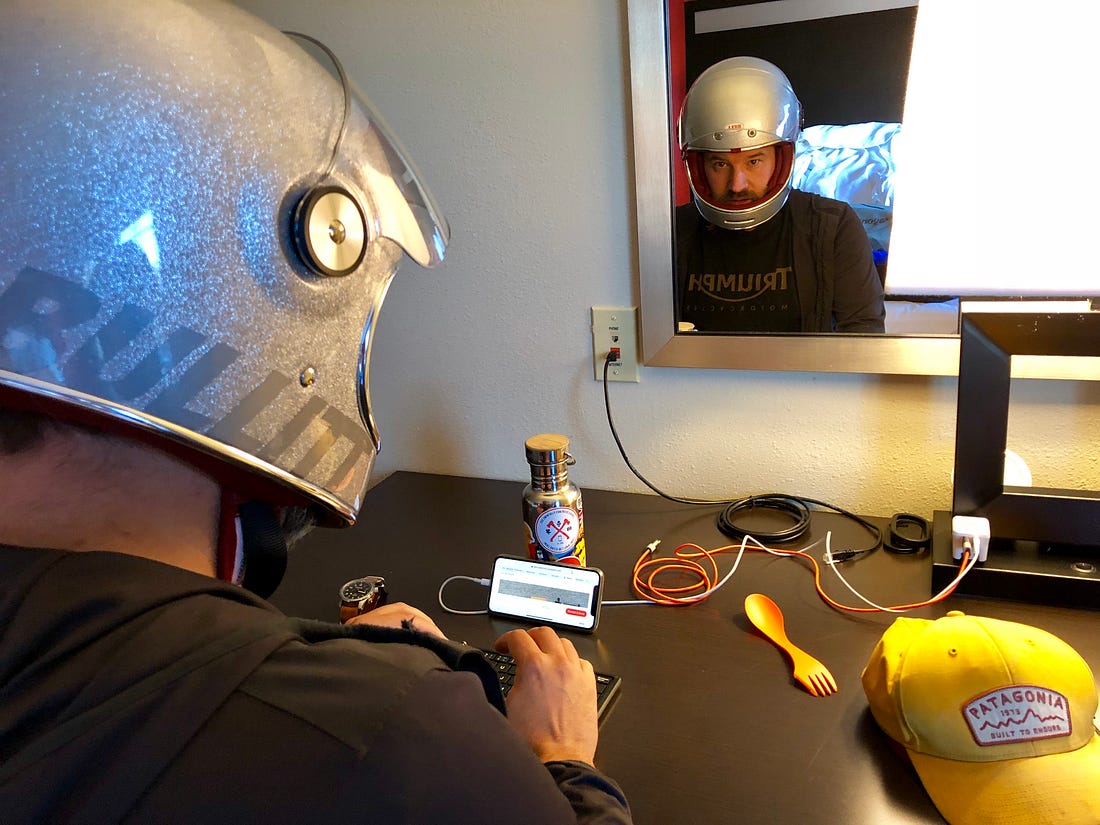 Woke up at four to unfold a tiny Bluetooth keyboard and knock this out. Expect more mistakes than usual.
I landed in the US during the Brett Kavanaugh hearing. A monumentally important moment in US history. Everyone is talking about it. There's a lot wrong with US politics at the moment. Precedents have been set by the president. It's hard to wade through the mire.
---
#TheAction
Went to a party at the weekend and got a stinking cold. Still feeling it now. That put the anchors on my normal energy levels. Still managed a couple of meetings in London and took two days to pack a small bag for my trip to America. So small that when I arrived everyone laughed at how little I brought. Luckily i still feel like i have all i need but if not I hear America has lots shops.
---
#ThePictures
Once again, thanks to machine learning the new iPhone camera is again improved. Here is a great little camera review. I've only got to play with the iPhone XsMax. I was sat with Jem Finer on a bench by the Thames waiting for a meeting with Longplayer trustees to begin and I got him to snap me with his XSMax and my standard iPhoneX.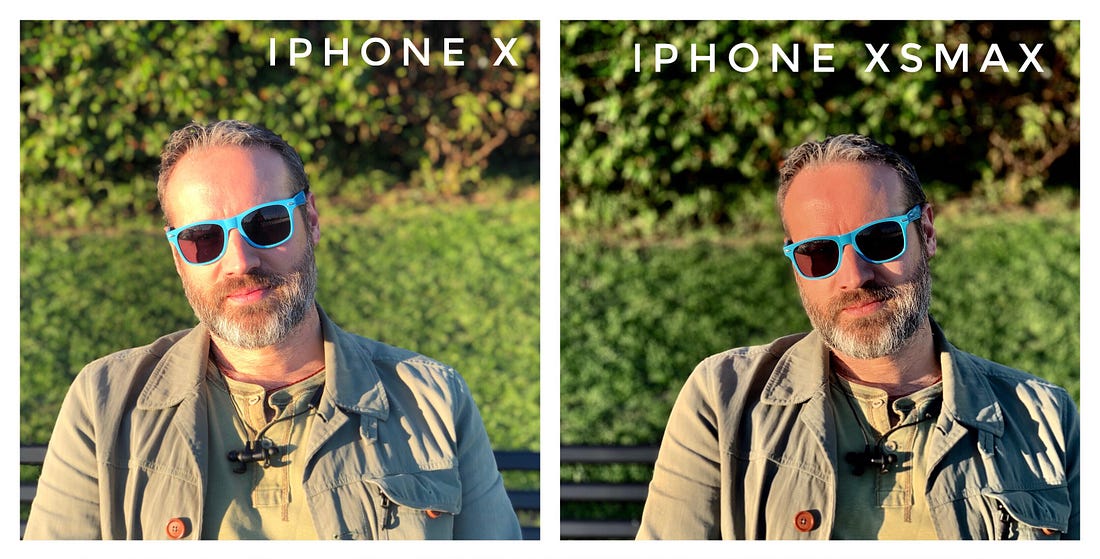 The highlights seemed to be dealt with better and colours are ever so slightly richer. There's a certain hyper-reality though. Luckily adjustments can be made as I feel you need to find a balance between the HDR and something we are at the aesthetically comfortable with.
This is only a one photo camera test though so not really evidence of anything. The video linked in the text above is worth a look for more examples.
---
This animation shows us how different types of bullets behave.
---
Catfishing is when someone creates a fake social media profile or a sock puppet social networking presence. There's even cheesy TV shows that aim to help victims of Catfishing be they general public or in this case someone internet famous.
No idea if the narrative of this is for real or a publicity stunt but it does highlight some very real problems issues.
---
#TheWords
Short of stuff to read?
Check out over 100 fantastic articles listed on The Atlantic. I haven't read them all so I can't promise they will all be fantastic but David Charles sent me the link and I trust he probably did.
---
#TheSound
Had a quick play with Dialog. An interesting browser based audio streaming service. Thanks to @SoulCruzer for the heads up.
---
A journey round the world in sound. This works just as well in the browser as it does on mobile. Wear headphones though. Thanks to @Sizemore for the link.
---
Could sound really be a better memory trigger? Episode 22 of Sound Matters is another audio delight from Tim Hinman.
---
Here is a link to over 2000 of my audio blogs. That should keep you busy till I get back.
---
While in NYC I managed to hook Mike Mignano of the podcasting platform Anchor with a Mikme microphone. He tested it in a section of this podcast.
---
#TheConsumed
This tasty experiment paid off.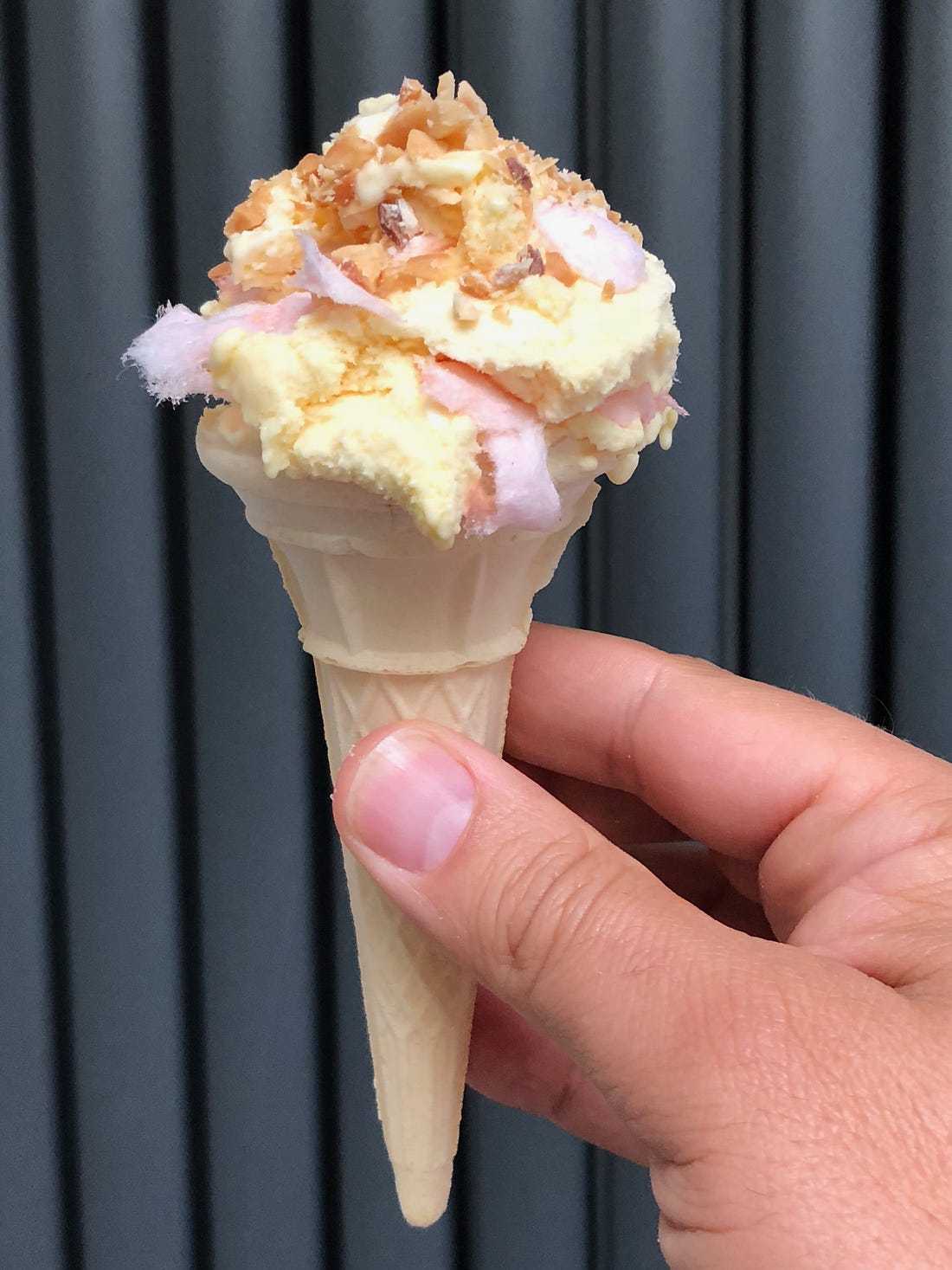 Scoop teaspoons of vanilla ice-cream into an cone alternating with chunks of leftover candy floss (aka cotton candy). Once at the desired size, dip the icecream into a saucer of chopped nuts. I don't class myself as having a sweet tooth but I'm into this.
Did you know that machine spun candy floss was invented by a dentist? Bit of a win-win business model for him.
---
#TheThings
I picked up a new helmet for my trip. I have had my eye on the Bell Bullitt for a while now.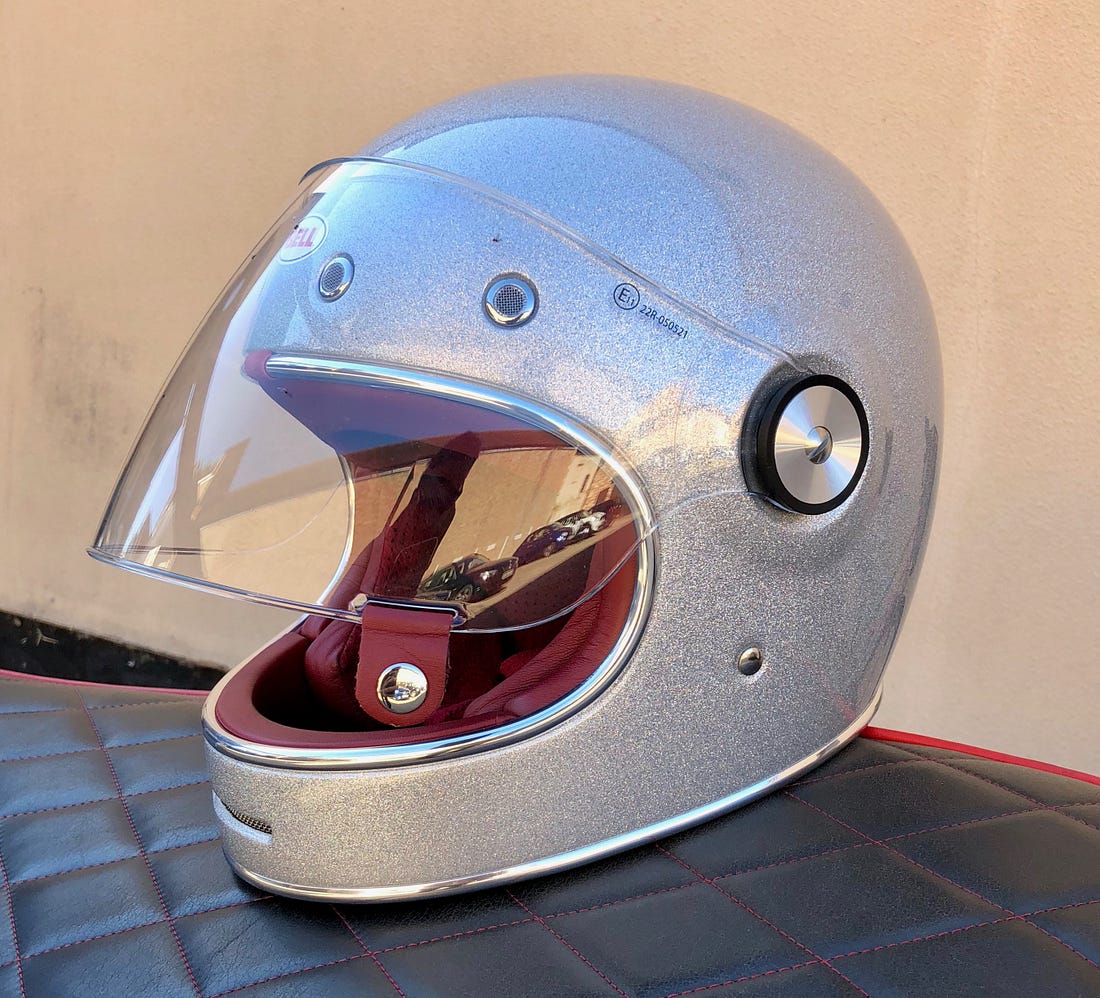 I wore an open face helmet on my last US motorbike trip and there were times it really got on my nerves. It was not the best fit and although happy to be wearing it on the one time I did hit the deck, it wouldn't have really helped me in a faster, harder crash.
Yes I bought the Bell because of the styling but it's also a huge leap up in terms of quality and safety. It's no way the safest helmet available but if you want to be 100% safe don't ride a motorbike. No helmet can save you from a traumatic brain injury, but it will certainly increase your chances of survival.
The Bullitt fits well, offers great vision, stays put at speed, and makes me look like an trainee astronaut popping home on his lunch break. It is quieter than an open face helmet but I still feel my face is free and visible. Although I don't have the science to back this up, I think other drivers notice faces on a subconscious level. I wear an open face helmet around town in the UK because I feel able to be seen to those that are aware and can shout at those that are not. I'm hoping this helmet will offer me the same with the added safety of the chin bar.
I've noticed new wind sounds I'll have to get used to but I normally wear ear plugs on long rides. It's well vented and well made like the Ruby Belvedere Concorde I have used in the UK for the last 10 years. If this fares well in the deserts of New Mexico It may become my goto lid.
Technically I don't have to wear a helmet in New Mexico. Three states in the US have no helmet laws at all; Iowa, Illinois and New Hampshire. But many of the other states like NM only legislate for those 17 and under. Even in the heat I'd rather not take my chances. I'll be full face helmet, kevlar jeans and upper body armour all the way.
---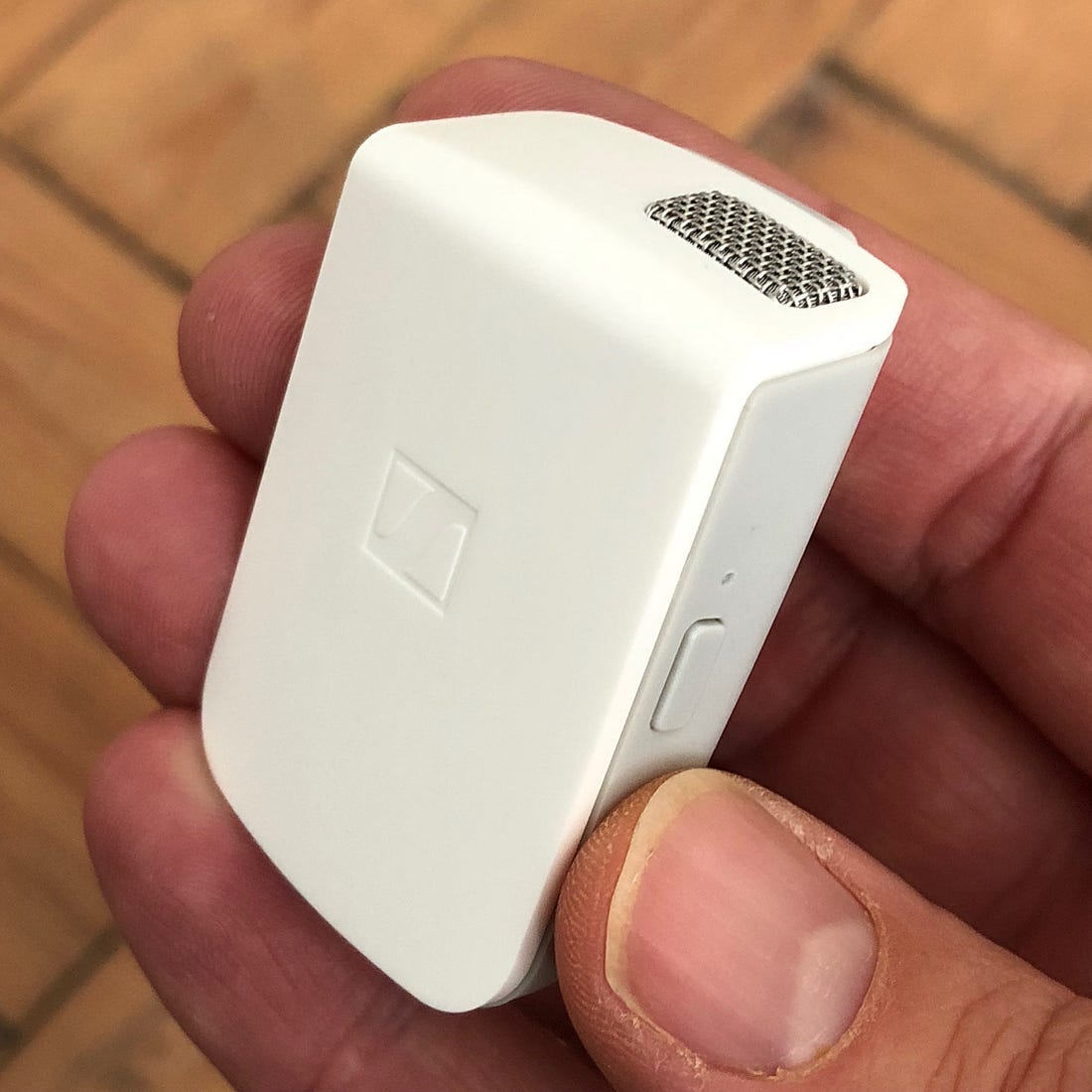 This Sennheiser Memory Mic dropped through the letter box this week. Just before I hopped on a plane. I set it up and got it working. My first test was a great success but I'll continue to play and drop my thoughts into the next newsletter.
---
Although i was handluggage for my flight to the US, this is the pouch and contents I wore on the plane.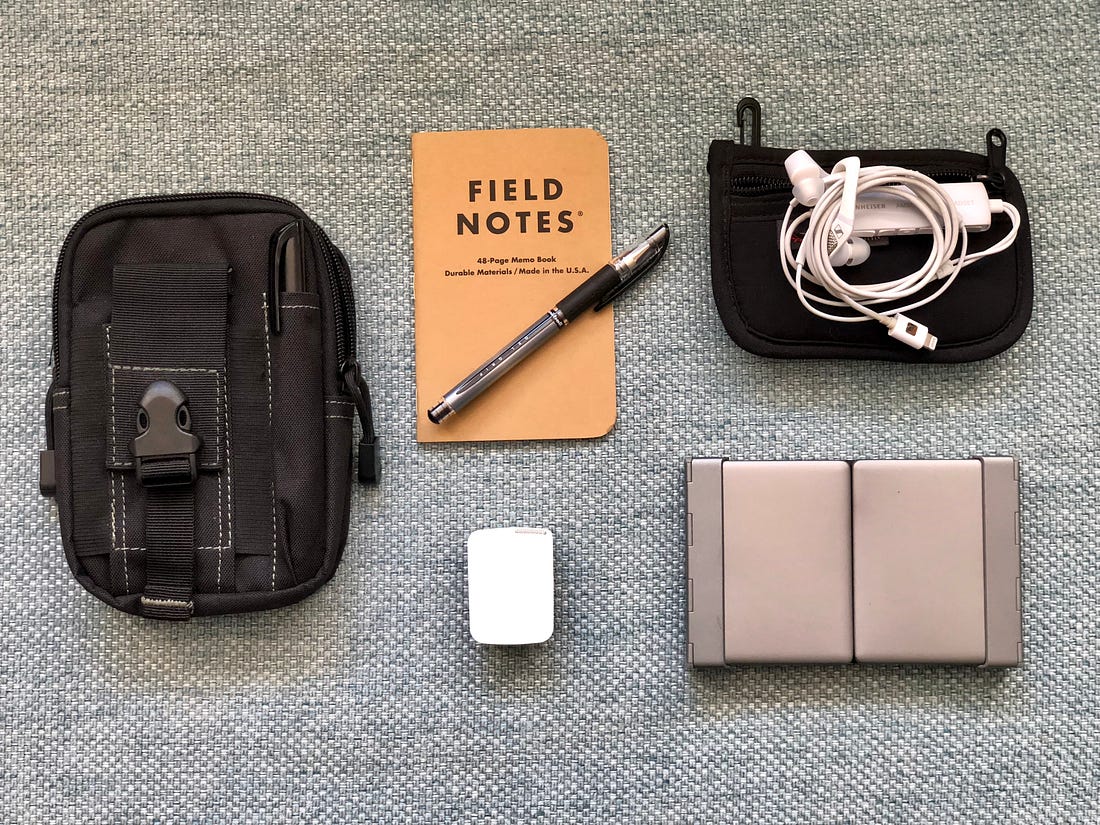 Inside I packed a notebook and pen, the Ambeo Smart headset/headphones, a charge cable, the Memory Mic and a folding keyboard.
---
#TheWeb
I sometimes fire up the app Foursquare if I want to find a hotel or pub recommendation in my area. I'm not a huge user of Trip Advisor though and certainly don't wield it as a weapon like some do. I do sometimes fire up the app Foursquare if I want to find a hotel or pub recommendation in my area.

Have you added yourself to the Documentally Newsletter map? Anyone local?

The new Oculus Quest looks interesting.

A great video to help you make better coffee choices. ht/ @ChristianHambly

Instagram for many is the best part of Farcebook. It's the only bit I tend to dabble in. What will happen to it now the co-founders have done-a-runner?

A few people have asked if they could subscribe for more than the $5/month. You can immediately pay me 20% more by just telling me you are a business. Then i'll not have to pay the 20% VAT on every subscription. Or while Substack does not offer a sliding pay-what-you-can-afford option, why not gift a subscription to someone as quirky as you?
---
#TheEnd
I need to head out and help set up the bikes. I'm travelling with seven Americans and one Brit. Six days riding across cowboy country. I'll share moments to the #HellsNerds hashtag on Twitter.
Keep an eye out for the next (subscriber only) newsletter as I'll be looking for some crew to help me take the narrowboat two days north. First come first served. #Perks
Thank you for being interested and interesting.
---
"You do not need a therapist if you own a motorcycle, any kind of motorcycle!" ~Dan Aykroyd
---
[If you enjoyed this feel free to pass it on]
Stay rubber side down.
See you out there. Over…