Greetings from a pub in Huntingdon.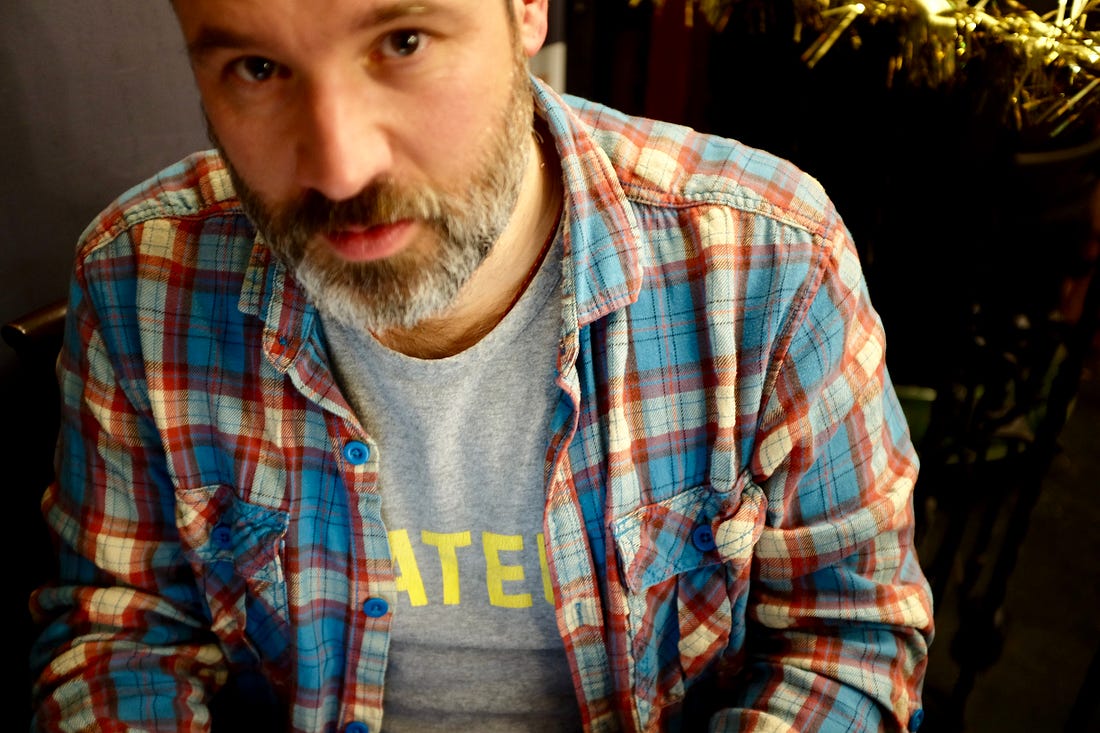 In the pub with Steve Gullick and Adrian Storey. Using my phone as a hotspot. Steve took the photo above.
I arrived at lunch for a quiet pint. I'm still here at 5:40pm. Please read the following email with that in mind.
---
#TheAction
I've been exploring the mysteries of the default mode network. Finding those times to rest the conscious brain and daydream. Letting strange networks come to life. This might have happened more naturally before all these attention grabbing devices filled our every waking moment.
Going out without a phone does it. Leaving it in a bag when on the train or bus also helps. Ideas come think and fast. Not sure if that's meant to happen. Try it. No one seems to know what the DMN really does. Just that it plays a part in brain health.
Outside of reading a lot of stuff I fail to grasp, I've been dog training, although I think she is training me faster than I her.
I've also been shivering. Nothing burns like the cold. I'm embracing the extra pockets but still dressed for autumn. Winter is for friends and warm pubs in the daytime. For stacking logs and putting some spice in your drinks. It's only just begun. But we'll soon be little woollen figures trapped inside a snow globe. Dreaming of summer.
---
#ThePictures
It wouldn't surprise me if many Americans now see these as desirable properties.
---
Lovely photo essay of an alpine shepherd.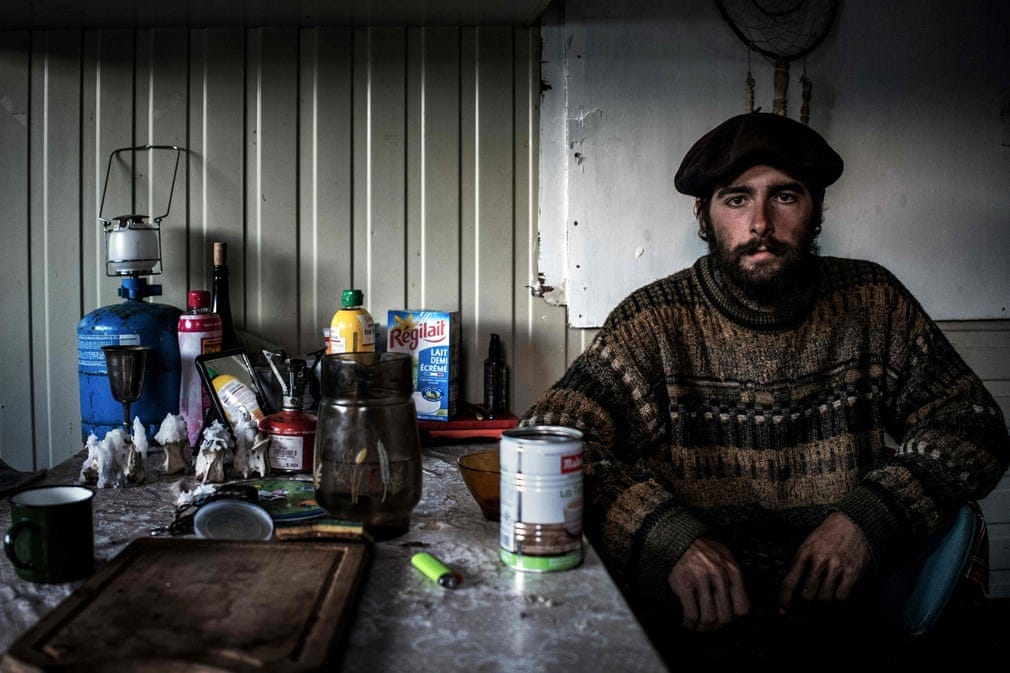 Via @F8AndBeThere
---
ChuChu TV. Have you seen it? I linked a video in the name there just incase you want to go look. But when I watch their programming I picture a locked shipping container in an undisclosed location. Inside tied to a chair is a 'person of interest', forced to listen to the channel on repeat.
---
#TheWords
Remember when we could modify our computers as we wished? It's a lot harder now-a-days but still possible. If you want to unlock the potential of a newly bought (second hand) Nintendo 2DSXL and have it run open source games, you need an R4 card, a micro SD card and some patience.
Warning this will also allow you to run pretty much any game rom without the need of the official cartridge. Great if you would like to have a single cartridge with a back up of all the games you have ever bought. But obviously even that might fall under copyright infringement. So although this hack will enable you to stock up on free games this is not what I am recommending here as that would be illegal.
So anyway. With the help of some dubious online places you can find new firmware and load it on to the microSD card. Then, if like me you are a noob to this, you find the most recent youtube video and follow the steps.
I ignored the hour hand on the kitchen clock as it swept past midnight and instead poured another whisky. I was committed now. Or should have been. This perfectly mint Nintendo 2DSXL is the only thing on my lads Xmas list. I feel it just needs to be better.
It's cold so I head into the living room where the fire still glows. My fingers dance through the requested key combinations as I as follow instructions from the man with the accent. He tells me again to ignore the on screen warnings and push on. Things keep getting interesting.
He asks me to go find a magnet and I peel one off the fridge. Then I have to do this. That was my favourite part of the whole thing.
Over all I really enjoyed the process. All the way up to the final step where I totally bricked the device. It was 1:30am.
I'd killed it and not had it two days. Dejected and angry with myself I managed to get the device to at least look like it was booting up. Sliding it back into the box I checked the no quibble guarantee. It's good for two years. That's handy.
On Wednesday I wore my most confused look and sauntered into a different branch of the shop I'd originally bought the DS from. The manageress obviously had better things to do and after a big sigh rudely ordered her 'tester', who she called tester, to look at it. She then berated me for having the child lock on and told me to do something else for 15 mins.
When I returned she stood hand on hips asking the tester "Well‽" He turned to me so she could not see his face and winked.
"Looks fine to me" he said and handed over the box.
He'd fixed it. When he didn't have to. He knew what i'd done and fixed it to spite his annoying boss. I doffed an imaginary cap to his superior nerdiness, said an excited "thank you!" and left.
---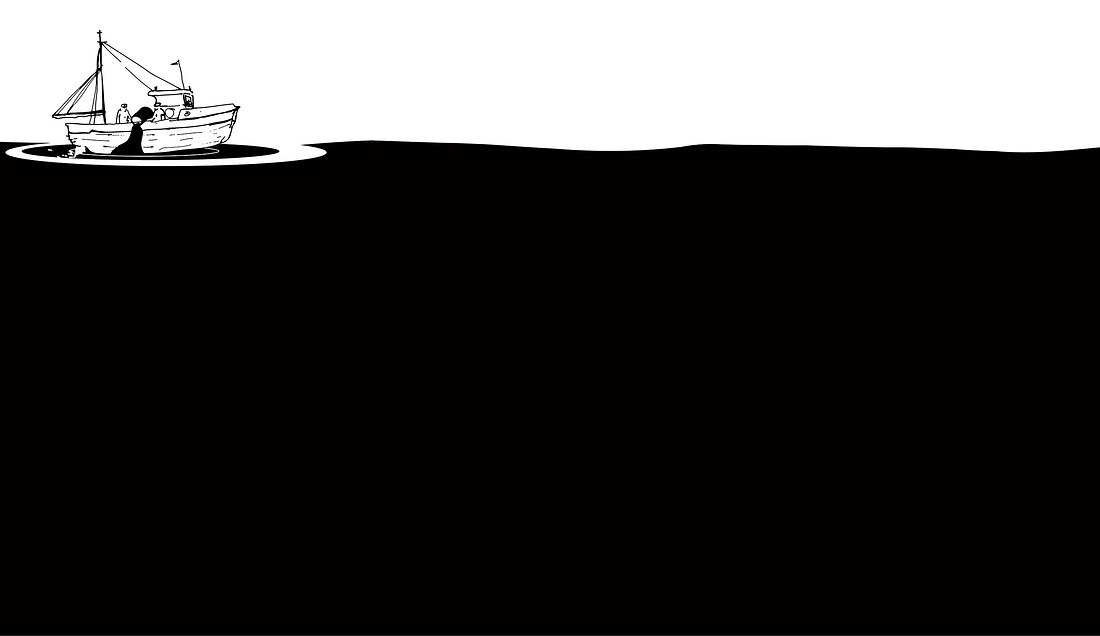 Why covering the environment is one of the most dangerous beats in Journalism.
---
#TheSound
You will never look at your breakfast in the same way again after listening to 'Boring Talks Taxonomy Of Cornflakes'. And after recently working alongside the remains of Jeremy Bentham in UCL, this podcast also from the Boring Talks myth-busts much of what I thought I knew about Bentham's 'Auto-Icon'.
---
The Ten Minute Writers Workshop is no more. Shame. If you are yet to dip in and be inspired I envy you. I'll certainly be revisiting some of this little chats. It's fascinating learning about the workflow of others.
---
#TheConsumed
I don't normally mess with whisky. But I'm happy to play about with whiskey.
If you fancy a play try this:
A winter spiced old fashioned.
60ml bourbon
2 dashes aromatic bitters
2 dashes of orange bitters (or an orange wedge)
15ml winter spiced syrup
Cinnamon stick for show.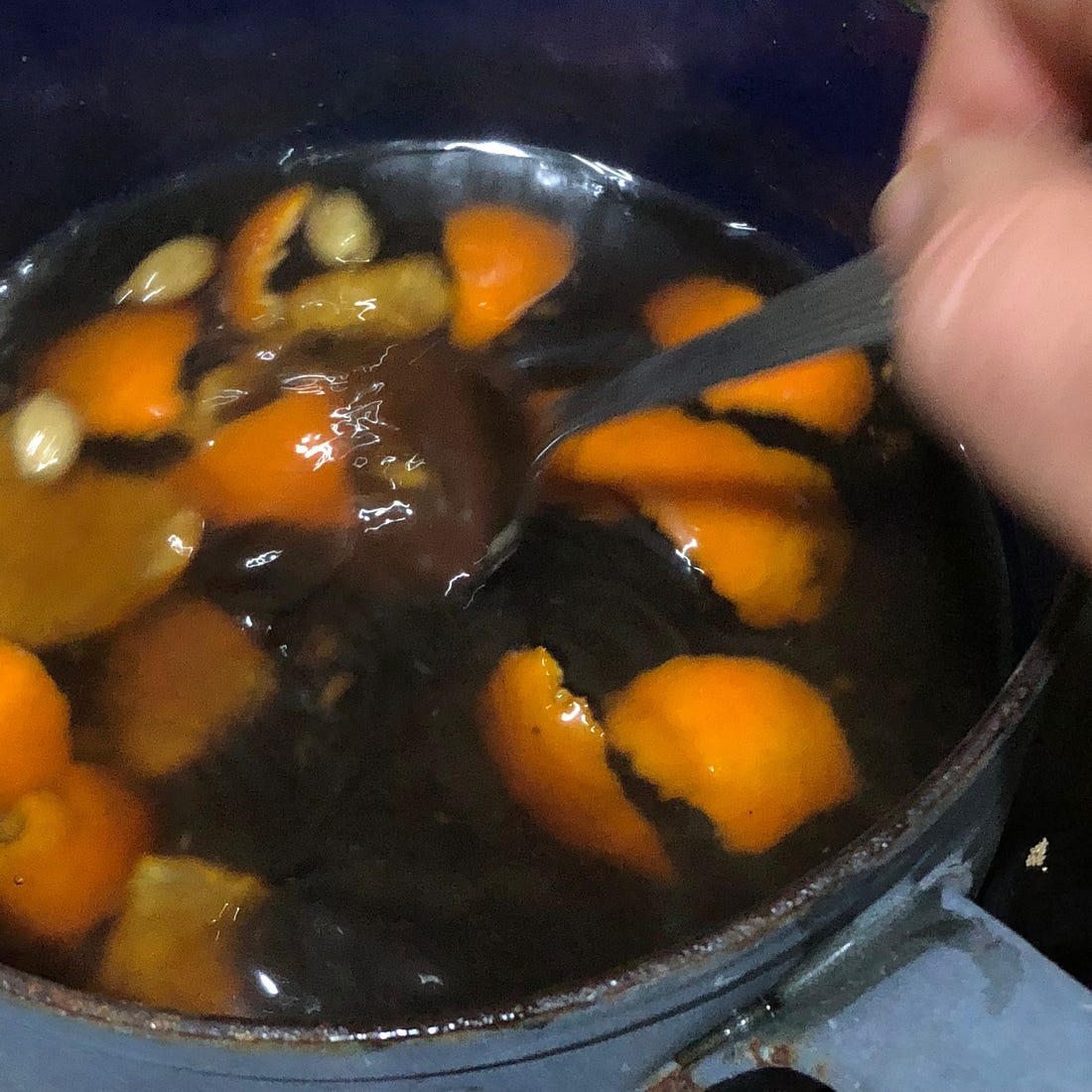 Directions
To make the winter spiced syrup, simmer sugar and water, cloves, ginger, nutmeg, star anise, allspice, cardamon pods, peppercorns, and orange peel for about 10 mins. Then when done add some vanilla pod or essence. Strain and let cool. This mix should last a couple of weeks in the fridge.
Stir the bourbon bitters and syrup with ice in a glass. Garnish with cinnamon stick and/or the orange slice.
Drink.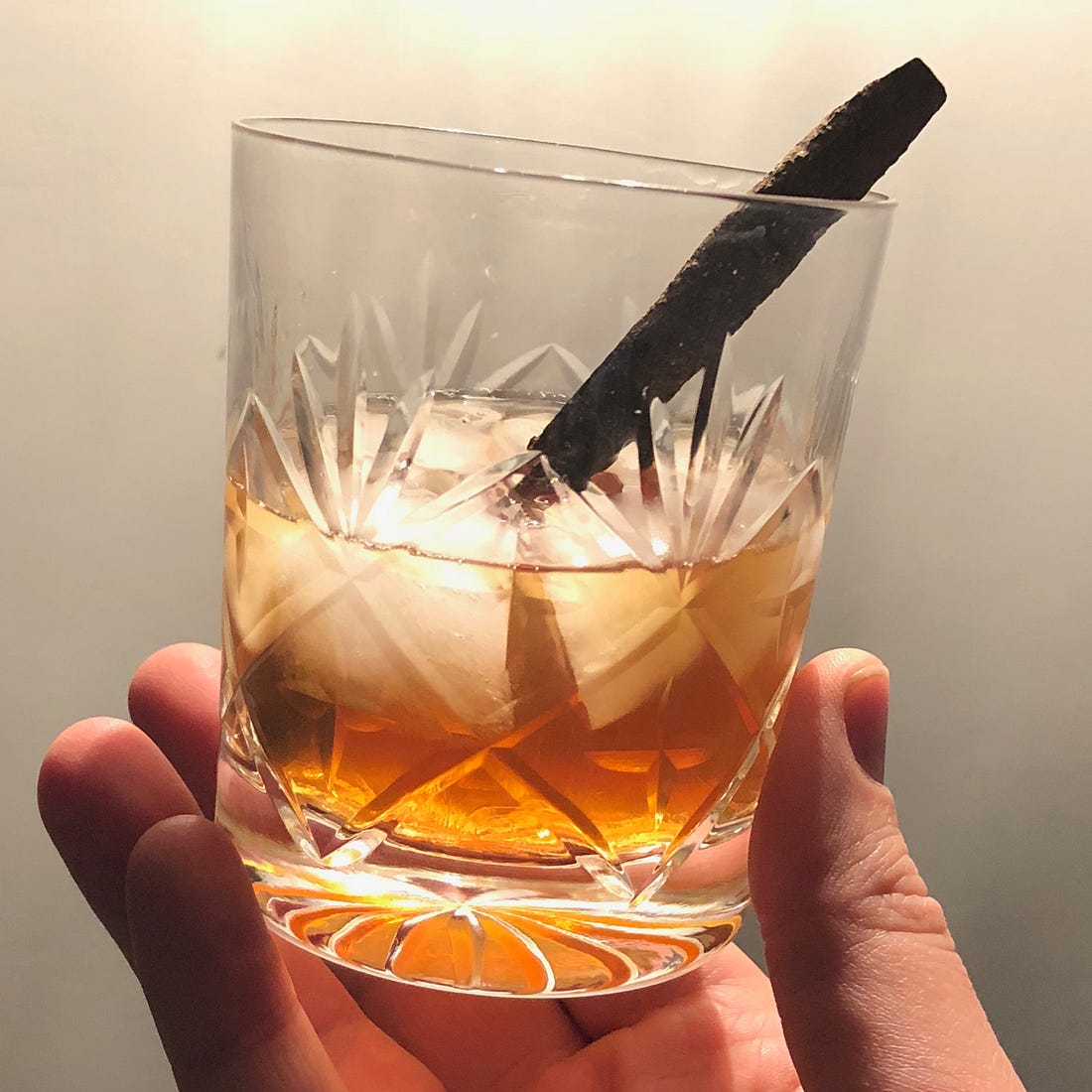 That was the last of my bourbon. I have a couple of bottles embedded in my Amazon wish list. But I'd much rather people spend the small monthly fee and subscribe to this newsletter. That's all I want for Christmas. To be able for this experimentation and writing to sustain itself. It's probably the more ethical option.
---
#TheThings
While winterising the narrowboat I plugged in a couple of low wattage heaters and brought a few essentials back.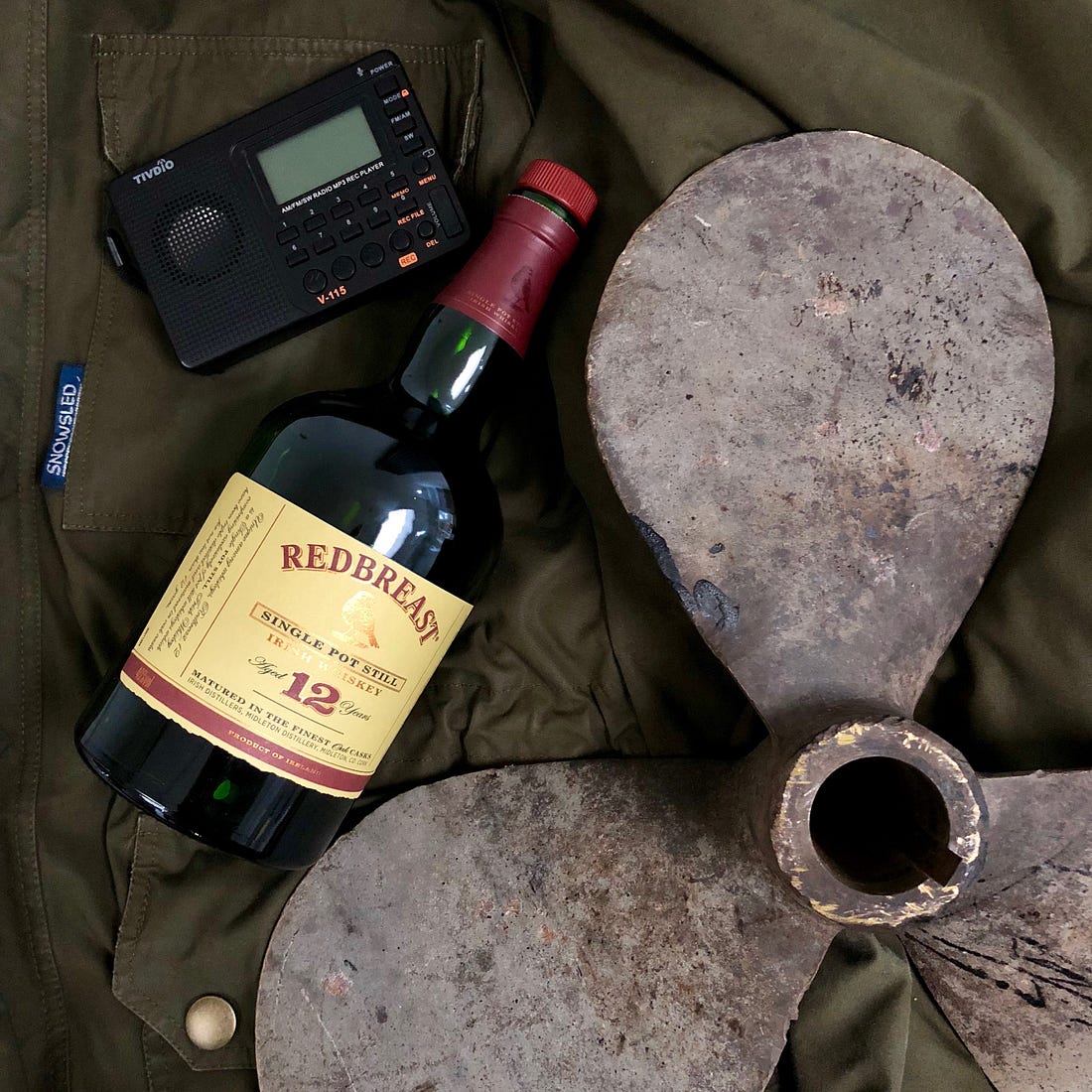 The old prop I had replaced, I'd like to polish it up and stick in my shed. (Anyone got a sandblaster?)
My little AMFM Radio. I've missed scanning late night frequencies.
My favourite tipple. It's nearly gone but I figured i'll need emergency whiskey more at home than on the boat this coming holiday.
And my favourite coat. I've had it eight years now and it keeps getting better.
---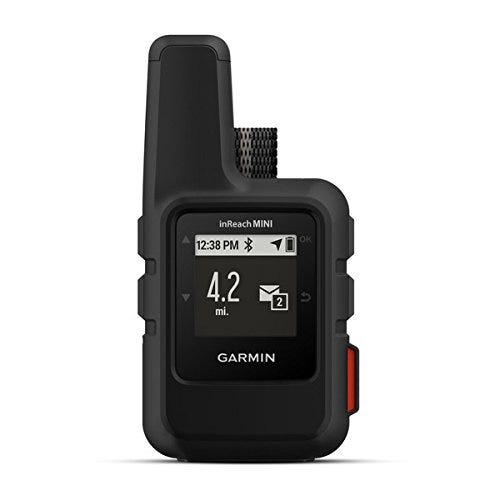 The Garmin inReach Mini looked like it showed some promise. That is until I read the Amazon reviews. The latest in a long line of sat powered messaging devices that connect to your phone, some buy it without realising it requires a subscription to a satellite data package. It's still early days for both this device and the extortionate satcom tariffs. I'm hopeful that Garmin will pull their finger out with their customer service in the UK and the recent swathe of satellite launches will also help to bring the costs down for this kind of tech.
---
Charity shop purchase £1.99.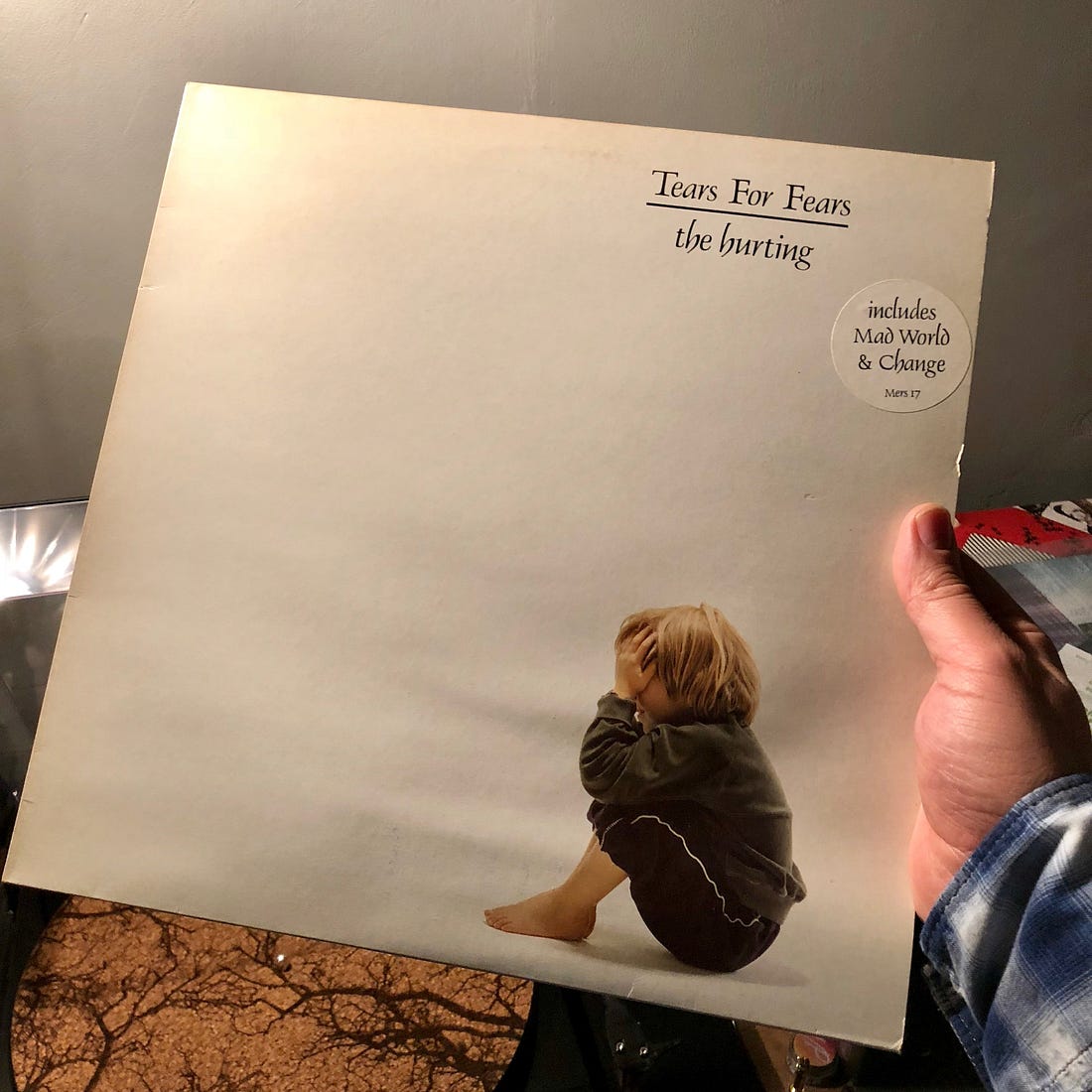 Although they never seemed to leave the album charts when I was a kid I bought this for the song Mad World. I now realise I much prefer the Gary Jules version. As featured in Donnie Darko.
---
Found a load of old Play Station and Xbox games in a drawer so part exchanged them for the minty Nintendo DS I have already written about.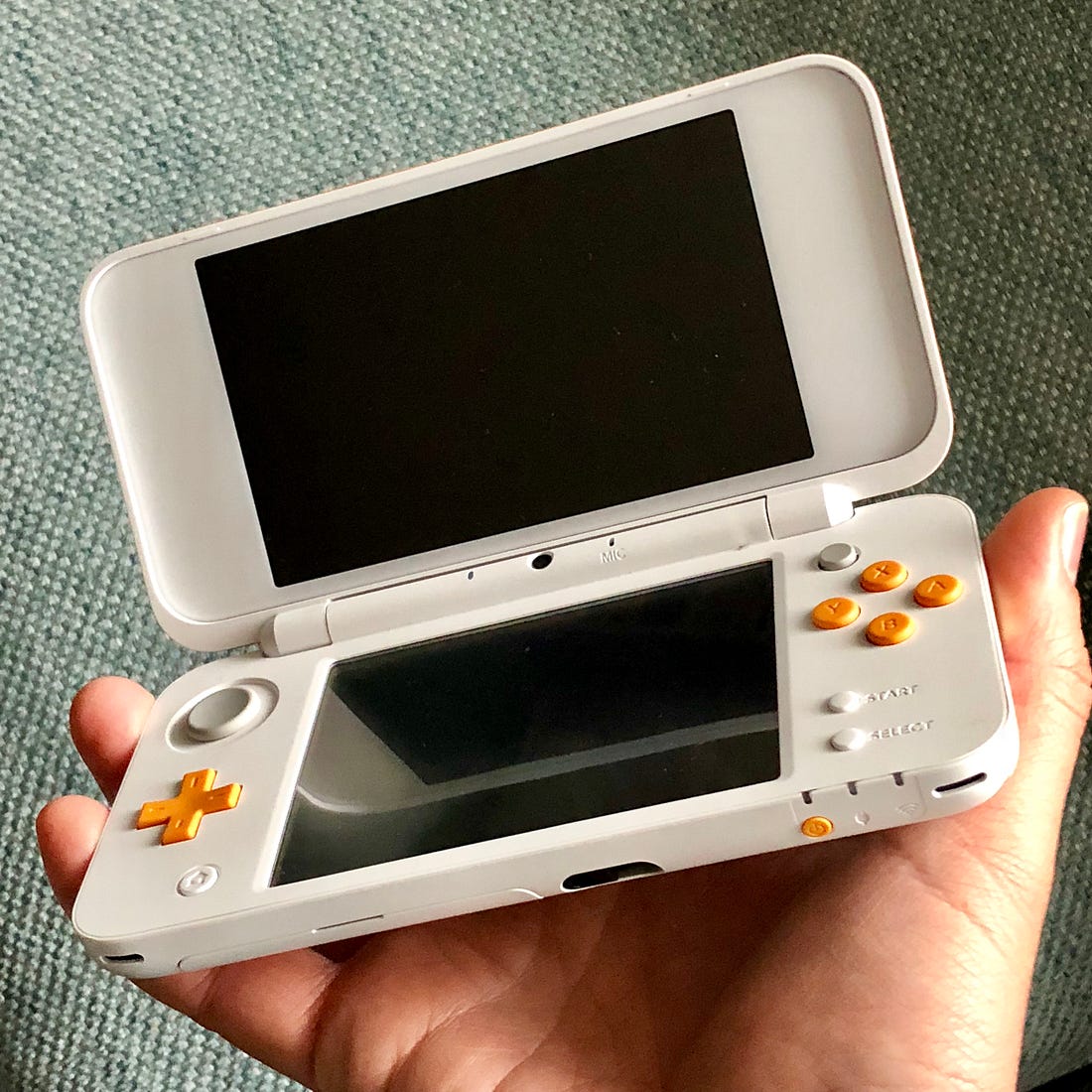 It will need some extensive testing before it is wrapped for Christmas.
---
#TheWeb
---
#TheEnd
Thanks for reading. Next week I'd like to focus on some kind photo/audio project.
I have some workshops coming up in the new year. Please share if you know people in the area who might benefit. I've booked Sheffield, Birmingham, London and Newcastle. If there is something else you would like me to deliver elsewhere let me know.
---
"There are no bad pictures; that's just how your face looks sometimes."
~ Abraham Lincoln
---
Don't forget the moon.
See you out there.
Over…