Greetings from Cambridge...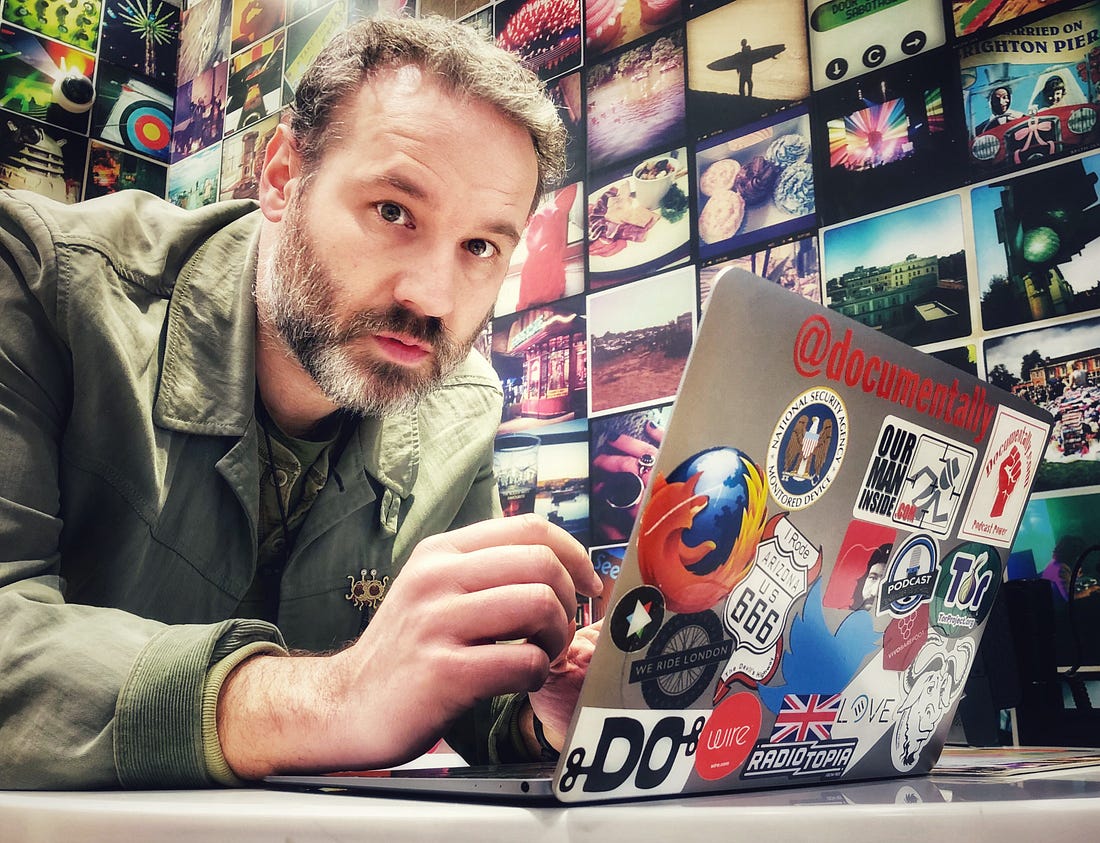 New years eve was a hotbox of sweat and hormones. An incubator for the viruses lying in wait for a dip in our immune systems. The catalyst was the house party host. Pained sweating. A walking ache, breathing in and out who knows what. "Take a sip of this" he slurred. I reach for the glass without thinking. Only when it touched my mouth does my immune system scream. In Scottish. "We can't take any more captain!"
I've been skirting pockets of sickness ever since. I'm on the edge of something but I'm not sure what. Nothing feels right. For now I can think move and function. But I feel like there is a battle going on.
If you hear from me next week you know that I won.
It's waiting for us to slow down.
You know what to do.
---
#TheAction
This last week has been about axes, whiskey and Landy's, Ales, nails and noodles.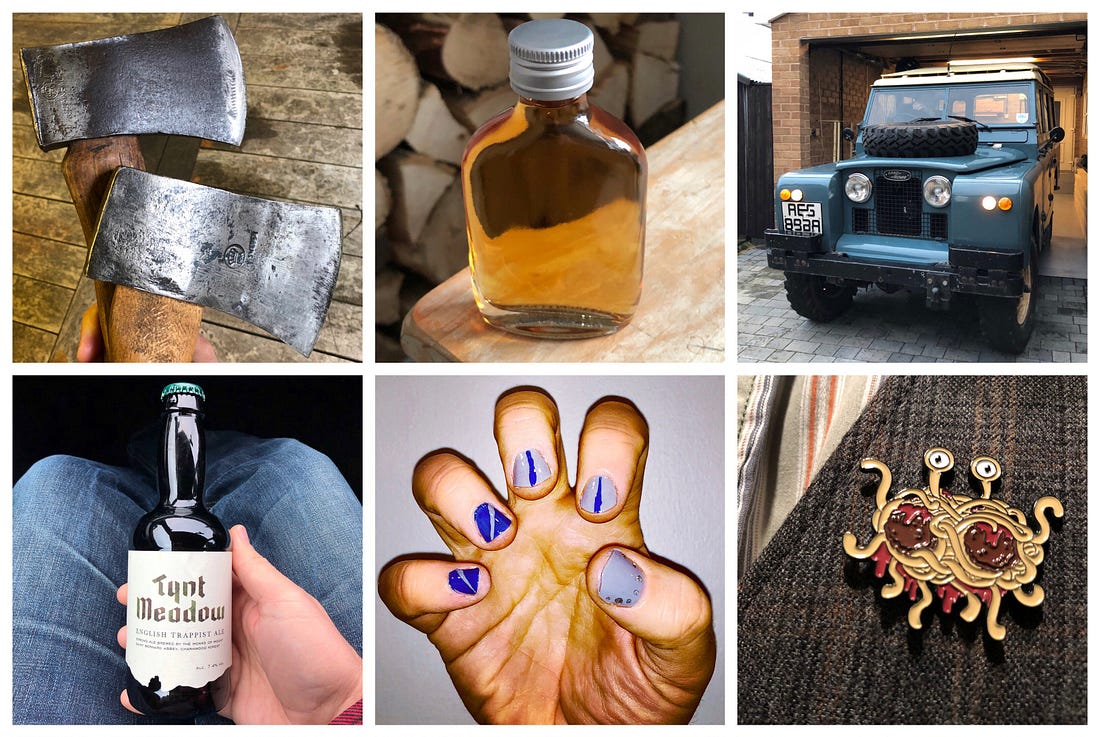 But I'm slowly getting back into the usual things.
Adrian Storey came over this week to interview me for a short film featuring the Neotists.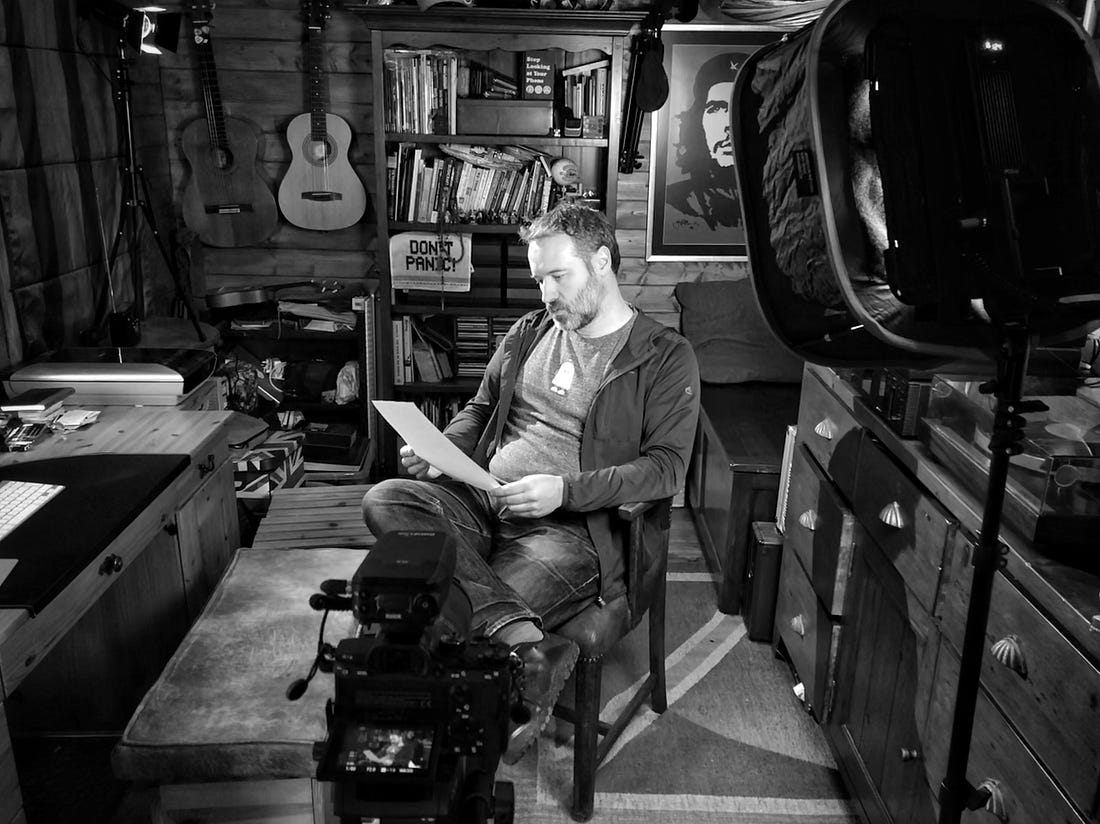 Feels strange to be slipping back into work shaped stuff.
I have done so little email and social that I've felt a diminished flicker in my cyborg urge to constantly be online. The occasional glance at a screen felt fine. Walking the dog without my phone felt fine.
But the pixels are back with a vengeance and I can feel myself reintegrate. I even found myself subconsiously thumbing through Twitter. I blocked a couple of accounts in my network that weresharing #Groyper memes. I can't remember the last time I had to block someone. The weird thing was that I was following them. Both were Americans, one from Alamama. I checked their accounts and it wasn't an anomaly. They seemed to be fans of racism and I had no idea how we'd connected. It's not that I want to live in an echo chamber. I already venture outside of my Twitter bubble to experience the darker side but I've little time for any of this at the moment.
But work mostly comes from Twitter so I feel I need to be there. And then I saw a tweet asking for someone to deliver a talk on podcasting so I eagerly replied. I checked out the event and it all seemed pretty decent. All talks were recorded and archived for their website and they touted non-salesy speakers.
After a few messages suggesting dates and suchlike we agreed on two possibles. Then I got one of those emails freelancers really should be used to.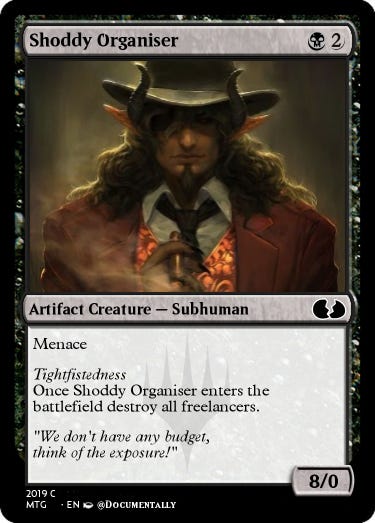 And we are back.
---
#ThePictures
If this doesn't make you want to make something, nothing will.
---
I spent a chunk of time looking at this… Time-Lapse Photographs Capture Swarms of Airplane Lights as They Streak Across the Night Sky.
I'd think it would be more beautiful if I could ignore the pollution, the noise, the congestion of our skies and all the other stuff that accompanies it. Can't wait for alternative forms of transport.
Like trains. That work and are cheaper than flying.
---
#TheWords
Two poems by Ted Dodson.
---
I have sat compiling this email for a while now. This article makes me want to stretch my legs. Why exercise alone won't save us.
---
How PTSD became a problem far beyond the battlefield.
---
#TheSound
Everyone was in bed. Earlier in the evening I'd played a fun game of Magic: the Gathering with my lad and I was idlely packing away the cards we had used to play. The game, only our second, had been so much fun and I was wondering when we'd next get the chance.
Just then there was a notification on my phone telling me 99pi had just dropped another podcast. Freakishly it was entitled 'Gathering the Magic' and could only mean one thing.
Listen if you want to know what I'm talking about.
---
Another great podcast from the BBC's Boring Talks. This one is all about Animal Vaginas.
---
In theology school, Carlo Nakar asked, "Lord, what is the hardest thing you could possibly ask me to do?" He got a verbal answer. This is a dark podcast that is #NSFW. It contains some difficult to listen to topics. Do not listen to it if you are easily upset.
---
#TheConsumed
I stole this recipe from FreelanceGeek in the newsletter Wire backchannel. Ask me if you would like to join the group.
Ginger Peppermint Syrup

Here you get the soothing qualities of warming ginger, all wrapped up in a delicious easy to swallow cough syrup. Spicy ginger works as an expectorant, helping loosen and expel mucous from the lungs. It can also stop the painful tickle at the back of throat that can trigger a cough if the first place, if you are experiencing a dry cough. The peppermint will also help relieve the irritating tickle of a cough.

You will need…
-3 tablespoons of chopped ginger
-1 tablespoon of dried peppermint
-4 cups of water
-1 cup of honey

Directions
Chop the ginger and add it along with the peppermint to 4 cups of water. Bring to a boil and then lower the heat so that the liquid simmers. Simmer until the liquid has been reduced by half, than strain. Let it cool slightly, and then stir in 1 cup of honey until it has been dissolved completely. Bottle and take 1 tablespoon every few hours as needed to ease your cough.
Keep refrigerated for up to 3 weeks.
---
#TheThings
Cut from a single piece of paper.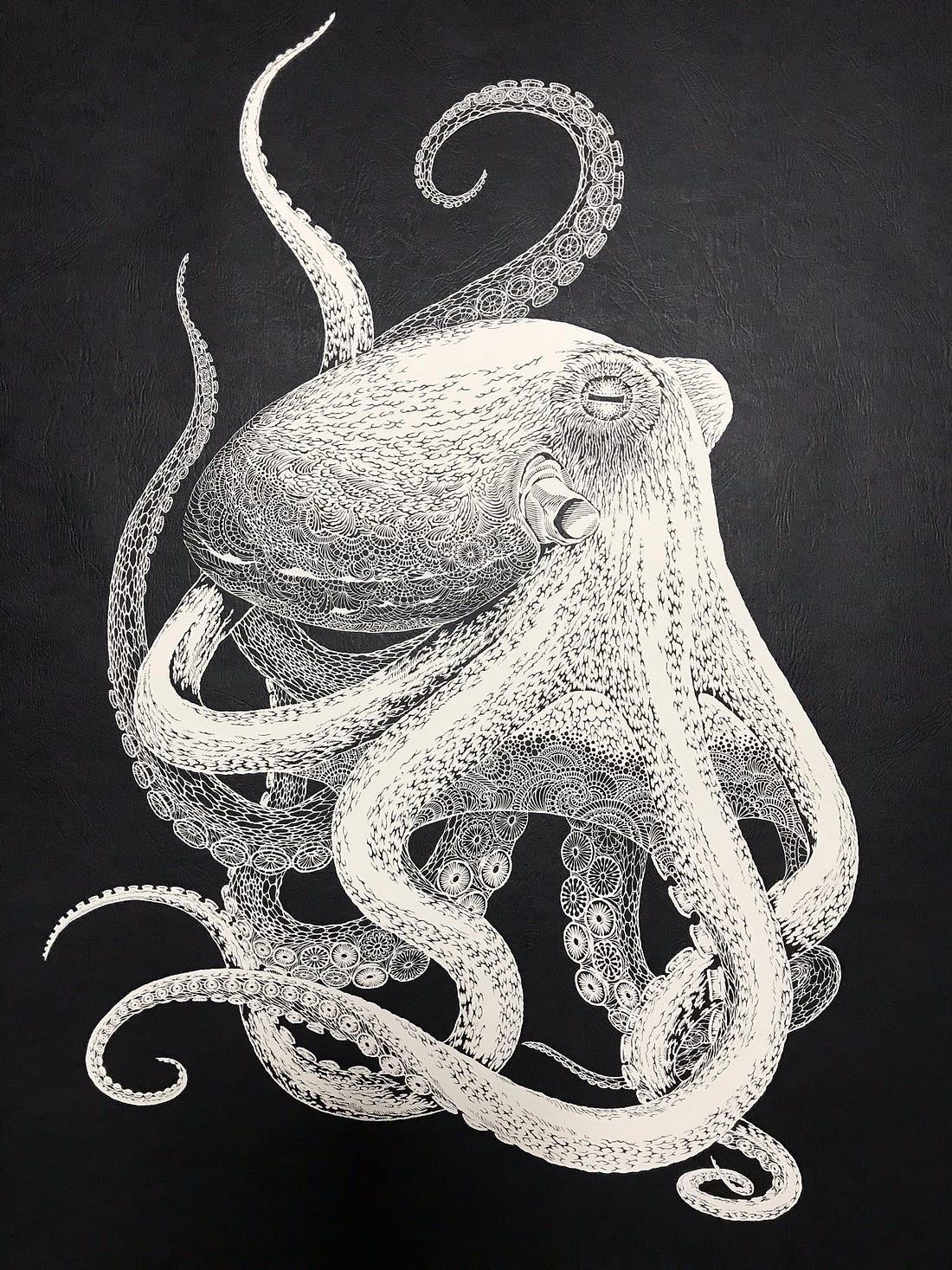 Masayo Fukuda is a master of kirie, the Japanese art of paper cutting.
---
Ask Ebay and it shall deliver.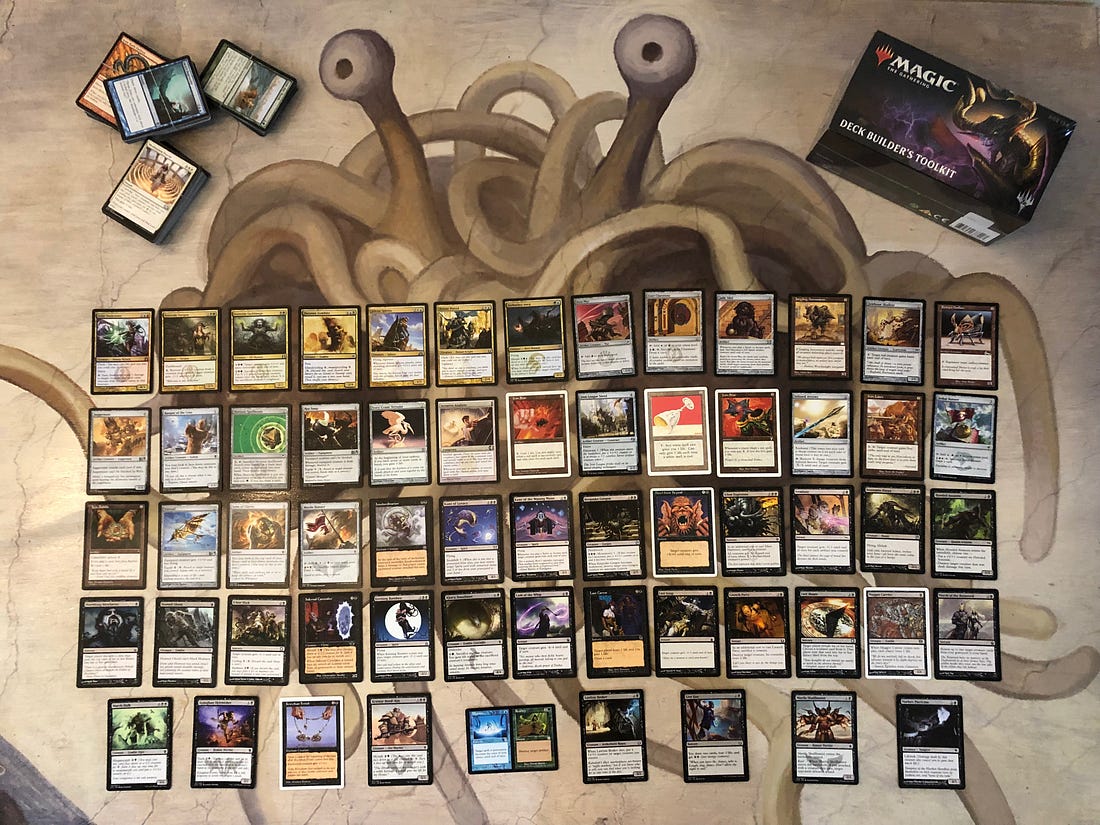 My first couple of games of 'Magic The Gathering' almost followed the actual rules. I don't care though. I can hone them as I go.
It's so much fun. So much fun that I have expanded my deck with a load of eBay purchased cards and am looking for proper instruction. I'd like to get a few people together. Maybe we can meet in an old castle with a a few bottles of whisky and battle till dawn.
If you are a player, I have a small (only three so far) MTG group on Wire. You are welcome to join in. That way I can keep my excitement out of the newsletter.
---
#TheWeb
I've changed my VPN provider. PIA (Private Internet Access) has been good but seemed really slow recently so I thought I would try out NordVPN.

So far so good. It's affordable, easy to set up, seems faster and comes highly recommended.

Hi new folk. Thanks for signing up to this. Subscribing unlocks another two emails a month and only costs $5/month or $55/year.

But it's free to add yourself to the Documentally Newsletter map?

We are not invisible. We are all nodes looking to connect.

Quirk is a Cognitive Behavioural Therapy app that wants to know what you are thinking. It '…helps you record "automatic thoughts," challenge them, and then train your brain with an alternative thought.'

Sounds scary right?

I spoke with the developer Evan Conrad asking about the privacy implications. He told me that this is his personal project and not connected with his work and…

'User data stays on the device. A third party has no access to your data. I have no access to your data. The only exceptions to this are: 1. iPhone backups, which could/should contain your quirk data 2. Crash logs, which very rarely, but occasionally contain user data. (Though I haven't had an app crash yet so I haven't actually gotten a log) Plus, Quirk is open source, so if you don't believe me you can always go check for yourself.'

Sounds legit. Let me know if it works for you.

A few years ago I worked with a company who told me they were close to 3D printing an entire mechanical watch. You would only need add the spring. All they were struggling with was the glass. Well it looks like we can now 3D print glass. I'm interested to see where this goes. What will this mean for glass blowers and makers?

Who needs fantasy card games when there is a Dark Overlord wreaking havoc in the actual world.

Take a peak at all these open domain works you can play with.
---
#TheEnd
Thanks for reading. I mean it.
There is a whole new year ahead of us and I am yet to imagine what this might look like. Next week I will be in London on the 8th and in my shed for as much time as possible.
---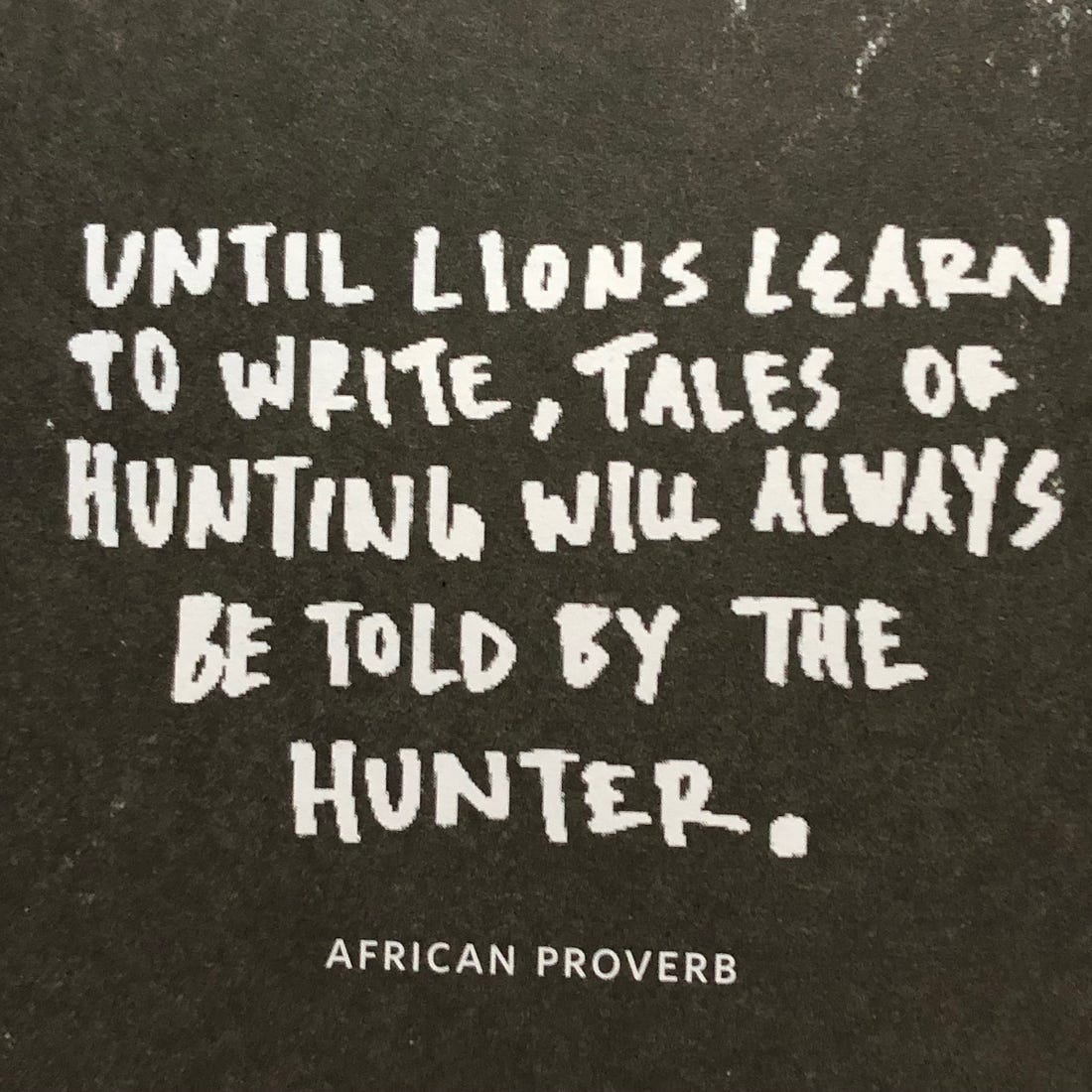 ---
[If you enjoyed this newsletter please pass it on. Or perhaps become a paying subscriber at $5/month.]
---
Don't slow down.
See you out there.
Over…