Discover more from Documentally
A human authored journal in search of novelty, exploring what we share, how we share, and where we're going.
Over 2,000 subscribers
Doodling in the margins [238]
Greetings from my shed...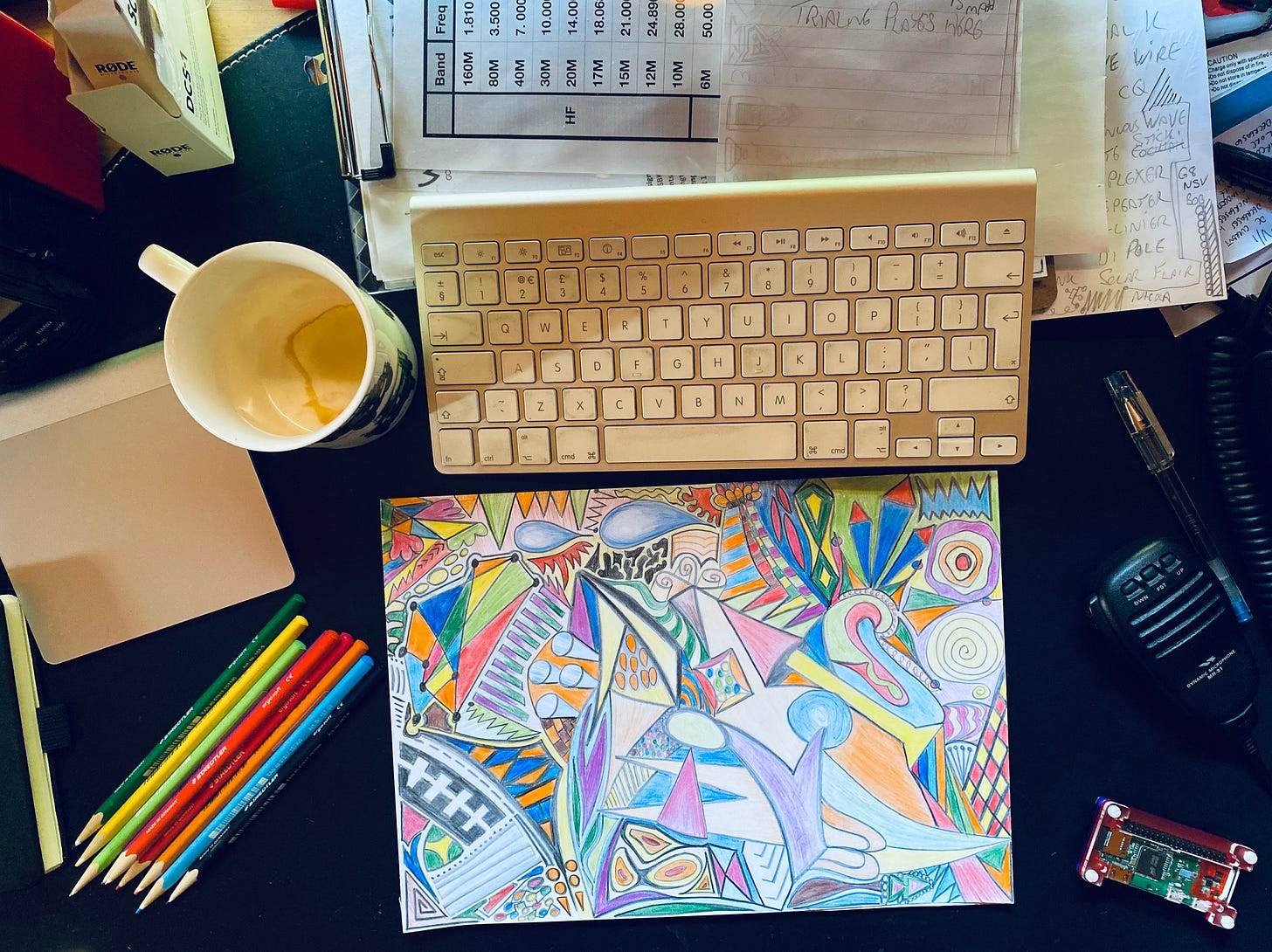 There will always be too much to do. And the more we do, the more things we want to do. Every completed task seems to branch into two more. Yet available time is finite.
The secret is focusing on what we need to do, over what we'd like to.
---
#TheAction
Do you doodle? I can't help myself. In a meeting, when listening to people chat on the radio, on a beermat. Whenever I need to focus I think it helps. Drawing is thinking. Or perhaps i'm occupying my conscious mind to let the subconscious take over.
According to this article doodling activates the prefrontal cortex and improves your ability to problem solve and remember things.
---
I never made it into London this week. Potential covid symptoms had us take the meeting online and a lot was covered in two hours. This freed up time to go for a ride.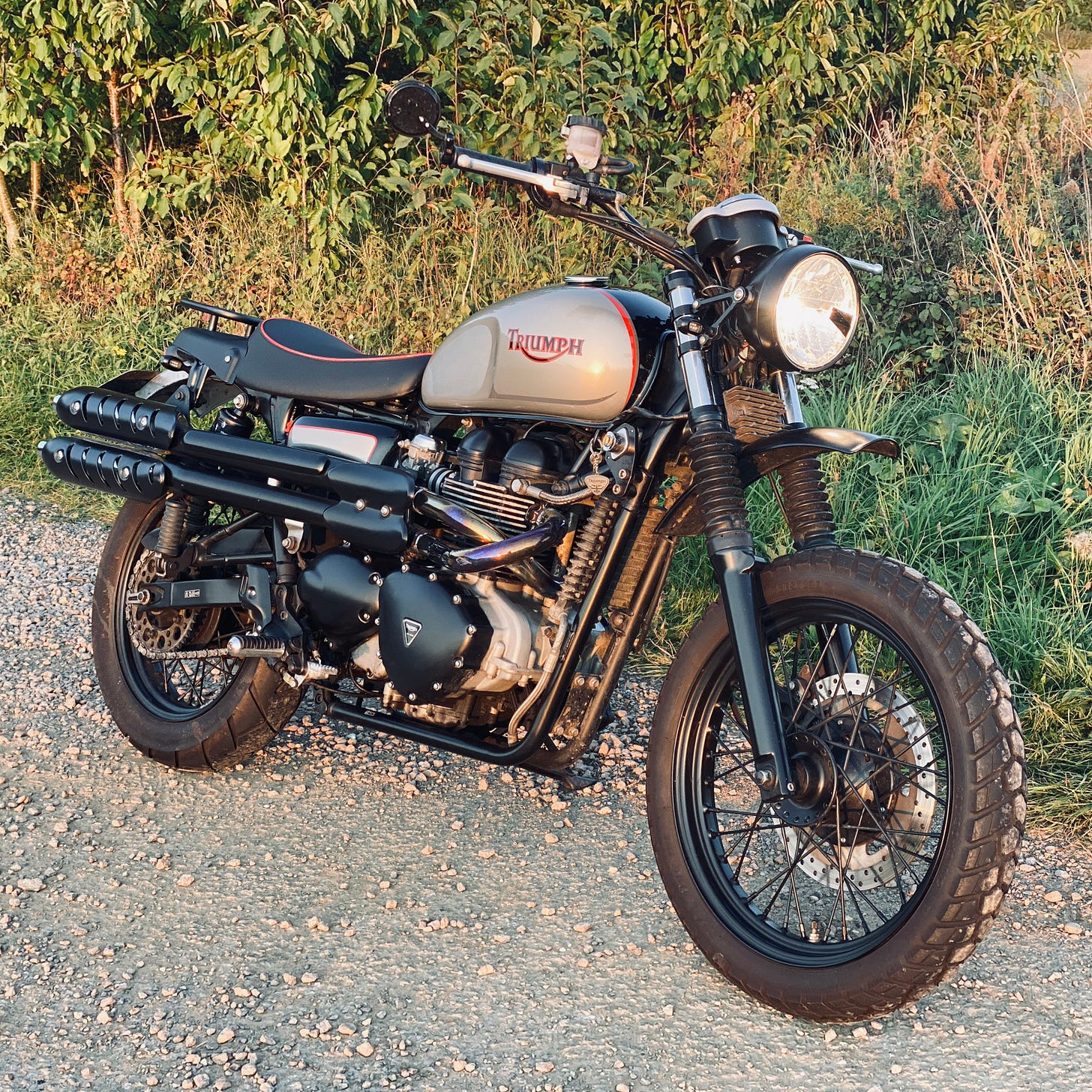 I'll be selling this Triumph Scrambler soon, so if you are in the market for a 2008 800cc carbed Scrambler with only 9000 miles let me know. It's a one off. Customised by Spirit of the 70's. Make me an offer.
---
#ThePictures
I took these photos on a dog walk this week and used the tiny low resolution camera that's embedded in my radio mic.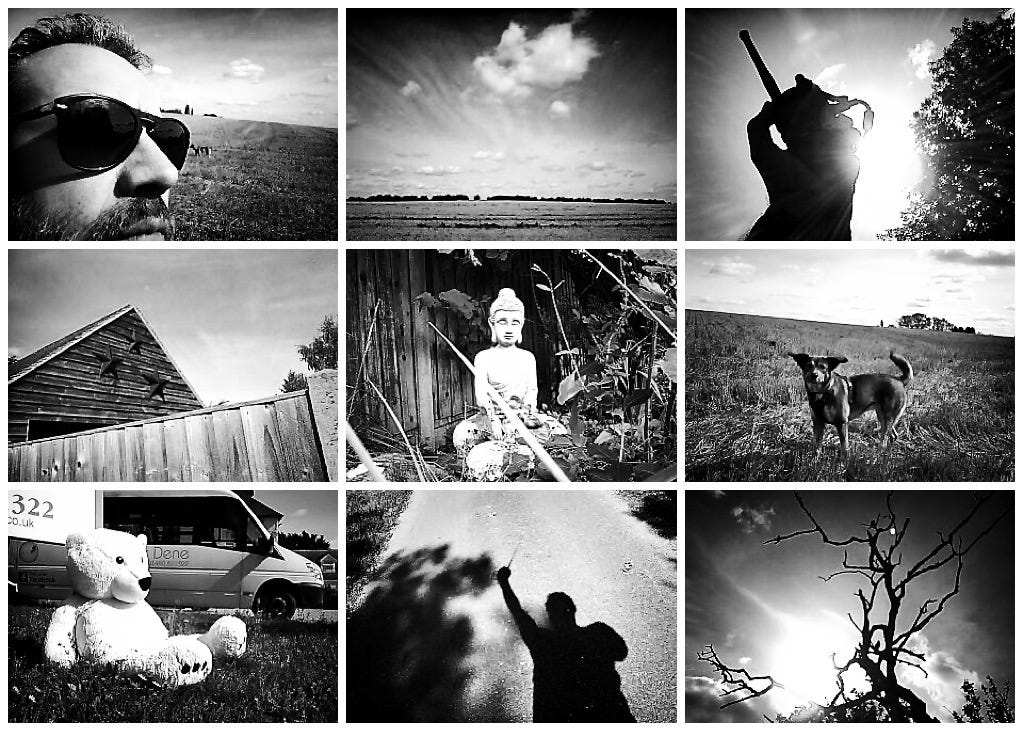 It's only 320 x 240. But I can still have fun with it.
The colour is ok. Not great. Here is a shot at full resolution.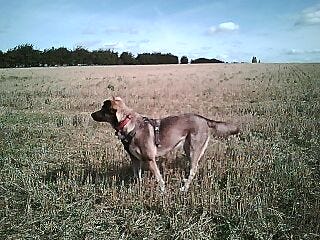 But converting to B&W makes them a little more appealing. I'm considering a little photo project with it. With resolution this meagre you have no choice but to focus on composition and contrast.
Here is the image size from the mic compared to the size from my phone.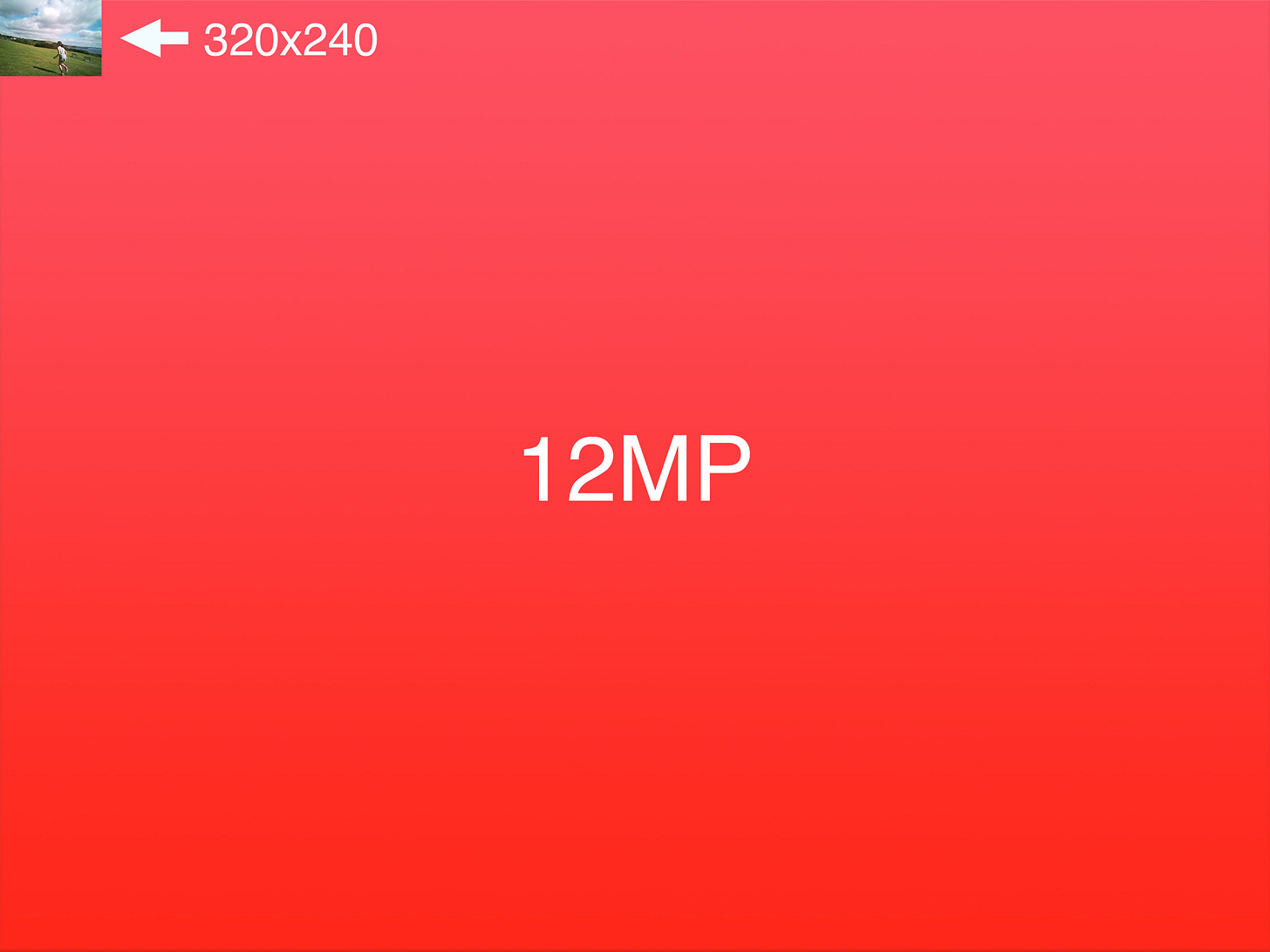 ---
I told my lad that this girl does not exist.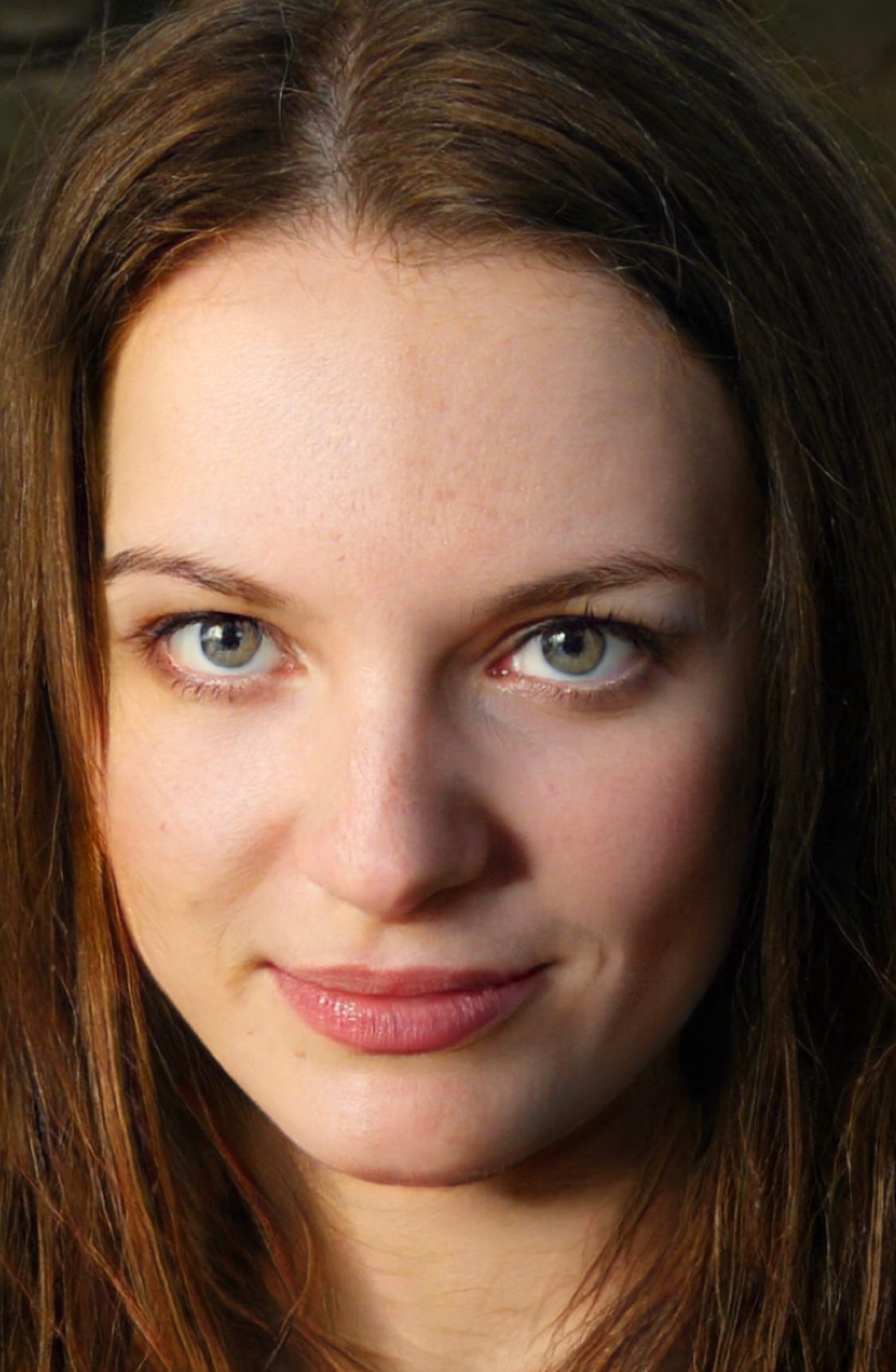 And it's true. When I explained that the image had been created to look human by an A.I. his first question was… "How do we know anyone is real? If real people are real?"
I've not yet discussed Simulation Hypothesis with him but love that he got there by himself.
Back in my day fake people looked like this.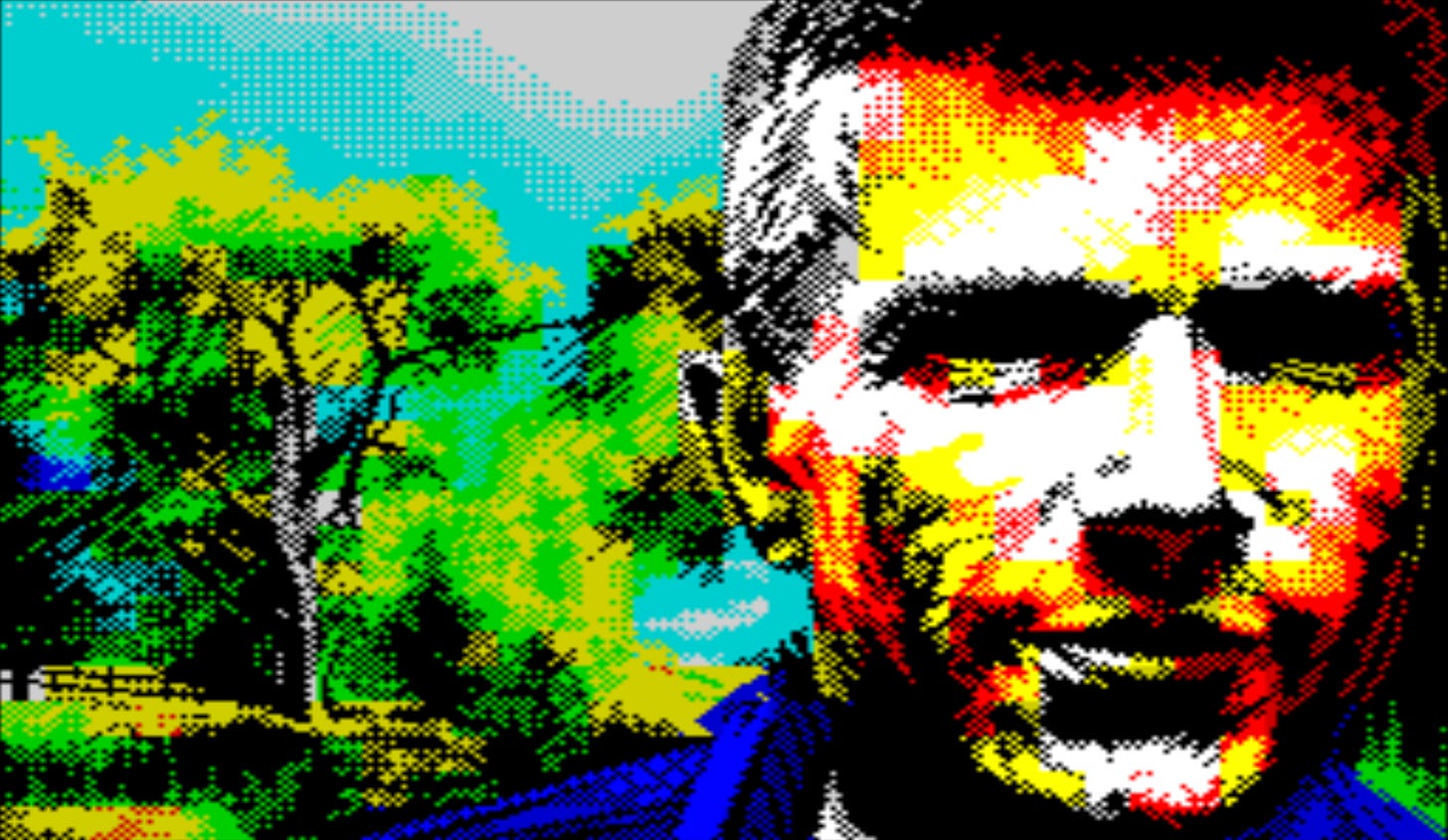 The only way I can tell if these new images are real is to look for replication glitches. Or better still the whites of the eyes. There are rarely any veins.

---
This photo gallery called Hold Still is the perfect portrait of our nation in 2020.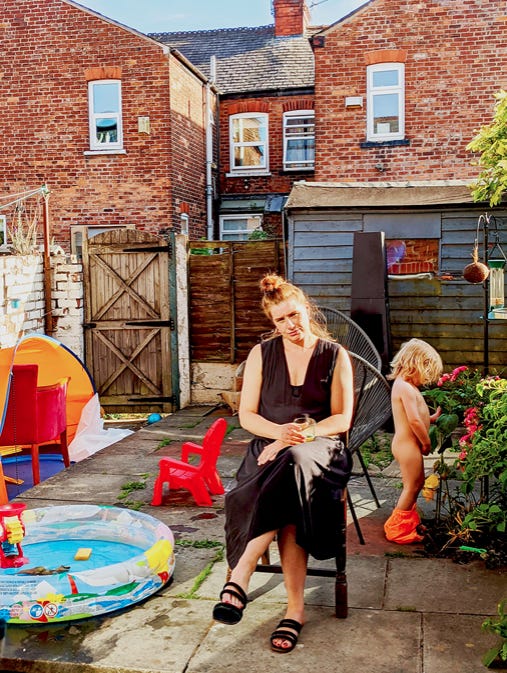 Click on the individual pictures for more context. Thanks to Roger Overall for sharing.
---
Seen this Ikea advert?
---
#TheWords
Everything you might want or need to know about the emergency on planet earth.
---
Nothing worse than the new kid on the forum getting all preachy… How can we best invest for a sustainable future.
---
#TheSound
I've subscribed to 'How To Save A Planet' from Gimlet Media. Certainly worth a listen with lots of environmental news and stories.
---
#TheConsumed
Had to try these. (Mainly because they were on offer.)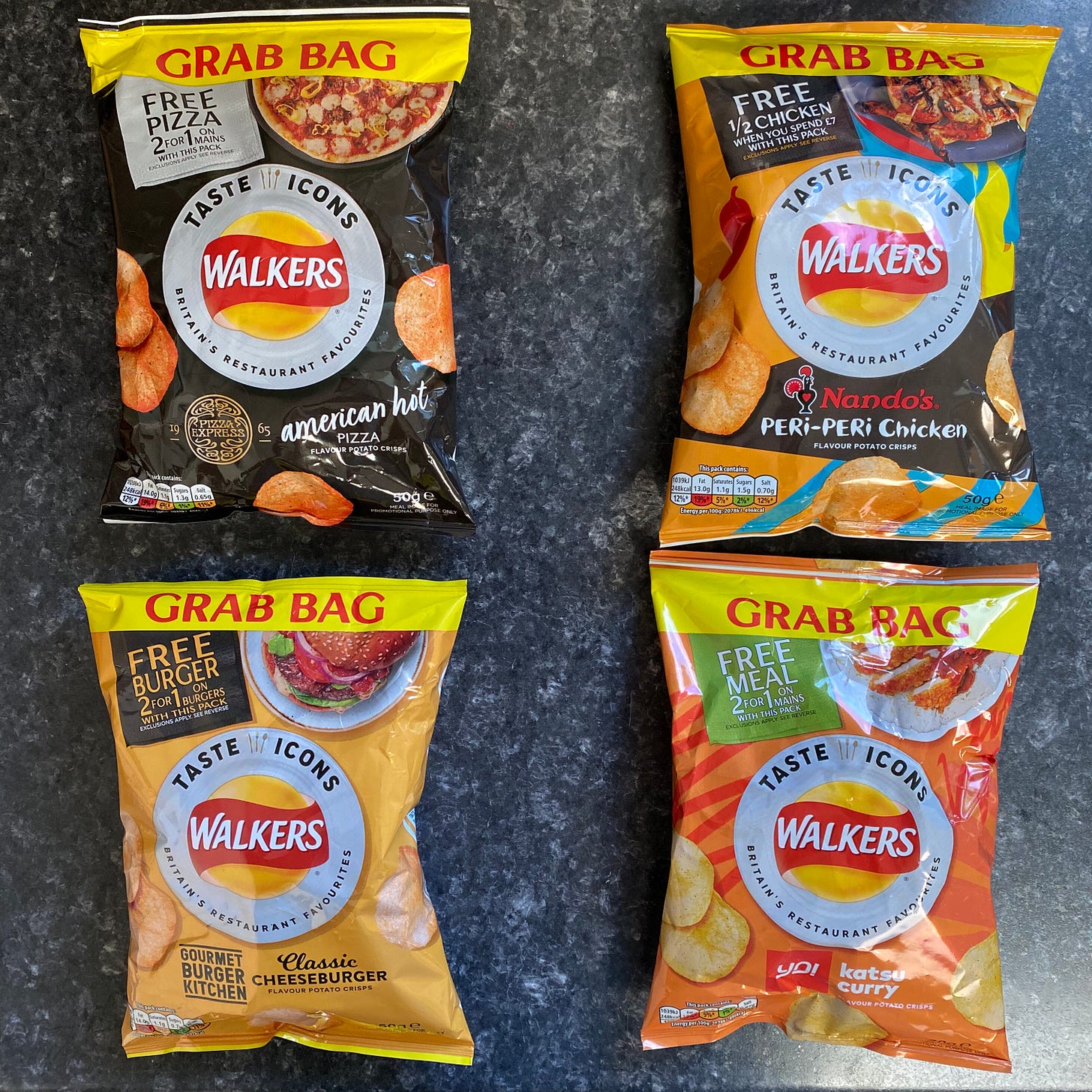 American Hot Pizza: Interesting, but not enough to be good… or pizza. - 2/5
Peri-Peri Chicken: Too much lemon, not enough chicken - 2/5
Classic Cheeseburger: Mostly mustard with a hint of cold Macdonald's. - 2/5
Katsu Curry: A pale comparison to any curry but I'd eat them again. - 3/5
---
#TheFound
The sofa we originally bought for 99p years ago had come to the end of its life. It had lived in the playroom (ex-dining room) and the throw was struggling to hide the torn cushions. A new sofa bed was acquired last week and rather than hire a van or a skip to get rid of the old sofa, I thought it would be a good idea to take it apart.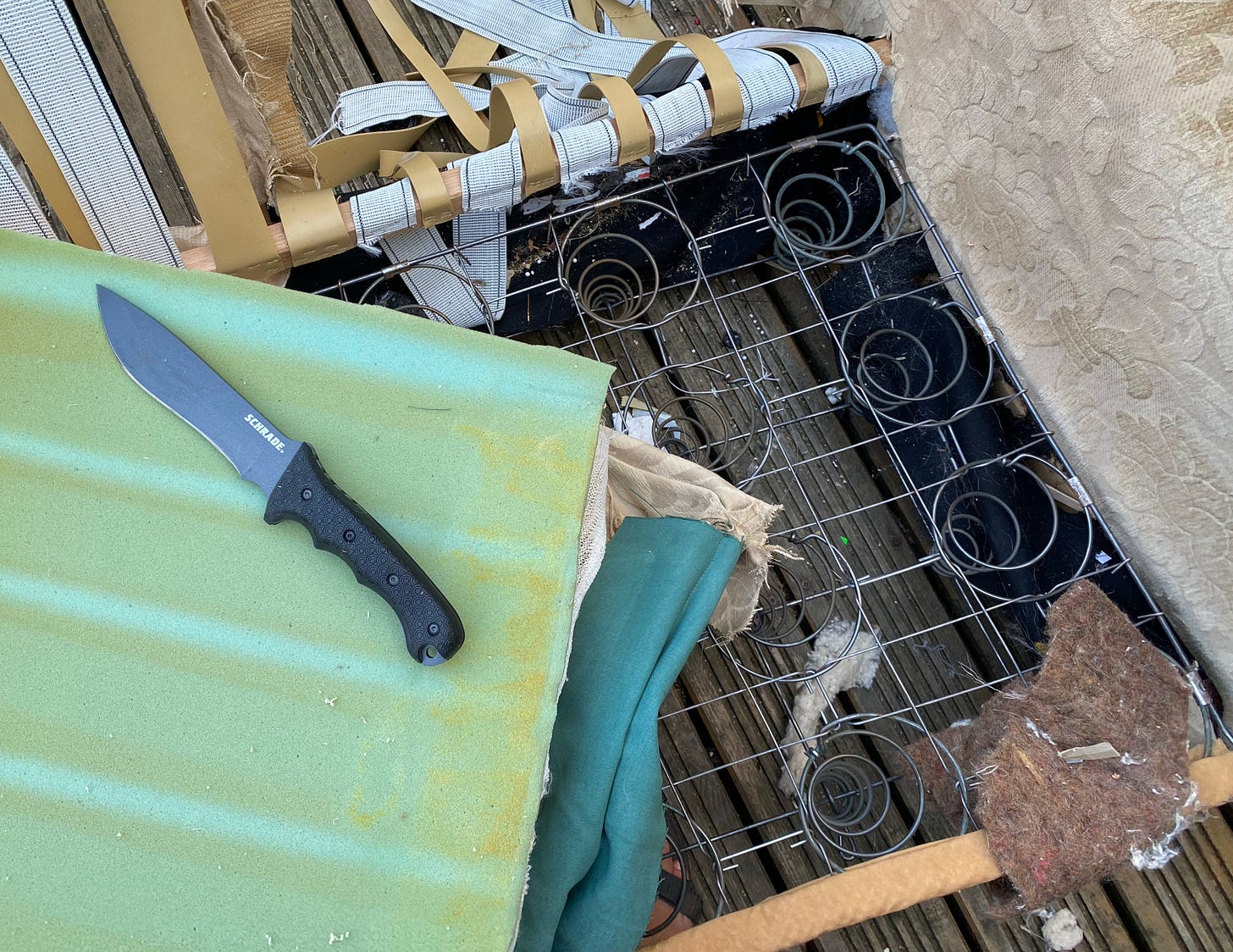 My tools of choice were a survival knife, a wood saw, a pair of pliers and a screwdriver. But damn these things are made well. It took me a good few hours to get the sofa into five large bin bags. Inside I found a few things. Including it's date of manufacture. The 29th of August 1979. There was nothing structurally wrong with it. Just cosmetic. And although reupholstering it would have given it another 40 years, it could have cost £1500 before you have even chosen the fabric. Anyway. We needed a sofa bed.
Sofas are great collectors. They lure you into a false sense of security, then pick your pockets. This one was an old hand at it. Over the years all kinds of objects had been secreted inside it's labyrinth of creases. I found 74 objects inside it's bowels.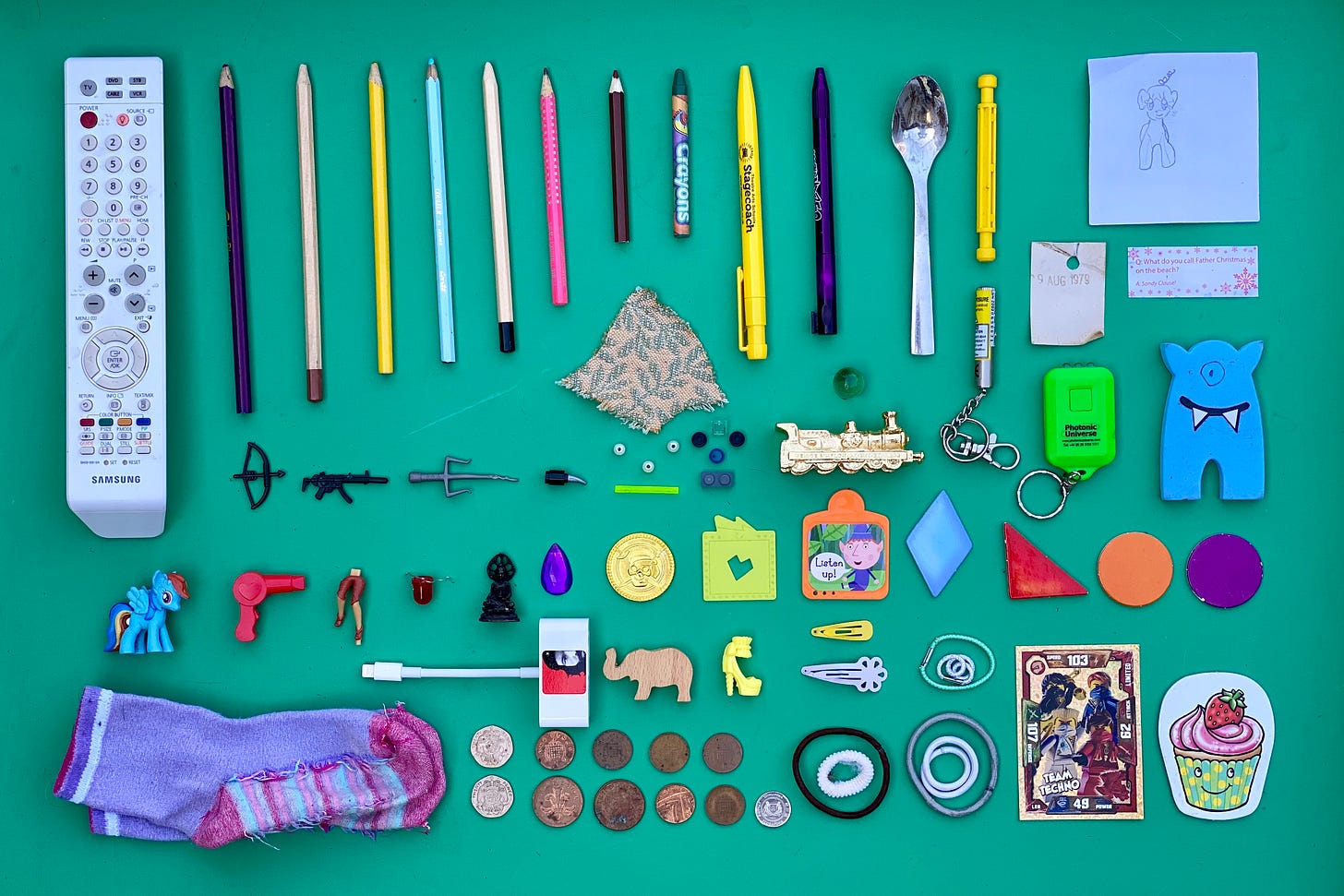 In amongst the items… A TV remote, seven pencils, two pens and one crayon, a spoon, a drawing of a unicorn, a date label, a cracker joke, three lego weapons, some fake pearls, a gold plated metal model of the Orient Express, a laser pointer, a solar powered torch, a My Little Pony, a tiny doll's hairdryer, some fairy legs, a large LED, a small metal Buddha, a fake gem, a plastic gold coin, some gaming pieces, a pair of socks, a VGA to lightning connector, a wooden elephant, a plastic high heal shoe, 1 marble, 2 hair clips, 6 hair bands, 50p in small change, a 5 cent coin from Singapore, A Ninjago trading card and a cardboard cupcake.
Most these things have accumulated over the last 5 or 6 years. Quite the time capsule. Don't throw your old sofa away until you've take a knife to it.
---
#TheThings
Microscooters asked me to review the new Micro Explorer electric scooter.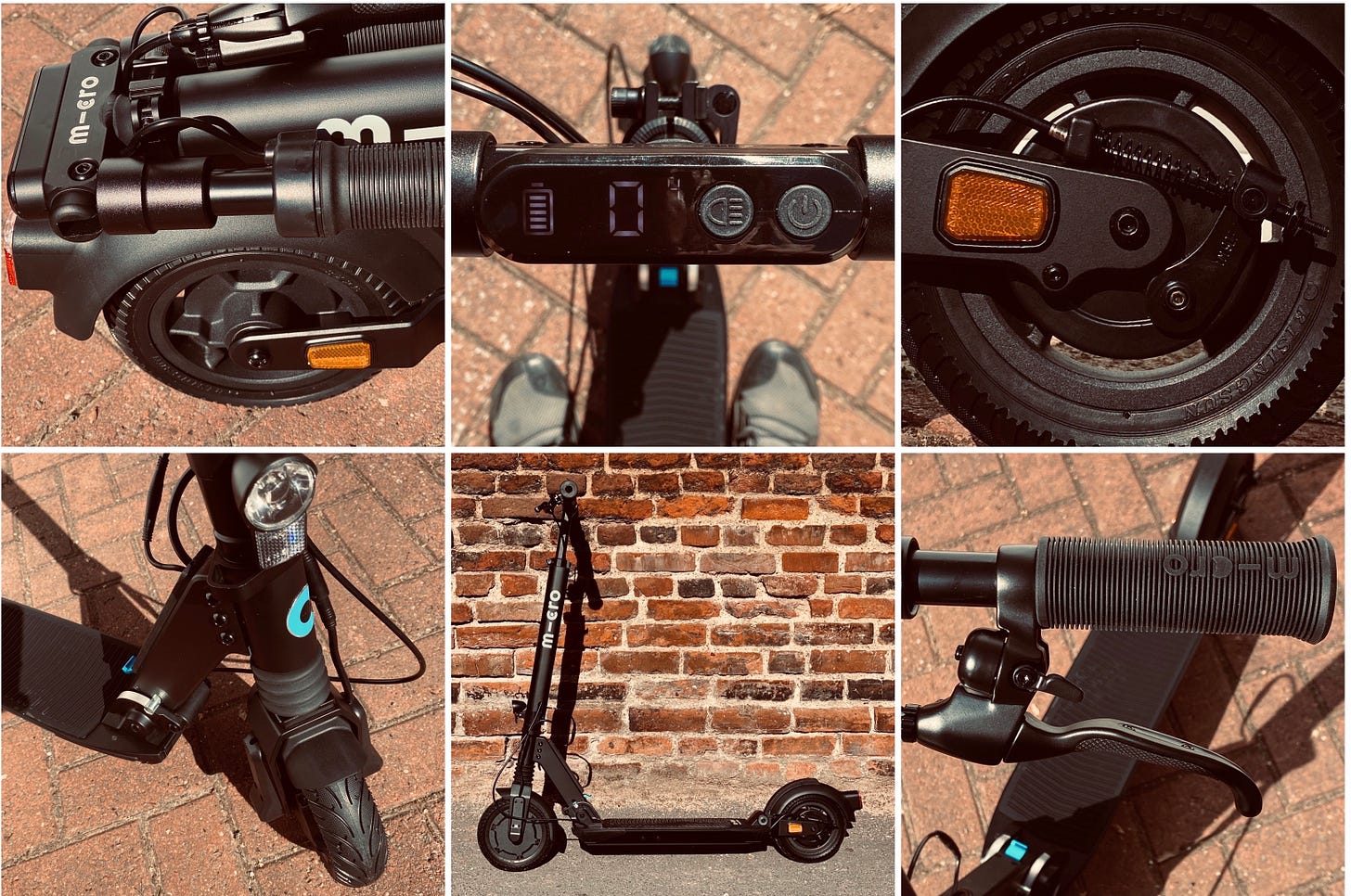 It just arrived and I've only had 20 minutes with it. All I can tell you so far is there are many upgrades from their original model. Full review to come after more playtime.
---
I once commissioned this hand forged Sgian Dubh from knife maker Crandart.
It's made with Hakkapella Damasteel, a Burr Elm hilt and scabbard with Mokume fittings.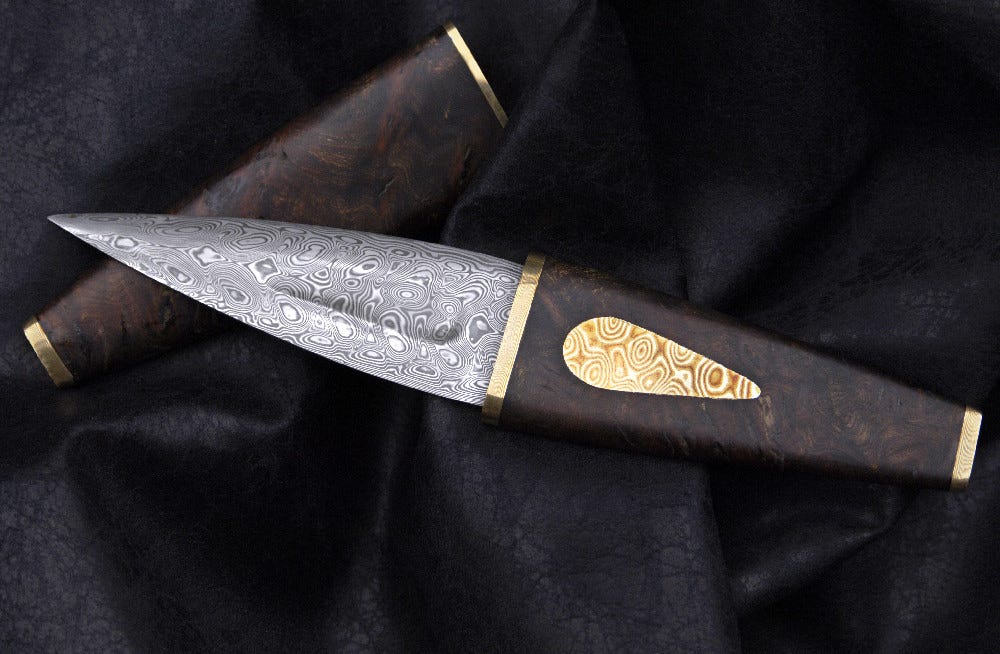 It's the closest thing I have to jewellery and accompanies me on the rare occasion I'm in my kilt. Mostly it opens letters.
This kind of patterned and folded metallurgy has been around for over a thousand years. There have been some innovations but rarely has it been strengthened and improved as we are seeing in this new additive manufacturing technique. End of an era perhaps?
---
#TheWeb
---
#TheEnd
Thanks for reading. I'd appreciate it if you would consider subscribing to all my posts. But you know… no pressure.
It might be I'm in Cambridge next week. But who knows. I'm going to embrace that whatever happens will happen.
---
"This is the real secret of life — to be completely engaged with what you are doing in the here and now. And instead of calling it work, realize it is play." ~ Alan Watts
---
Slow down to catch up.
See you out there.
Over…