Greetings from my shed...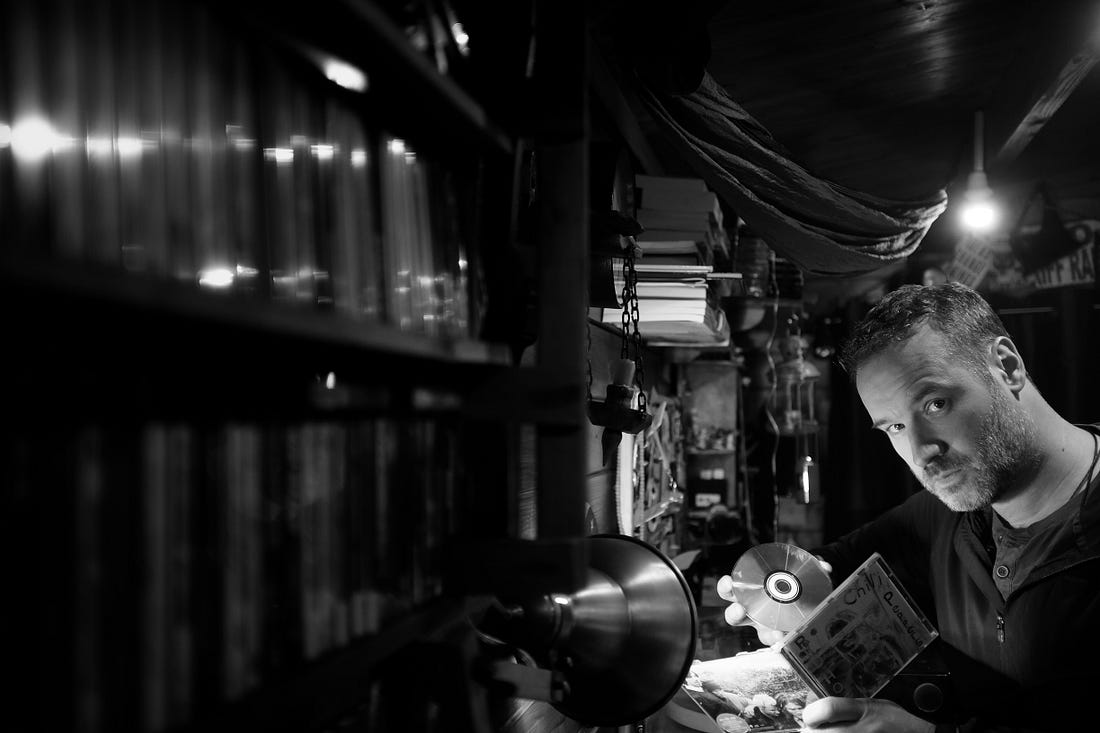 You're back‽
It's much appreciated. I still enjoy writing this. I hope you still enjoy reading.
Weirdly, the more I withdraw from other social channels the bigger the world seems to get. Especially its minutiae.
This is still my favourite social space. Especially when you guys want to chat.
---
#TheAction
I walk the kids to school and back every day. The mood on the way back is always more up beat. Most days my lad wants to talk about Minecraft, while my little girl studies the veins in leaves or cracks ice with her boots. Somedays there are conversations that start with a question and end with me thinking "Wow… Just wow."
Occasionally I wish I'd documented these moments but recently I'm more enjoying time without a phone in my hand.
---
Me and Adrian got the last of the filming done this week for Collusion.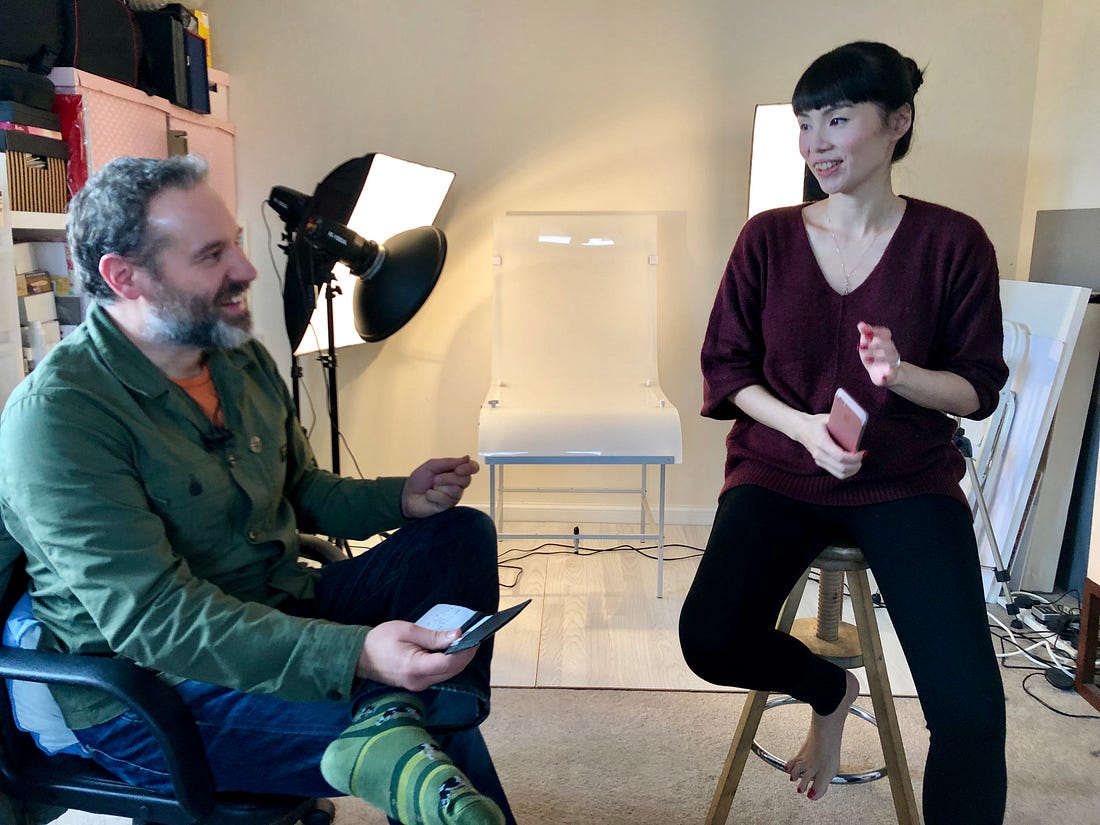 We interviewed @BernaVfoto in her home studio. The last in our series of interviews with the Neotists.
Kit used:
Sony A7III - Tamron 28-75 - RodeLink Filmmaker kit - Brightcast led panel, Dfuse pop up soft box - Aputure mini 20 (hairlight) - Sachtler Ace tripod.
---
I also enjoyed a coffeeshop consult in London with Carolyne Creed in London.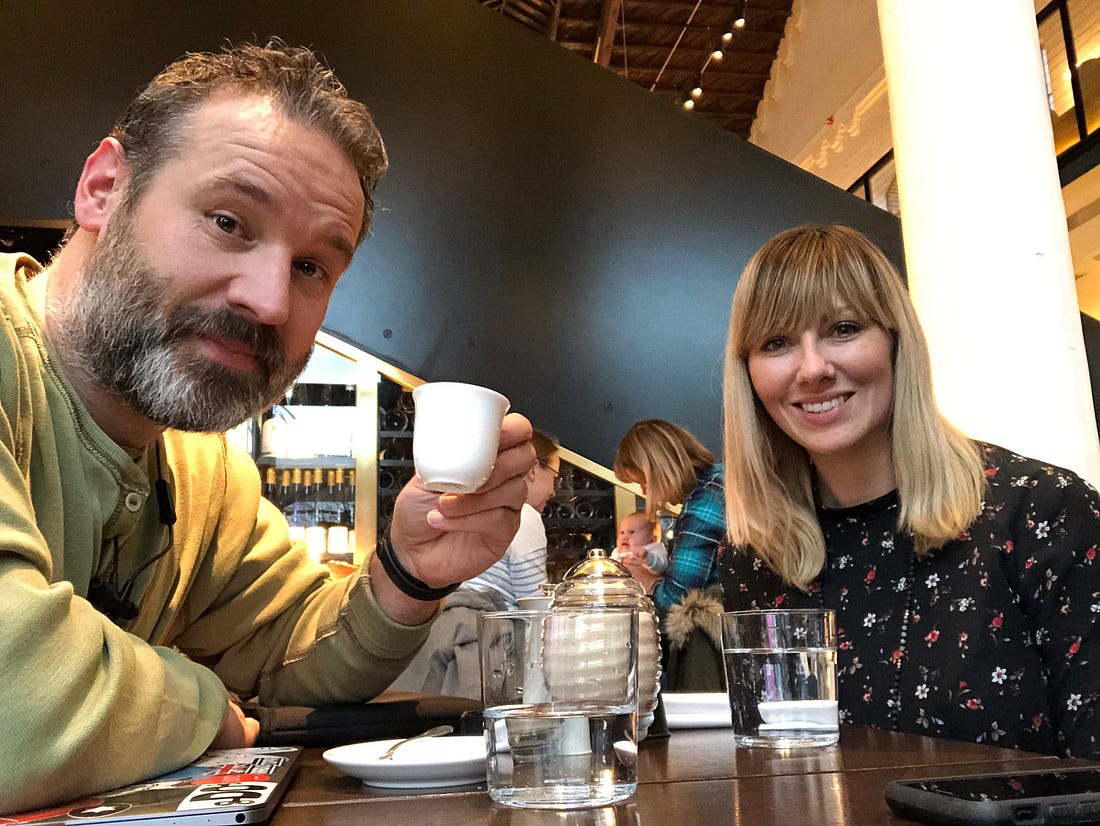 In her day job she helps leaders build (and scale) healthy high-performing cultures and teams. We discussed the shape of some of the many comms channels out there and explored which of them may assist Carolyne as she expands her practice. She is @Evolvely on Twitter if you wanted to say hi.
---
My least favourite part of the week was taking my car for a service. I've had a Skoda Yeti since 2015. I swapped it for a Land Rover but have always drove it the same.
It's been good to me and needed very little outside of tyres.
Till now.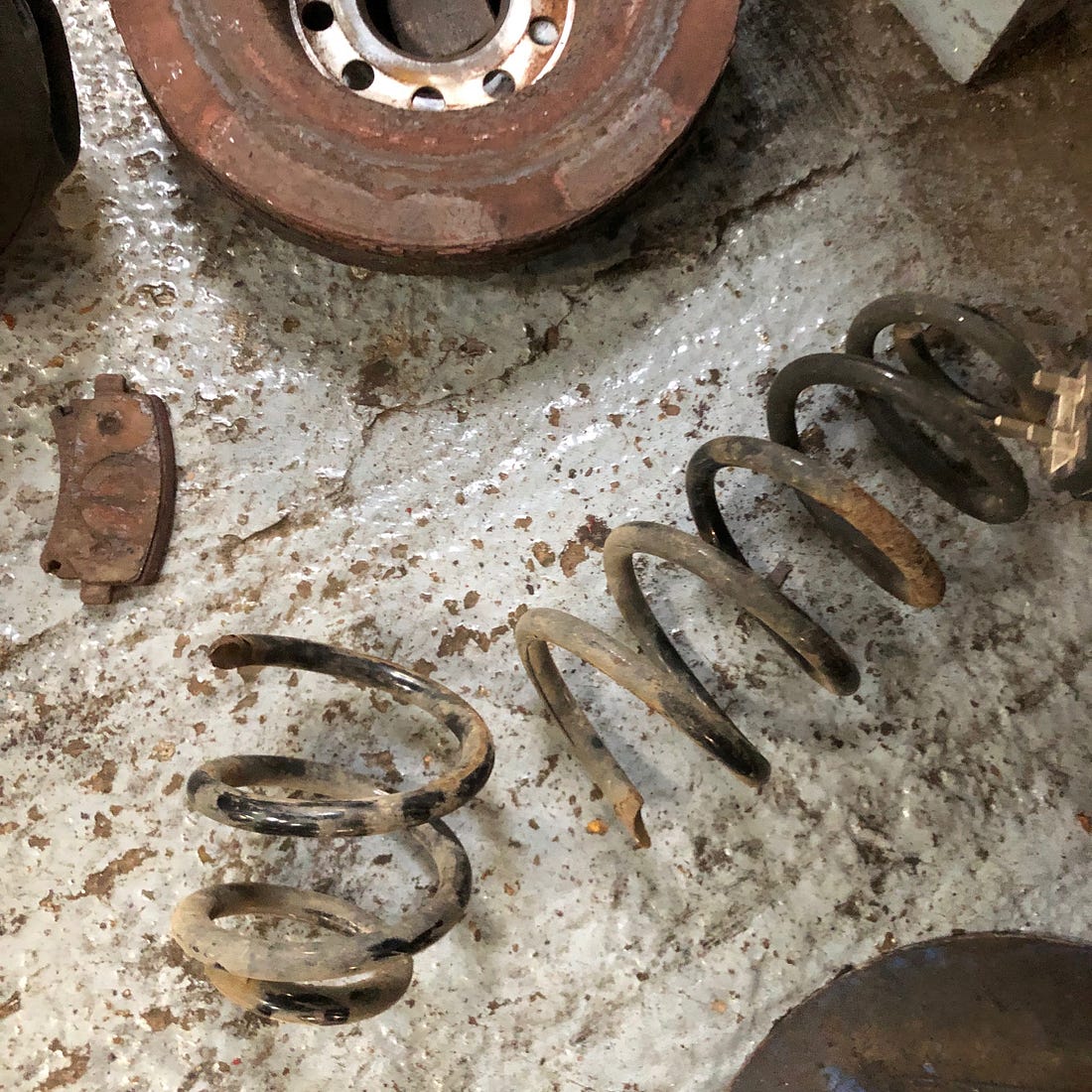 The £150 service uncovered a few things. Mainly broken springs and corroded break disks.
"Have you been driving your car off road sir?"
"A bit." I said.
"That'll be six hundred and sixty one pounds and two pence please."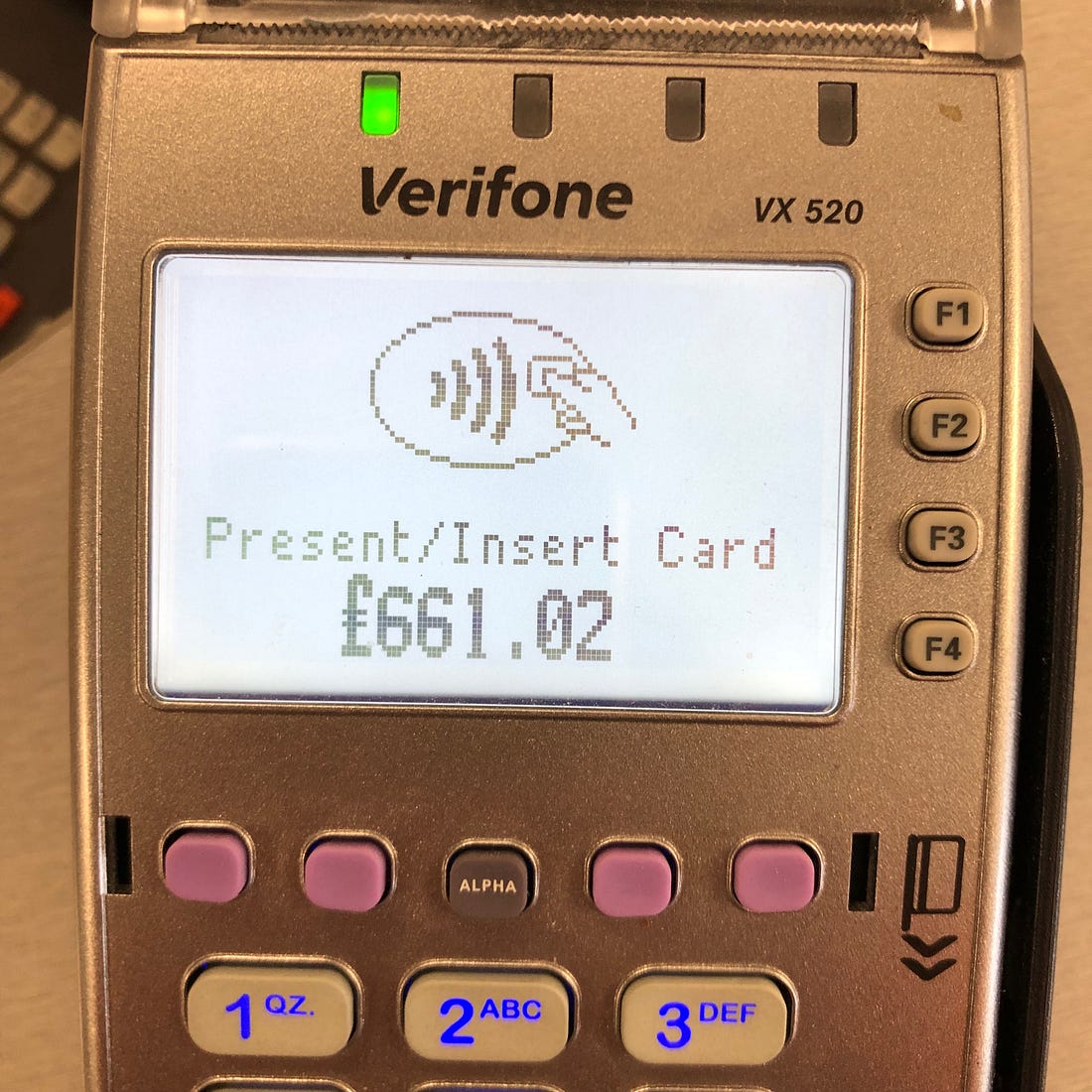 ---
After this week I'll mostly be driving my car on the road.
I'll also be focused more on my one-to-one consults and a smattering of workshops. Mostly I hope to be making tangible and intangible things.
---
#ThePictures
The story be hind the title of 'Smells like Teen Spirit'.
And more context.
---
Wow to Niel Burnell's photographic work. His woodland scenes remind me of some of my favourite places in the world. Places that look like they have been here forever and you hope will be here forever more.
---
This week a massive naturally formed ice disc appeared in the Presumpscot river in Maine. Prepare yourself for some overly dramatic music.
---
I was watching a bug on a window. It was backlit and transparent. It reminded me of the film Tron. When I tried to take a photo it wouldn't focus. So I tried to draw it but it buggered off.
Then I got carried away and imagined it and eight more of it's kind.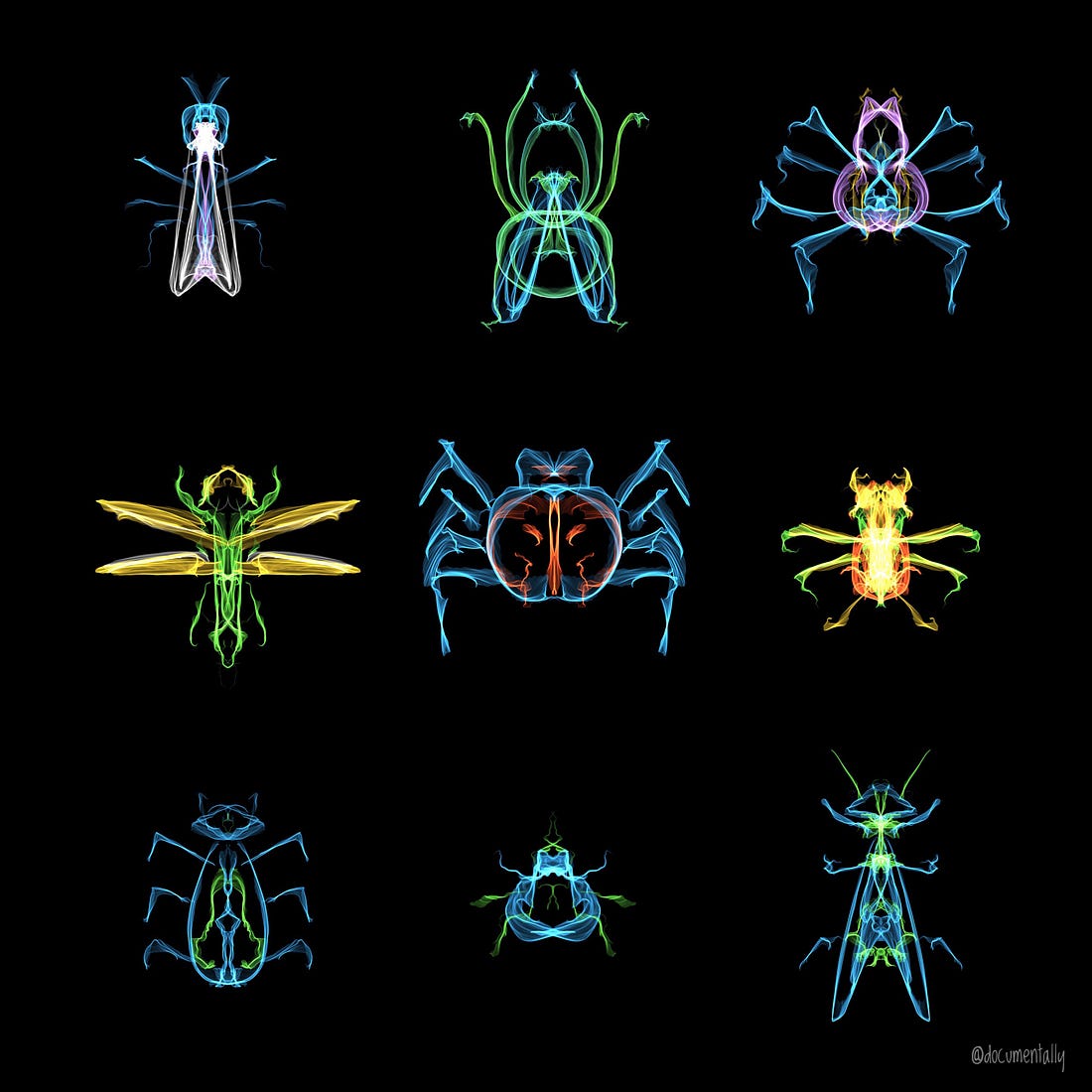 I call this 'Luminous Entomology'. Mainly because there were no Google results for that. Compared to 'Tron Bugs'.
---
I also had a go at my first non photographic landscape. It's not exactly what I saw from my car window and I promise no lysergic acid diethylamide was consumed. Although that might of helped.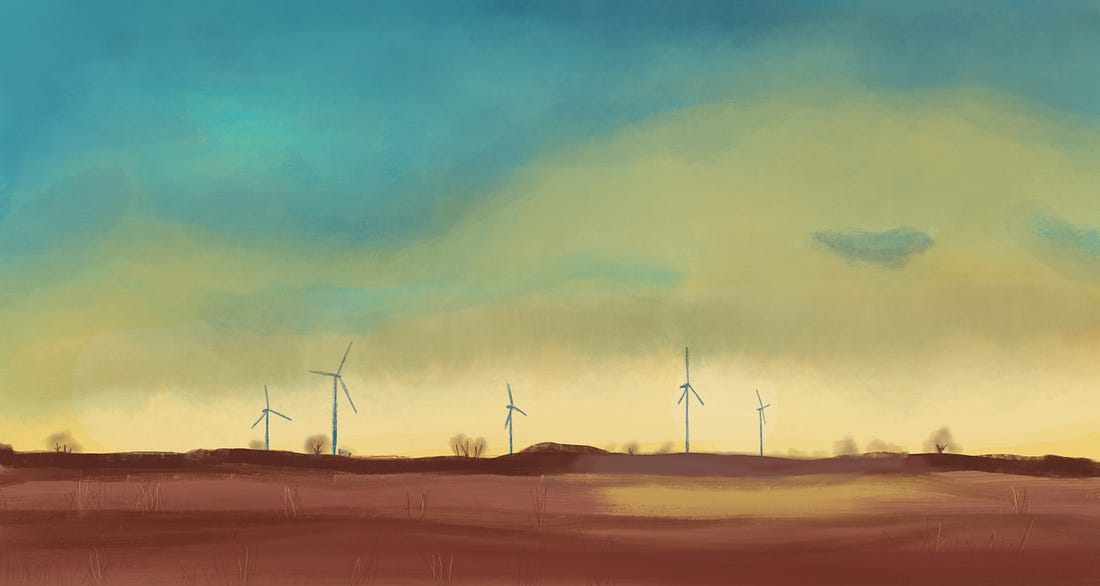 ---
#TheWords
How podcasts became a seductive and sometimes slippery mode of storytelling.
---
How journalists can achieve bigger impact with their stories.
---
#TheSound
The Kitchen Sisters do a fantastic job of collecting the collectors. Here they tell the story of Folklorist and Professor Bill Ferris, who has committed his life to documenting and expanding the study of the American South.
---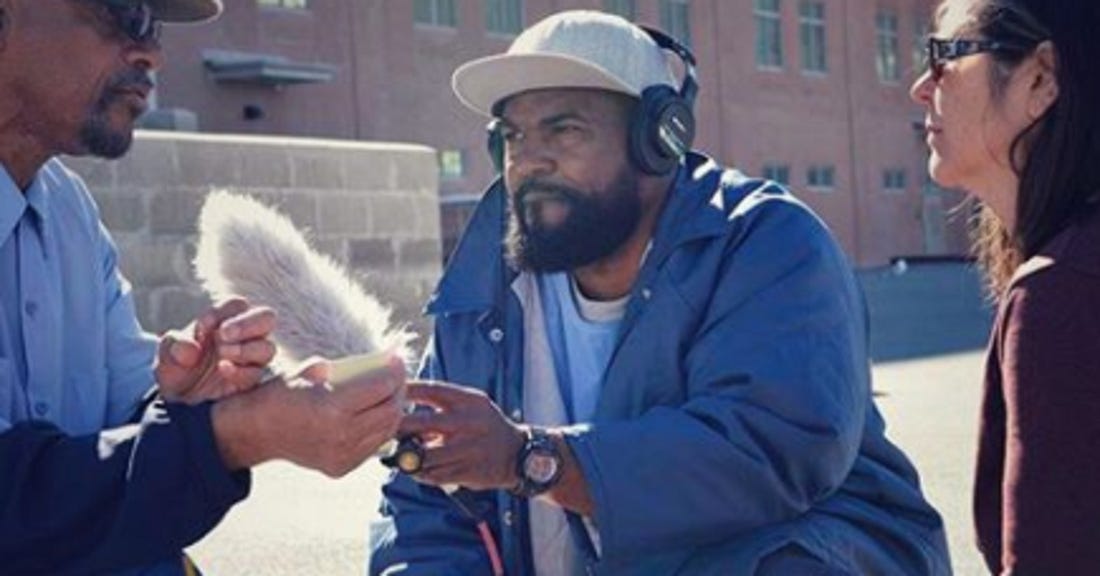 Been catching up with the Ear Hustle podcast and now that Earlonne Woods is out'. After 21 years in prison it will be interesting to see how he gets on but also how the podcast format will change.
This episode entitled 'Bittersweet' shares a story from his family and is harrowing in parts.
The US prison system blows my mind. In all the wrong ways.
---
If you fancy some audio drama… Check out the 'Hartlepool Spy'. Michael Palin, Jim Moir (AKA Vic Reeves) andToby Jones. Enjoy.
---
#TheConsumed
When I picked the kids up from school my lad told me I smelled of cooking. Better than soup I thought. But I'd been cooking stew so it was probably not far off. I ruined a perfectly good stew by putting sausage in it. As my wife is pescatarian I slow cooked a veg stew then slpit it and added sausages to the remaining two thirds. On the day I preferred the veggie stew but the sausage stew came into it's own the following day when leftovers were reheated. I need to get out of the habit of bunging meat into meals thinking it will make it better.
---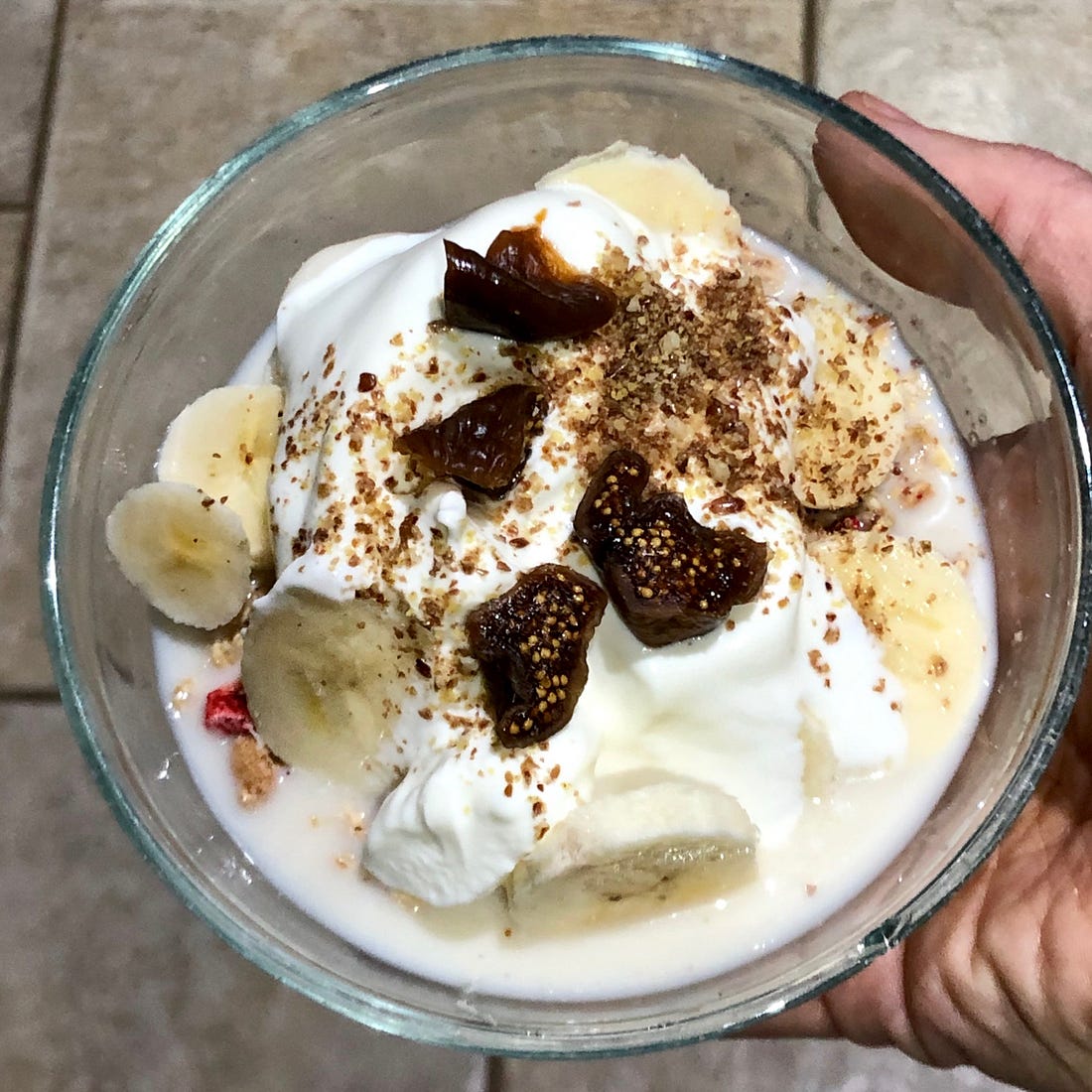 I've skipped breakfast a few times recently and inadvertently joined the ranks of intermittent fasters. It's not been a conscious decision. It's mostly due to that whisky nightcap sending me to the fridge at 10pm where I fashion some kind of Scooby sandwich before bed. So if I'm not hungry in the morning I don't eat. This may not be the best way to go though and for years I have done it the right way. According to some. That is not eating after 8pm.
The online articles on intermittent fasting quote research from all over the place but I'm going to follow my gut feeling on this and go with this one. No eating after 8pm and making sure you have breakfast.
When home I indulge in the breakfast that's in the photo above. Granola with rice milk, natural yogurt, chopped banana and dried figs with a sprinkle of flax seed, crushed almonds, brazil and walnuts.
---
#TheThings
Those that don't subscribe have missed last week's email and will not know why I'm buying CD's again. But I am and I picked up a couple £1 albums in a local charity shop this week.
Not sure why it is I like to have physical media. I'm now playing cassettes, vinyl and CD's in the shed. I don't use any streaming services and now even the digital versions of my physical media feel decidedly analog. The music is finite and quantifiable. Contained within an object that sits upon a shelf. It's not a torrent or stream of data with no beginning or end. It's a thing that I can get my head around.
---
I also found a Kobo Mini in a local charity shop for £8.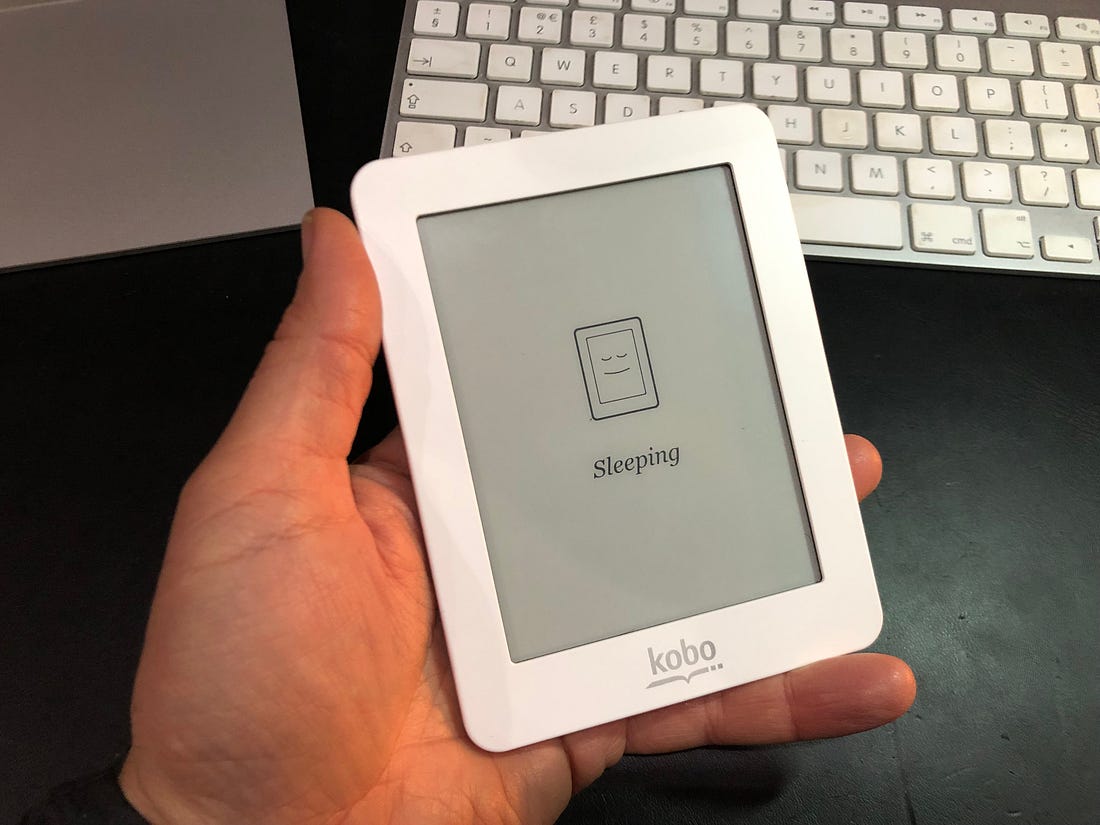 Not seen a mini before.
It fits in a shirt pocket, stored 2gb of books and is still perfectly readable. You seem to be able to do more with it than you can a kindle too.
Here's a list of resources should you you want to hack your Kobo.
---
Ronald McDonald Crucifixion.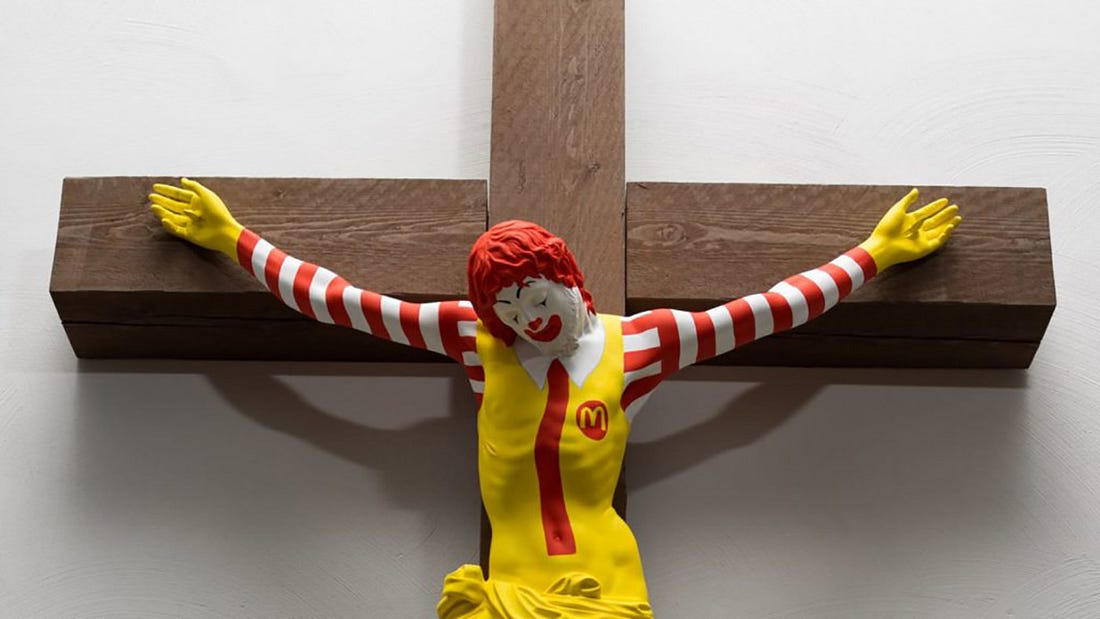 Three words I'd not imagined I'd see together but for some reason feel glad I have.
Protesters are demanding the removal of the sculpture McJesus in Israel.
---
These wax wraps are amazing.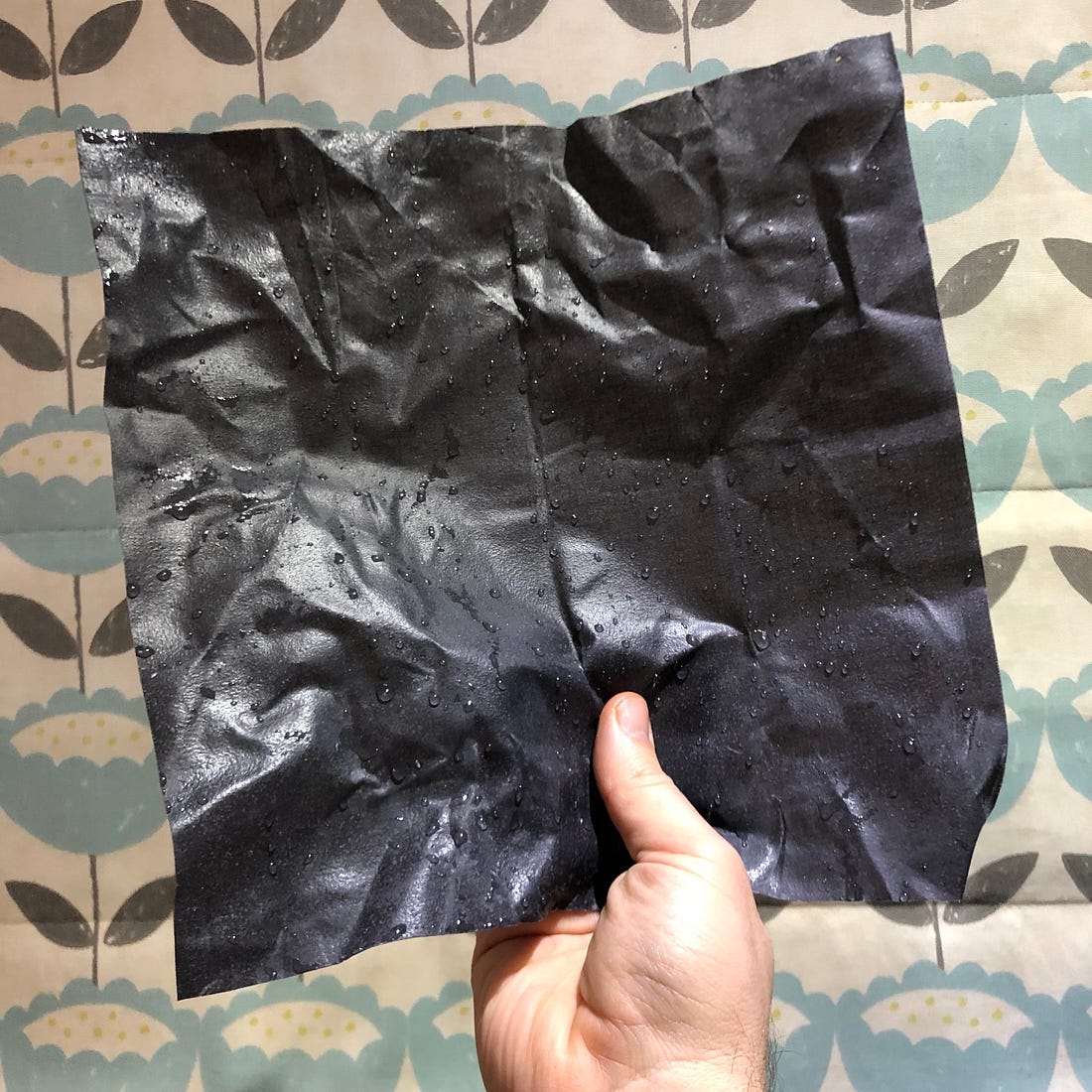 The photo shows a freshly washed wax wrap after it has been used to wrap up a messy sandwich my lad had at school.
If like me you are fed up of using and binning cling film and tin foil I highly recommend these 100% cotton beeswax wraps. They are stiff when cold and flexible warm. You fold them round your food and then place your hands on to mould and tighten the fit. They're stated to last about a year of use but if you have a block of beeswax and an iron there's no reason you can't reset them and they'll be good as new.
Ours came from Amazon. I recommend getting some of the bigger sizes if you need then for large sarnies.
All you need to do is wash them in cool water. They are meant to have antibacterial properties but it's probably best not to use them with raw meat. If you do wear them out and want to throw them they are completely biodegradable.
---
#TheWeb
---
#TheEnd
Thanks for reading.
Next week I really have to pay the tax man and try to keep the kids alive while my wife is out of the country.
It's also Burns night so I'll be practising my appreciation of things north of the border.
What are you up to?
---
"I may not have gone where I intended to go, but I think I have ended up where I needed to be."
~ Douglas Adams
---
[If you liked this why not subscribe? Next week might be even better.]
Imagine this matters.
See you out there.
Over…