Discover more from Documentally
A human authored journal in search of novelty, exploring what we share, how we share, and where we're going.
Over 2,000 subscribers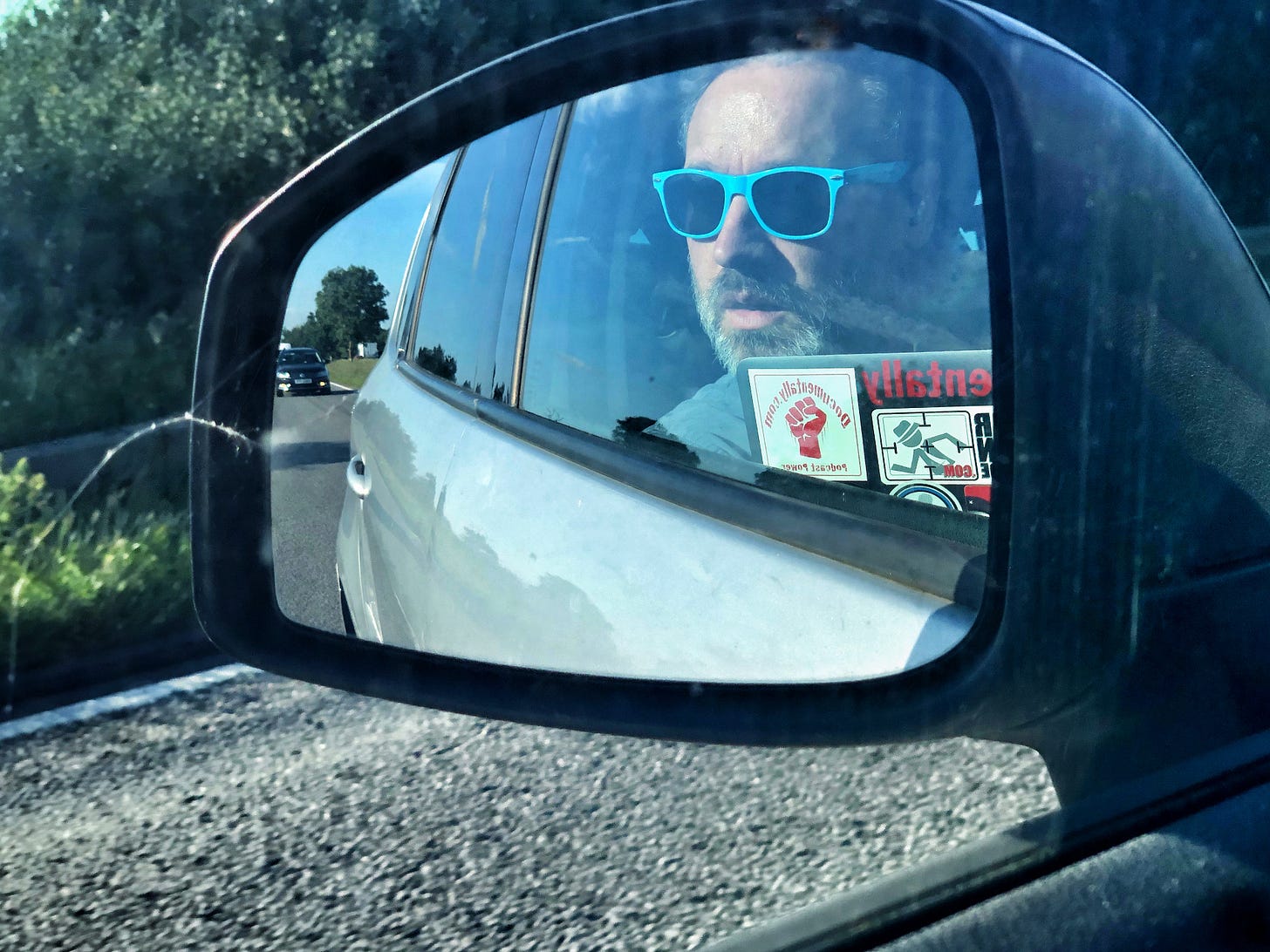 Heading north. So far north that we won't make our final destination tonight. All going to plan tomorrow we'll make the ferry for the Isle of Arran.
#TheAction
My motorbike is still at the doctors while smarter folk than I try to figure out what I've done to it.
I still have my simpler, faithful scrambler though. A bike I'm liking all the more. Did a bunch of miles this week and still only tipped a total of 9000 miles on a bike I've had for almost 10 years.
---
Found a two hour window last Saturday morning to go metal detecting. Of course it rained for one and a half of those hours. So I built a shelter for the kids while I got wet.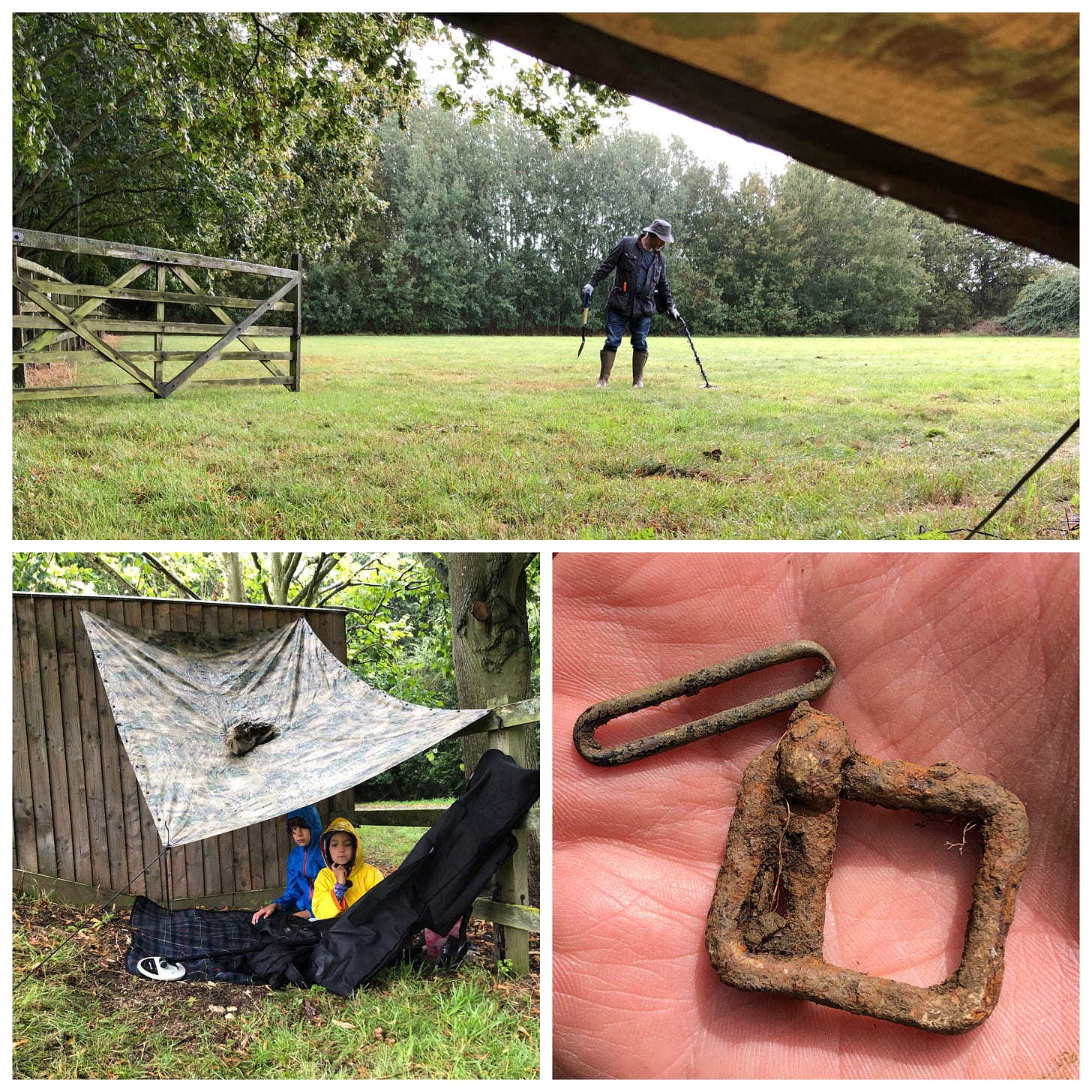 As soon as it eased off they joined me with detectors and eventually had a good time. The field I had got permission for had been used as a campsite at some point. If every bottle cap I found was a coin, things would have been a little more amazing. All said and done it was still fun digging up horseshoes, bits of fence, a soft drinks can, grommets and a few unidentifiable bits of metal.
The metal buckle was over a foot underground. No idea what the other thing is.
The kids would get excited when they found something and remained excited even though it wasn't a jewel encrusted crown or Excalibur. I liked that.
---
Outside the dog checkup (she is doing great), a barbecue (I ate too much but eased off the drink), way too much coffee (not sleeping too good) the highlights this week were catching up with an old friend and learning new stuff.
The old friend was Stuart Mackintosh.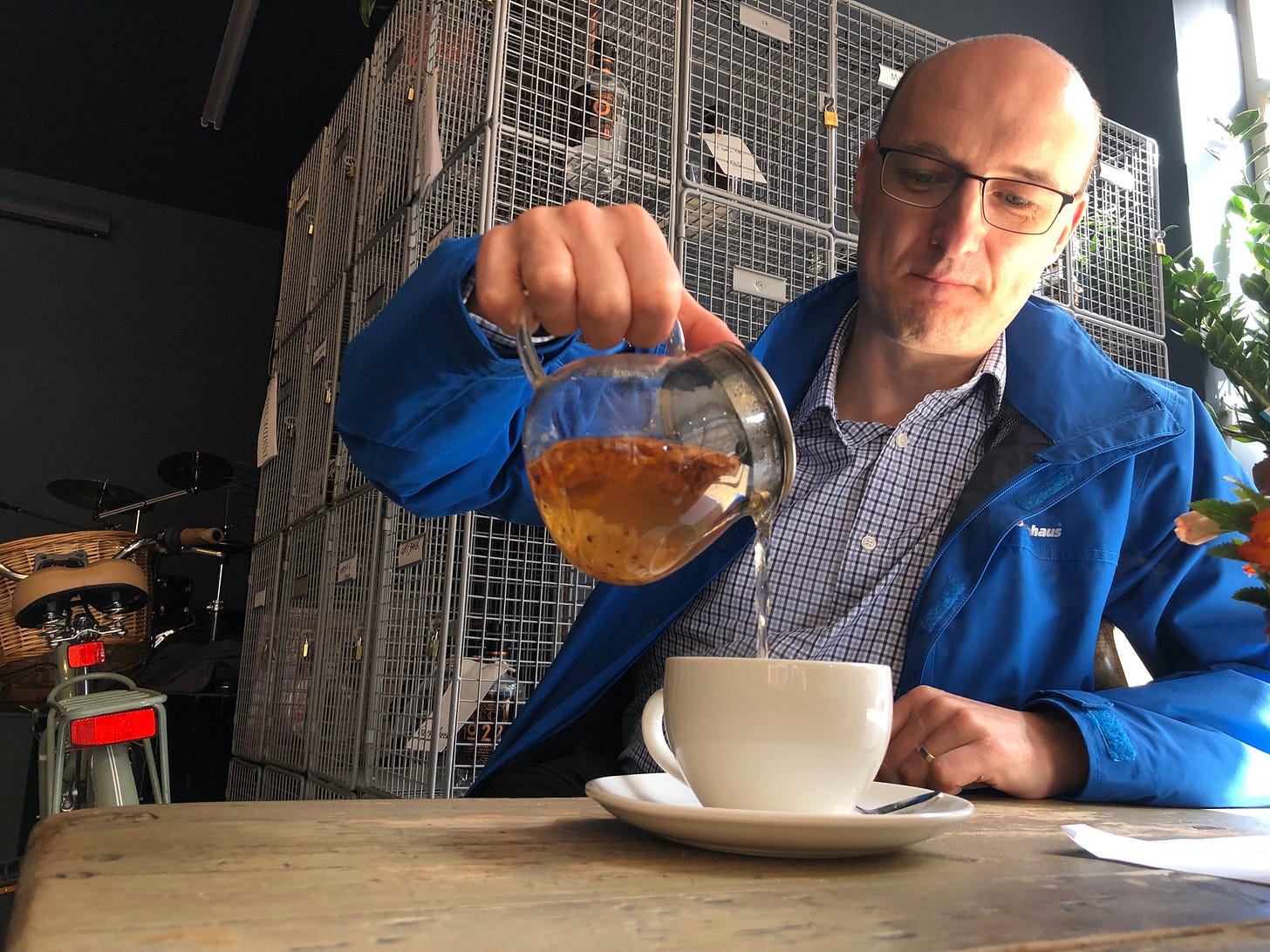 And when I say old friend I think we were riding round with CB's on out bikes over 30 years ago now.
We only seem to catch up every 5 years and every time we do I feel it's a crime the discussion isn't documented. We cover so much and I always leave energised and inspired. The added bonus on this occasion was that Stuart bought me lunch (See below).
Stuart is the owner/founder of OpusVL and although all about Free & Open Source solutions he is much more than that. If he wasn't making the world a better place he'd be dangerous. He's the kind of person you would want in your bunker/government/desert island/revolution.
I really must grab a podcast with him to give you more of an idea.
---
On to more learning stuff.
Over the last couple of years I have been lucky enough to document some glass artists. What they did looked impossible and the medium too fragile and temperamental to comprehend.
I kept thinking about the things I would do if I had the skills. But I don't. One idea I had involved making a stained glass window.
With no clue where to start I wanted to learn the basics and if by magic I was bought an introductory workshop for fathers day.
So yesterday day I spent a fascinating 7 hours in the studio of Jamal Rafay.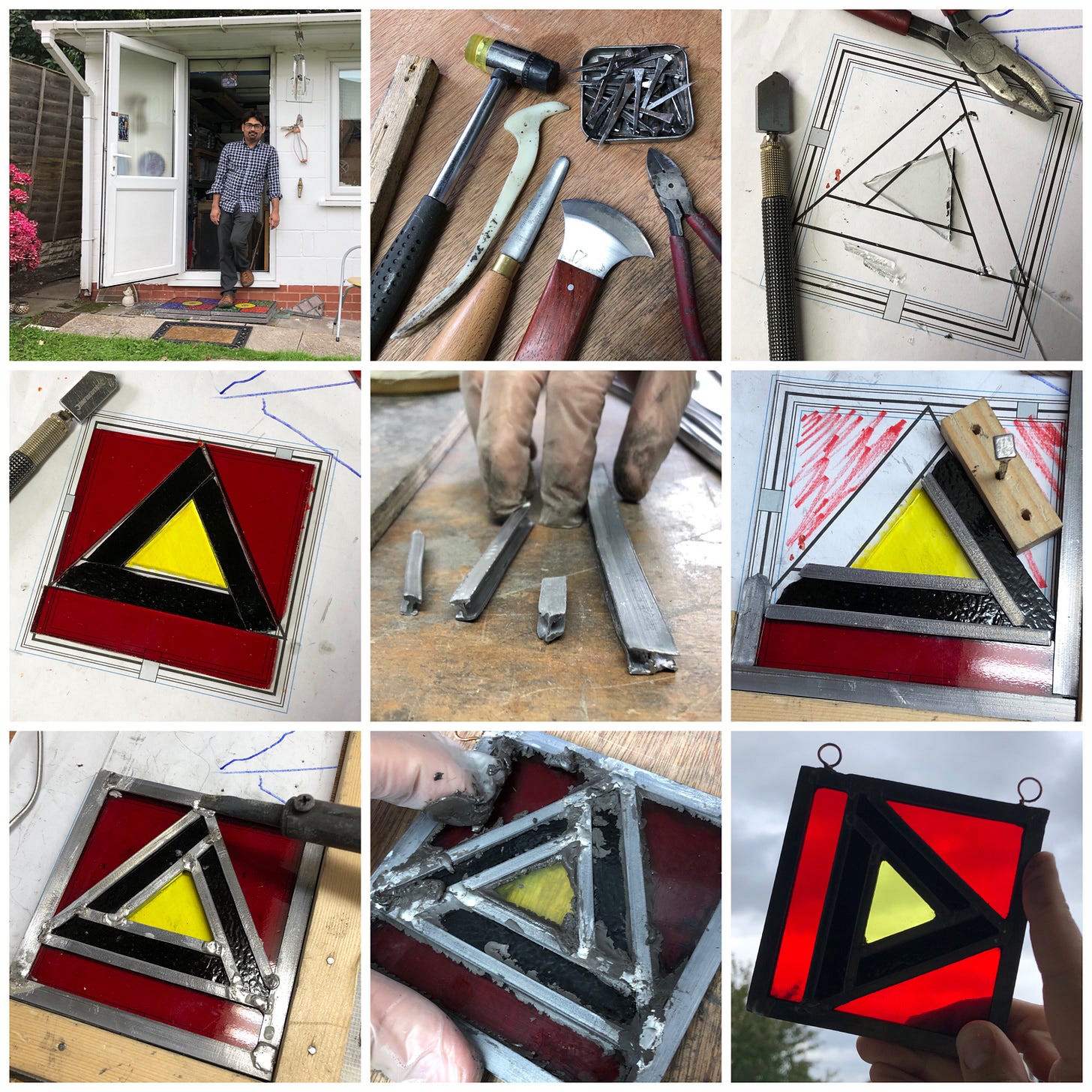 He took me through the background, history and traditional methods of creating leaded lights (decorative leaded windows) and stained glass (intricatly painted leaded windows).
I worked to a drawing, cutting glass with a number of techniques and tools. I cut formed and soldered lead, clamping the pieces with nailed wooden blocks as I assembled a small arrangement. All that was left then was to cement and polish it to finish.
Halfway through making a triangle in 'Documentally colours' I decided to rotate it so it was a 'D'. An eyebrow was raised at my choice of black glass as it's not transparent but I stand by my choice.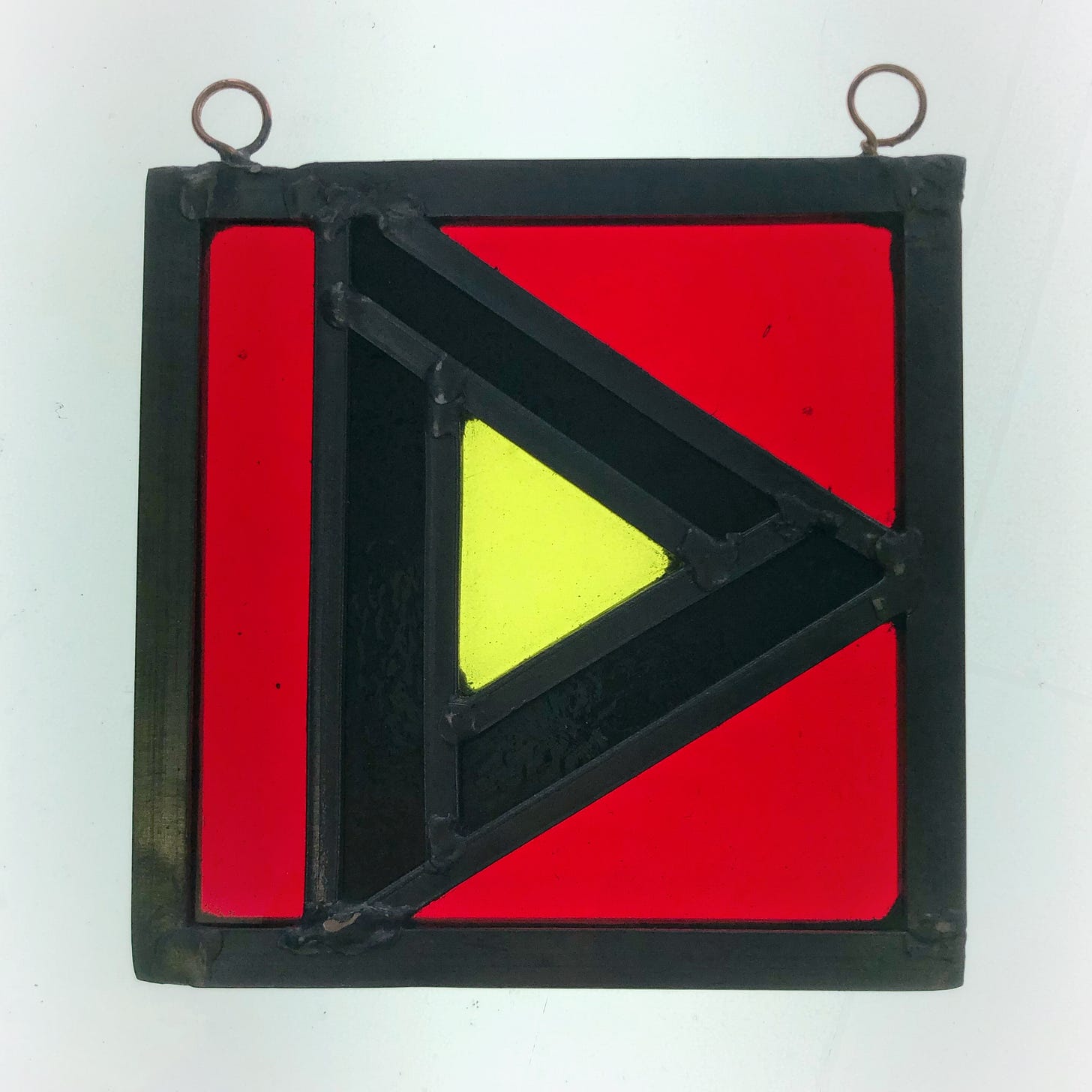 I have never really paid that much attention to leadlights or stained glass and now have a whole new appreciation.
Having spent a day creating a small square of 7 pieces I will never look at an ornate leaded window in the same way. I feel I have new skills but also a new lens to look through.
We joked that Christian Payne is the perfect name for a professional stained glass artist but I think i'll leave it to the professionals.
If you fancied a go yourself I can recommend Jamal and his workshops.
---
#ThePictures
Have a think about how you can save on editing in your next video project. The art of the one shot sequence.
---
Boredom isn't boring.
---
There are no more hiding places. Wherever the CCTV isn't your phone will give you up. But I'd like to think for a moment this lad found one. (Providing he isn't some violent crim.)
---
This needs to be watched full screen.
---
#TheWords
Does anyone want to hear a story?
---
Money will never give you what you need.
---
Why are products for older people so ugly?
---
#TheSound
A great audio program does not need to have a complicated edit. Think about this next time you record a podcast.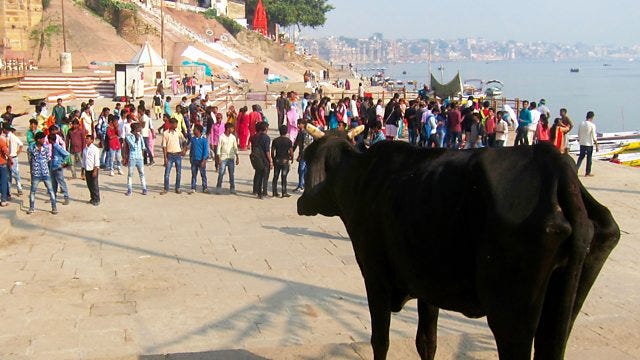 Poet Pejk Malinovski follows a cow around Varanasi for a day. I wish I had made this audio 'A Cow a Day'.
It is made of so much I enjoy about the audio recording process. Simple ideas, being present, capturing actuality and a stream of consciousness while following a natural narrative arch. Love this.
---
This is what the podcast Heavyweight does when it is falling behind on the release of the new series. It releases an adaptation of that very truth. Great writing.
---
I finally took Hiut Jeans up on their offer of free repairs for life. I've been wearing their jeans for about 8 years now and it's about time I got the thin bits looked at.
As I was walking to the post office to send them off for some TLC this podcast from Carlo Navato popped up. In it he's chatting with Clare Hieatt co-founder of The Do Lectures and Hiut Denim. A wonderfully personal chat with an amazing woman giving great insight to the behind-the-scenes workings of Hiut Denim and The Do Lectures.
---
#TheConsumed
I rarely have Thai for lunch. No Idea why. Thai food is right up there with Italian for me.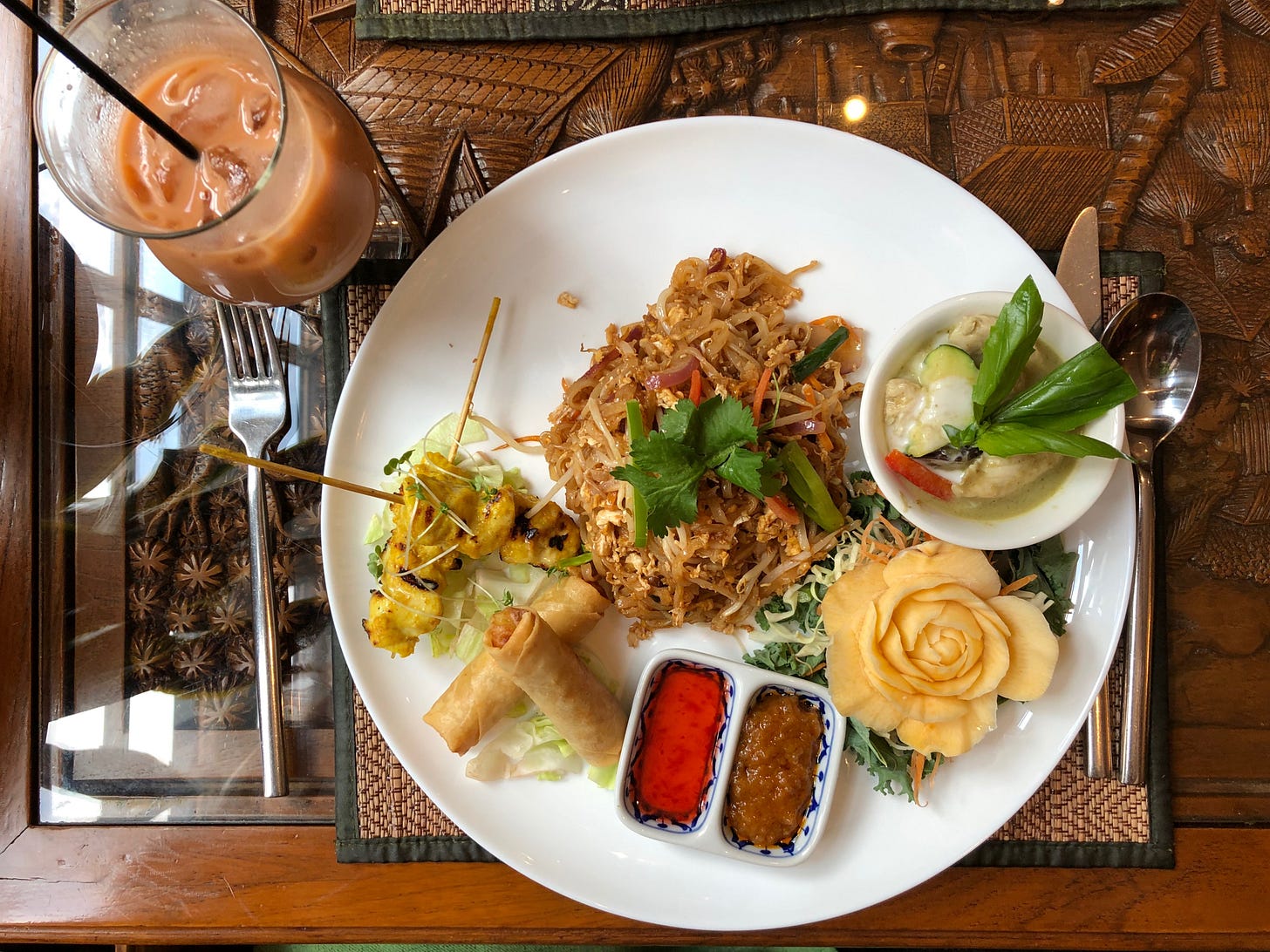 This is a kind of Thai tapas. Perfect for those like me that find it hard to choose one thing off a menu. It's from Nipa Thai Restaurant in Rugby. Thanks Stuart!
---
Do you sex up your crumpet?
There were many replies from well meaning but confused people who add all kinds of random stuff to their crumpets. Personally I'm all about the butter. Very rarely i'll as a slice of mature cheddar. That said I do plan to experiment with some of the more out their suggestions. But i'll finish with a butter one.
---
#TheThings
The first ever Porsche failed to sell at auction last weekend. It only got to $17,000,000. o_0
I was never really a Porsche fan. I respect the design but remember as a kid, cycling past one stuck on a speed bump. I thought it was impractical.
---
I haven't bought anything this week apart from some coffee filters so there is little to review or share in this 'thing's section. If you are keen to spend some money though you could always upgrade your subscription to this email. That way you will get at least one email a week and the bonus bits in between. It's only $5/month that's £4. Less than a beer and you know I'd buy you one back. ;-)
Hoping to share something into the paying subscribers channel from the Scottish Island I'm heading to.
---
#TheWeb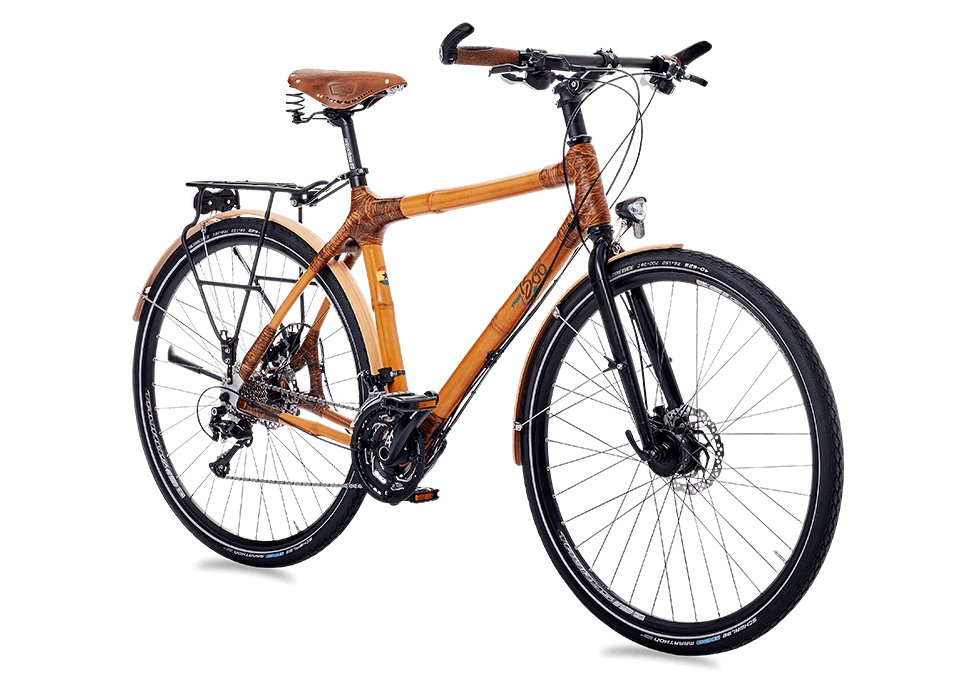 ---
#TheEnd
Thanks for reading. It's still hot out there. The traffic has slowed down here as everyone and their dog wants to be somewhere different for the bank holiday. I'm looking forward to the island and a chunk of sketching, reading, beach combing and whatever else emerges from a state of blissful relaxation.
Have a great weekend/week.
---
"Needing to have reality confirmed and experience enhanced by photographs is an aesthetic consumerism to which everyone is now addicted. Industrial societies turn their citizens into image-junkies; it is the most irresistible form of mental pollution." 
~ Susan Sontag
---
Be water.
See you out there.
Over…