Greetings From My Shed...
We're here.
Who knows how or why.
But we're here.
Best make the most of it.
---
#TheAction
Been making more phone calls these last two weeks than I have in the last two years. It's not that I've forgotten how to pick up the phone. More like we don't seem to want to bother people.
On every occasion I'm not only glad that I picked up the phone, it's resulted in some wonderful moments.
Not being on Facebook makes it easy for me to wonder what people are up to.
On the phone, old friends sound like excited new friends.
Give it a go.
---
Last weekend was mostly making, baking and creating @Minimentally's 10th Birthday party. It was Minecraft themed and all the games were outside.
Shoot the Creeper with a bow and arrow. Pin the tail on the Enderdragon. Hunt the minerals for the crafting table. And the finale was a sweet laden Ghast Piñata.
Then mid week, after a visit to my neglected boat, I'd got it into my head that If I didn't move it to a new home i'd not get the chance till summer. It looked like most of the canal and river winter stoppages were over, so I made plans. Plans that were delayed by an M.O.T. I forgot I needed.
The M.O.T. went suspiciously well.
So, while trapped on dry land I visited a local record store in anticipation of Record Store Day. We live-streamed the opening of a delivery. None of the records on my wish list were in the boxes but fingers crossed for tomorrow.
---
Every day I walk the dog with the kids and every day I answer questions. Today I was asked…
"Why do we exist?"
I tried my best to answer but had to call for backup. Siri offered this article.
---
#ThePictures
A found boat. A dream. And some friends.
Thanks to Tomo for sending me this little film.
---
I watched 'The Kid Who Would Be King'.
Feels more like a TV film than a theatrical release. It didn't get particularly good ratings. Watching it with the kids made it a great experience though.
Remember the feeling you got as a child when you walked out of a film? The feeling that anything was possible and it could happen to you. I could see them both enjoying that particular moment.
---
Had a weird out of nowhere dream about Rik Mayall. Never met him, but still miss him.
---
The saga continues. For now.
---
What is a World Press Photo award worth when things like this are allowed to happen?
---
#TheWords
If you're a paying supporter of this email. (Only $5/month ;-) you know I occasionally send audio newsletters.
I had a few interesting emails off the back of my last audio update. Some find it intimate and others find it a bit weird.
I'll restate a version what I shared to one person who very politely told me it made them feel a little uncomfortable.
It's certainly not my intention to do so. I hope my tone is as open and frank in the subscriber email as it is when I'm face to face.
This is the style i've adopted in audio for a number of years now and it has brought me many meaningful interactions and conversations. It's hard to connect on a human level in many of our online spaces. At least not as easy as in audio. And especially when I feel like I know all the people receiving the email.
I guess someone could take my audio and share it elsewhere. But at the moment It really does feel like it's going to 100 and something acquaintances and friends. This semi walled garden offers a certain sense of security.
We are multi-faceted individuals and I'm different down the pub as I am with my family round the dinner table and again in the newsletter.
The curated internet creates a false idea of happiness. I like to try to keep things as real as possible but will of course hold some thoughts back.
I do share a lot. This newsletter is evidence of that. And audio is much more than the words spoken. But I feel I keep much more stuff to myself.
I occasionally dread what the algorithms might do to us in the future. Especially those that have put their life online.
But maybe it's better to share and fail than risk never connecting with anyone.
---
Every time I see 'breaking news' that's not news I want to turn everything off and go find the person responsible.
I'm not after more news as fast as I can get it. If anything i'd like a reduction in what is hitting my feeds. I want thoughtful considered pieces.
I'm certainly a part of the 'attention resistance'. Even if I've still to earn my stripes. And it's not just about taking back control around how we experience the news. It's about taking back control full stop.
We're slowly realising our attention is pulled into spaces hobbled by algorithms and swimming with ads. Reading this newsletter is a step towards slowing down.
There are those that skim it, those that click links and those actually supporting it by paying a subscription. For these spaces to survive they have to be sustainable. This doesn't have to be adverts and affiliate links. Yes I'm guilty of the latter but only because at time of writing, this newsletter is far from sustainable. It's slowly taking steps in the right direction as more people are seeing that free and fast is not only not free — it's not good for any of us. Creating, curating or digesting.
This article suggests we recalibrate our relationship with media. And I have to agree.
---
#TheSound
Benjamen Walker's theory of everything is back with a vengeance. This episode called 'Bad Recommendations' is a good recommendation. Follow Benjamen down the algorithmic rabbit hole.
---
Maybe it's time to return to the podcast Sandra. It turns out it's for real.
---
Apple will soon put a dedicated podcast app on your Mac. But will it still be as terrible as it's always been?
---
#TheConsumed
Unless you have been fine dining in Japan recently you may not have actually had Wasabi. Even if you were told it was.
---
These donuts have been making the rounds…
---
My infinity bottle is looking healthy.
This is the living journal of my whisky journey.
On 14/9/17 it began with a dram of Elijah Craig 12 years, Dunnville's Old Irish Whiskey 10 Years, Tin Cup American Whiskey, Writers Tears Red Head and Glen Orchy 5 yrs. On 31/10/17 I added Redbreast 12 yrs, Redbreast Lustau Edition and Glen Goyne 12 years. On 19/2/18 I added anCnoc 12 Yrs. On 27/2/18 I added Skapa Skiren, On 14/5/18 some Green Spot, 7/8/18 some Benromach 10yrs, 18/11/18 Elijah Craig Small Batch, 29/12/18 some Rittenhouse Rye BIB and Eagle Rare 10yr old and this week on 8/4/19 I added Balcones True Blue and Aberfeldy 12yrs.
This is the one bottle I'd grab if I had 5 mins to pack and get out.
---
#TheThings
I wanted to build a compact interview kit and have lost my old Shure in-ear monitors. I asked @SoundFackery and a few others what kind of in-ear headphones audiophiles who didn't want to carry anything bulky used. The answer was unanimous. Shure SE535's.
I choked at the price but found the clear version for £293. Still an incredible amount of money but for a modular set of monitors with three high definition drivers I thought i'd take a chance.
Glad I did. These are by far the best headphones I've owned. Comfortable and well made. They have set the bar high. I'll now struggle to listen to anything on my other pairs.
I now have everything I need for my audio projects.
…Apart from a short stereo shotgun mic, a blimp and a parabolic dish. But these can wait.
I need to save up again.
Oh and then there is also this…
---
I missed out on the Kickstarter but finally bought the game Exploding Kittens this week. It's a lot of fun.
---
This time-lapse camera will run up to 2 weeks on a set of AA batteries.
---
Here is everything you need to know about Rode's new Wireless Go.
I'm keen to get my hands on these.
I'm currently experimenting with the Sennheiser XSW-D Wireless Digital System. It's an easy to use wireless mic set up aimed at the single shooter that needs a simple switch on and go wireless mic system.
If you are in the newsletter backchannel on @Wire (it's free) you will have seen my initial test. I also have a few other groups on Wire. Audio fanatics and other such stuff. Join up and search for 'documentally' if you would like to get involved.
---
Finally... Did you buy me this?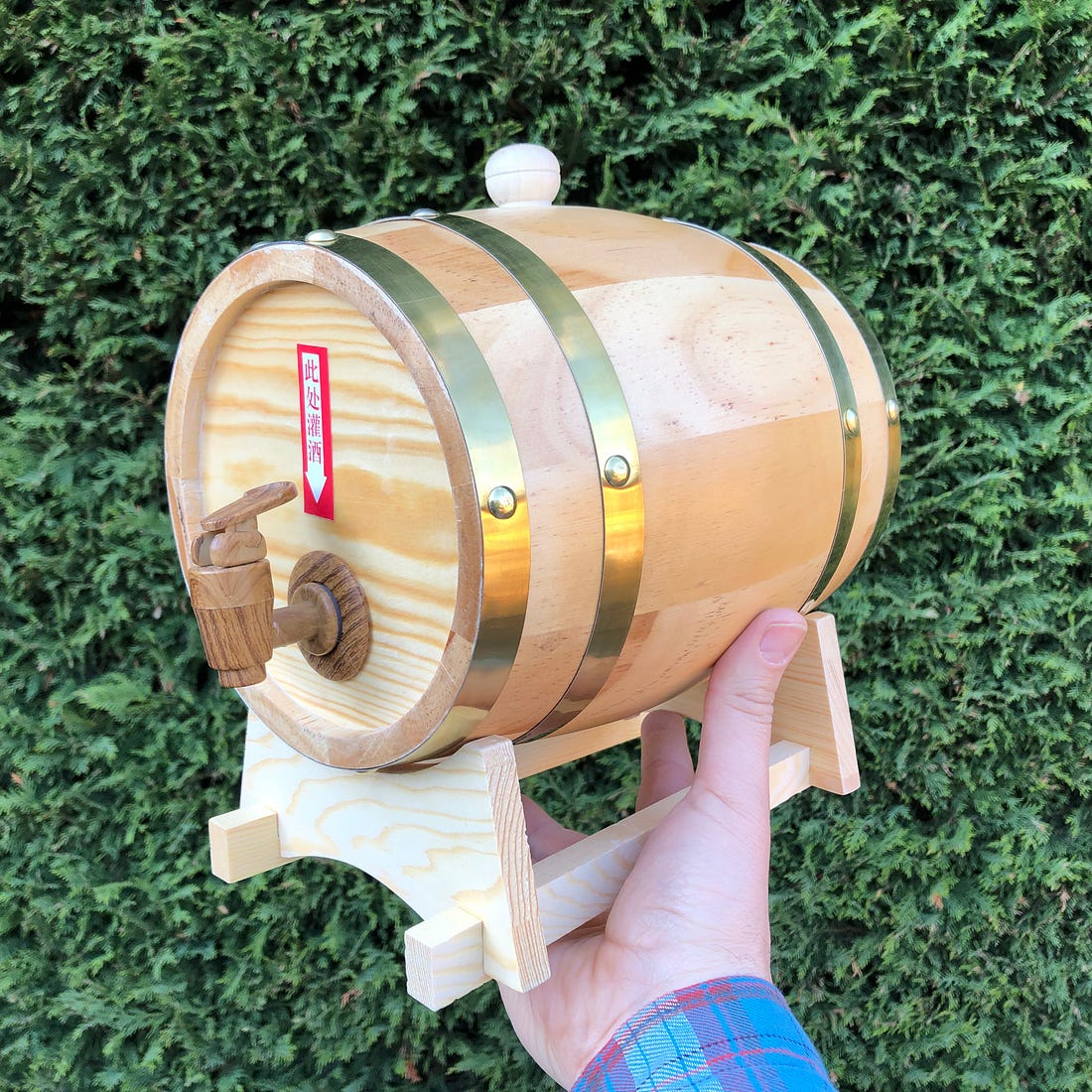 I have no paper/email trail telling me I bought it but I have been looking for one to age some whisky in. I have one on my Wishlist but whoever sent this did not send it from there. There was no note.
Thank you if it was you.
---
#TheWeb
Our devices and apps spy on us because you're not buying expensive phones.

Have you added yourself to the Documentally Newsletter map?

What an amazing week/millennia for astrophysicists.

Eight Earth based telescopes working as the Event Horizon Telescope found something amazing.

If the amount of entropy (the logarithm of the hole's amount of randomness) is proportional to the hole's surface area, we have just discovered the most random place in the universe.

If you want free consultation from me or people smarter than me then get yourself to Galway for the 6th to the 8th of June. It's Mojofest's 5th year. It's not just the longest running content creators festival, it's by far the best. The ticket price plugs you into talks, workshops, gatherings, get-togethers, geek meets and other shenanigans. All based in my favourite Irish town. Let us swap and capture stories, drink, think and learn from each other. They gave me a special link. Please share to those you think might want to come.

And let me know if you are coming and i'll have a drink waiting.

If you are looking for a robotic kitten, look no further.
---
#TheEnd
Right now I'm off to pack food, tech and supplies for a trip. Tomorrow (after I pick up some records) we're heading to the boat, loading up and setting off who knows where.
Ideally I'd like to find some mooring closer to home. Possibly on the River Nene. It may take a week to find somewhere.
Time and connectivity is always scarce on the water. I apologise in advance if I'm not answering email and should I not manage the next newsletter I'll aim to get some audio updates out there.
Have a great week and thanks for reading.
---
"To create, one must first question everything." ~ Eileen Gray
---
Keep it simple,
See you out there.
Over…